In January I started a little end-of-the-month series about my top 5 faves that month. And while we may not know each other in real life, I feel like we really DO know each other. And friends share good stuff/tips/tricks with their girlfriends.
Do you and your friends do this when you get together, too? Share all of your latest tips, tricks and finds?! My friends and I love to do this and I've found my favorite new things from either my friends in real life or on the web. So, I'm just doing my part as your buddy to share allllll the faves this month!
Let's jump right in, shall we?
Five Faves in February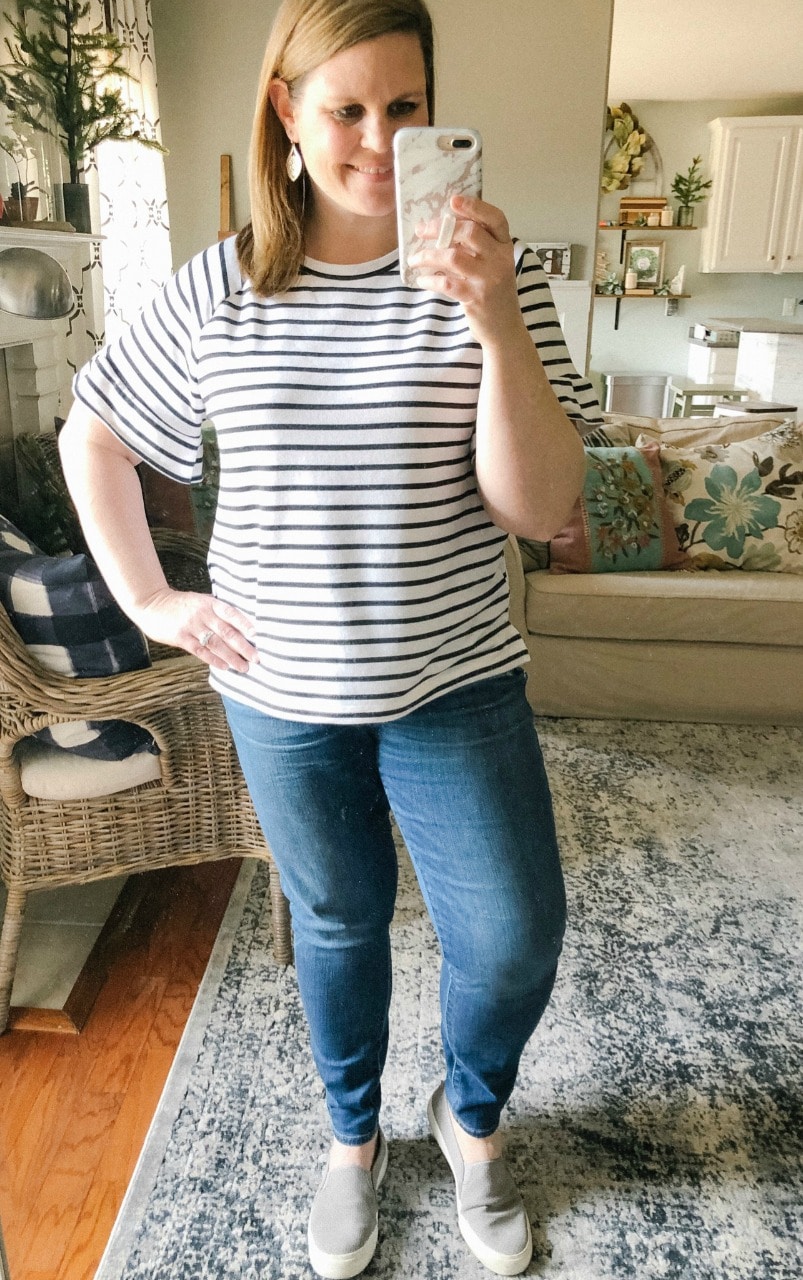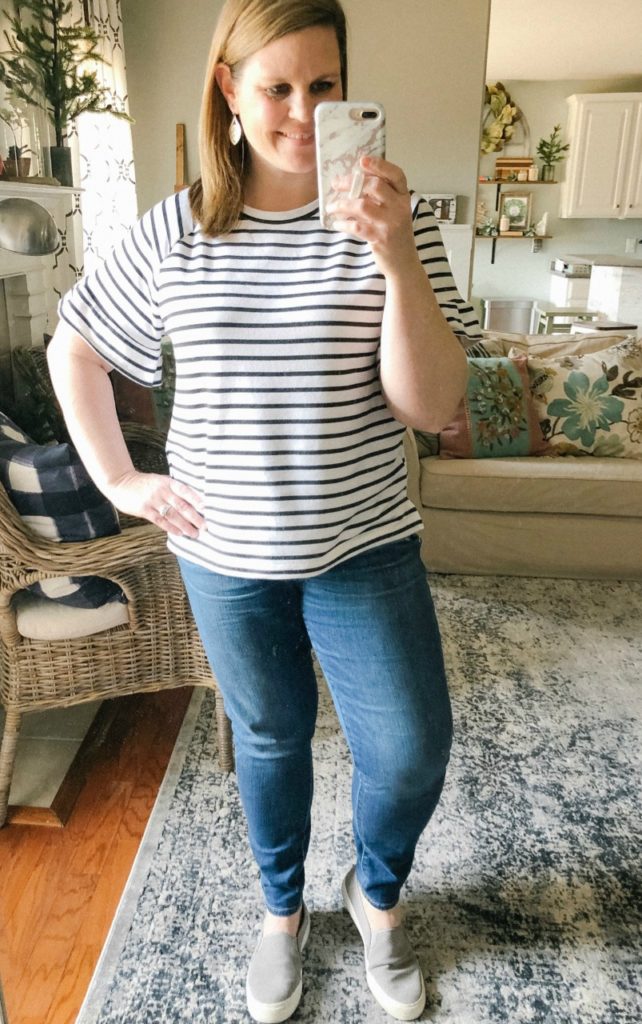 Ruffled-Sleeve Sweatshirt // Most Comfortable Jeans EVER! // Slip-On Shoes
I'm in love with this new short-sleeve sweatshirt that looks like I'm much more put together than a sweatshirt and jeans. Love it for transitioning into spring! Love the sweatshirt coziness, short sleeves that cover the arms and cute flutter sleeved detail. They also have it in solid colors, too! I think I'm going to snag the black and blue when they go on sale. I'll be sure to share in Instagram when I see a sale, so follow my stories there! Love how perfect it is to transition into spring!
I got a combo deal free Alexa Dot on Black Friday with my Amazon and didn't really need it anywhere in our house. We have a small-dish floor plan on one level, so nothing is far from the living area. BUT I had struck out in the area of finding a good alarm clock for my daughter. These are the things I love about the Dot:
Alarm (& sounds) – I was excited to find out that I could it program it to be her alarm clock – AND BONUS that you can select your favorite character to wake you up. So, she has her favorite princess, Rapunzel, say "Best Day Ever!" as her alarm sound and she loves it.
Kid Only Features – I also love that I could set it to kid's features only. Because we also pay for Amazon FreeTime for our daughter's Kindle Fire's, we have access to numerous kid-friendly resources on the Dot as well – like audio books, music and jokes.
Cut Off Times – I love many things about the Dot, but one last thing is that I can set the Dot to suspend activity at a certain time. So, if it's after the girls' bedtime and they try to talk to Alexa, she says she can't play right now and you'll have to wait until tomorrow. Love it!
You can also get the kid-friendly cases with the Dot!
I went looking for a warm footwear options recently for going to the bus stop and preschool drop off. I decided to take the Ugg plunge and found these on sale. I've been wearing them for months and I've loved having them even during our extremely rainy, cold weather because they are waterproof as well as warm!
If you're looking for a great, comfortable pair of leggings, look no further! These are cheap, hold the mom tummy in and aren't see through! Yay!
I know it's weird for me to talk about feminine hygiene on a DIY home decor blog, but we are mostly women and I have loved these for a while now – so it's time to share!
I try to buy more natural, less toxic products when I can. I've known for a while that the tampons and pads I used growing up were filled with "artificial fragrances, which are virtually a chemical soup, laced with artificial colors, polyester, adhesives, polyethylene , polypropylene and propylene glycol , contaminants linked to hormone disruption, cancer, birth defects, dryness and infertility." (Huff Post) <<– read this for more info
So, I was thankful to find a transparent feminine hygiene company who only uses 100% organic cotton in their products. Not only thankful for me, but my girls when they are old enough to use them.
So, if you're looking for more natural products, I highly recommend Lola. They have a totally customizable subscription service that you can modify and change at any time. Love them!
They sell reproductive health items as well.
What are your favorite finds lately?
Happy March! Can't wait for spring to actually get here!