Ready to bring peace, joy and tranquility back to your home? Through simple daily challenges and a practical action plan, our 6-week Less of a Hot Mess Decluttering Challenge will empower, enable and inspire you to eliminate clutter, create better function for your family's needs and discover that you too can live a more peaceful life in your home!
A little more than 3 years ago I was living amidst a lot of clutter in my home. Every closet was stuffed to the brim and I dreaded anytime someone wanted to come over. My house just had too much stuff.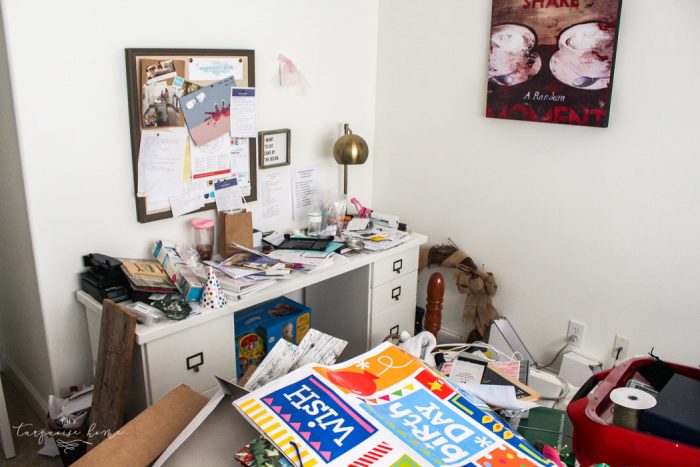 The Office Before
Right before Christmas 2016 I decided it was time to purge! I had read Marie Kondo's The Life-Changing Magic of Tidying Up and it had revolutionized how I viewed the stuff in my home. I was ready to tackle the mounds of paperwork sitting in our filing cabinet and donate unused toys, clothing and even furniture! I spent a month clearing stuff out of our home and it was indeed life-changing!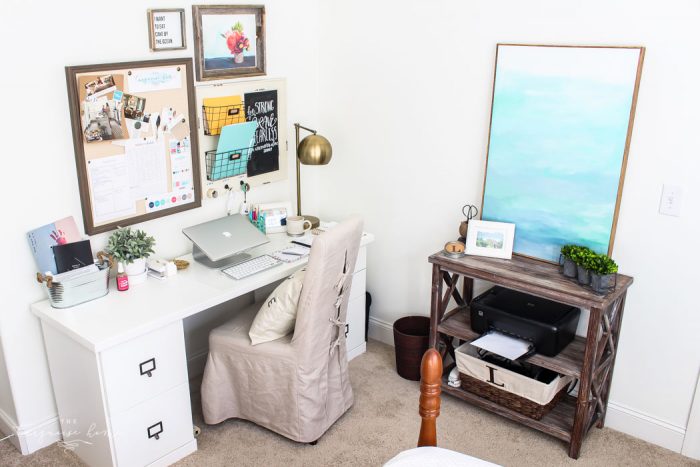 The Office After
A few months later I wrote a 30-day series called Less of a Hot Mess where I tackled even more of my stuff!
And I've been paring down since then, but it's a constant journey & new mindset of getting rid of stuff as new stuff comes in.
I decided that this year it was time to intentionally go through my house again and do the challenge again – only this time I revamped it a LOT! I wrote 42 e-mails and created a workbook to go along with it.
Why I Created the Decluttering Challenge
Modern life is busy – filled with appointments, work, kids activities, dinners and oh the paperwork! Our homes are a reflection of the chaotic pace we life and oftentimes stuff comes in, but never finds its way out again.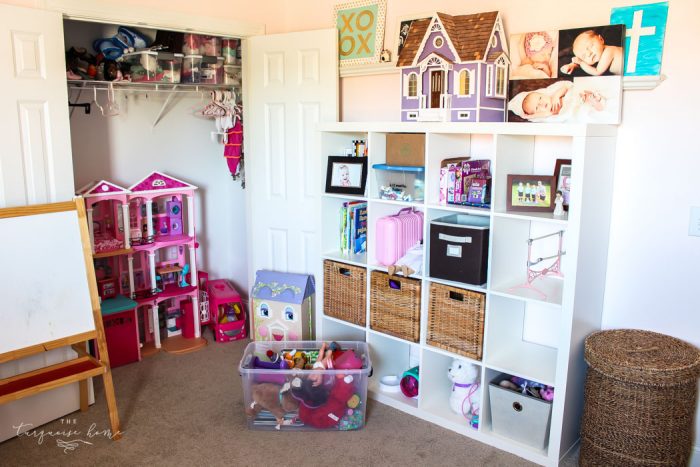 Most people are overwhelmed by the clutter & stuff in their homes and don't know where to even start begin to tackle the mess. They crave peace, comfort and respite in their homes – a place to find shelter from the world, not another busy space.
When they walk into their homes, they want to breath a sign of relief, not have a sense of panic and overwhelm. They long for quick and simple steps to follow, a friend who's gone before to hold their hand and say, "do this small step today. And then come back tomorrow for the next small step."
That's why I created this new challenge.
The Less of a Hot Mess 6-Week Decluttering Challenge is practical, simple and deals directly with the root of the problem – how can you have peace in your home again?

MORE POSTS YOU WILL LOVE:
Get Instant Access to my Guide to Customize Your Home on a Budget
Grab your FREE guide for 10 Ways to Customize Your Home on a Budget: simple projects to transform your home from builder beige to a home with character and charm!