I believe that as goes the mama's attitude and perspective, then so goes the whole house, so it's important for me to bring joy into my home. It may not always be the case in every home, but in my home, I know that when I am upbeat and joyful, then the rest of my family while usually follow suit. I look for simple ideas that I can accomplish quickly that inspire joy and encourage my creativity, give me peace and remind me that it's all going to be alright.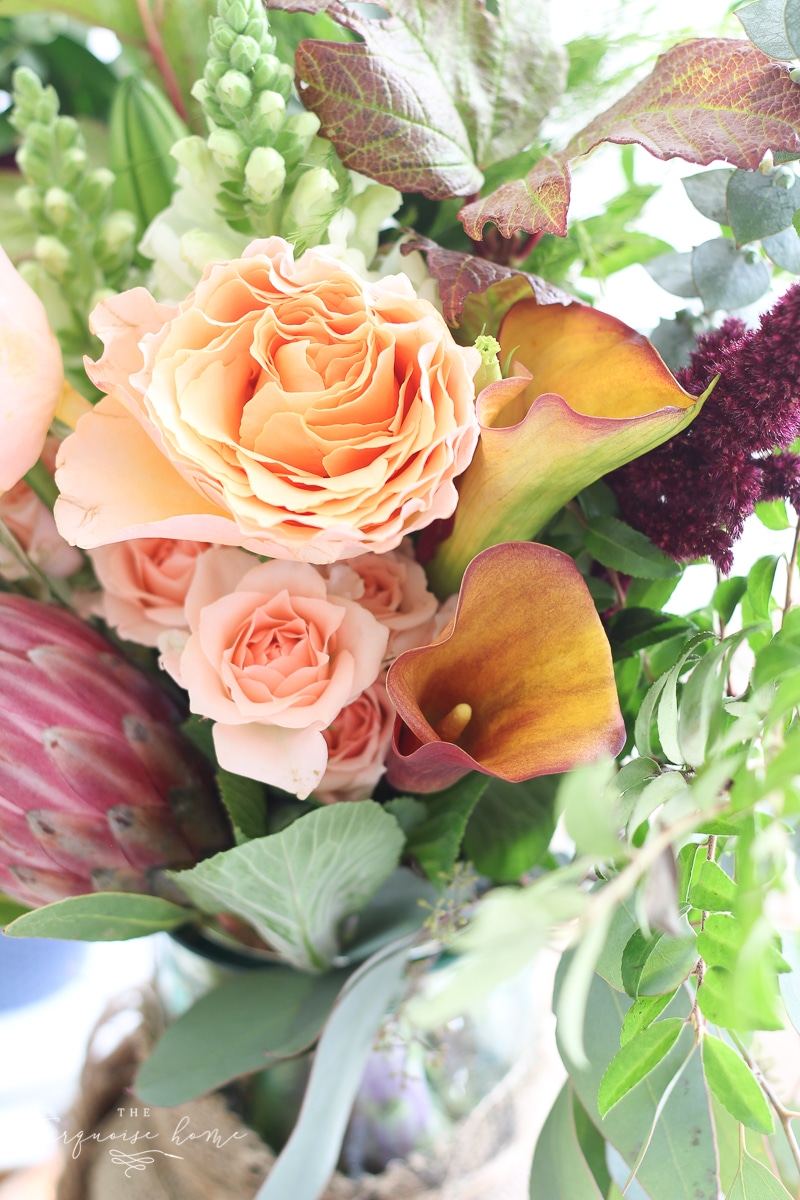 1. Buy some fresh flowers. I just light up when I walk into my kitchen and see a gorgeous arrangement of fresh flowers. I have a lot of faux floral decor around my home, but it doesn't breath life into my soul like a bouquet of the real stuff! I'm grateful to have a husband who brings them to me often, but even still, I'll run out and buy myself a dozen roses on a Tuesday if I'm in need of a little joy in my home.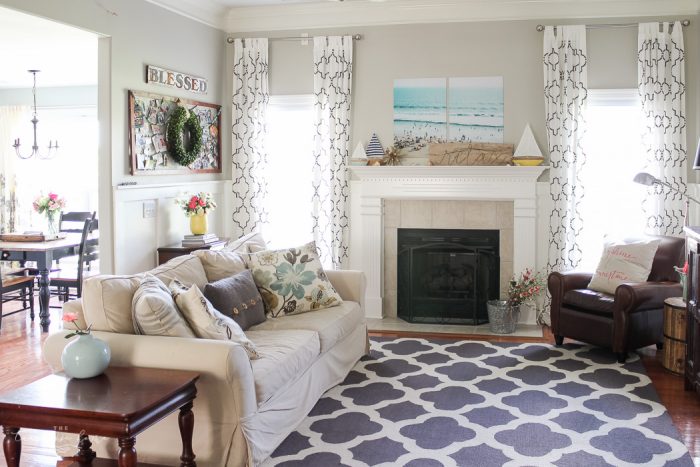 2. Open the windows and let the light in! I feel so full of energy when the sun is streaming in the windows. Bonus: my home feels larger and brighter!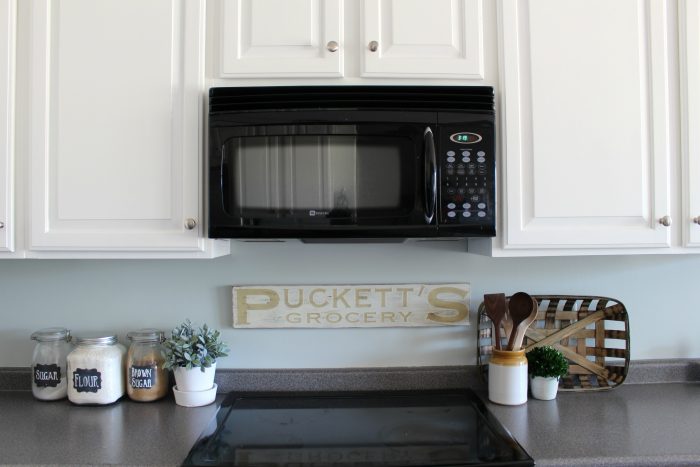 3. Add little details that make me smile! Simple accessories that have a special meaning, or a little chalkboard label on the kitchen canisters can make all the difference. I feel like my house is a home and not just a box to sleep in at night when I have special details in place!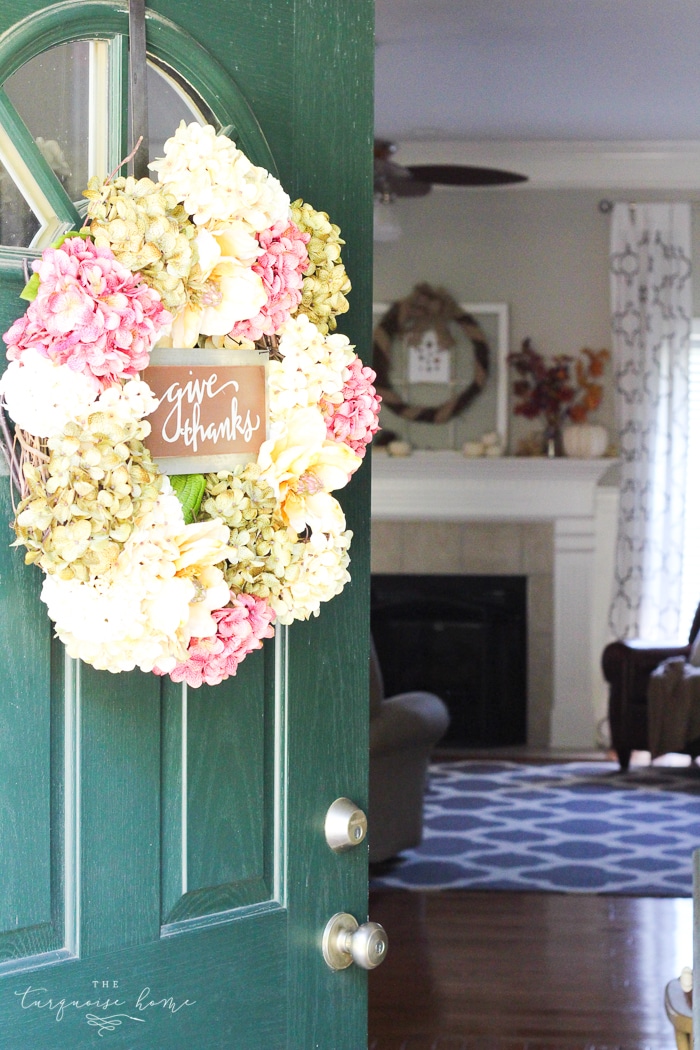 4. Add a wreath to your front door. I've made numerous wreaths over the years, and bought some too. I love to drive up to our home and see something cheery to greet us. It's also nice for others who come to visit your home.
I'll confess that I haven't had a front door wreath since Christmas and I'm dying to make something new and different! I hope I can get to that DIY project soon!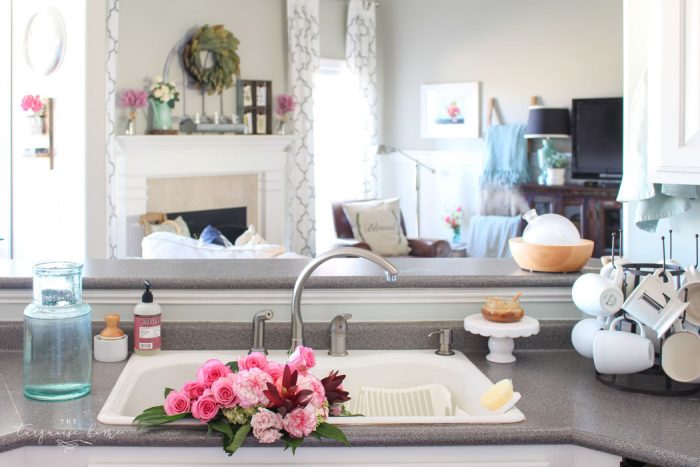 5. Clear the clutter. Nothing instantly ruins my mood more than a pile of clutter and nothing spells joy more to me than a clean home. When the dishes are done and the floors are shining, the laundry isn't piled high to the celling, that's when I feel light and unhindered. I feel like I can conquer anything! So tackle just one of those areas and I promise you'll be so encouraged. If you need a more thorough de-cluttering, check out my Less of a Hot Mess series!
And if you can afford it, I recommend hiring someone to do the deep cleaning on a regular basis. I just did this and I'm in love! I'm normally so frugal and don't want to spend money on something "I can do myself." But I've been shocked by how it's changed my whole being and outlook by having a reply cleaned home. I plan to share more about this decision in a later post, because I made my decision based on reading 4-5 other accounts of why they hired someone to help with the cleaning.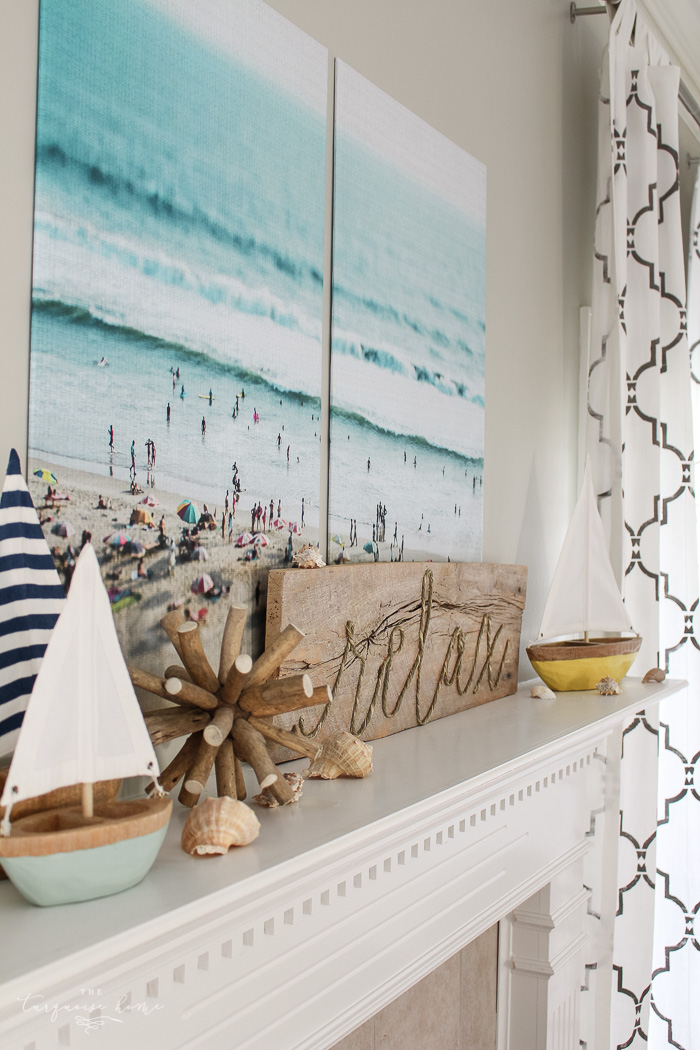 6. Decorate with Inspiration. Whether it be a chalkboard or a free printable or an inexpensive DIY art you made yourself, I believe in decorating with inspirational quotes and sayings! When I'm struggling with a particular issue or season, I make it into a sign and put it on the wall! My latest free printable is all about my word of the year! Check it out here.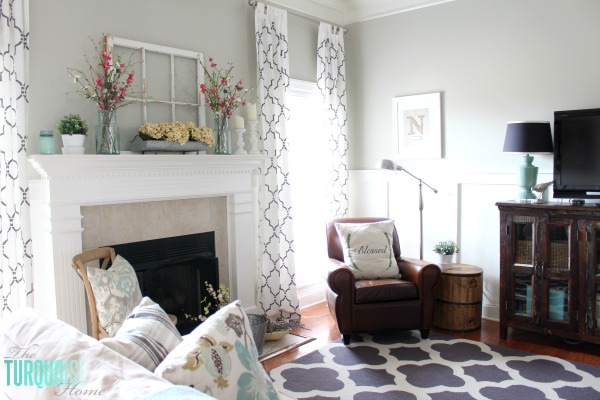 7. Read a Book in a Quiet Spot. I know other moms of littles will laugh at this, but taking some time for yourself to fill your soul with some encouragement or inspiration can go a long way. It can feel like we're always pouring out and not much gets poured in. I love the daily devotional, Jesus Calling, for a short inspirational moment along with corresponding Scriptures. It always helps to set me right again. Or any of the myriad of books I have on my nightstand to read. I also love to listen to books in Audible. Whatever the way, take some time to pour into yourself!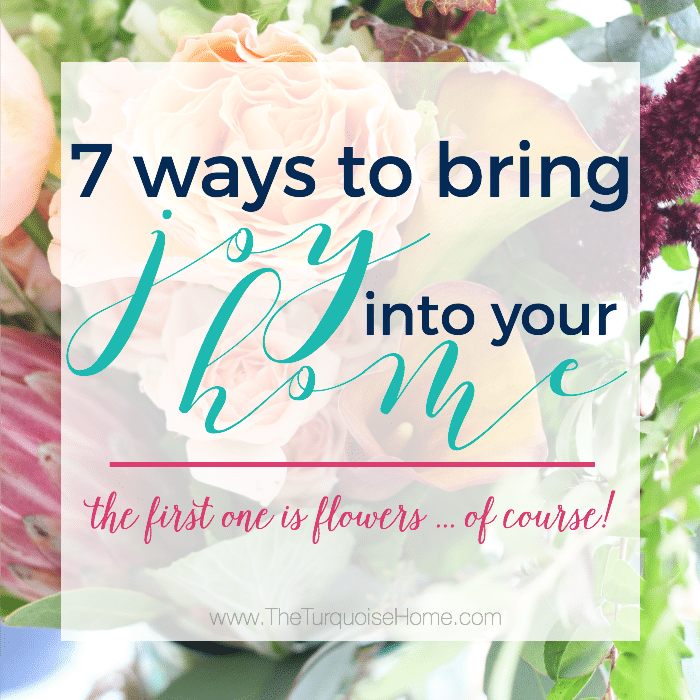 I hope these ideas help you to enjoy your home and life just a little bit more!
How do YOU like to bring joy into your home?