It's been a while since I've just chatted with you. And since I'm feeling stuck with no new projects to share, I thought it might be the perfect time to pull up a chair and have a casual conversation.
Last year was such a wild and odd year. Right? For us, we moved into a new home right before 2020, and I worked hard to bring it all up to a level where I could live with it. See the before and afters all in one post here. Then the shut downs happened and everyone came home.
Instead of sharing my normal content like small DIY projects and seasonal decor, I spent last year tackling the ugly green paint and 90's light fixtures. I also tried to share some Home Decorating 101 tips as I started from scratch in this home.
So last year feels like a blur, looking back, but I know it was a fruitful year. I just feel like I was swimming upstream all year long. I wanted to get my home to a place where I can really start adding a lot of fun personality to this house.
But it's been a slow process of investing in big pieces or foundational projects in order to get everything to a level playing field. Does that make sense? (Like how a huge part of our budget last year was getting the 9 windows in our master bedroom covered.)
Then at the beginning of 2021, I shared my Home Goals for these first few months. Essentially I'm finishing the kitchen makeover, painting the exterior trim & shutters, fixing our grass situation and organizing the garage.
I wanted to live in this home and feel it out before making too many decisions, like bringing in a new style or adding a ton of personality. But this phase sure feels like it's taking forever.
And honestly, making a home slowly and not having everything perfect for Instagram right off the bat is OK. Even preferred! But just know that the messy middle can be frustrating for people who do this for their "job," too. I hope it encourages you to remember to enjoy the process. I am preaching to myself right now. Ha!
Part of what feels frustrating to me, though, is that I have taught myself over the years that I need to finish one room at a time. I want to hop from room to room, but I try to make myself do one room at a time so that I'm not mid-project all over the house. Otherwise I'll just leave a bunch of rooms half finished and get overwhelmed.
OK, so let's check in on those home goals.
Update on Finishing the Kitchen Makeover
So y'all! This kitchen makeover (which is NOT even that big of a deal) might test my patience more than I can stand. Ha! It's not that dramatic, but I do find myself at a frustrating point.
For example: I found the most beautiful and perfect bar stools. They were exactly what I was looking for: swivel, non-upholstered, beautiful and perfectly coordinated with my kitchen.
But they were pricy. So, I saved my money, waited for a sale, and purchased them in January. They JUST arrived here at the end of February. And while they look gorgeous, I could NOT love the look of them any more, they are woefully uncomfortable. 😢
The width of them, where your hips sit on the chair are at max 15 inches. If you have any kind of hips at all, then it kind of hurts to sit there. The rattan seat is prickly and pokes you through your pants. There are other things that I don't love, too, but overall the function just isn't there.
I don't imagine any guest feeling comfortable in them. So, now I'm back at square one. I've searched all over for the bar stool I want and so far I've come up empty-handed.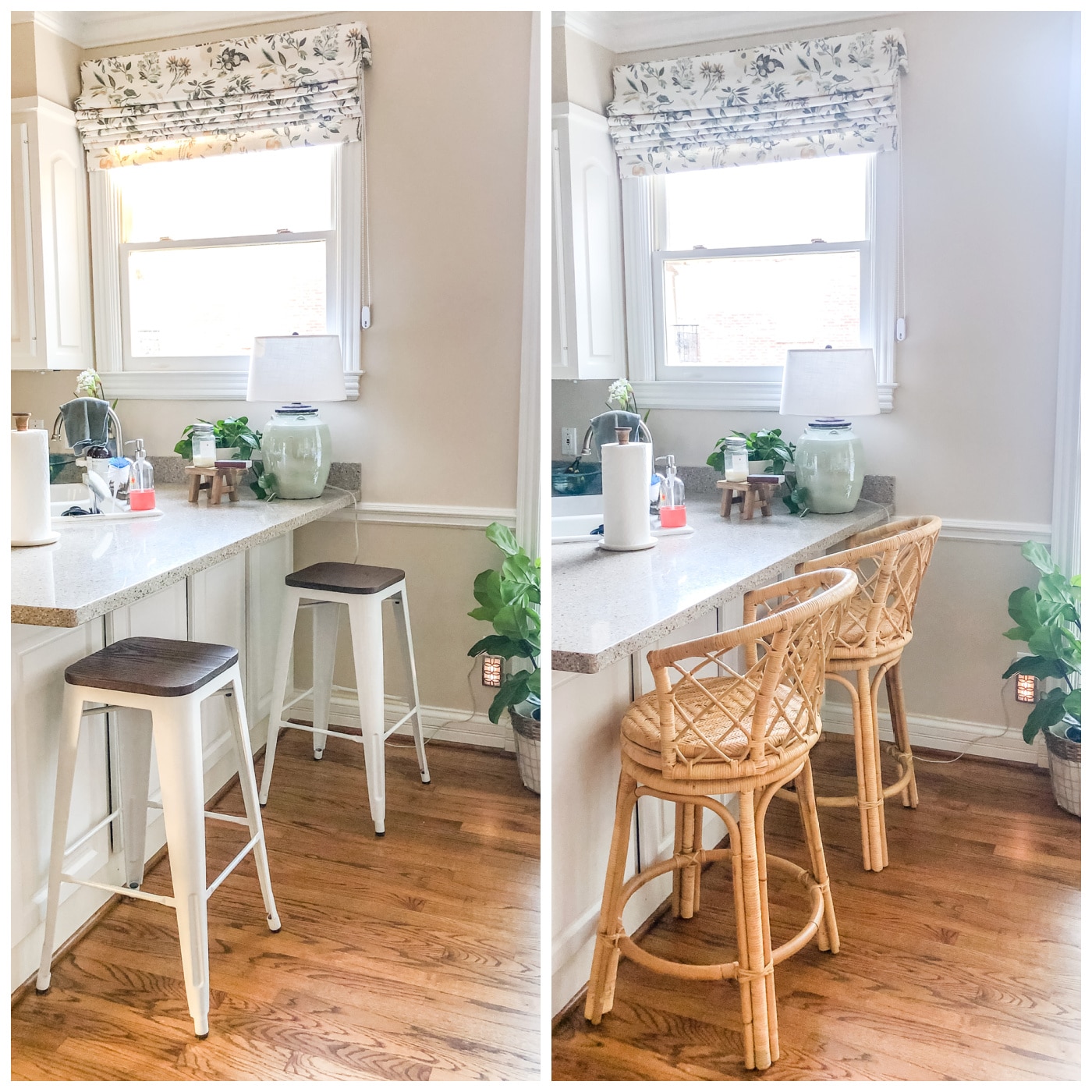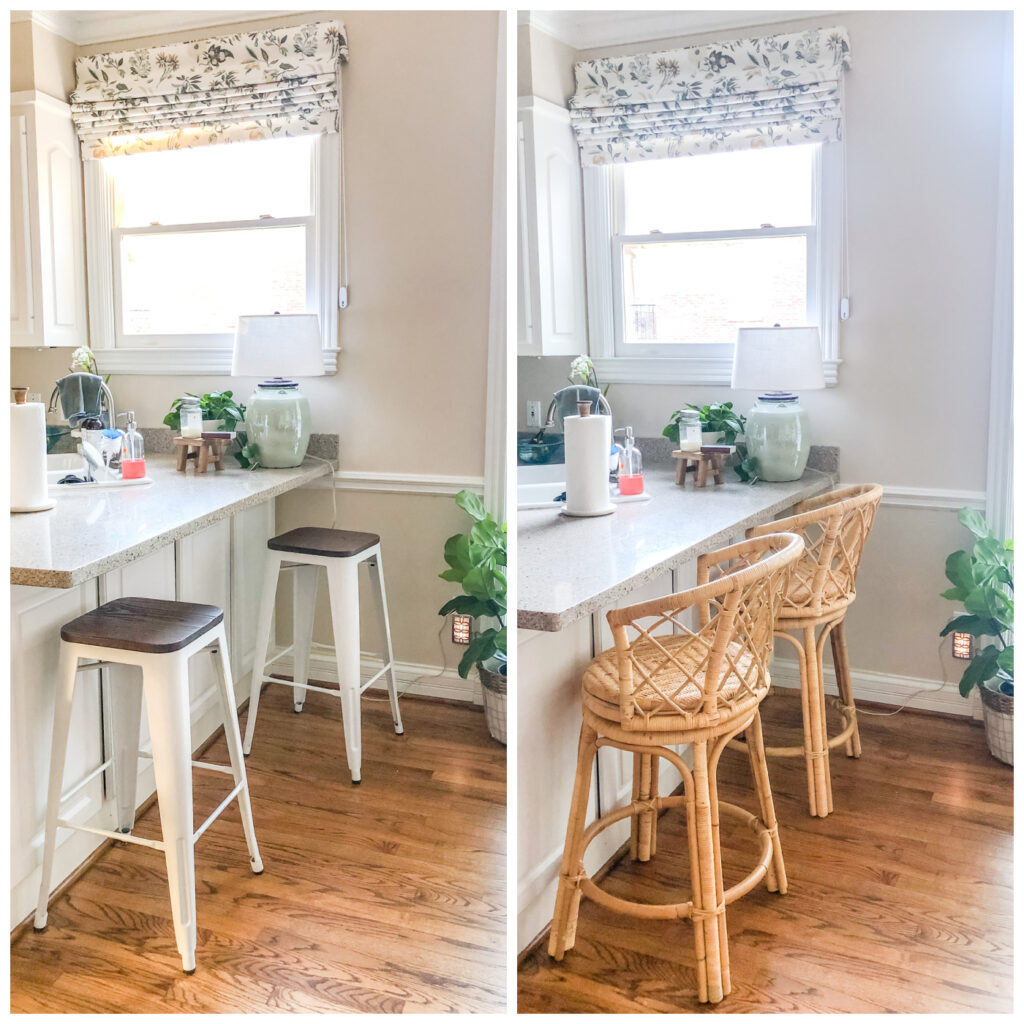 Then there's the stair runner. I wanted to get it in place before I called the kitchen "done." But I can't find a DIY solution or an inexpensive solution that meets my criteria. I ordered a sisal rug last week to do a DIY project, but then I read that you don't want to use sisal on your stairs because after it wears down a bit it gets slippery.
I think I'm going to just get the carpet I originally wanted, even though it's more than I wanted to pay. So I'll have to save a couple more months to order it. And with wait times for home goods being really long right now, I just feel like I'm at a stand still on finishing this makeover.
Update on the Exterior Painted Trim & Shutters
In the exterior paint job, I did get approval for the paint colors I wanted from my HOA. Yay!! They gave me a quick approval and said it will be a welcome change for my house. I'm so glad I didn't have to fight them on changing it. I have a painter lined up and ready to go as soon as the next good weather day opens up in his schedule. So, that'll be happening soon.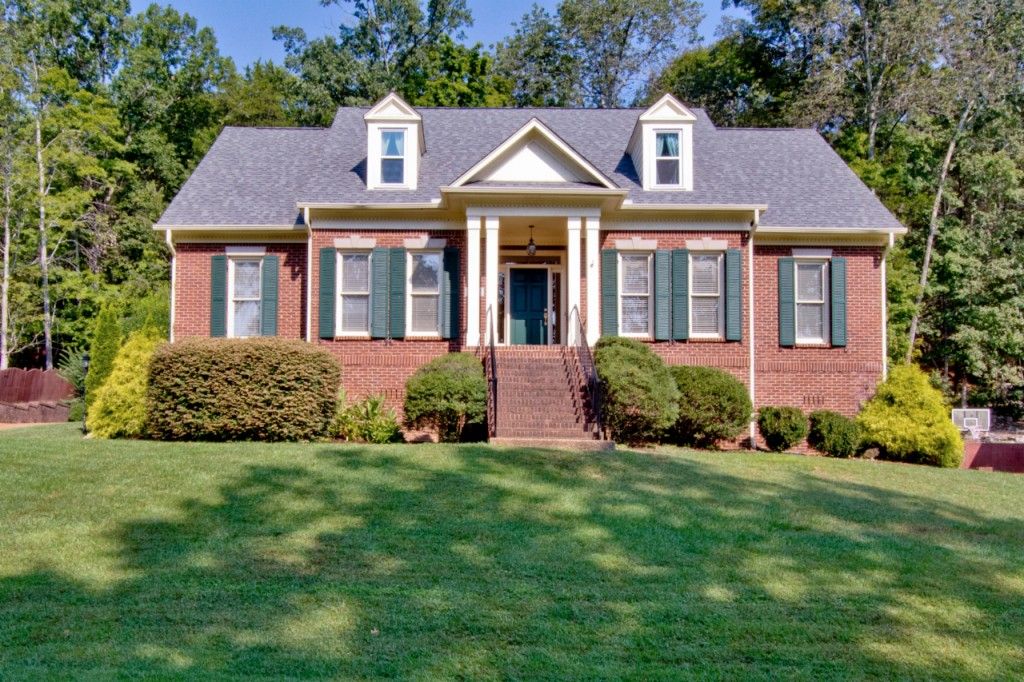 The Garage Organization
My husband is just finishing up his back-to-back coaching seasons and I try to give him a couple weeks of down time before I hit him up for a project. 😜 So as soon as he's had time to catch his breath, we will tackle the garage organization project. And as the weather warms up here in Alabama, we'll have more comfortable days to be out there! It'll be nice to have an organized garage by summer.
---
So, I feel like all of my home makeover budget is tied up in these big projects that are all on hold or taking a step back. And I'm just itching to do a mini project just to feel creative and have something to share. But at the same time don't want to open up a can of worms by starting yet another room makeover!
But, while I've been waiting for things to happen, I HAVE been planning a little makeover for a small space in our home. I just can't help it!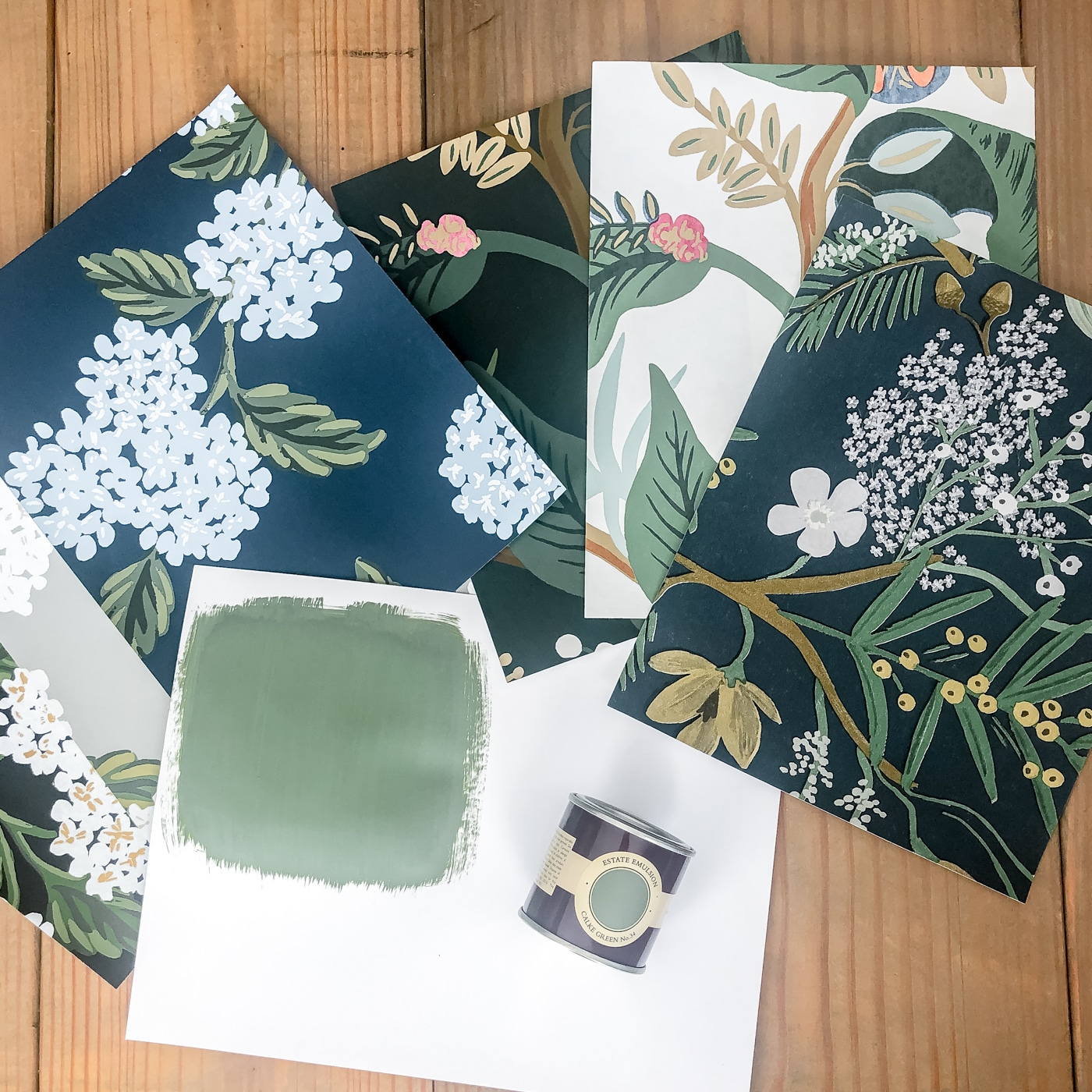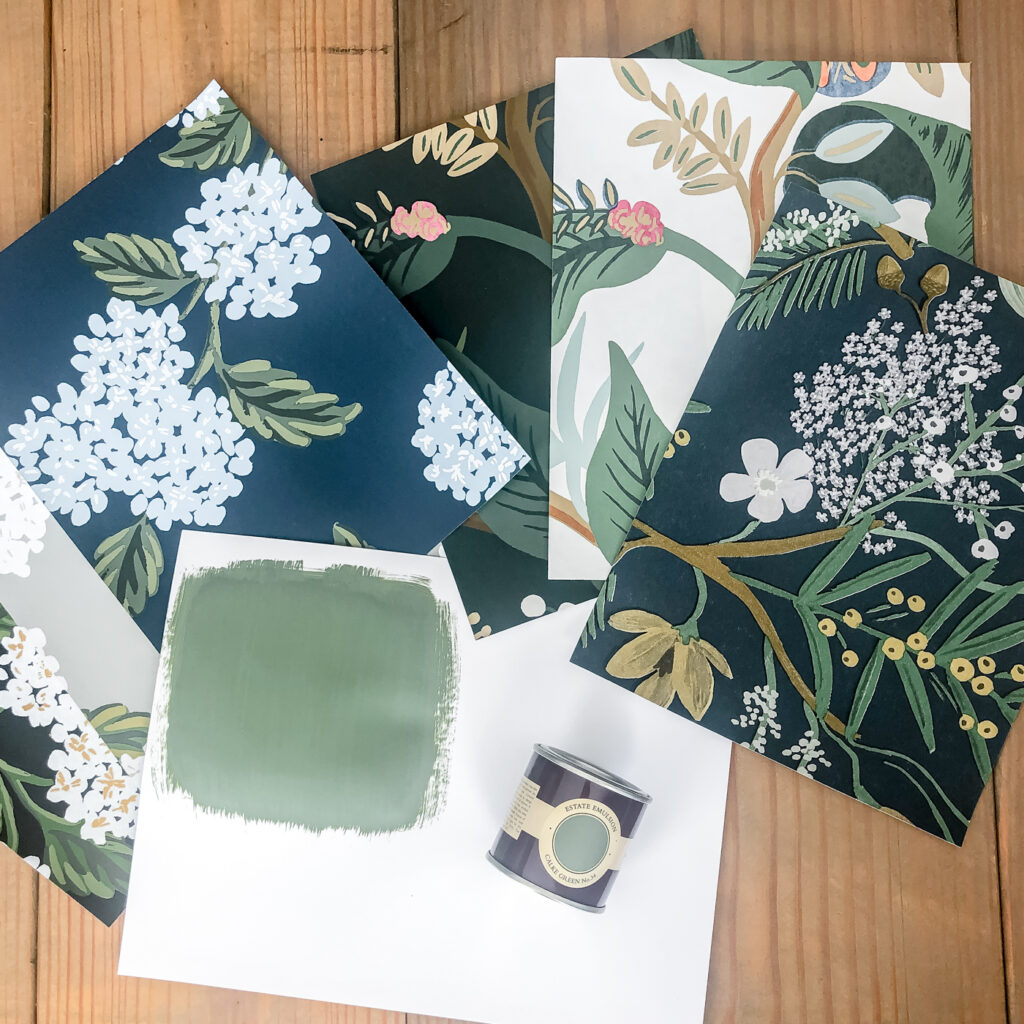 Wallpaper Left to Right: Hydrangea Wallpaper in Black & White | Hydrangea Wallpaper in Gray | Hydrangea Wallpaper in Navy | Peacock Wallpaper in Emerald | Peacock Wallpaper in Rouge | Juniper Forest Wallpaper in Evergreen
I think some paint and wallpaper will totally transform the space, so I ordered some samples and I think I'm going to go for it soon. Any guesses where this is going to take place?! I'll share more soon!
MORE POSTS YOU WILL LOVE: