I know these past few weeks have been allllll about some sales. I wish they'd spread them out more. But some of my favorite staples in my closet have come from past years' Nordstrom Sales, it's just too hard to pass by.
And as I mentioned before in my Nordstrom Sale Picks post, these are new items for the upcoming season at their lowest price ever!! And their free shipping/free returns policy makes it a no-brainer. Love me some Nordstrom Sale.
OK, so I bought a bunch of things from the Nordstrom Sale as soon as Early Access went live last week. My first order got canceled, so I quickly placed a second order trying to remember from memory which items I had purchased. I missed out on a few items that went out of stock before I could get my second order placed. Either way, I got some great things, missed out on a few things and totally hated some things I thought I would like. Haha!
Things that are still in stock at the END of the Public Sale that I would grab ASAP:
Tops:
Shoes:
Jeans:
Ripped Knee Skinny Jeans​ – I love Madewell jeans and these are great! If you're in the market for a distressed/ripped-knee jeans, you'll love this one.
Beauty Finds:
---
---
Things I Bought and LOVED from the Nordstrom Sale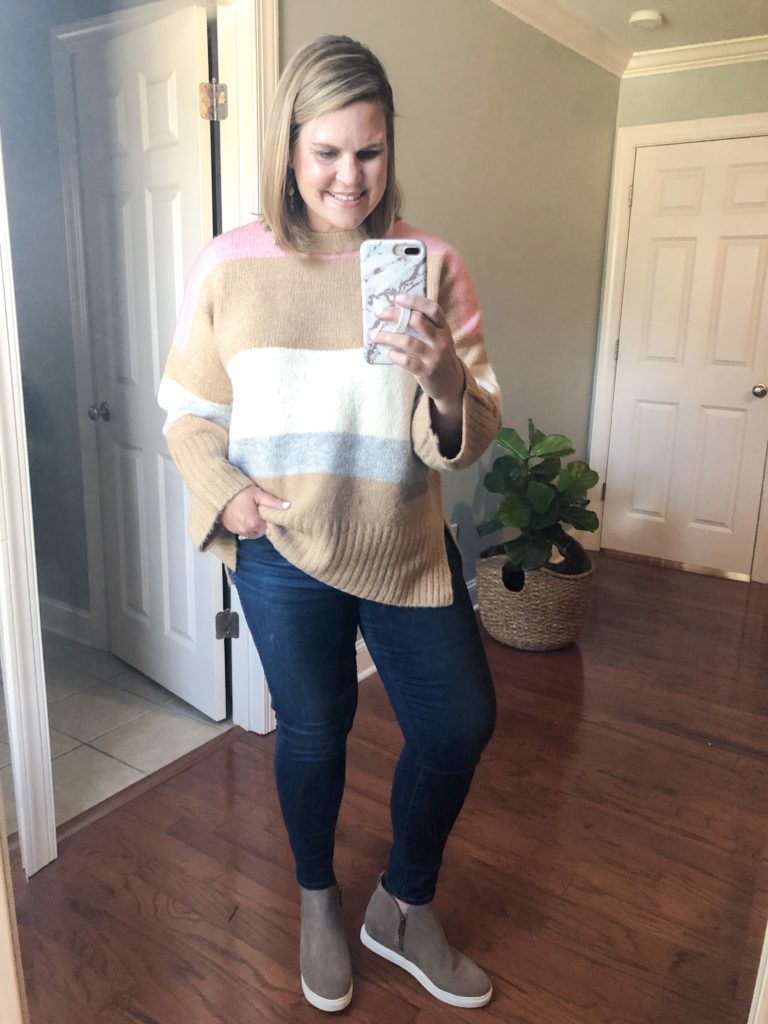 Creamsicle Color Block Sweater – I love this thing! I am wearing an XL in this photo. It is oversized, so I ordered a Large to see if it would fit better, but either way I'm keeping one of them. Just love it! In the XL, it's long enough in the rear to wear with leggings, so, I may keep this size for that reason.
Wedge Sneaker – These are my favorite shoe from the sale! I'm obsessed and can't wait for the weather to get cool so that I can wear them all day, errrday. They are waterproof, too, so you won't have to worry about them getting wet!
High-Rise Skinny Jeans – You may be thinking that these are the Madewell jeans from the sale that I thought I would love, but alas… I hated them!! *gasp* The dark wash material wasn't my favorite. It felt stiff instead of soft. And the length was way to short for a non-cropped jean. You can see me try them on in my Instagram Stories (here). Instead I'm wearing my favorite Madewell jeans that I bought last year for full price. I tell you. These jeans are worth it.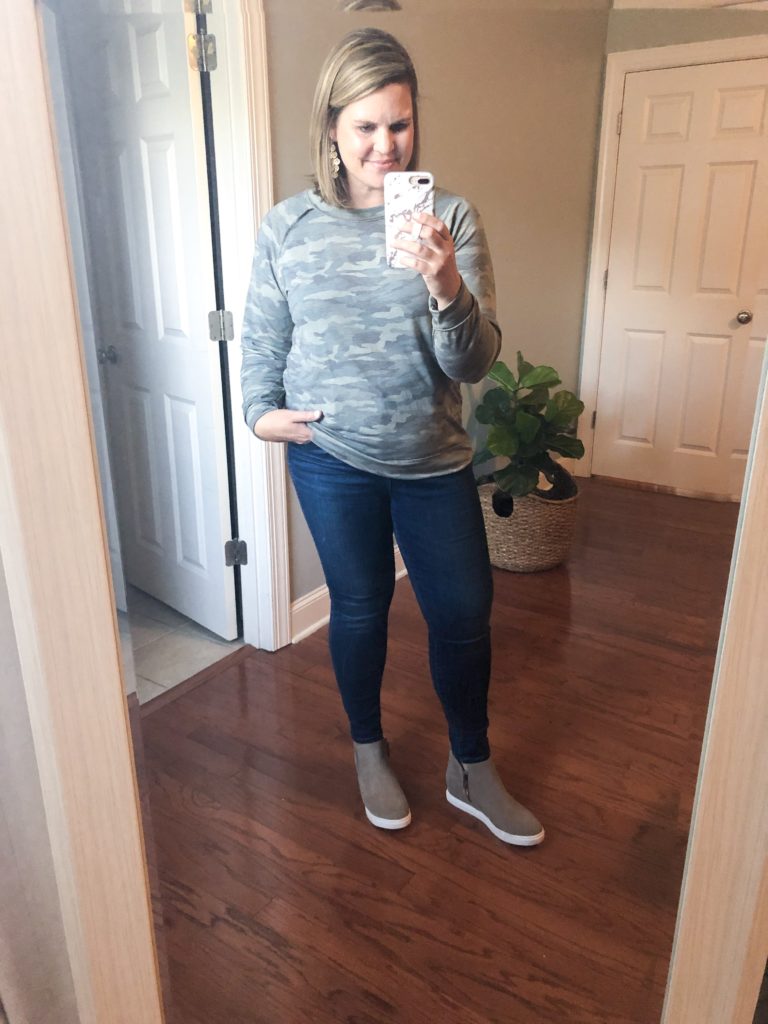 Camouflage Sweatshirt (Sold Out) – I bought this last year (in a different camo and a floral), but wanted a new one this year because I like this year's camouflage pattern better and I needed to size down.
Wedge Sneakers – I already wrote about them in the above photo, but I'm obsessed. You will see me in this outfit a LOT come fall.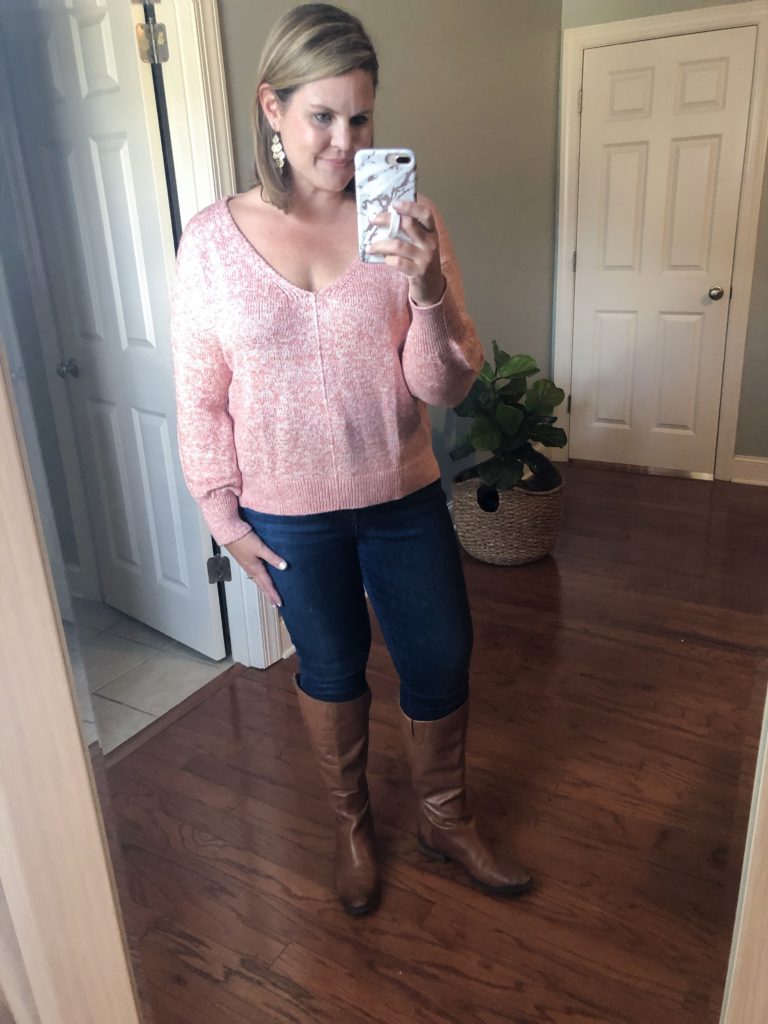 V-Neck Sweater (SOLD OUT) – I'm so sad this one is sold out, and hopefully will come back, but it's a perfect date night sweater. It's low cut, so I'd pair it with a bralette, like this one. The puffed sleeves and slit hem give it added fancy details.
Riding Boots – These aren't part of the sale, but I received them for Christmas a couple years ago and loooove them! If you want to get a great deal on a similar, classic riding boot that is part of the sale, grab one of these two Frye Boots: The Carly or The Melissa. I've heard they will last for decades and are worth every penny! Maybe next year for me.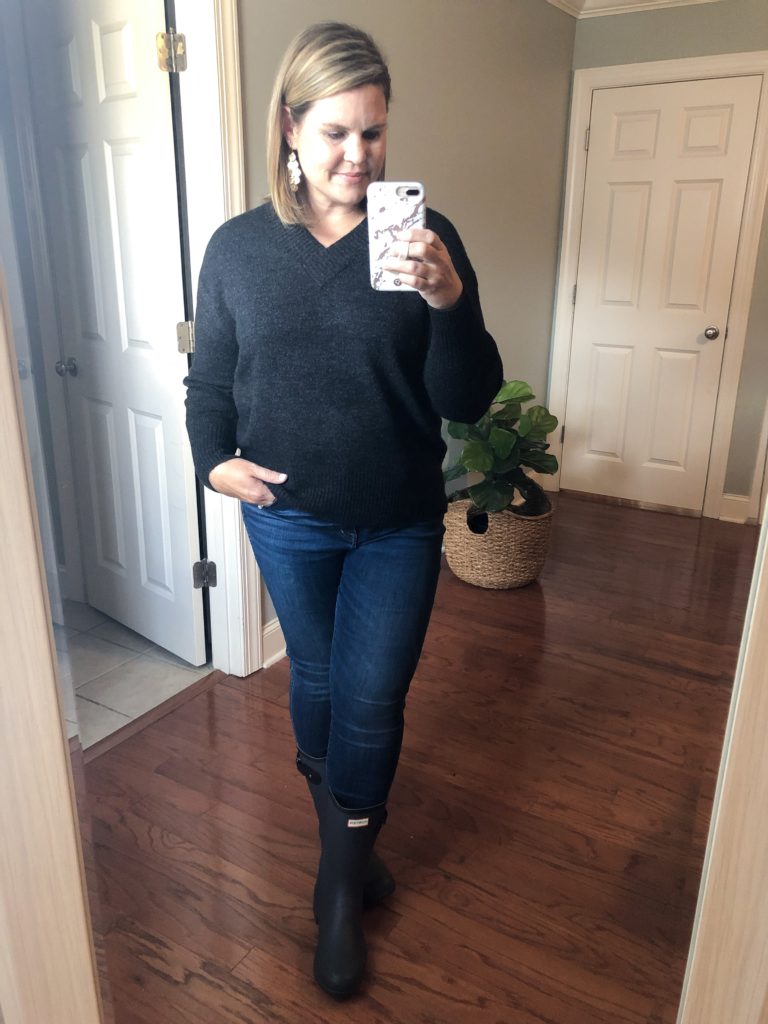 Classic V-neck Sweater – I've needed a new v-neck sweater and this one fits the bill! It's just perfect and comes in a pretty bright yellow color, this charcoal gray color and a brown, as well as a few striped options. The perfect basic sweater!
Hunter Boots – I've wanted a pair for years. My husband even got me some tall boots for Christmas one year, but they weren't extended calf, so I had to send them back and never ordered a replacement. This year since the extended calf isn't part of the sale, I went with the short version and looove them! Get the tall version here and the ankle version here.
Returning Items That I Loved Last Year
I forgot to snap pics of two of my favorite items from last year's sale that are back in the sale this year. So, I've included photos I took last fall…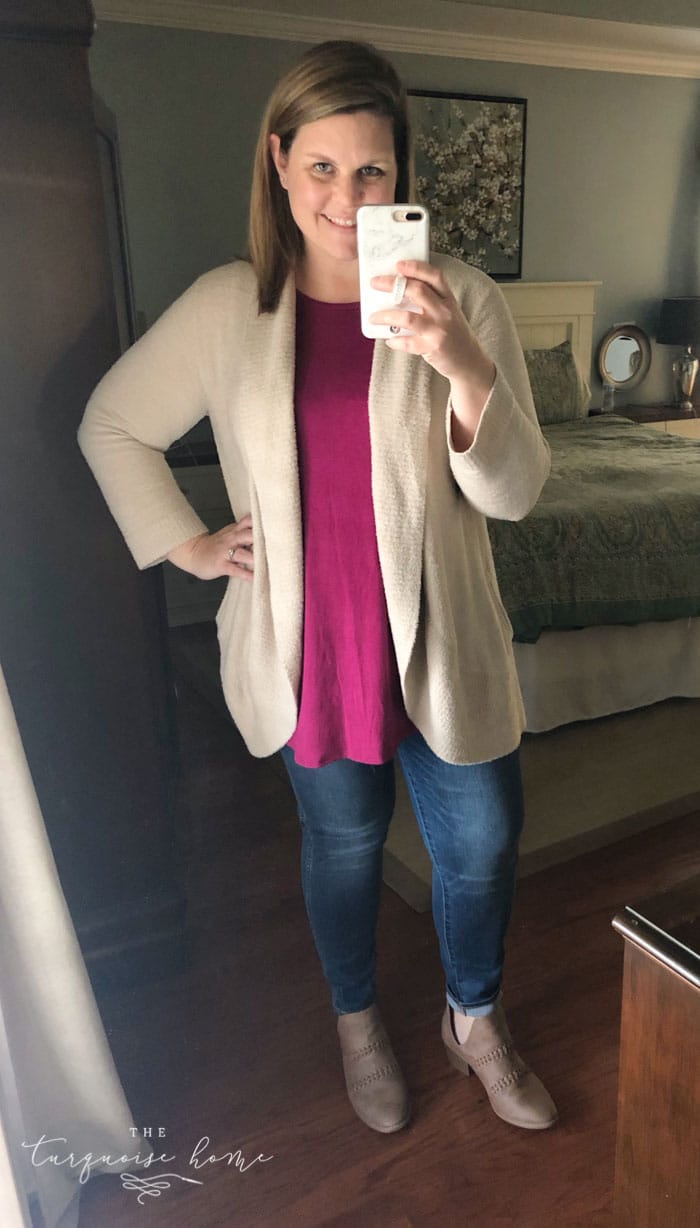 Barefoot Dreams Circle Cardigan – I bought this last year and LOVE it! I shared it in my stories, but it's a classic piece – so comfy! Loooove the pockets. And the circle hem gives it enough polish to wear around town without looking like a bath robe. LOL I wear a L/XL and it fits great!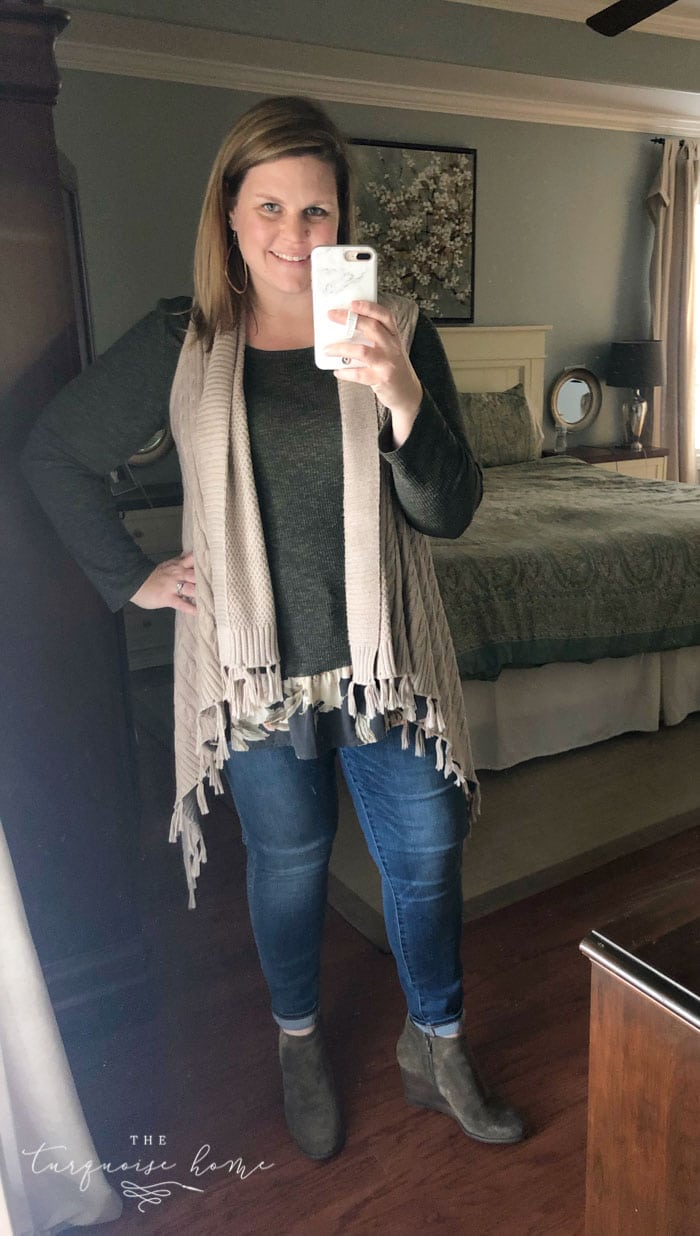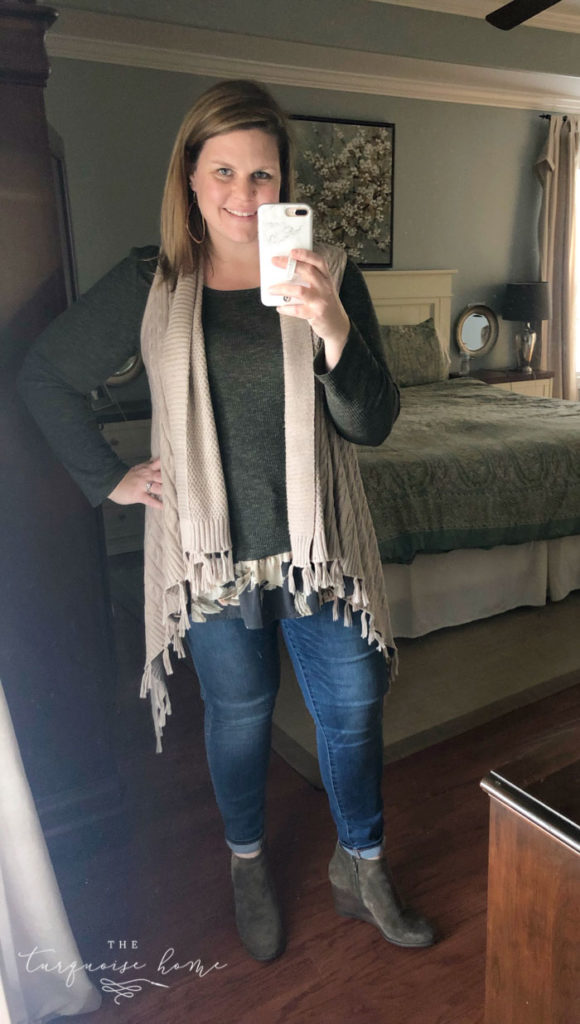 Wedge Bootie – I adore my wedge booties from last year's sale and this year they are back and even better! I have the antique green suede and it goes with everything. And you can still get last year's version (also on sale), too!

More Items from the Sale that I Loved:
Unfortunately I didn't get pics of all of these… or they are beauty products. You can see most of them in my Instagram Stories (here).
Long Sleeved Pocket Tee – These will be great for layering this fall and winter! They are pretty thin, but that's perfect for layering, especially here in the south.
Barefoot Dreams Short-Sleeved Cardigan – This one is super light, short-sleeved, yet cozy will pair perfectly with these long-sleeved tees this fall.
Yoga Tee – This is perfect if you need a low-impact workout tee. It was true to size and a comfortable fit.
Everyday Joggers (SOLD OUT) – I wish these were still in stock, because they are awesome!! I've only received mine in the large size, which fit, but I'm eager to try to the XL to see if I prefer that fit. If you ever see these back in stock, grab them! So good!!
Brow Pencil & Brow Gel Duo – I have used this eye pencil for a while now and bought this deal to get the clear brow gel. I use the taupe shade.
The North Face Kids Fleece Jacket – I bought this for my older daughter and it's an obvious winner. I grabbed it in a little bigger size for her so she can wear it for a couple years.
Steve Madden Girls' Booties – I bought these for my daughters and they haven't taken them off since. The LOVE them!
Things I Bought from the Nordstrom Sale and Did NOT Love
OK, so I thought I would love some things and was surprised, like the Madewell Jeans in the sale this year. But others I was just ordering to try them and didn't love them, so I'll share why.
10″ Skinny High-Rise Madewell Jeans – I was so sad when I tried these on and didn't love them, because I sing their praises ALL.THE.TIME. I have several pair, but in lighter washes. This fabric was very dark, stiff and just not nearly as comfortable as the jeans I've bought in the past. And they were TOO short! The ankle wasn't fitted like the other jeans I've bought and they were cropped, not nearly ankle length on me. I would recommend the Danny Wash or the Hayes Wash instead.
Crewneck Sweater – This one was fine. I didn't love the way it fit my body, but I've seen it on other bloggers and it's cute. I preferred the v-neck sweater I shared above.
Caslon Wedge Sneaker – I honestly bought this pair thinking I would love them and bought the pair I shared above just to try. But I loved the Blondo sneakers 1000% more! These didn't fit as well and I didn't like the pointed toe as much. Cute, but not as cute or comfortable as these.
Madewell Sweater – This sweater was meh. I didn't love the bulk the pockets added or the cropped style. Not for me!
Printed Sleeveless Top – I thought I would love this top, but it was too boxy and short for my liking. I've found similar options at Old Navy or Target that I love more.
Spanx Faux Leather Leggings – I've heard other bloggers rave about these faux leather leggings for years! These are a cult favorite. So, I finally bought them and tried them. Absolutely a NOPE for me. The skinny, thin material does nothing for my curvy figure. Although I love the Spanx hold in the tummy area, these are a no-go for me.
Flare Jeans – It took me years to get on the skinny jean train because I LOVE a flare jean. So, I'm glad to see them making a comeback. I really liked these jeans. They fit well, but they are too long for me and I'm 5'7″. So, I'm either sending them back or paying to have them altered. Nordstrom offers free basic alterations and exclusive alteration benefits for card holders. (Sadly I don't live near a Nordstrom, so I'll have to travel to have them altered. Not sure it's worth it.)
Every year I hear people say that they either LOVE the Nordstrom Anniversary Sale or their aren't impressed. I personally think it's great because I can add staple pieces to my fall/winter wardrobe at 30%+ off. I'm so excited to finally have those Hunter boots in my closet. I hope you enjoy the sale and get some great deals for yourself!
Happy Shopping!
MORE POSTS YOU WILL LOVE:
Get Instant Access to my Guide to Customize Your Home on a Budget
Grab your FREE guide for 10 Ways to Customize Your Home on a Budget: simple projects to transform your home from builder beige to a home with character and charm!