I am a busy working mom with little kids, so crock pot recipes are my jam. This slow cooker chicken recipe is a delicious, go-to meal that my whole family loves. It's like a chicken, white sauce version of spaghetti with mushrooms. And did I mention it super easy to make? That's the icing on the cake.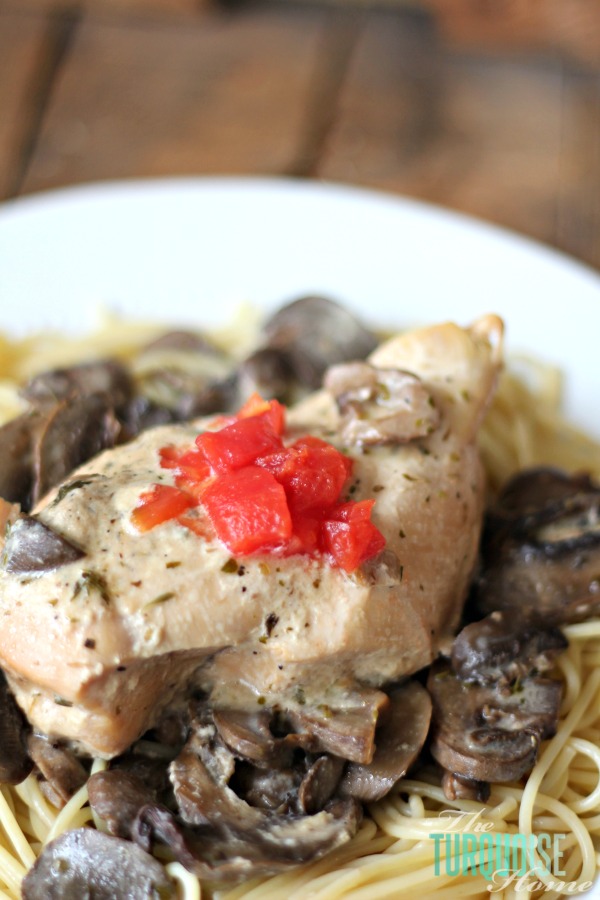 For me, the best thing about crock pot recipes is that I'm not frantically trying to fix a three course meal during the witching hour.
Oh, you know the one where the kids are simultaneously crying, screaming, starving and dehydrated, even though you're throwing snacks and juice at them. All the while you're getting hungrier by the minute because dinner's taking twice as long to cook and you can't read the recipe long enough to process it because of the noise?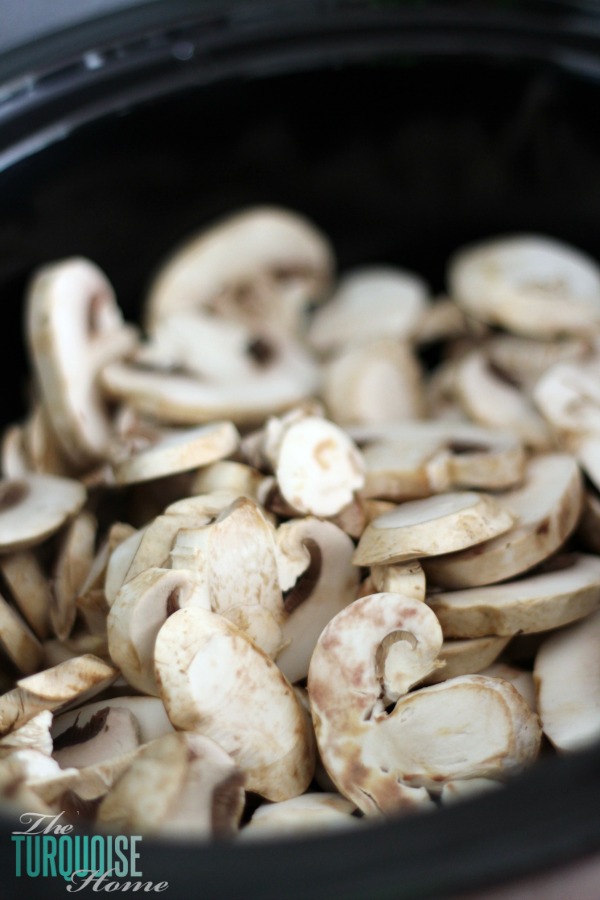 Yeah, so anytime I can make dinner during nap time, we'll call that winner winner, chicken dinner. Literally.
By the way, if you don't have a programmable slow cooker, then you are missing out! I have the older version of this Crock Pot model and I LOVE it! We've used it for 8 years and it is still going strong. You can set it for however long you need to cook it, and then it will switch to "warm" when the cooking is done. There's not need to be home to turn it off!

The very first time I made this recipe, I used pre-packaged Italian seasoning. But when I made it the second time, we were all out of Italian seasoning, so I made our own. And we love it all the more!
A bonus to this recipe is that it calls for white wine, so grab a glass and have a toast while you're making dinner. Well, maybe not since you'll make this one around lunch time. 🙂 But you can grab a glass while you're boiling the noodles to go with the chicken.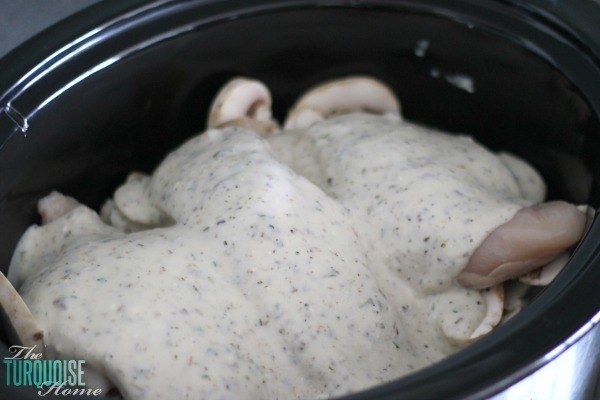 I like to pair this crock pot recipe with a salad. Publix has some of the best bagged salads. Our favorite is called the spinach and bacon salad. Yum!
I'm putting this on my grocery list this week!
Angel Mushroom Chicken Crock Pot Recipe
Angel Mushroom Chicken Crock Pot Recipe
Author:
The Turquoise Home
Ingredients
1-2 pounds of chicken breasts (I put them in the crock pot frozen, but they can be thawed as well)
14-16 oz. of mushrooms - I like a lot of mushrooms and I prefer the pre-washed, pre-sliced versions
¼ cup of butter, melted
1 10-3/4-oz. can of cream of mushroom soup
½ cup of dry white wine
4 oz. of cream cheese
1 t. garlic powder
1 t. onion powder
1 t. white sugar
2 t. oregano
¼ t. black pepper
pinch of thyme
¼ t. dried basil
1 t. parsley
2 t. salt
1 lb. cooked rice or pasta
Instructions
Melt butter in saucepan
Add seasonings, soup, wine and cream cheese
Stir until melted
Place sliced mushrooms in bottom of crock pot
Place chicken on top of mushrooms
Cover chicken with sauce
Cook on low for 5 hours
Enjoy the chicken, mushrooms and sauce over your choice of pasta or rice. I always cook angel hair pasta, because it's our favorite. This is a yummy one, Enjoy!
Recipe inspiration from Cleverly Inspired


Get Instant Access to my Guide to Customize Your Home on a Budget
Grab your FREE guide for 10 Ways to Customize Your Home on a Budget: simple projects to transform your home from builder beige to a home with character and charm!