Christmas Decorating in the Entry Way
Happy Monday, my friends! I can't believe that Christmas is NEXT week! Did that freak you out a little bit? Or are you ready? 🙂
For me this week is baby week! We are so excited. I'll be scheduling a few posts for the rest of this week and maybe a couple more for the rest of the year, but I'll mostly be taking time off to spend with my little growing family. I'm sure I'll be posting pics on Facebook and Instagram at some point, so you'll want to follow there to see any behind the scenes pics. 🙂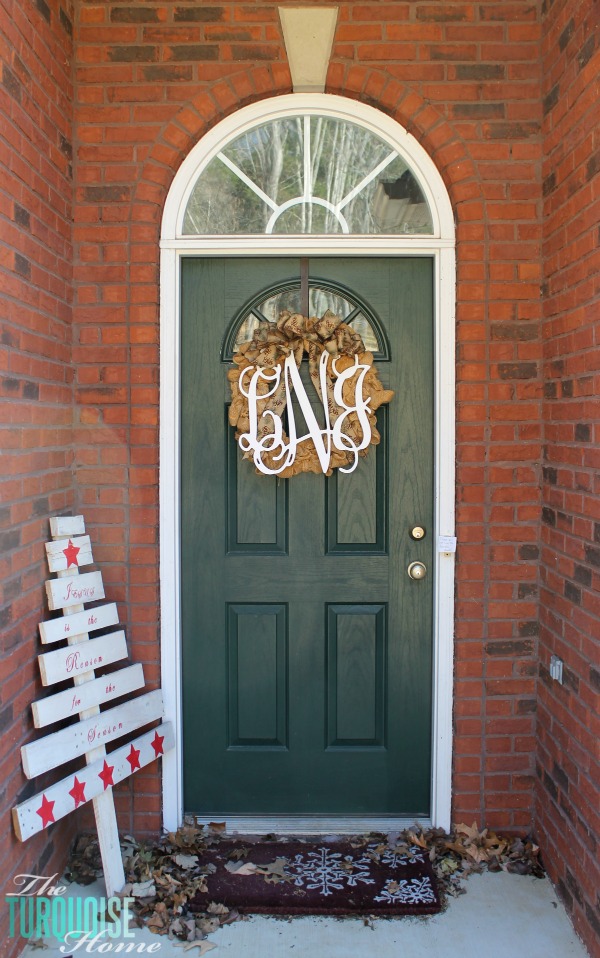 Our last little stop on my Christmas Home Tour is my entry way. It's the smallest space I have to share, but I thought it deserved its own post. I'll start with the front door. The outside of my home isn't much different from how it was decorated last year, except for the wreath. Oh, and I didn't add any lights to the pallet Christmas tree. #toolazy
Don't mind the leaves. I didn't feel like sweeping the stoop off and my hubby wasn't home, so leaves it is! Hopefully that'll make it on the honey-do list soon.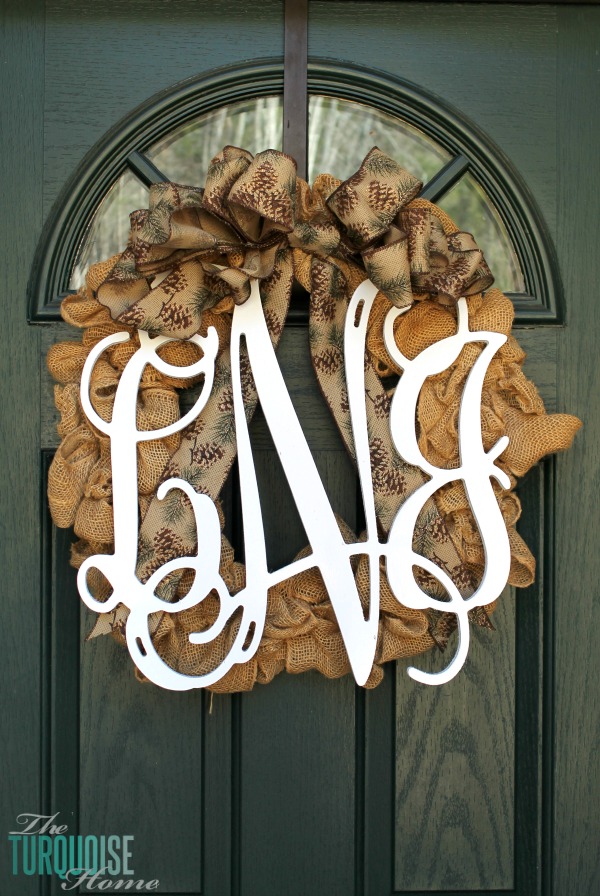 I propped my DIY Pallet Christmas Tree up by the door and added a glittery pinecone burlap bow to my DIY burlap wreath and painted monogram. I love that I can change it out every season with a tiny little bow change. I made sure this bow would work until spring, since I plan on leaving it there until then.
Come on in! If I were more together these days, I would be standing there in the door welcoming you in. But it's pretty rare these days for me to get all dressed up unless I'm going on a date with Coach. Sneak a peek at my living room, or take the full tour here. Oh and my mantel is pretty special to me because of the #4… read that story here.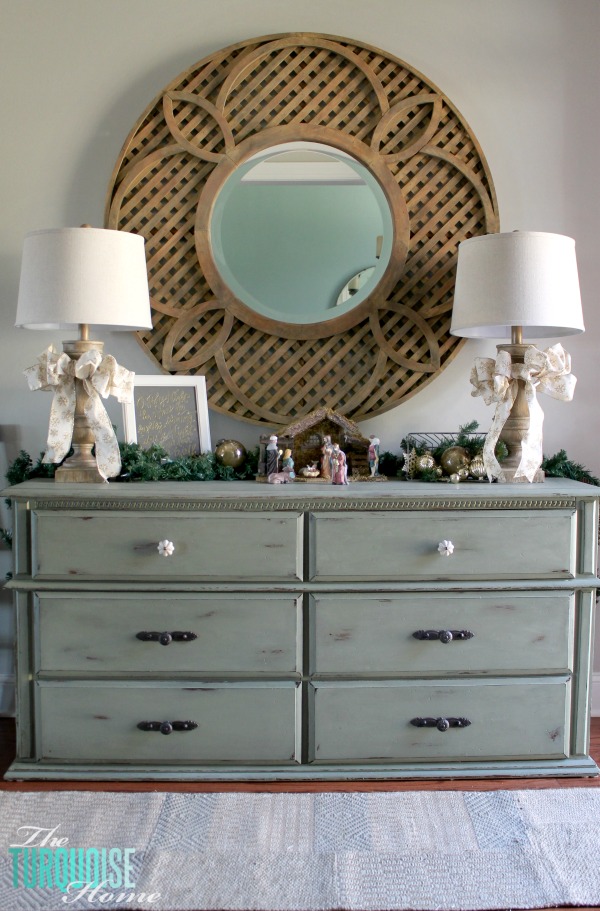 I love my Craiglist dresser in the entry way, which I painted with Annie Sloan Chalk Paint. (And speaking of ASCP, I'm maybe 1/4 of the way done painting the baby's furniture with chalk paint. And I'm pretty sure it's going to get done before D-day. Oh well. I'll have to find a way to get it done after baby arrives.)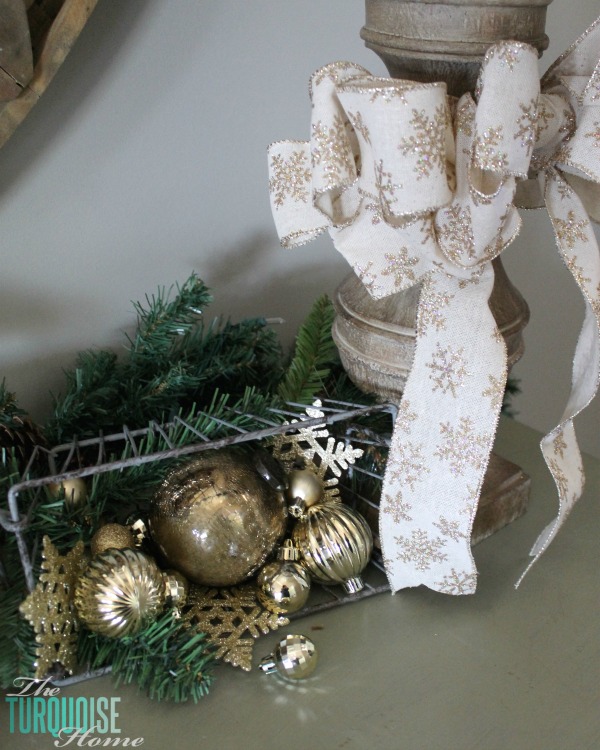 This year is the first year where Miss A could really understand what Christmas is all about. Before you think I'm the most fabulous parent and my child only thinks about Jesus and giving during this season, let me stop you. She has a wish list a mile long and can't stop talking about all the of presents she's already gotten and will be getting. The force of greed is strong in a 4-year-old. But, she does understand that Christmas is about Jesus' birth and that He's our Hero. So, when I put out the nativity scene, everyone is looking at Jesus in the manger, but it's not quite the way she wants it.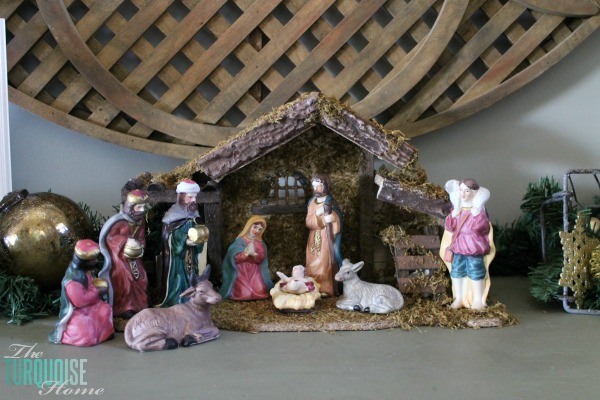 So she'll come behind me and change things up a bit …
Like this … she thinks everyone should really be looking at Jesus. I love how she can't think of any reason why they wouldn't be as close to Baby Jesus as they possibly can be. Seeing Christmas through a child's eyes has got to be one of the most wonderful gifts of being around children. I love it!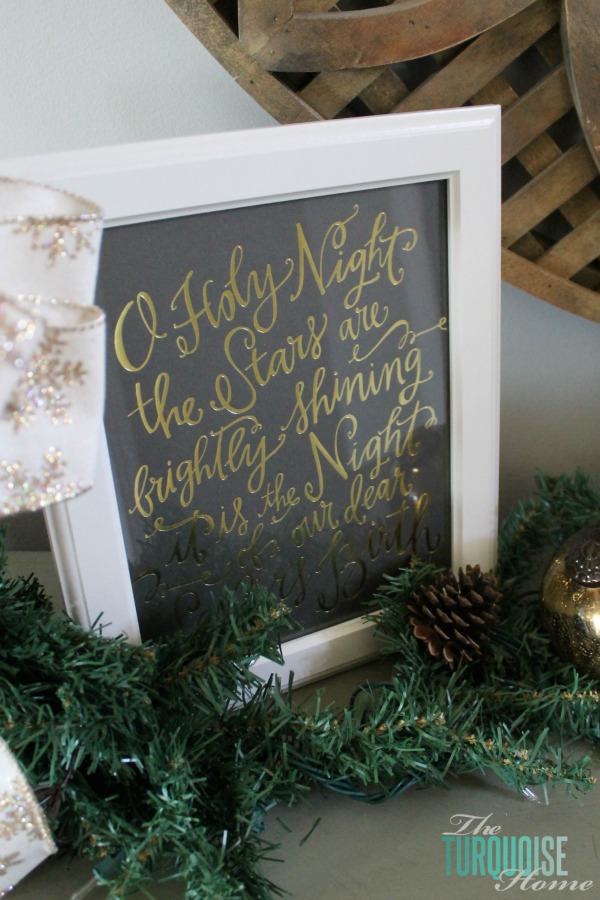 I grabbed this print from Lindsay Letters very early in the season. I've been wanting this one forever and I'm so glad I finally added it to my Christmas decor! It's my favorite Christmas song and the gold foil on gray is so beautiful. (I believe Lindsay is done shipping her products for this year, so if you order now you can have it ready for next year.)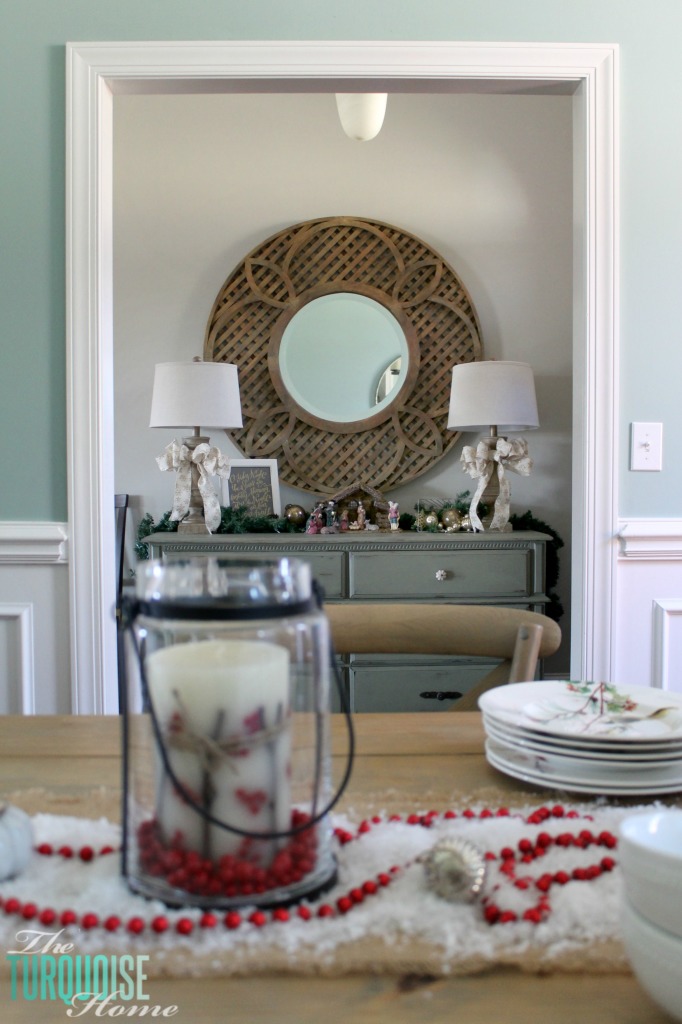 Just a quick peek from my decked out dining room with my big rustic glam tree in the front window. I hope you'll take a tour of it, too!
I stuck to simple decor on the door and in the entry way and it's perfect. I will probably just put away the nativity after Christmas and leave the rest of it up for a while. At least until I'm ready to decorate for spring!
Don't forget to follow me on Facebook and Instagram for all of the fun new family of four pics that are sure to come! We can't wait to meet our new baby girl!
Don't miss out on the behind-the-scenes fun!
Disclosure: This post includes affiliate links, which does not mean you pay a penny more when purchasing through my link. It means that in helping you easily find some of my favorite products, I receive a small commission if you purchase. Thank you so much for supporting The Turquoise Home! {P.S. I only share products I truly love!}