Happy weekend, my friends! I can't believe another week has flown by.
Lets' pretend we're grabbing a cup of coffee (or tea) and chatting at my kitchen table this morning. OK?Do you feel like you are going to have a straight up panic attack at the thought of the things you have to do in the next 6 weeks leading up to the holidays?
It's probably due to the fact that I'm a blogger and Christmas is just cah-razy when you're a home blogger. It's the pinnacle of all seasons and it's plain madness with all of the home tours, gift guides, yummy family recipes to share and more.
And that's in addition to the fact that I have to do all of the normal mom stuff for Christmas, like buy all of the presents for everyone in the family. AND I was the nutty person who had two children the week before Christmas. (So not my fault, because they had January due dates. The both of them!!)
So, birthdays mixed in, too. Why oh why?? Such is my lot in life, though. We'll always have birthdays and Christmas at the same time, so I might as well figure out how to make it work for me, right?
In light of the fact that my to-do lists are growing by the second, I felt the need to just sit and chat this morning. I think I'll feel better once I get a few things off my chest. You know, important things like console tables, kitchen cabinets and decluttering.
Console Table Progress
Gosh, it probably seems like updates and projects move at a snail's pace around here. Well, they kind of do. I have about 3 hours per day to get any work done and it's all after the kids go to bed. I can't really figure out how to work on projects again since my "baby" is now 10 months old and is into everything! (And she only takes a 1.5 hour nap each day!) I can't load the dishwasher without her crawling up into it.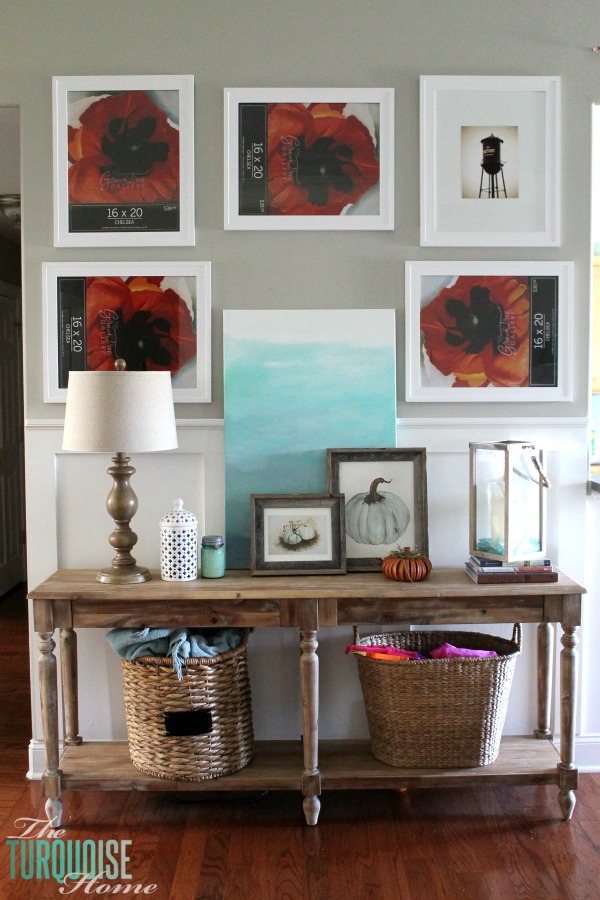 I did finally manage to get the picture frames hung over my new Everett console table. Now, it'll just take me three months to order the pictures and art and get them in the frames.
Another reason it takes a while to get things done here is that we're on a real budget. My husband is a teacher. And while I'm a fancy ol' blogger (haha!), my income doesn't all go to Target. I wish! It goes to ballet classes, diapers and winter clothes for my kids.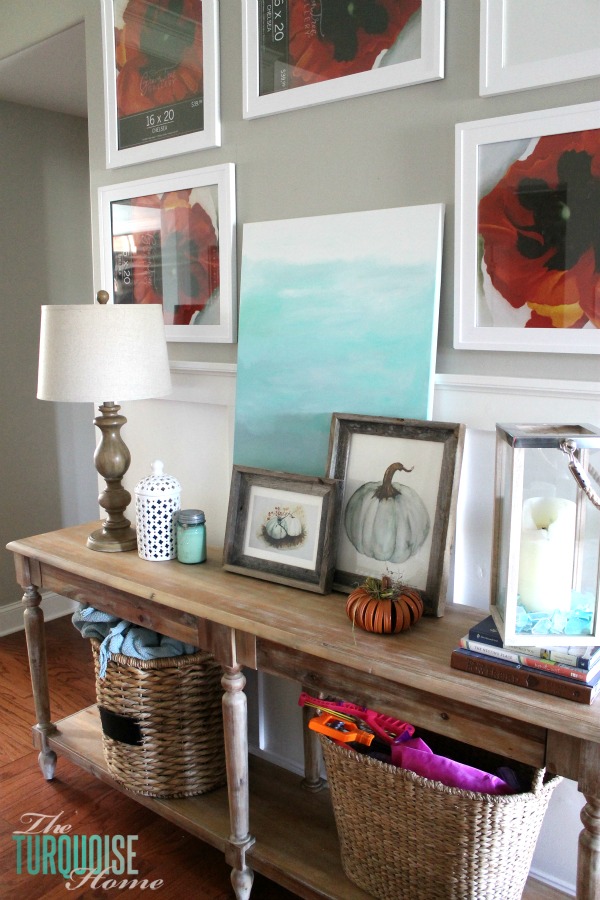 I have a limited home decor budget and that's just a fact of life. So, a project like this has to be spread out over a few months. I bought all of the frames at Hobby Lobby for 50% off, but I only could afford 2 frames at a time, so I spaced out my shopping trips over the course of a couple of months.
The lamp was a great deal from HomeGoods. I love the style, but not 100% crazy about the color. I think a little bit of white wax brushed over it will give it the look I want.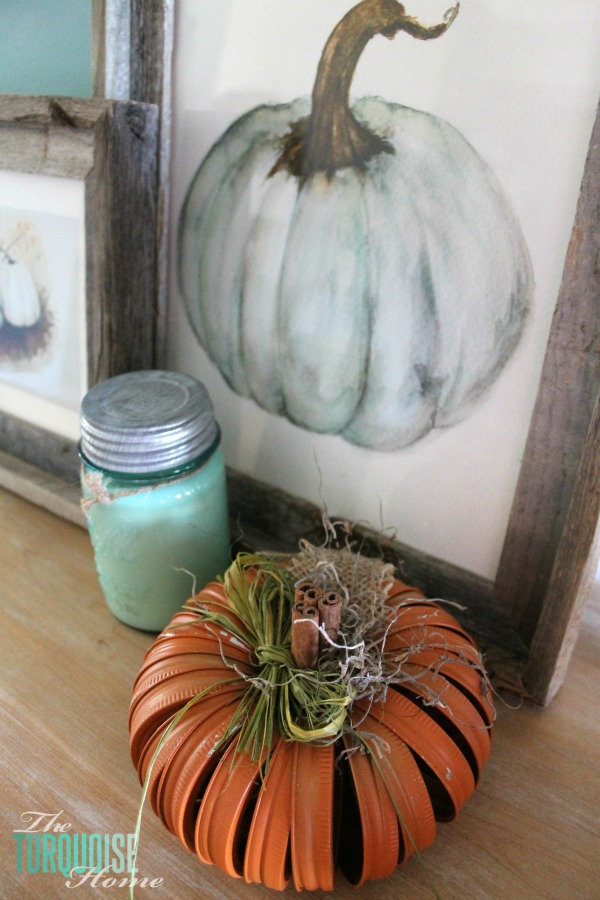 I'm still looking for matching baskets to go under the table. I haven't found anything that fits, much less two of them. Let me know if y'all see anything out there that might work!
And I want to frame the DIY abstract art I created for the space. I've been thinking about what I want to put in the space above it, too. I'm thinking a wooden architectural piece. It may take a while to find the perfect piece, but I know it's out there and when I see it, I'll know it's the one!
Tidying Up update
I wrote about my initial thoughts on the book, The Life-Changing Magic of Tidying Up last month and had plans to continue to share about it as I decluttered. Several of you had negative feelings about the book, which you let me know about in the comments.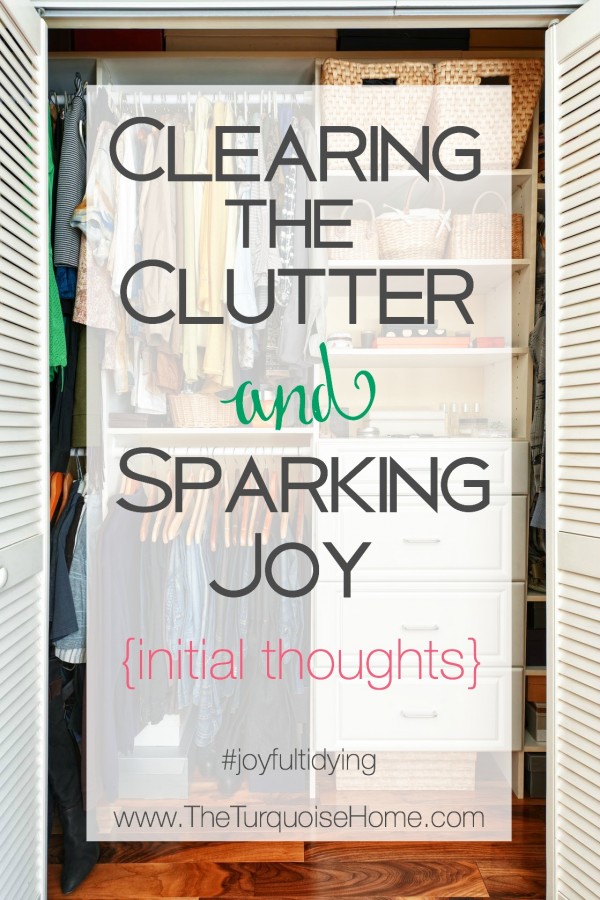 I welcome your honest opinion, so I'm glad you spoke up! I still think that there are some great take-aways from the book, even though I do think she's a little over the top. And I don't agree with everything she talks about by any means, but there are good ideas there. I've decluttered my clothes so far. I'm not sure that I'll get much further before the new year, but that leads me to my next point!
I'm going to pick it up and walk through each step of the decluttering process in the new year. YAY! It's always the time I'm looking to declutter anyway, so it'll be the perfect time. And I think most of you will be looking to do the same.
So, here's your homework over the holidays: order the book and read it! You have a couple of months to get it read and then we'll discuss in the new year. It's the first Turquoise Home book club. How fun! 🙂
Painted kitchen cabinets update
Gah!!! No, I haven't started painting the kitchen cabinets yet. I'm so bummed and feel like I'll never start.
The big debate a few weeks ago was if I could get them done by the time I host a party this weekend. But, as time quickly passed, I realized it wasn't going to happen.
So, now the decision is going to be, do I want to tackle painting cabinets during the holidays. I don't think we'll host anything other than a small birthday party and Christmas brunch for the rest of the year, so I think we'll go for it.
I'm also considering doing them in sections.
Pros: I can take a small portion and finish one spot without feeling like we're in the middle of a construction zone for months on end. It also will allow me to keep the doors on the bottom cabinets as long as possible, instead of it looking like a bomb went off.
If you've painted your kitchen, did you do it in sections, or all at the same time?
I've just got to take the leap and stop thinking about it. Ugh!
Wrap it up!
Ok, that was a lot of rambling. I hope your coffee was good, because you've been reading a long time. 😉
I just want to say that I love that you're here for me to chat with on a dreary Monday morning. If you want to share something with me, just let me know in the comments.
How are you doing with the holidays approaching?
Stressed?
Relaxed?
Trying not to think about it?
Excited beyond belief??
Get Instant Access to my Guide to Customize Your Home on a Budget
Grab your FREE guide for 10 Ways to Customize Your Home on a Budget: simple projects to transform your home from builder beige to a home with character and charm!