5 Cozy Fall and Early Winter Outfits to help you mix and match staples that are already in your wardrobe or find new pieces worth the investment!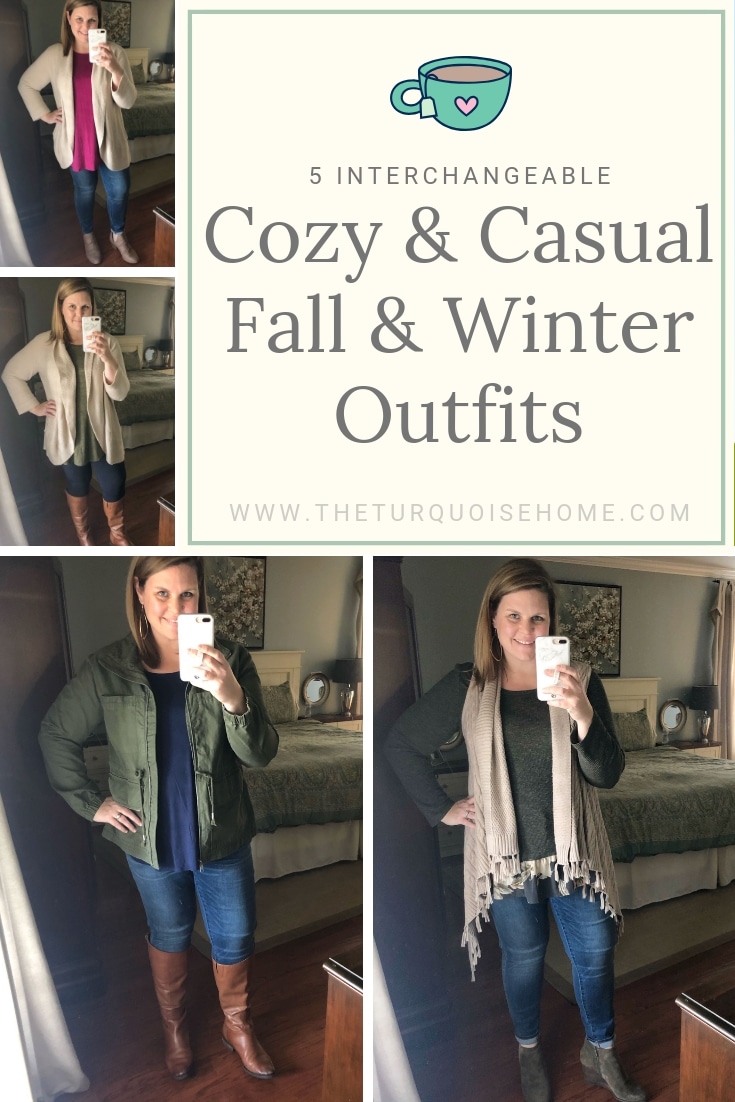 At the end of every summer I find myself longing for the brisk days of fall so that I can finally pull out my leggings, sweaters and boots. I love dressing for this season more than anything and at 37 years old I feel like I've finally found my style for the colder months.
And truth be told it's more like a uniform. I was inspired by Sherry at Young House Love recently when she shared her minimalist closet. I am far from having a minimalist's closet, but she shared her system for having a small number of layering pieces and how she mixed and matched each item to create a rather large number of combinations.
But it got me thinking that I basically have created that with my fall and early winter wardrobe. I have 4 different jegging or skinny jeans that I rotate with several different flowy tanks or shirts and then a few cardigans and jackets. And they can all be interchanged for a variety of looks.
I am a work-from-home mom who loves comfy, casual clothes that look put together. A couple of years ago my go-to outfit was jeans and a hooded sweatshirt. There's nothing wrong with that outfit, but I rarely felt put together or cute. I struggled to find something that I felt good in and longed to feel something besides frumpy.
So, I went on a journey to find cute, casual, comfortable clothes in my size. A big part of the journey was embracing my current size and realizing punishing myself by not buying cute clothes in my size was no way to take care of myself. I wrote a longer blog post about that whole journey this summer (click here to read).
If you're in the same boat that I was a few years ago, holding out hope that you'll be a different size and then you'll buy cute clothes – I encourage you to embrace the skin you're in right now. Care for yourself well by finding flattering clothes that make you feel good now. I assure you that there are clothes out there that will do that if you spend the time to try.
I put together some of my favorite looks for you to give you an idea how it works. This is obviously only a few looks, but they can be interchanged in every way.
I'm not a fashion blogger by any stretch of the imagination, but I've found so many favorite clothing items from other bloggers who share, so I know it has been helpful when other people share.
Just for reference, I normally wear an XL in shirts and jackets, size 16 or 33 in jeans and size 11 in shoes.
Outfit #1: Field Jacket, Skinny Jeans and Riding Boots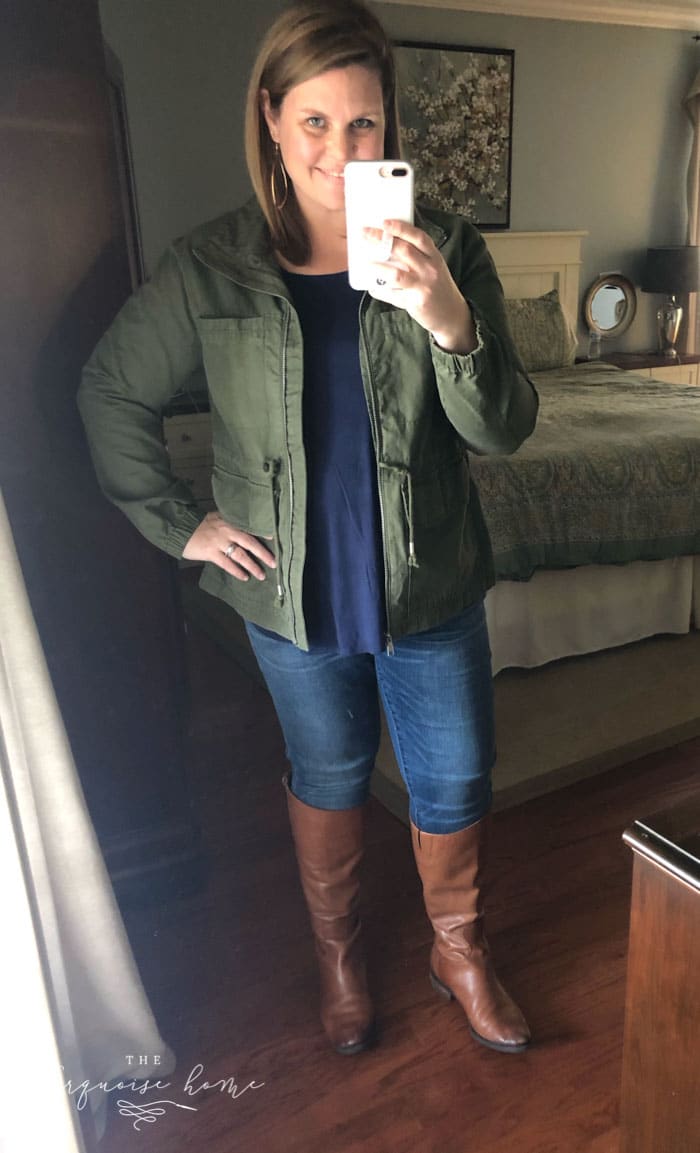 Field Jacket (XL) // Swing Tank Top (XL) // High Rise Skinny Jeans (33) // Wide Calf Riding Boots in Whiskey (size 11)  (regular calf size here)
This look is chock full of my favorite fall staples!
High Rise Skinny Jeans: I resisted skinny jeans for a long time because they never fit me right. But I finally realized that you truly get what you pay for and tried these quality jeans. And let me tell you, they are worth every penny. They are perfectly fitted at the ankle for wearing with booties (pictured below) and the tummy panel in the mid-section is perfect for keeping the mommy pooch in check. 😂
They are fitted, yet super comfortable and don't sag out in the rear end making it look like you're wearing an adult diaper under your jeans. 😳 You know what I'm talking about, right? I highly recommend investing in a quality pair of skinny jeans.
Swing Tank Top: If you've been around here long at all you know I love these inexpensive luxe swing tanks. I have them in 12 colors. Ha! They are perfect for layering over skinny jeans or leggings and under a cardigan or jacket. LOVE!
Wide Calf Riding Boots: I legit have the largest calves of anyone ever. I also wear a size 11 shoe. I searched for YEARS for the perfect riding boot that would fit me. And I'm happy to say that I found it last year. Yes, it's another investment piece, but these are high quality boots and will last years. They have a regular calf size as well. I've heard from others that they think they run small, so if you're between sizes, I'd recommend sizing up. But since last year, the largest size was 11, that wasn't an option for me. They were snug when I bought them, but they've since stretched a little and are super comfortable now. (They now come in sizes up to 13!)
Field Jacket: This is a great option for layering when you want a more fitted look. I think it's super cute and flattering!
Click the Images Below to Shop:

Outfit #2: Cozy Sweater, Skinny Jeans & Booties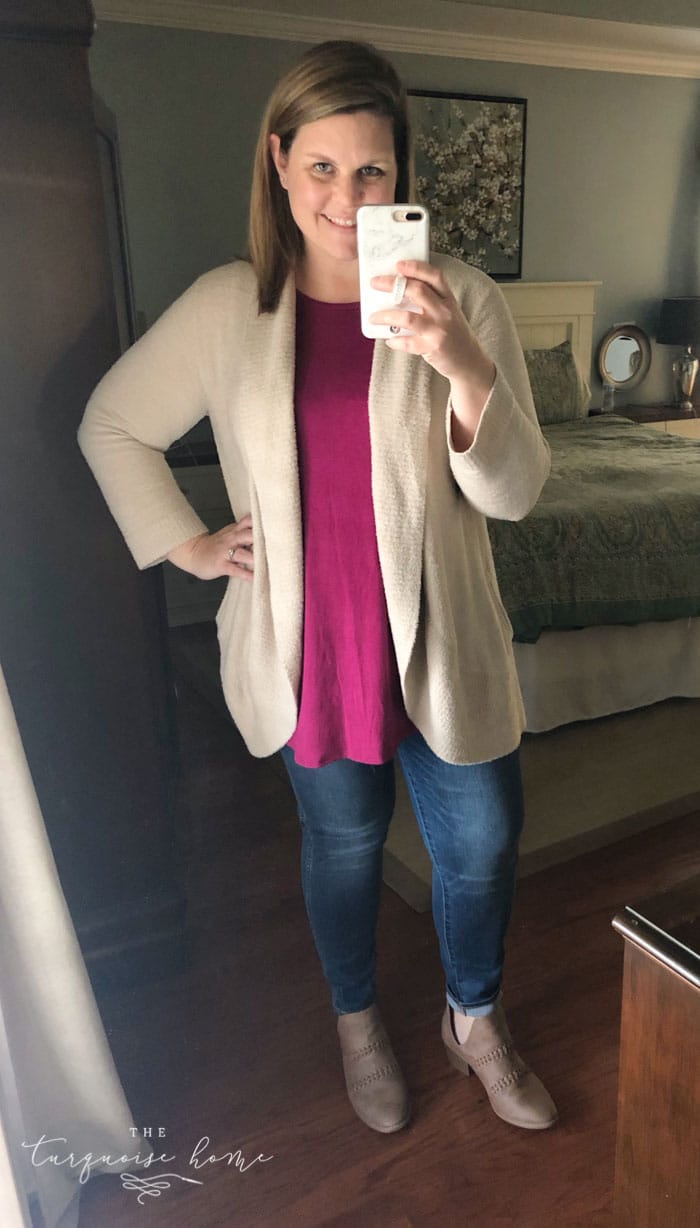 Cozy Cardigan in Stone (L/XL) // Swing Tank Top (XL) // High Rise Skinny Jeans (33) // Booties (size 11)
I shared about the jeans and the tank top in the previous photo.
Cozy Cardigan: I live in this cardigan all fall and winter because it's like wearing a cozy blanket made out of angel's wings. My kids fight over who gets to snuggle me when I wear it. It's a staple for throwing on at the last minute and running to preschool pick up line, for sure! 😂
Booties: I wanted to find a pair of booties that I could easily slip on and go and were comfortable. I bought an expensive pair last year, but they just aren't comfortable. So, I am so happy I found these! They are inexpensive and super comfortable to wear all day!
Click the Images Below to Shop:

Outfit #3: Long Tunic, Cable Knit Sweater Vest, Skinny Jeans and Wedge Booties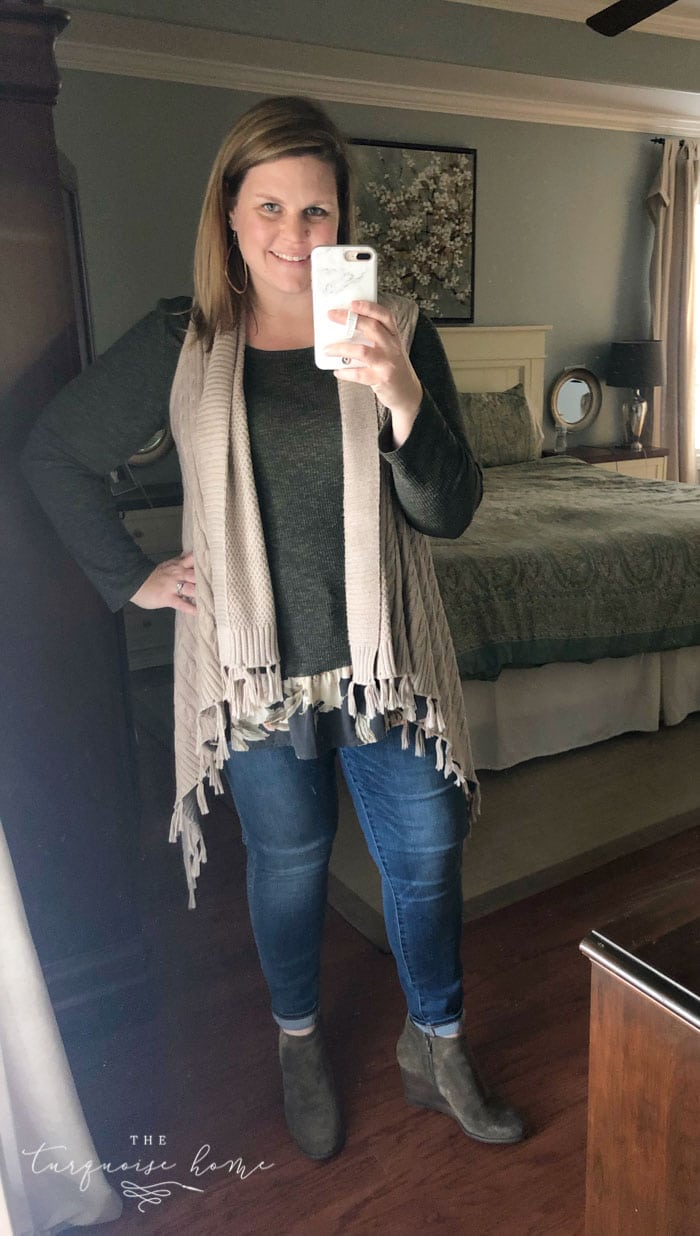 Long Tunic (1X) // Cable Knit Sweater Vest (XL) // High Rise Skinny Jeans (33) // Wedge Booties (Size 11, Olive)
Long Tunic: I bought this at Glamour Farms a couple years ago and it's one of my favorite pieces of clothing! Their inventory changes often, but they have wonderful tunic options in both standard sizes and curvy sizes, so check them out! Any longer tunic would work with this outfit, though, so just find your favorite.
Cable Knit Sweater Vest: This is from Matilda Jane Clothing last year, and as I post this a few sizes are available on Zulily. But that sale will end in 20 hours. I found a similar vest here and another one here. I love this for layering and having the layered look without the bulk on my arms. It's also cozy without being too hot, which is helpful here in the South when the weather can still be warm during the fall and early winter.
Wedge Booties: These booties are the cutest wedge shoes I've ever owned. I love the little slit on the outside (which you can't see in my photo, so you'll have to click through to see them). I have the olive color, which is a neutral and goes with everything. I think it doesn't look very green in person, but they pull more green in photos. Also, since I bought mine, they have released a "storm" gray color, which I would have bought if it had been available at the time. I don't think you can do wrong with any of the colors, really!
Click the Images Below to Shop:

Outfit #4: Cozy Sweater, Tank Top, Skinny Jeans & Riding Boots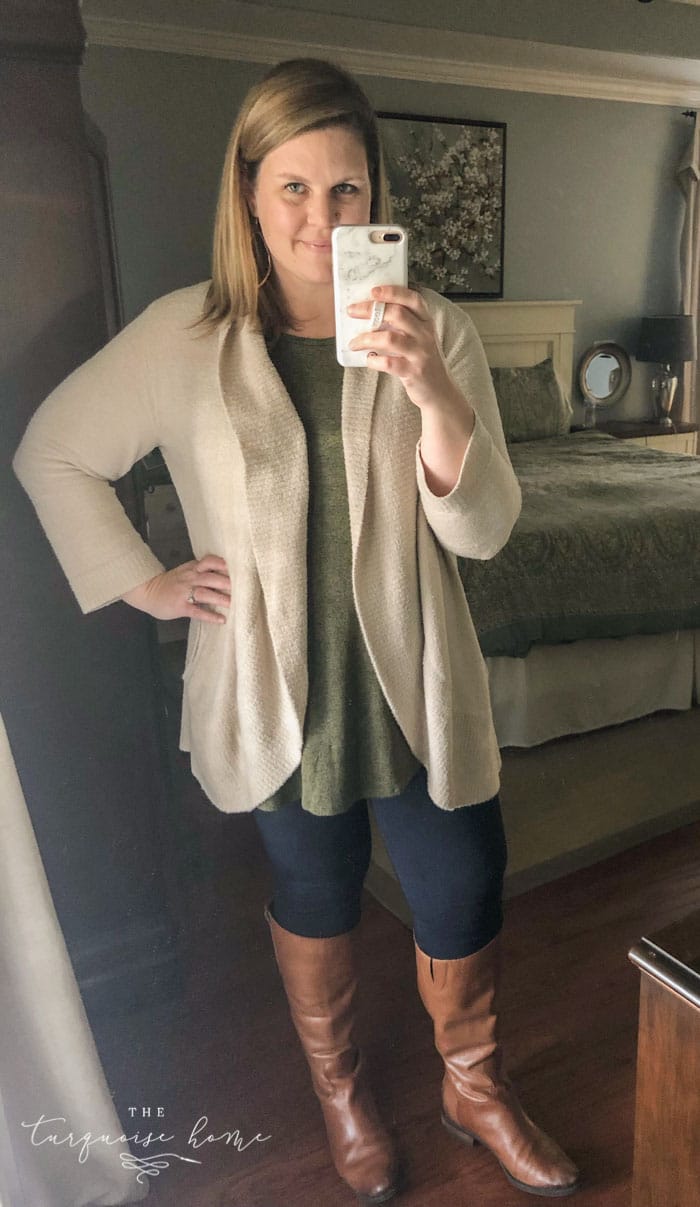 Cozy Cardigan in Stone (L/XL) // Swing Tank Top (XL) // Tummy Tuck Jeggings (One Size – Plus) // Wide Calf Riding Boots in Whiskey (size 11)  (regular calf size here)
Tummy Tuck Jeggings: This jegging is a miracle working jegging, let me tell ya! I bought 2 of these jeggings about 3 years ago and they are literally my favorite pants to wear in the fall and winter because the high waist band is so slimming. They are also thick (so no seeing through), super comfortable and stay in place! Bonus, they make that middle section look super smooth! Guess what I'm wearing to Thanksgiving?!? 😜🦃
They come in one size (up to size 10) and one size plus (size 12-16). I wear the plus size and normally am in a size 16. I think they fit well, but don't think I could wear them if I were larger than a size 16.
Bonus: Outfit #5: Lounge Joggers, Cozy Sweatshirt & Plush Slippers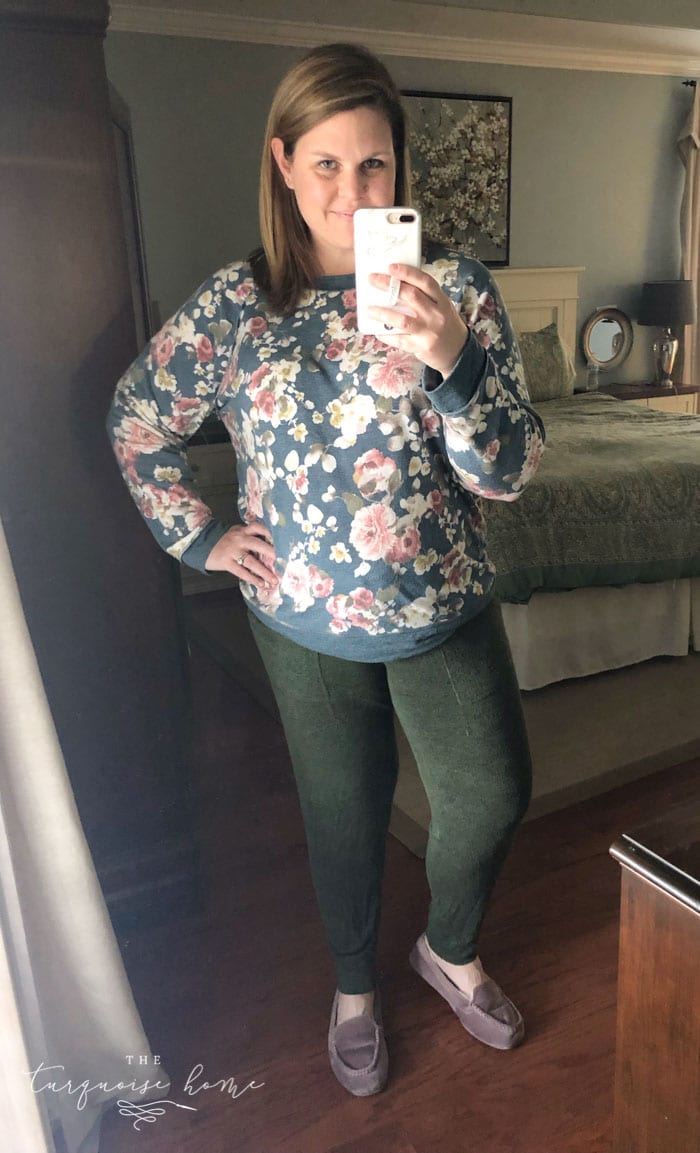 Cozy Joggers (XL) // Sweatshirt (XXL) // Slippers (size 11)
We needed a lounge outfit in here, right? I used to wear the ugliest oversized t-shirts and pajama bottoms whenever I was home. (I still wear the ugly oversized t-shirts to bed, but not when I'm just hanging out at the house now. 😉) But then whenever someone would surprise me at the door, I'd have to run and change. This way I am comfortable, cozy and presentable if a neighbor decides to stop by. 🙌🏻
Joggers: I was recently on the hunt for comfortable joggers that weren't too tight or too thick. Others I've found are either too tight and show every single cellulite dimple or they are so thick that I feel like I'm going to suffocate. Since we're in the south, I don't need super thick lounge pants, especially when I'm cozying up on the couch with a blanket. I found these that aren't too thin, but allow me to move and aren't form fitting. I like the wide waist band, too! (These are similar, too!)
Sweatshirt: This isn't a thick sweatshirt, but feels more like a long-sleeved t-shirt that looks like a sweatshirt. I love them and think they are super comfortable. I have two colors (the pictured floral and the camo). These run a bit oversized, but I sized up even one more because I wanted it extra comfy. I wear these out of the house, too. Just throw on some jeans, boots and a jacket and it's super cute!
Velvet Slippers: I bought these last year and promptly donated all of the other slippers I owned. They are so comfortable, plush and warm! I can't go barefoot in my house, so I have to have some shoes to wear. These are perfect and I wear them every day. Unfortunately they don't have the blush color this year, but the gray color is equally as cute! They also come in multiple suede options. (click here)
Click the Images Below to Shop:

I hope these outfit ideas help you mix and match your staples that are already in your closet, or inspire you to invest in some of these fall essentials. I love being able to walk into my closet and mix and match almost anything to create an outfit I feel good in!
More Fall Posts You'll Love: