Hi friends! I'm happy to be back for another episode of Five Friday Faves! I don't know if you've loved the last two episodes on planner faves and my favorite Christmas presents, but either way, I know you're going to love this one!
I'm sharing all about the design and decor things I'm loving this week. It was a fun episode to shoot and I think it will be helpful and hopefully fun for you, too!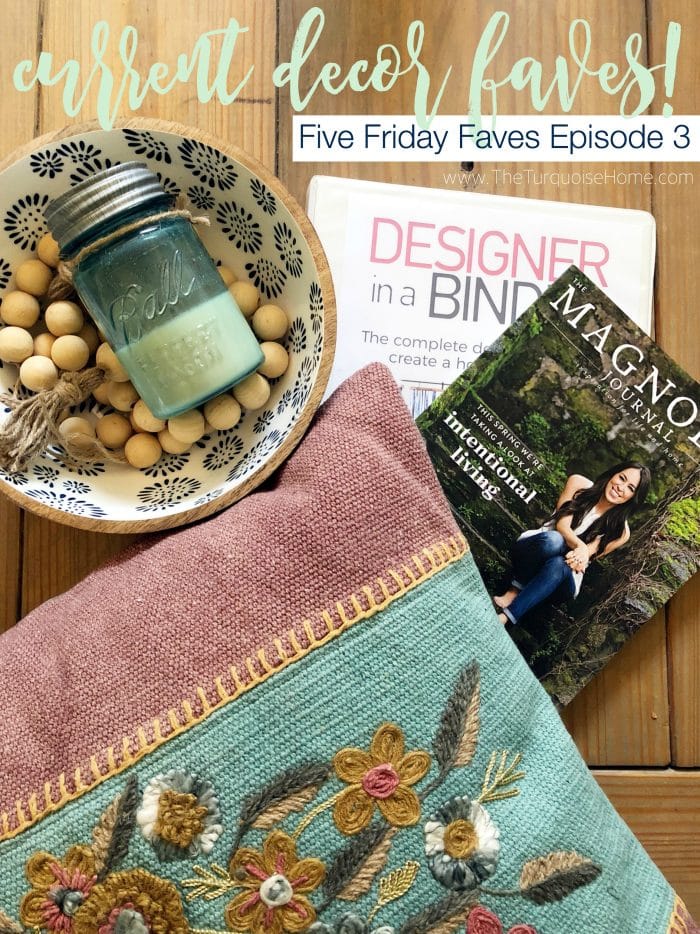 I am still learning how to video myself and how to share on camera. This week I realized that I don't always finish my thoughts that I start while talking. 😂 I'll start to say something and the totally interrupt myself. I know I do this while talking in person. I blame the "mommy brain," but it's kind of embarrassing when you do it in a recorded video. #squirrel #thekidstookmybraincells
I didn't re-record it because I didn't have time and I kind of want to have these first videos to see how terrible I was. LOL I hope to improve as I do more, so thank you for sticking in there with me as I figure out this whole video medium. This post contains affiliate links for your convenience. See my full disclosure policy here.
1. Designer in a Binder. Y'all I am so stoked about this design guide that is coming out in just a week and a half. It is so concise (no fluff) and Tasha walks you through every step you need to take to conquer every space in your home. It's just so good! I do so much better when I have a plan. It also keeps the information about all of your rooms in one place, so if you need it when you're out shopping for furniture or home decor, you have everything you need right there! You will LOVE it!
I will share more information once it launches on February 19, but in the meantime, you can grab one of Tasha's free design guides:
The Failproof Way to Pick Colors for Your Home
How to Design a Room You Love
2. Magnolia Journal. I don't have time to read every magazine that darkens my door because I'm just too busy. But you better believe I make the time to read this magazine from cover to cover! It has great decor and entertaining ideas, but most of all it has heart. I love how it has a page of a pretty quote on it. Or a whole section talking to real people about living intentionally. It's so much more than a home decor magazine, which would be enough. I just love it and if you only get one magazine, this would be it!
3. Antique Candle Co. I am a diffuser and essential oils girl all the way, and a couple of years ago I got rid of nearly all of my candles. And any candles you see in my decor are for just that – decor. But then I discovered these candles and I've become obsessed! The fun thing is that they have periodic sales with antique blue mason jar candles. I LOVE them! And they act as decor as well as they smell delicious. I love these scents the most: Christmas Day, Autumn Leaves and Clean Cotton. I have Southern Hospitality as well, but it's a smidge florally for me. I still like it, though! And if you love floral scents then you will LOVE it!
I also love that they are a small business that uses domestically grown soy beans to make their wax. Their candles only contain soy wax, fine fragrances and cotton wicks. So, if there was a quality candle to buy out there, this one is it! I just love their business. Oh, and they ship the candles out same day and they get here super fast (maybe 2 days!).
4. Blush Garden Floral Throw Pillow. It was time for some new colorful pillows in the living room for spring. And I fell in love with these embroidered pillows! I can't wait to share them in my living room spring decorating posts!
5. Round Mango Wood Serving Bowl. I saw this online a few weeks ago and then went and saw it in the store. I adore the combo of the wood, white and navy. It's so pretty in person and will look great filled with fruit for spring!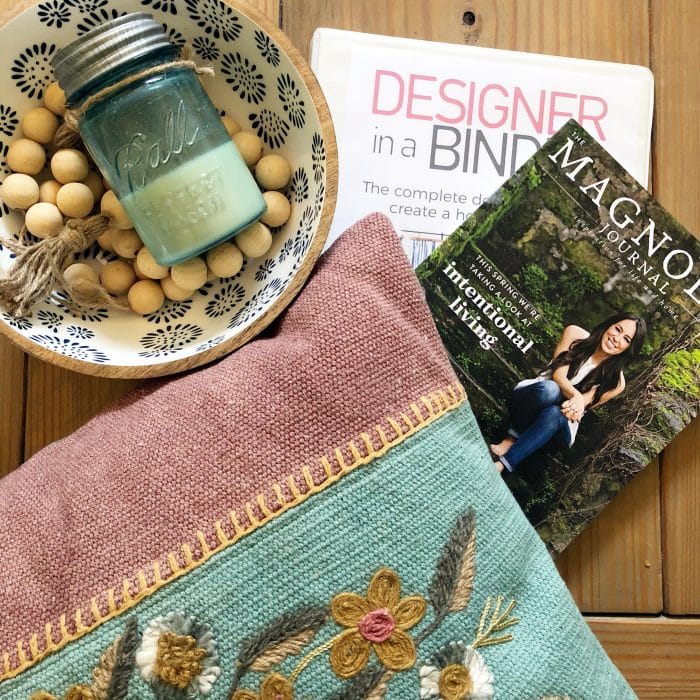 Thank you for joining me for week 3 of Five Friday Faves! I'll be back next week with more goodies!

SaveSave
SaveSave
SaveSave
SaveSave
Get Instant Access to my Guide to Customize Your Home on a Budget
Grab your FREE guide for 10 Ways to Customize Your Home on a Budget: simple projects to transform your home from builder beige to a home with character and charm!