I am a drinker, always have been as long as I can remember. (And no, not that kind of drinker!) I have long-loved an ice-cold slushy, good flavored coffee (either iced or hot), my grandmother's creamy hot chocolate,  or delicious spiced wassail.
I really love a hot drink on cold winter nights. So, I've been known to make a whole batch of this wassail recipe and drink it over the course of a week. Looooove it!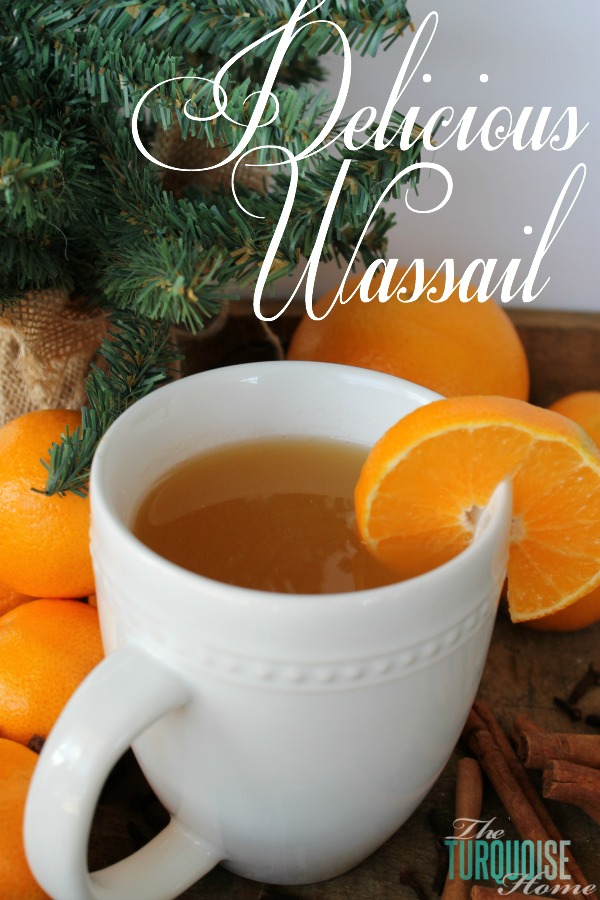 I'm not sure where the recipe came from originally, but my mom made it while we were growing up and not only does it taste like the holidays and warm us up on a winter night, the smell that wafts through the house is delicious as well!

Another thing to love about this drink is that it is super quick and easy to make. I've seen several recipes for making wassail in the crock pot, but why have it cook all day when you can whip this yumminess up in about 15 minutes?
The ingredients are pretty basic and many of you will already have these on hand. I keep them all on hand, so it's easy for me to whip up quickly!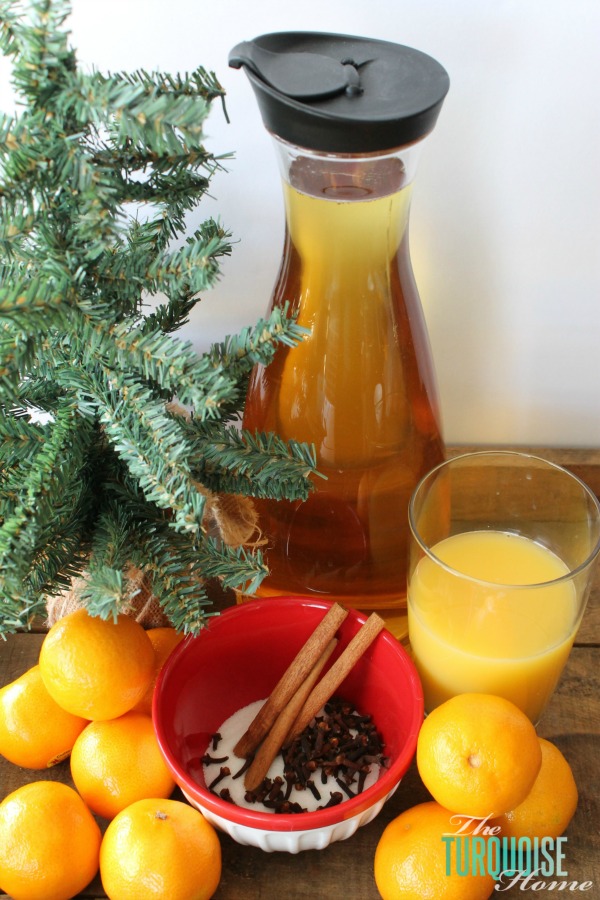 Ingredients:
2 quarts of apples juice
1 cup of orange juice
2 cups of water
1/4 cup of sugar
3 cinnamon sticks
1 Tbs. whole cloves
First you'll take the sugar and spices and add them to 2 cups of water in a large pot.
Boil this mixture for 10 minutes until the oil from the spices are in the water. You can see how the water turns brown from the cinnamon and cloves. Smells soooo good!

Strain the spices and then add the apple and orange juices. Heat until warm and then enjoy!!
Here's the whole recipe so that you can print it out to use for years to come!

Delicious Wassail
Delicious Hot Spiced Wassail
Author:
The Turquoise Home
Ingredients
2 cups of water
¼ cup of sugar
3 cinnamon sticks
1 Tbs. whole cloves
2 quarts of apple juice
1 cup of orange juice
Instructions
Boil water, sugar, cinnamon sticks and whole cloves in a large pot for 10 minutes until the oil from the spices have been boiled into the water.
Strain out spices.
Add apple juice and orange juice to spiced water mixture.
Heat until warm.
Enjoy in your favorite mug!
Writing this post makes me want a cup right now! I've got a pitcher of it in the fridge, so I think I'll go warm me up a mug.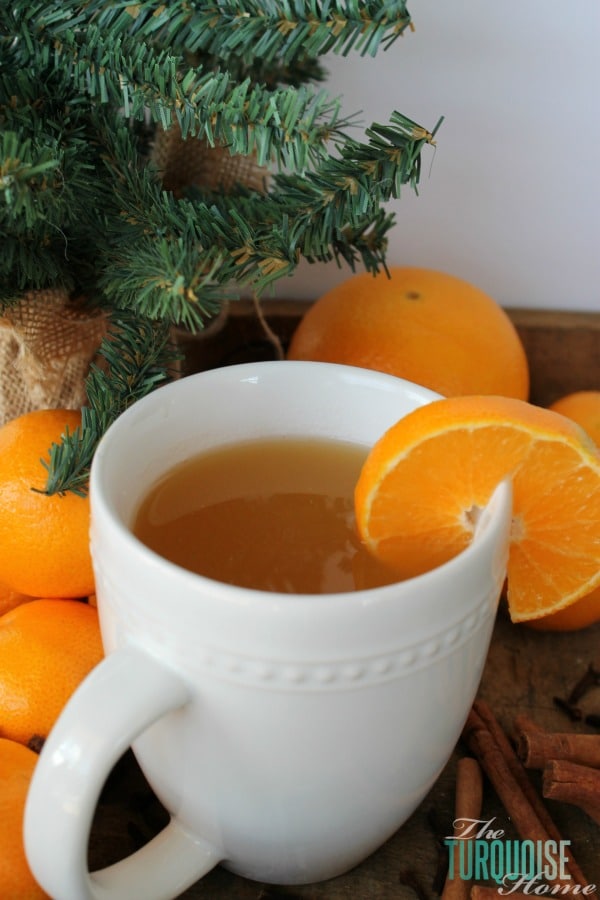 This would make a wonderful treat for your Thanksgiving guests and I'm sure they will all love it! Not to mention your house will smell fabulous!!
Do you have a favorite hot drink in the winter (or anytime)??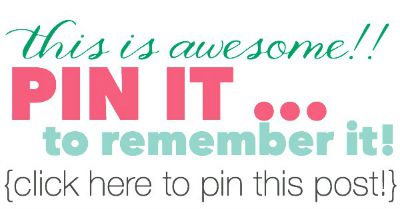 Disclosure: This post includes affiliate links, which does not mean you pay a penny more when purchasing through my link. It means that in helping you easily find some of my favorite products, I receive a small commission if you purchase. Thank you so much for supporting The Turquoise Home! {P.S. I only share products I truly love!}