Happy Monday, y'all!
I like to cook and I cook a lot. But I don't cook all these cutesy little desserts or anything gourmet. It's usually the hearty family favorites like chicken pot pie, chicken tortilla soup or … lasagna.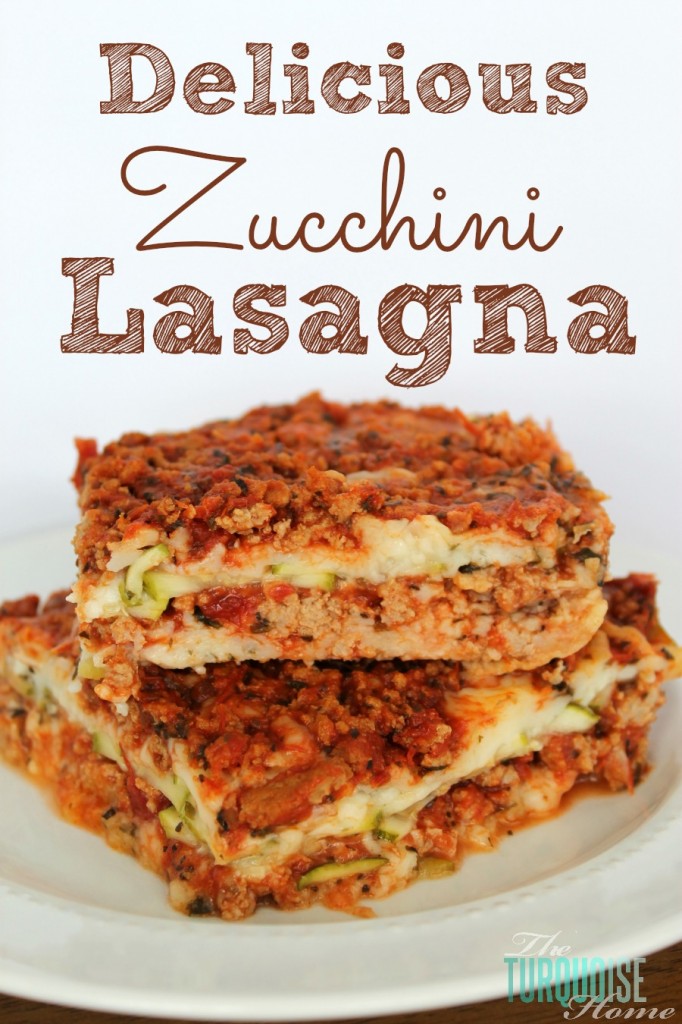 I did make a little twist to this lasagna recipe. I'll be honest and tell you that this recipe started because Coach and I were on a no-carb kick for a while earlier this year. I basically just switched out the noodles with zucchini. We've since added some carbs back, but I've kept this great recipe. Because I love sneaking in veggies when I can, and we honestly can't taste the difference.
I also hope that if Miss A grows up on zucchini lasagna, then she'll never really know otherwise. Until, of course, she eats someone else's full carb lasagna and loves it. 🙂 But until then, I'll keep sneaking in the zucchini.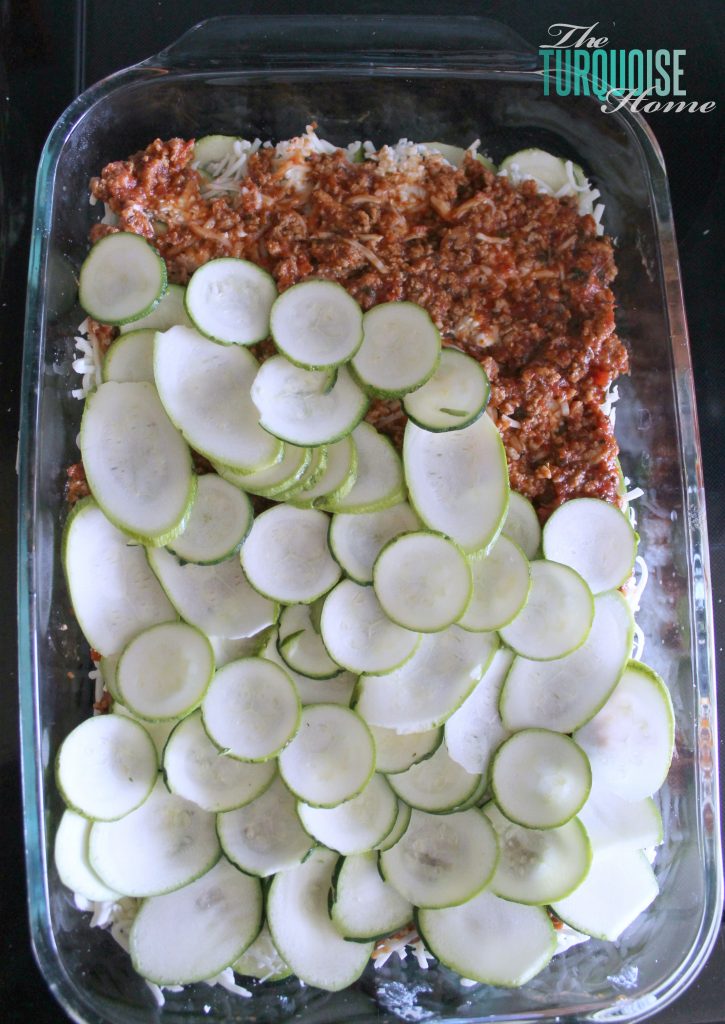 I get 2 medium or 3 small zucchini and that usually covers the lasagna. I throw them into my food processor and slice them up pretty thin. I think if they were big slices, they might not get soft enough when you cook it. Thin slices are the way to go!
Enjoy!

Delicious Zucchini Lasagna
Delicious lasagna with zucchini substitute for noodles. A great way to sneak veggies into your meal without being able to tell the difference!
Author:
The Turquoise Home
Ingredients
1 lb. ground beef
1 tsp. onion powder
1 tsp. garlic powder
32 oz. can of crushed tomatoes
1 tsp. salt
½ tsp. pepper
1 Tbsp. dried basil
1 tsp. dried oregano
1 Tbsp. dried parsley
2 medium, or 3 small zucchini, sliced thin
12 oz. cottage cheese
2 Tbsp. parsley
¼ cup grated parmesan cheese
3 cups Mozzarella cheese
Instructions
Brown meat in with onion and garlic powders. Driain.
Add tomatoes, basil, oregano, parley and pepper. Simmer for 1 hour until thickened.
Combine cottage cheese, parsley and Parmesan cheese.
Spread a little sauce on the bottom of 9x13 baking dish
Layer half the zucchini, half the cottage cheese mixture, half the mozzarella and half the meat.
Repeat layers.
Bake at 375 degrees for 40-45 minutes.
Let stand 10-15 minutes before cutting.
Don't miss out on the behind-the-scenes fun!
Click HERE to see where I party every week.
Get Instant Access to my Guide to Customize Your Home on a Budget
Grab your FREE guide for 10 Ways to Customize Your Home on a Budget: simple projects to transform your home from builder beige to a home with character and charm!