This blog post is sponsored by The Home Depot.
Hey friends! I'm excited to share a fun and easy DIY project with you. I'm teaming up with Home Depot's Do-It-Herself Workshops to create my own version of this adorable DIY Jewelry Organizer (make your own HERE!). I love it when you can create something pretty and functional from a hardware store – and this is exactly that!
I made my own version of it, with a few tweaks and changes to fit my style. And I just love it!!! I can't wait to finish taking pictures of it so that I can use it for myself in my closet. Ha!
If you've ever been intimidated to use a power tool, then this would be a perfect beginner project. But guess what? You don't even have to have the power tools!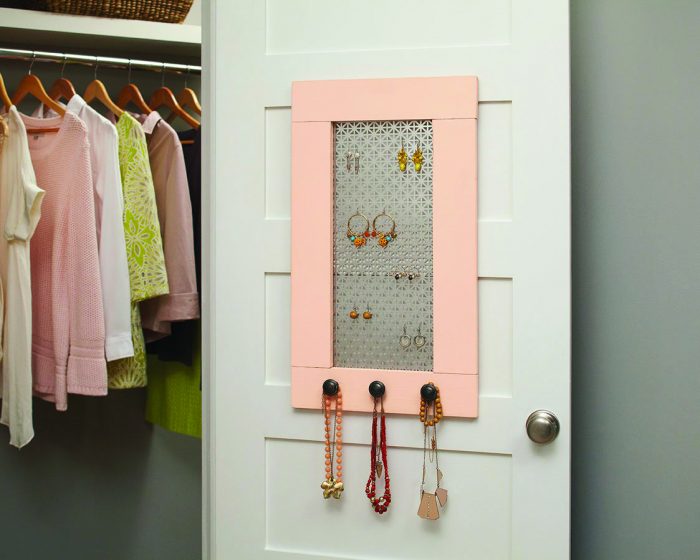 If you love to create things, then this is right up your alley.
You can make your own Jewelry Organizer at Home Depot's free Do-It-Herself Workshop on Thursday, May 18, 2016 from 6:30 pm – 8! Click here to register!
It's like girls night with power tools! That's the kind of girls night I want to have. 😋
The Home Depot offers workshops at all of their locations for do-it-yourselfers of all ages and experience levels. There are three types of Workshops offered:
Do-It- Yourself (DIY)
Do-It-Herself (DIH)
and Kids
Customers can learn how to build décor projects, how to make easy home repairs and how to operate tools through demonstrations and step-by-step instructions. Visit Home Depot's Workshop Page to learn more.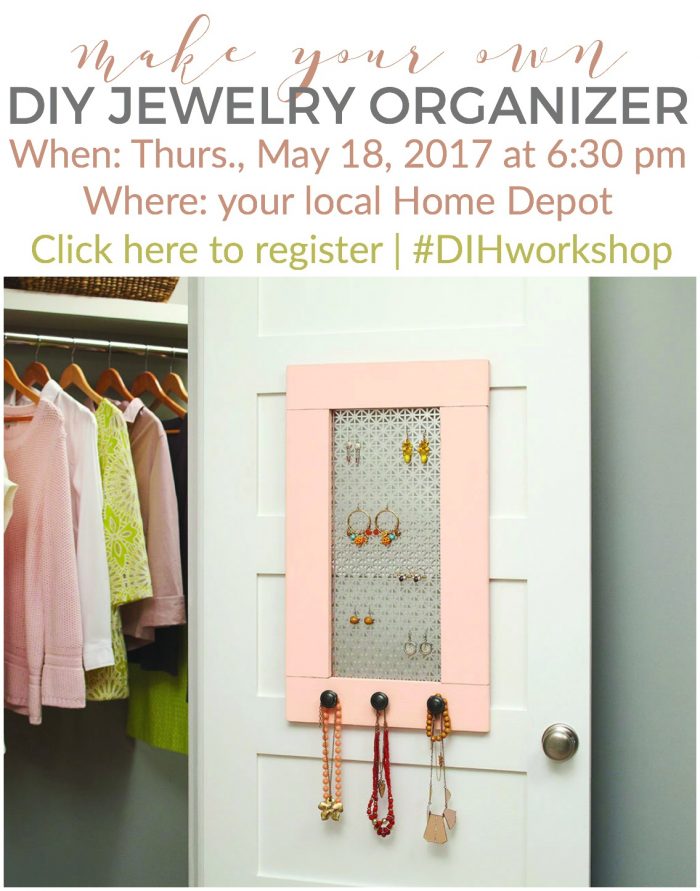 I'd better get back to styling my adorable organizer. One of these would make the perfect (belated) Mother's Day gift!!!
I will be sharing my customized jewelry organizer right here on the blog on Monday, May 15th. I can't wait to see yours, too! Be sure to share it on Instagram using the hashtag: #DIHWorkshop
How fun will this be!?? Grab a group of girlfriends and get yourself registered!
I acknowledge that The Home Depot is partnering with me to participate in this Workshops Program (the "Program"). As part of the Program, I received compensation in the form of products and services, for the purpose of promoting The Home Depot. All expressed opinions and experiences are my own words. My post complies with the Word of Mouth Marketing Association (WOMMA) Ethics Code and applicable Federal Trade Commission guidelines. #sponsored
"Have you recently attended an in-store Workshop at The Home Depot? If so, The Home Depot would love to hear your thoughts! Feel free to complete the survey here to share your experience."
Get Instant Access to my Guide to Customize Your Home on a Budget
Grab your FREE guide for 10 Ways to Customize Your Home on a Budget: simple projects to transform your home from builder beige to a home with character and charm!