I've been thinking recently about a few new things I've been loving since we moved, so I thought I would revive my "monthly faves" posts that I started last year. I quit doing them when we started talking about selling the house. Then we did sell the house, moved, the holidays hit, new year and now we're hanging out at the house until further notice. 🤪
So, what better time than now to share some of my current faves? These are things I personally own, use and love…
Update 2021: These jeans have been clearanced out, but my favorite jeans from Madewell are always a good buy!
I had to share these cropped skinny jeans today, because as I type this, they are 45% off, which is unheard of BEFORE the season starts. 🎉 I wore these jeans all summer long last year and I just bought a new pair for this summer (or when my old pair wears out).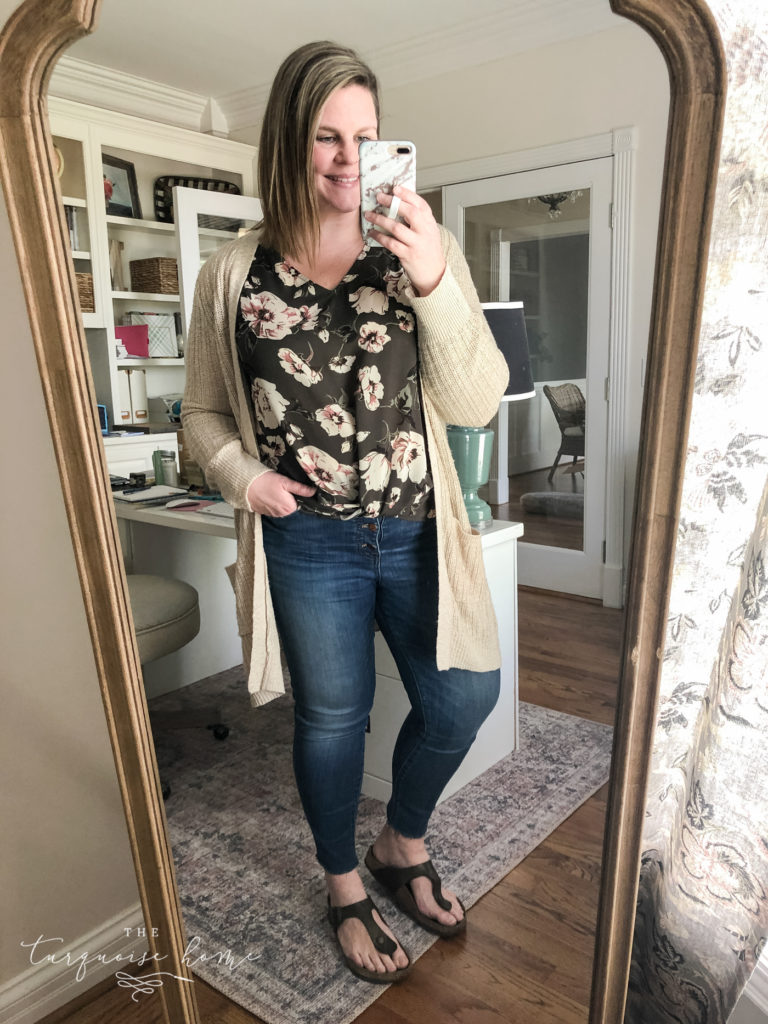 They have the perfect amount of stretch and yet keep their shape after multiple wears and washings. I can't say enough good things about them! If you've been around long enough, you've heard me rave about them. They were on my favorites list last summer, too! Click here to check them out. Use code SWEETDEAL to get them for 45% off!
When we started doing laundry in the new house, I realized we needed a better laundry hamper. In our old house, our laundry room was right next to the master bedroom, so it was no big deal to carry our dirty clothes from our closet to the laundry room. (Although the repeated carrying of heavy clothes broke off the handles of our old plastic hamper, so I knew I wanted something sturdy!)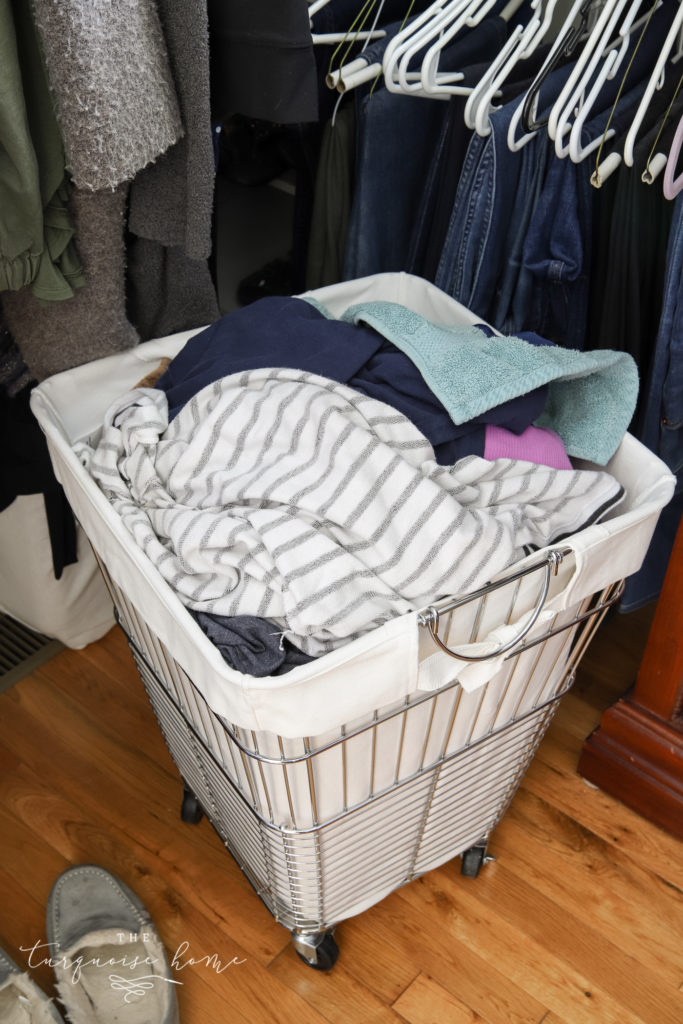 Because my husband is a coach and teacher, he wears 3-4 sets of clothes per day and they all get pretty gross. (Sorry, babe.) So, I needed a sturdy hamper that would hold a lot of clothes, could roll along the wood floors and also have a washable liner. I looked all over until I found the perfect one! So, if you're looking to upgrade your clothes hamper, check this one out! (CLICK HERE)
(And yes, it's pricy as hampers go, but I've come to realize that you get what you pay for and when it comes to something that I want to function for years to come, I was willing to spend the money. It's on sale as I write this, so it's a great time to get it!)
In our old house, there was no space for a drying rack in or near our laundry room. Instead I would hang clothes on the backs of our kitchen chairs to dry.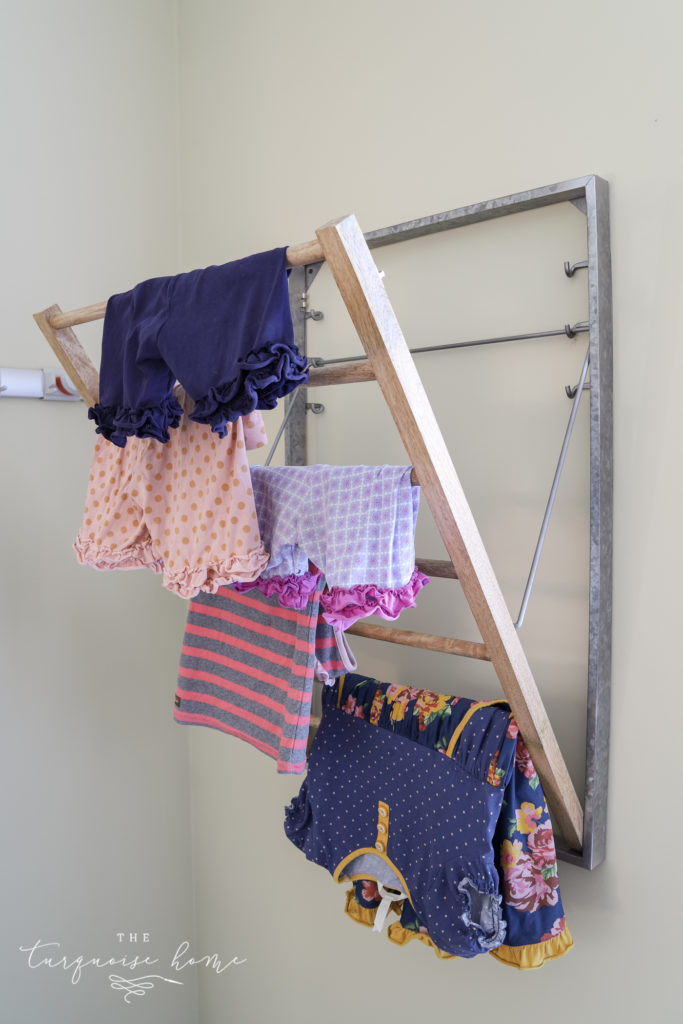 So, when we moved and there was now wall space in our laundry room, I immediately found this beautiful drying rack that hangs on the wall. Making use of vertical space is one of my favorite things ever! And I love that it's pretty even when it's not in use!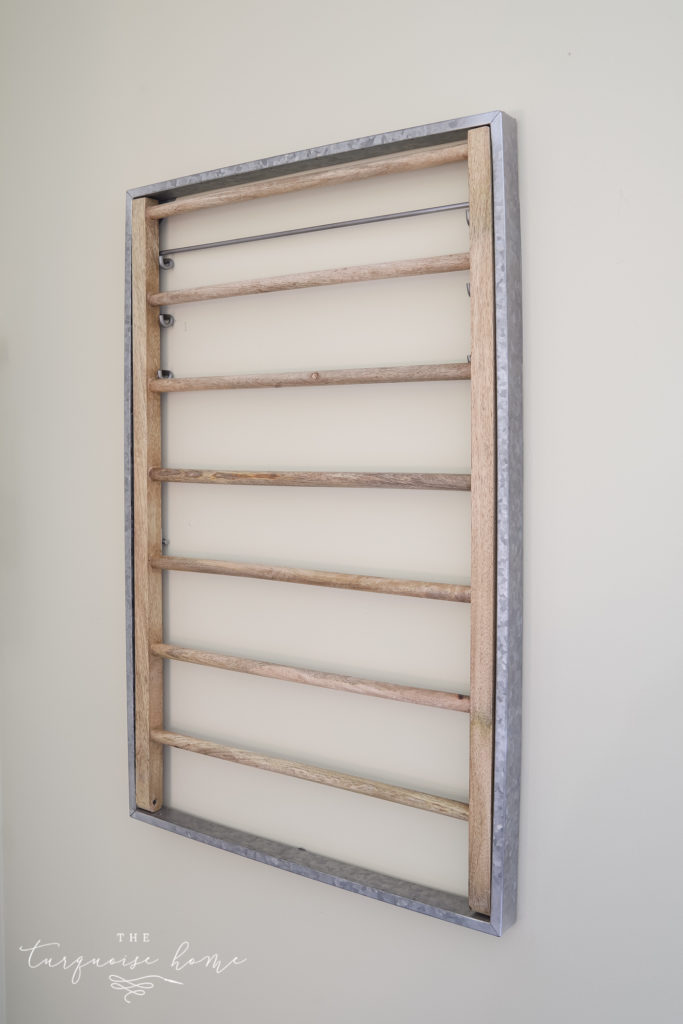 Custom Door for my Dishwasher
When we sold our old house, we hated to leave our favorite Bosch dishwasher behind. It was so quiet!
So when I went to wash the dishes at the new house for the first time, I wasn't super sad when the 17-year-old dishwasher broke down in the middle of the first wash.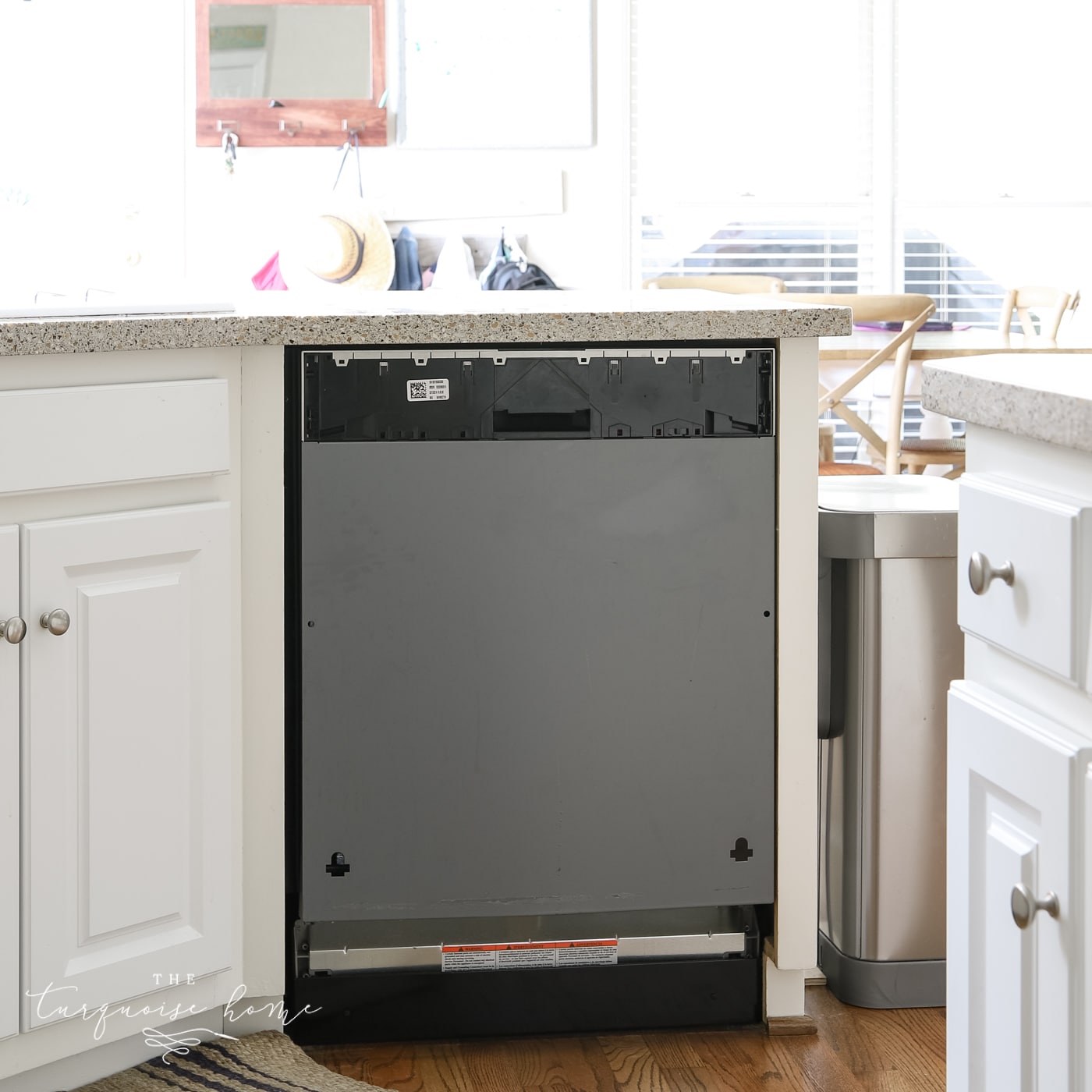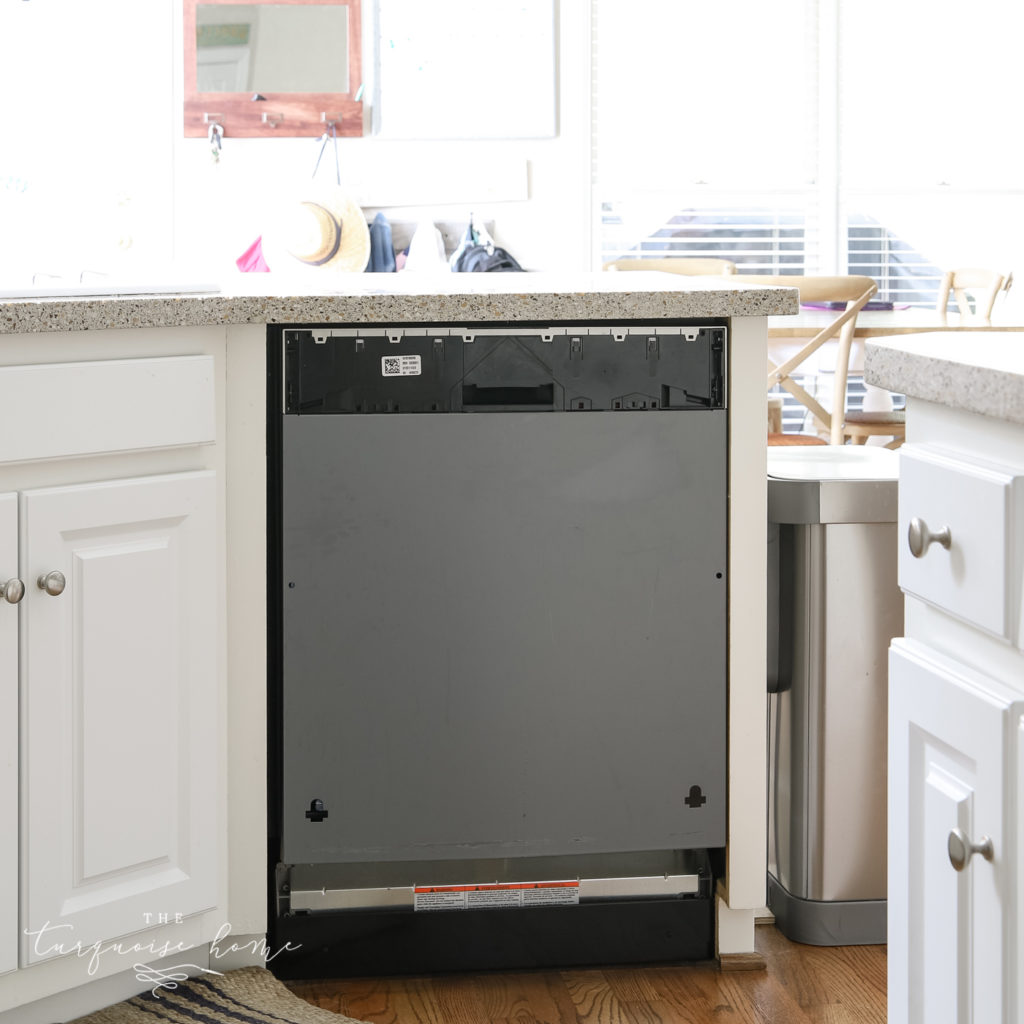 I quickly ordered a new Bosch dishwasher, only this time I got one that you can add a custom door panel to it to match your existing cabinets. Yep! Super fancy, right?!
Fast forward 4 months later and I finally finished the custom door panel! I originally was going to build a door, but realized I wouldn't be able to come close to a similar design to my current cabinets without a router tool. In my research, I came across Fast Cabinet Doors and ordered the right sized door from there in a paintable maple wood.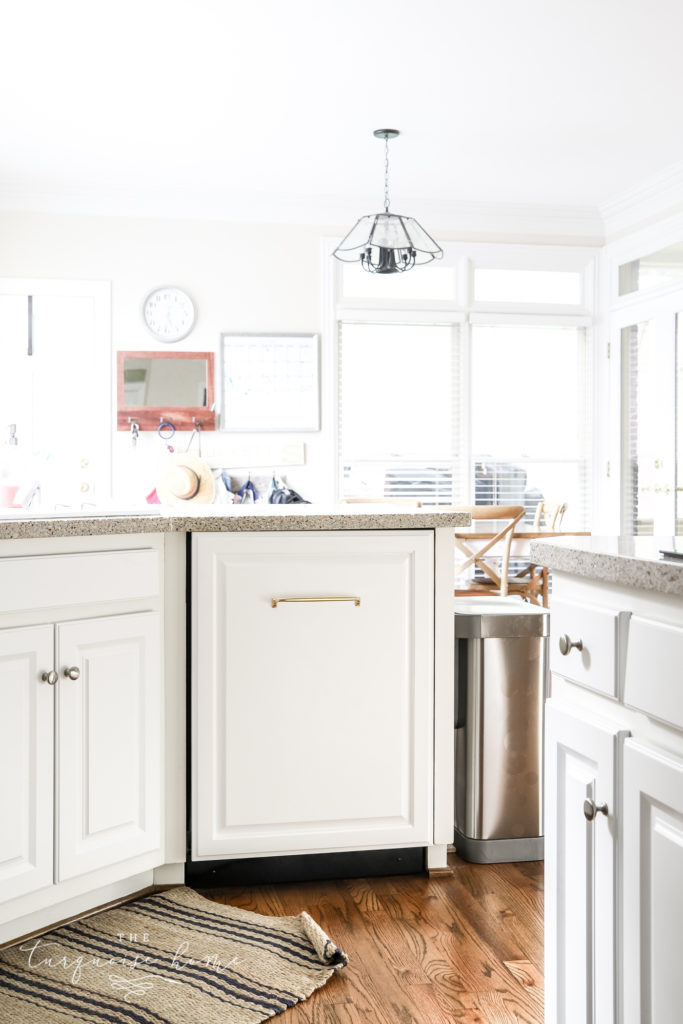 I painted the door with my cabinet painting techniques and after 4 coats of paint, it was done and ready to install! I did also purchase the appliance pull for the door handle. It's the 8″ Vernon Drawer Pull in Aged Brass, which currently doesn't match my hardware, but I'm going to change it all out to the Vernon collection someday.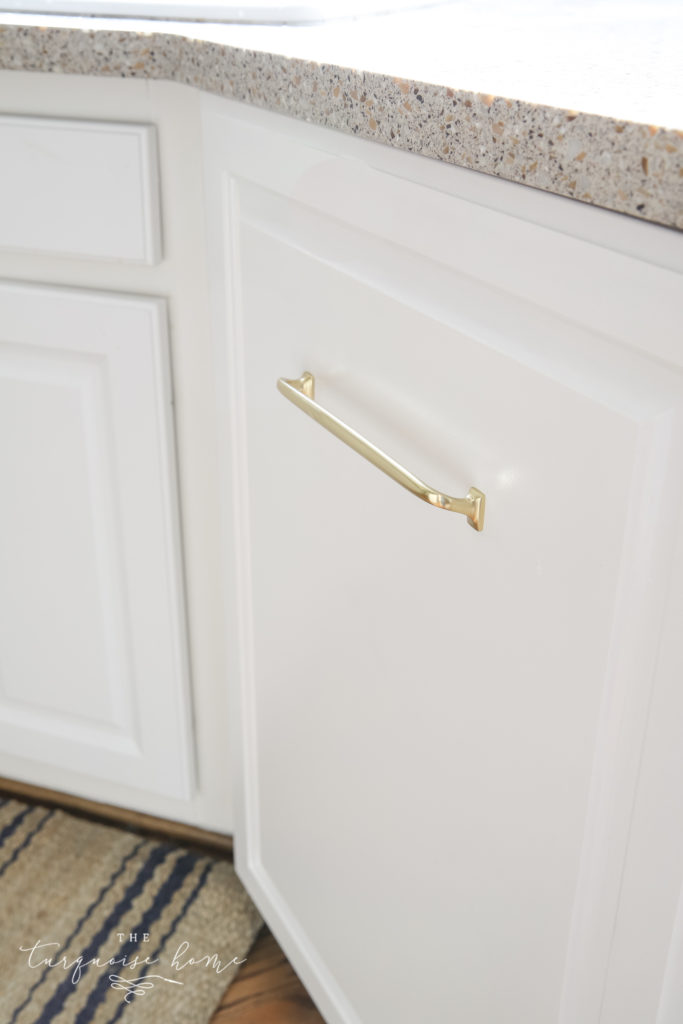 A Note about Bosch Dishwashers: We LOVE them! This is our third one and it would take a lot of convincing to buy anything else. We chose this one for our new house because I wanted the larger 3rd rack and Crystal Dry technology. But we bought a much cheaper one in our old house (this one) and it still worked great and was nearly silent. The big draw to a Bosch dishwasher is that it's so quiet! I love that feature!!
If you had told me in February that I would be sharing my bike with you guys, I would have fallen out of my chair laughing. 😂 With all of this being home together, my family has been going on a ton of bike rides. I honestly hadn't ridden my bike in years, but it's been so nice to jump on and go on the greenway with the family. (Proof of riding by the mud on my tires. 🤪)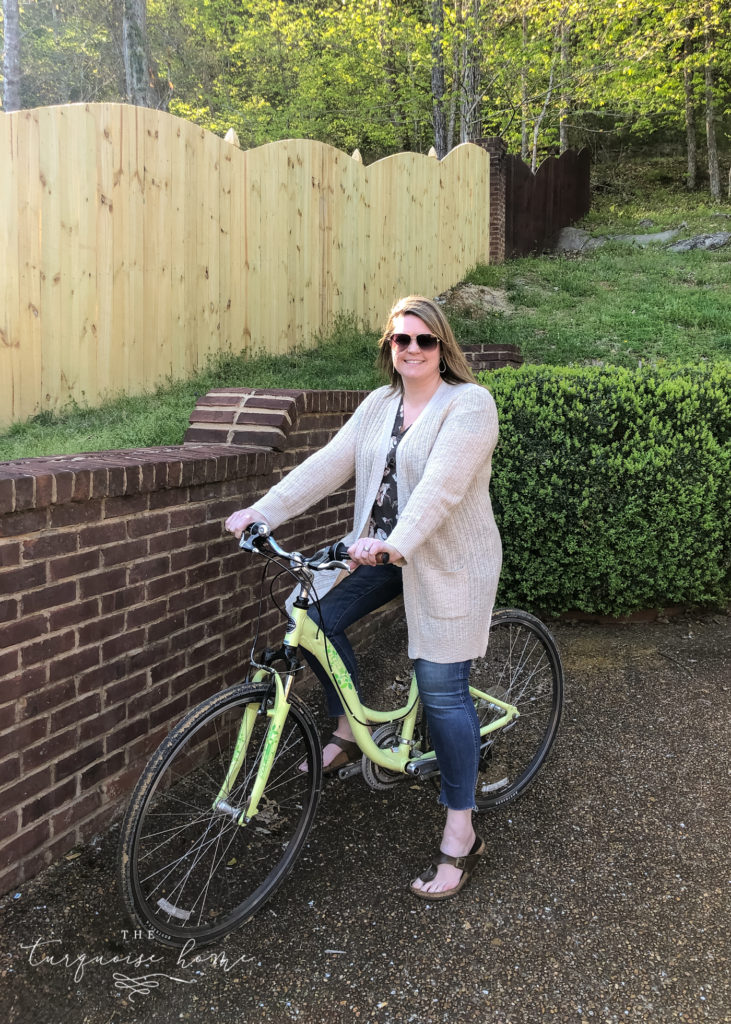 When my husband bought me this bike for our first Christmas together, I was less than thrilled. Ha! But since then I've changed my tune and thanked him many times for picking out such a cute and comfortable bike for me. It's well made, has a padded leather seat and it's a fun, girly color.
It's a cruiser bike, which means the handlebars are closer to the seat and you sit upright a bit more. I find it to be more comfortable than any other bike I've ever ridden and it's perfect for a casual ride around the neighborhood. If you're looking for a way to ride with your kids, I've found the bike that is most similar to mine: HERE.
A friend of mine recently bought this bike (a little cheaper price tag) and she says it's great, too!
Have a wonderful April! And hang in there my friends. I know it's a time of crisis, but I find it comforting that we're all in this together.
Have you found something you've been loving lately? Share it below in the comments!