Traditional, Yummy Hello Dolly Bars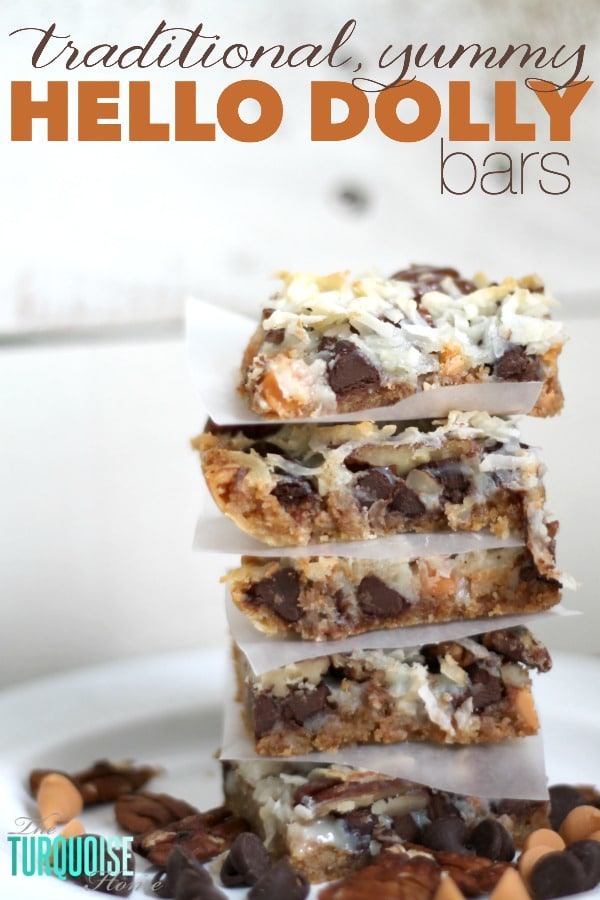 Author:
The Turquoise Home
2 c. graham cracker crumbs (~10 crackers)
⅝ c. butter, melted (10 Tbs.)
1 heaping c. of semi-sweet chocolate chips
½ c. butterscotch chips
1 c. pecan halves
1 c. sweetened shredded coconut
1 (14 oz.) can of sweetened condensed milk
Line a 9x13 pan with aluminum foil and spray lightly with cooking spray
Crush the graham crackers in a Ziploc baggie.
Melt the butter and stir into the graham cracker crumbs until evenly combined.
Press the graham cracker mixture in the bottom of the pan.
Evenly cover the crust with the chocolate chips, butterscotch chips, pecans and coconut.
Drizzle the sweetened condensed milk evenly over the top.
Cook for 25-30 minutes at 325°. I set my oven for 25 minutes and then add an additional minute, watching it closely until the edges are golden brown, the middle is bubbly and the coconut is slightly brown. You want to be careful not to burn the coconut and it can happen very quickly.
Recipe by
The Turquoise Home
at https://theturquoisehome.com/traditional-yummy-hello-dolly-bars/