The Best Chicken Pot Pie Recipe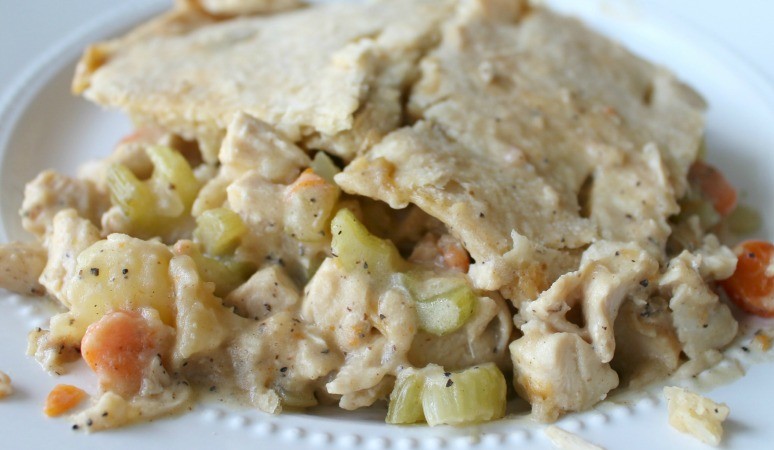 Author:
The Turquoise Home
Part 1
4 chicken breast halves
1 can cream of chicken soup - (did you know you can make your own COC soup? My sister-in-law has a great recipe here.)
8 oz. sour cream
1 t. salt
1 t. pepper
½ t. garlic powder
Part 2 - While chicken is cooking, prepare the following:
½ pound of carrots
½ bunch of celery
1 medium onion, chopped
3 T. butter
1 cup water
2 T. flour
(amount of vegetables can be doubled)
Part 3 - Crust
2 cups of flour
⅔ cup shortening
1 t. salt
5 Tbsp. + of water
Mix salt, pepper and garlic powder together and sprinkle on chicken.
Place chicken in shallow baking dish.
Combine soup and sour cream and pour over chicken.
Bake at 370 degrees for 1 hour.
Cool slightly.
Save chicken and sauce.
Cut chicken into bite-sized pieces.
While the chicken is baking, sauté vegetables in butter for about 18 minutes.
To the water add the flour and stir.
Add the water/flour mixture to the vegetables and stir until slightly thickened, then remove from heat.
Combine with chicken and sauce.
Pour in 9x13 baking dish.
Crust Recipe
Cut shortening into flour and salt.
Add water and stir.
Roll out on floured surface.
Cut to shape of pan and cover pie, making slits to vent the steam.
Cook on 425 degrees, until brown bubbly. Usually 30-45 minutes.
Recipe by
The Turquoise Home
at https://theturquoisehome.com/recipe-chicken-pot-pie/