It's no secret that I am in introverted homebody. I loooooove to stay home. So while I love all things pool and beach related and the bright turquoise and pinks that go with that season, fall is really the season of my persona. I would much rather curl up on the couch with a good book or a favorite movie and a fire crackling in the background that just about anything else. Throw in some good comfort food with some spiced wassail or coffee and I'm golden.
So, in honor of the chillier temperatures that we're (finally!!) experiencing here in the South this week, I thought I'd collect and share some of my favorite things I like to grab for these cooler, cozier months ahead.
Time to bundle up and break out the Gilmore Girls reruns!
Updated with new fall must-haves for 2018!
My 2018 Fall Must-Haves for the Homebody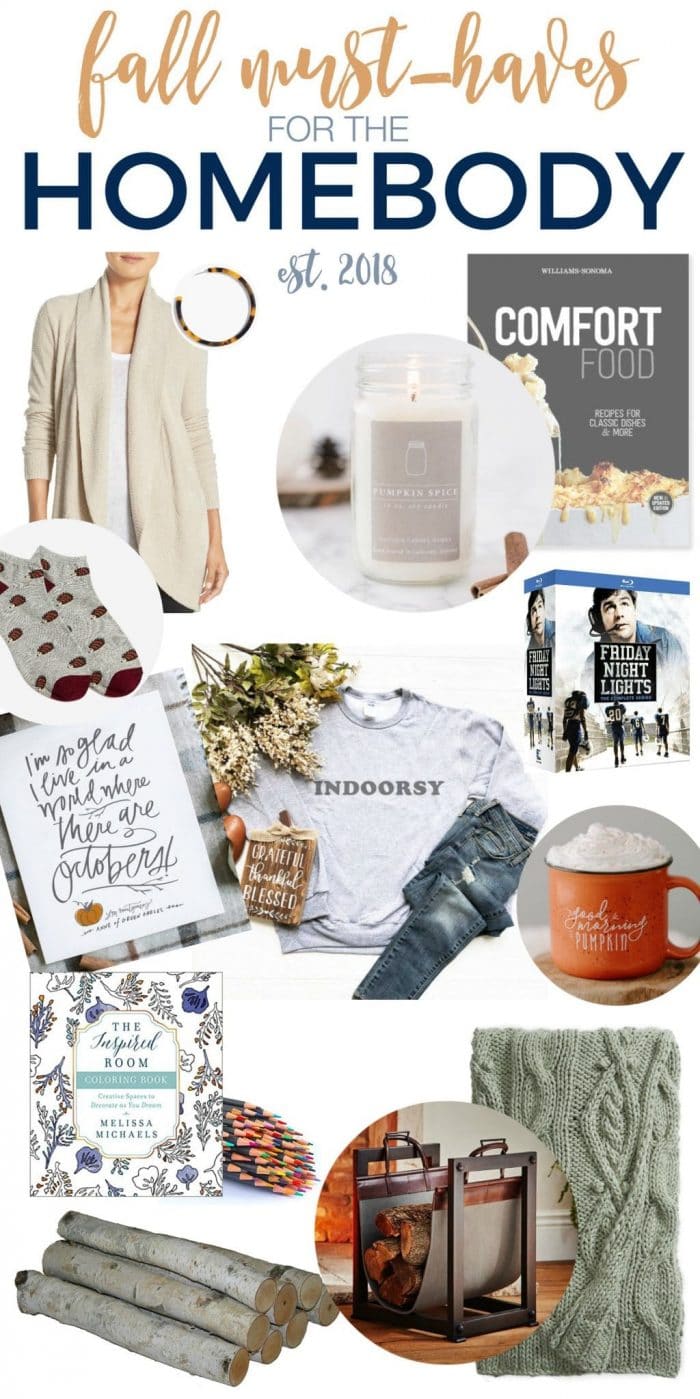 1. A good show to watch. My husband and I are currently making our way through Friday Night Lights (currently available for streaming on Amazon Prime and Hulu). It's such a good show and perfect for fall because of the football in it. Although I will say it's not a football show, but a quality show about life with football in it. It's so nice to cozy up on the couch in the evenings and watch an episode or two after the kids go to bed.
2. A Yummy Fall Candle. It feels like such a special treat to burn one of my favorite candles. I've fallen in love with one candle brand (otherwise I'm an essential oils girl alllll the way), which is a small shop called Antique Candle Co. My sweet friend Brittany and her team makes have the most delicious fragrances yet aren't sickly sweet (and don't give me a headache). Best of all the fragrances are consistent through the life of the candle, unlike some that taper off after the first 30 minutes of burning. You can't go wrong with Pumpkin Spice, Fall Harvest or Autumn Leaves!
3. Pretty Printables. This October print shares my exact sentiment.
4. Cozy Blanket Next to the Fire. I'm a blanket hog, which means I love to have blankets out all year long either in a basket or on my DIY blanket ladder. But nothing beats cozying up for a good book next to the fire with a soft blanket. And if you live in a warm climate or have gas logs (like me), then some birch logs in this industrial log carrier will give the same vibe.
5. A Fall Go-to Outfit. My favorite outfit in the cooler months has quickly come to include this cardigan. It's so cozy that my kids fight over who gets to snuggle me on the couch when I'm wearing it. Dress it up with these adorable tortoise shell hoops and keep things fun with these adorable leopard print socks!
I'm also a huge fan of cheeky sweatshirts, like this one that says "indoorsy." I also love this one!
6. Indoor activities like coloring. I know it sounds like something just for kids, but coloring can be so calming! A break from the screen time and bustle of every day. I especially love this home-inspired coloring book by Melissa Michaels and these coloring pencils. I'll sit down with my daughters and we will color for hours!
7. Comfort Food. Nothing says fall like breaking out the traditional comfort foods like pumpkin chocolate chip muffins, chili or my grandmother's hot cocoa recipe. Drink up with this adorable "Good Mornin' Pumpkin" campfire mug. And get your recipe inspiration from this Comfort Food cookbook!
I also love Joanna Gaines' Magnolia Table cookbook – try the cheese quiche and buttermilk pancakes first. Soooo good!

My 2017 Fall Must-Haves for the Homebody Picks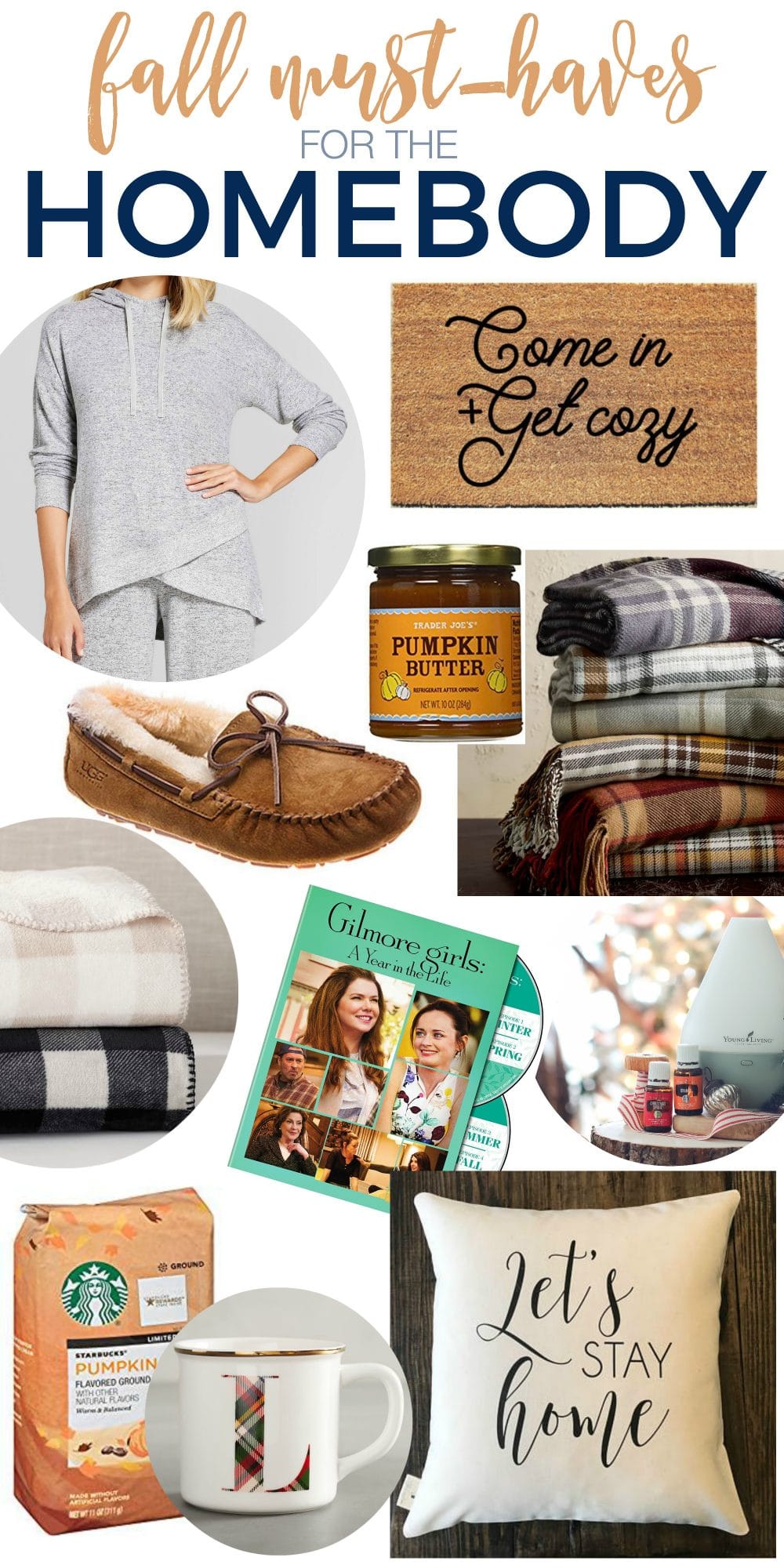 Sleep/Lounge Sweatshirt (less than $20!) // Moccasin Slippers (get the look for less here) // Come in Get Cozy Door Mat // Trader Joe's Pumpkin Butter // Plaid Throws (on sale!) // Buffalo Check Throws // Gilmore Girls (my fave!!) // Essential Oils from Young Living (favorite fall/winter scents are Christmas Spirit and Orange) // Pumpkin Spice Coffee // Plaid Initial Coffee Mug // Let's Stay Home Pillow
So the goal this weekend, according to my extroverted hubby, is to not leave the house. Ha! We'll see how long that lasts, but it sounds like a good plan to me!
Have a wonderful day!