Hey!! I'm shopping from the couch this weekend as the online deals are awesome, there's no line and I can shop in my PJ's while watching football! I call that a perfect scenario. If only I could find a personal Christmas gift wrapper, then I would be all set.
I wanted to share some of my favorite Black Friday and Cyber Monday 2016 weekend deals. I'll keep updating this as I find more deals throughout the weekend! Some affiliate links are used for your convenience.
Amazon always has amazing Deals of the Day. If you are an Amazon Prime member (which I highly recommend) then you get first look at the daily deals and free 2-day shipping on any Amazon Prime eligible items. I LOVE it for Christmas shopping! Here are some Amazon shops that I love.

Anthropologie – I love their Christmas decorations and all of their sale items are 30% off! Full priced items are 20% off and free shipping on orders over $150!

Crate & Barrel – Offering 15% off all full priced products and free shipping on ALL orders.
Emily Ley Paper – The Simplified Planner is my FAVORITE organizational tool and everything in the shop is up to 50% off! Free shipping on domestic orders over $100.

Hayneedle – I love their furniture selections. They are running up to 60% off and free shipping on purchases over $49.
H&M – up to 30% off all items! They have $5.99 throw pillows. 😍
Minted – my favorite place for unique art and Christmas cards! (Be sure to enter my $100 minted gift card giveaway here.) 20% off EVERYTHING.

Pottery Barn – I always love everything at Pottery Barn. My couch is from there and it's a favorite. 30% off of ornaments, stockings and more! Up to 50% off Cyber Monday deals and free shipping with the code 'SHIPFREE'.
Target – My favorite super store has started their Cyber Monday early with 15% off everything, including sale items! I love my Target Debit Red Card (we don't do credit cards). It give me 5% off all the time and free shipping. It's my favorite place to shop after Amazon Prime.
It's a fun day for shopping in your pj's. May yours be lazy, comfy and full of savings! Happy shopping!!
I'll add more stores and deals as I find them!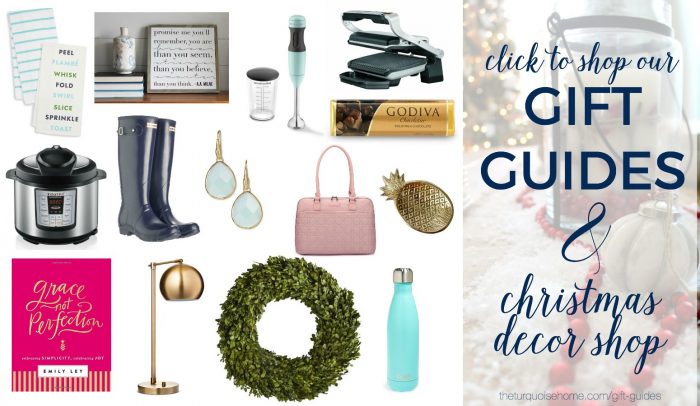 Get Instant Access to my Guide to Customize Your Home on a Budget
Grab your FREE guide for 10 Ways to Customize Your Home on a Budget: simple projects to transform your home from builder beige to a home with character and charm!