I always share my favorite things at the end of the year in hopes that you'll find something that you love as much as I do! If you're looking for the perfect gift for someone, then I assure you that ANY of these would make great gifts, too!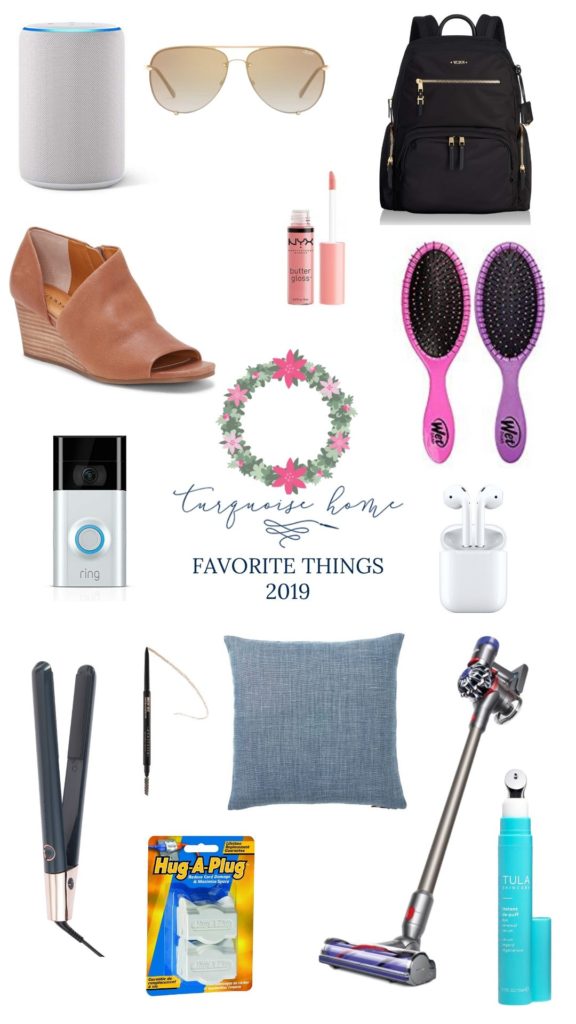 This post contains affiliate links for your convenience.
Favorite Home Items:
Favorite Tech Items:
The Ring Doorbell: For my birthday this year, my husband installed the Ring doorbell that I got back on Black Friday last year. I thought I would love it, and I was correct! I love everything about it! (Well, except for the fact that my husband now can see on his phone every time a package gets dropped off at the door. LOL) I love being able to keep an eye on everything from my phone even when I'm not there. We already bought two for the new house!
Alexa (Amazon Echo) – The few days that I was without Alexa during our move, I tried to call her for help multiple times a day. I had no idea last year when I bought it if I'd love it or not, but needless to say I LOVE it! Weather timers, music and just our general questions, keep our "Alexa" busy! I share more about how we use Alexa here!
AirPods – Whether I was to listen to a podcast while my kids are watching a movie in the car, or I want to listen to something while I'm cooking or washing dishes, I grab these! I didn't realize how much I'd love them, but I LOVE them and use them allllll the time!
Favorite Fashion & Beauty Items:
De-puffing Eye Serum – One of the few empty bottles I had this year and I re-ordered it immediately! I used to get terrible puffy eyes every day and this visibly helps. The metal wand feels so good
Nyx Butter Gloss in Creme Brûlée – Another empty this year, and I keep them coming on my monthly Amazon subscribe and save subscription! 😜
Wet Brush – With daughters, I spend a lot of time brushing hair and putting it up. These brushes take out the tangles without damaging the hair or making them cry. That's a win/win in my book! We have them stashed all over the house!
Wedge Booties – These wedge open-toe booties were my low-key MVP shoe purchase this year. I bought them as a fall transitional shoe, but they have quickly become one of my overall favorites. I wore them ALL the time this fall and can't wait for spring to wear them again!
Hair Straightener – I've been using a hair straightener since I was in high school, so I've used my fair share of them! When my Chi straightener died this year, I decided to try the hyped up T3 straightener. I'd bought a couple of them years ago and they were OK. But their technology has improved so much over they years and it's hands DOWN the best straightener I've ever owned. I even had an issue with mine and they fixed it with no problems. Great customer service!
Eye Brow Pencil – My eyebrows were transformed this year with this brow pencil. I love it in taupe!
Let me know if you try any of these and love them, too! If you share on Instagram, give me a tag – @turquoisehome!
Get Instant Access to my Guide to Customize Your Home on a Budget
Grab your FREE guide for 10 Ways to Customize Your Home on a Budget: simple projects to transform your home from builder beige to a home with character and charm!