Hey friends!! I like to take a moment each year to say THANK YOU for being here with me on this journey. YOU are truly the reason why I keep coming back month after month and year after year. When I get your sweet messages about how you've used a printable to decorate your home or you've just discovered your new favorite jeans/couch/light from my recommendation, it makes me so happy! It's literally the best part of this job – you!
So, with you in mind, I've been gathering a few "extras" of my favorite things over the past 6 months with the idea that I would hold a giveaway just for you!
I also like to ask for feedback about once a year just to see what you like here at The Turquoise Home and how I can better serve you with this community. I want to be able to bring more content and community features this year as my girls are finally both in full-times school and I have more hours to devote to the blog. 🎉☺️
My Favorite Things Giveaway
I so wish I was Oprah and could give a Favorite Things gift bag to every single one of you, but alas I'm not quite queen status yet. 😜
Either way, it's a good prize pack and hopefully if you don't win, you can make some hints to someone in your life for a future birthday or Christmas gift. 😉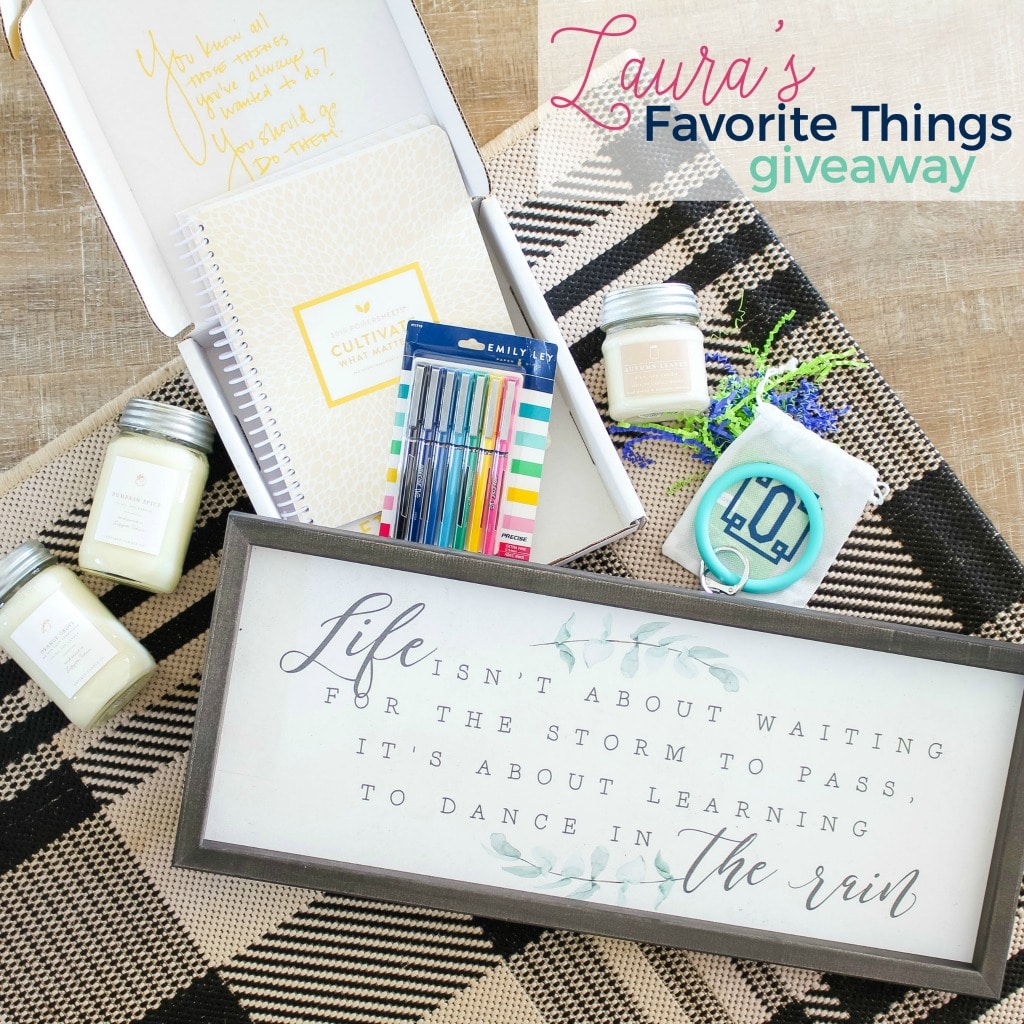 What all is in the Giveaway??
Note – none of this is sponsored, but the sign was given to me to try out and to give away by Simply Said, but they're signs are so adorable, I know you will love them!
Entering the Giveaway
It's super easy and just THREE STEPS.
Step 1. Go to this Google Form and fill out the survey. (Click HERE) **Pay careful attention to the confirmation page after you submit your answers…**
Step 2. Once you've submitted your survey answers at the bottom of the page, find the SECRET WORD on the confirmation page. Then come back here for step 3.
Step 3. Fill out the Rafflecopter WIDGET BELOW with the SECRET WORD you received from the confirmation page after the survey. **Please do not leave a comment on this post with the secret word. That will not get you any entries. They must be submitted in the widget directly below. ⬇️⬇️⬇️
a Rafflecopter giveaway
Extra Entries: You may do additional things to get more entries, like subscribe to my e-mail, follow me in Instagram or follow me on Pinterest. Even if you already do those things, put your name down anyway for the additional entries!
The giveaway ends one week from today – on August 28, 2019 at midnight, so get your entries in!
Good luck!!! Thanks so much for reading this blog and supporting my home decorating and DIY endeavors over the years. I appreciate you so much!
xo, Laura