Learn about our fireplace makeover inspiration and how to make your own home goals. All while we're geared up and ready for an amazing new year of DIY projects and updating decor! Here are some of our home goals that we hope to achieve in 2018.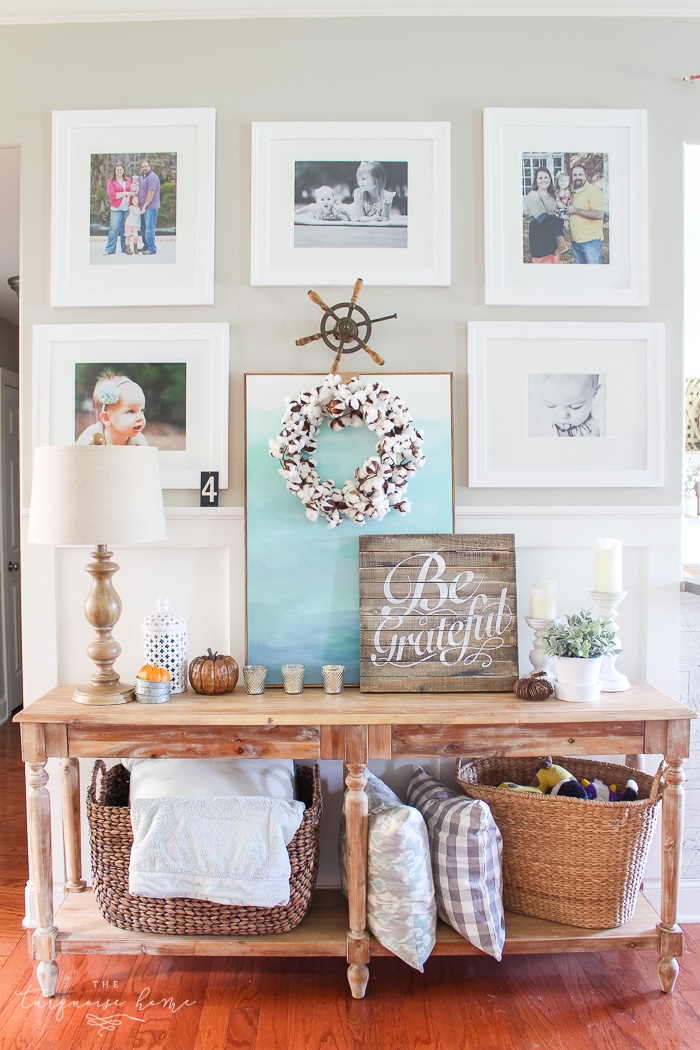 This new year has truly sputtered to get up and going, it feels like. Today is another snow day for the girls & Coach, which means I have had 1 day of our normal schedule with both of my girls in school since the middle of December.
We've either had weather delays or been out for weather or a sick kid or, or, or… It really feels like the longest holiday season of my life, so bear with me as I get back to work slowly. It's just kind of crazy how much time we've had off. At the same time we've had some wonderful times together, so I can't complain too much.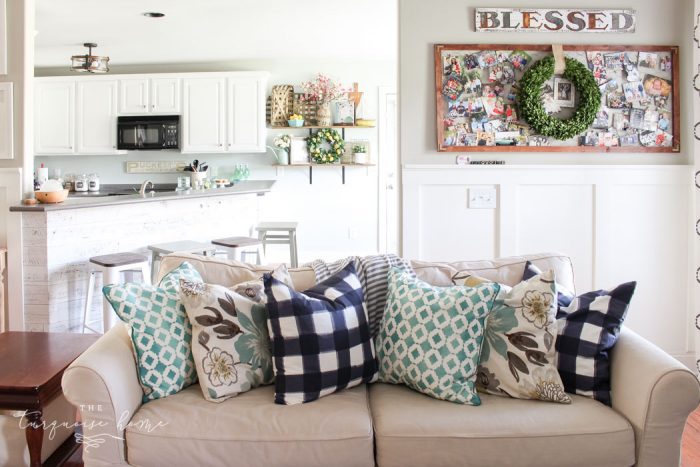 During this down time I've been working on my goals, really intentionally focusing on where I'd like to see myself a year from now – in business, in our family and in me personally. One way that I've been contemplating is our home goals. I've written these down before, but I don't do them every year. Last year I was more focused on organization. And if that's you, then you'll want to join the 30 Day "Less of a Hot Mess" Challenge.
The last time I sat down and wrote down my home goals was in 2016. I'll share an update on those here, and my newly added goals.
I don't think this house will ever feel "done", but I always want to be working toward having all of the spaces reflect us and the way we love to function and live in our home. And then whenever we "finish" it'll be time to start all over again – or move! Ha!
Speaking of setting goals for your home, please understand that we do not have big budgets for renovations. We are a DIY, budget-conscious family that doesn't spend a ton of money on updating the house. And I'm OK with that. A home isn't built in a day and it takes time to finish things. We're not completing any makeovers in 3 days like they do on TV. 😉
How to Set Home Goals
Pick up all of the clutter. It's hard to imagine what you want in your home when it's messy and cluttered. If you have a lot of clutter and stuff everywhere, you won't be able to move on to the dreaming phase!
Dream about what you imagine for your home. How do you want it to function better or how do you want it to look? Browse through some of your Pinterest boards and gather ideas, but don't get overwhelmed. Make it a quick look!
Walk through your home with a notebook. Take notes on practical ways you can implement your dreams. Does that mean a new rug or new curtains, or painting a piece of furniture?
Narrow your ideas to 5 goals or less. I tend to be an overachiever when it comes to goals. That's fine with me because I just roll them over to the next year. But if you want to set goals that you can actually accomplish, then narrow them down. I like to set some overarching room goals with smaller mini goals, like my kitchen below. I know this all will probably take more than a year, but I can knock some mini goals
Post your goals where you can see them. It's easy to …. squirrel. So, if you have trouble remember what you're focusing on this year, the goals will be right there in front of you. Keep a copy in your Home Binder with inspiration photos or more details ideas.
Home Goals 2018
Let's start with my new goals on my list, because I am super excited about them!
1. The Fireplace. I've had ideas swirling in my head for years about updating the fireplace. It's a pretty standard fireplace and the beige tile is the same tile used in the bathrooms and laundry room in our home, and I long to update it all. I dream of a thick wooden mantel top, clean lines and some whitewashed brick or other pretty tile. I am confident that I can DIY it all. 🎉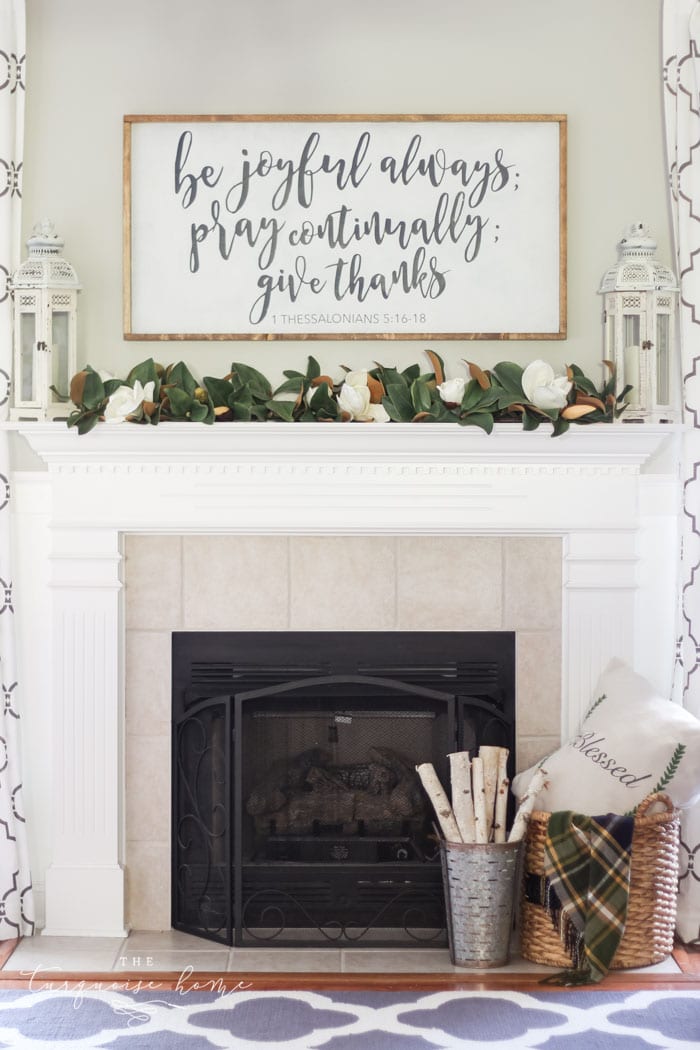 Thick wood mantel top
Corbels (maybe? If I can find the right corbels.)
New wood trim (cleaner, less fancy)
Resurface the tile with brick
Whitewash the brick
Here's my favorite inspiration …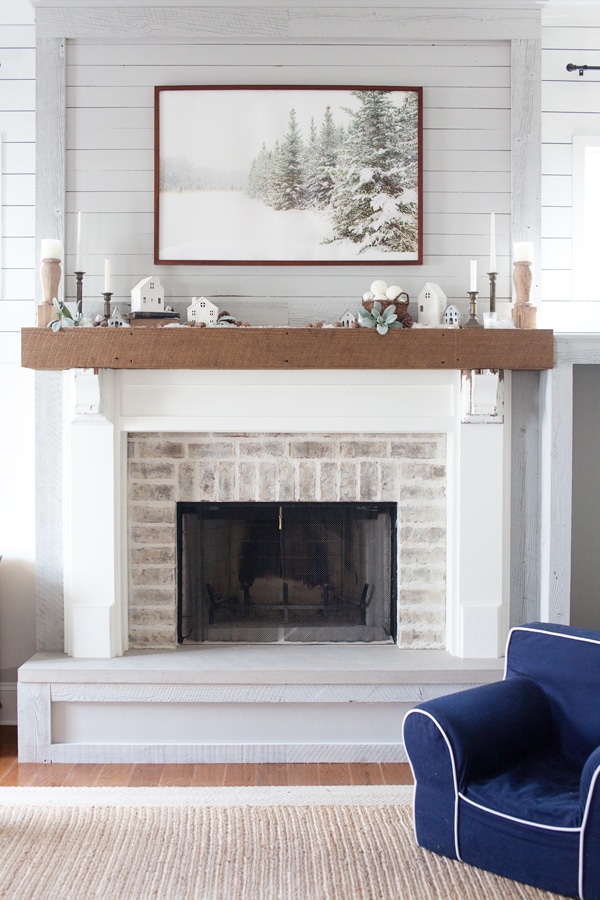 I love the large, beefy wood mantel top and the faux washed brick and the chunky, weathered corbels. I know mine won't look exactly like this, but it's my starting place. I can't wait to see how it turns out!
2. Living Room Changes I felt like the fireplace makeover needed its own spot, but I really have some major plans for the living room in addition to the fireplace.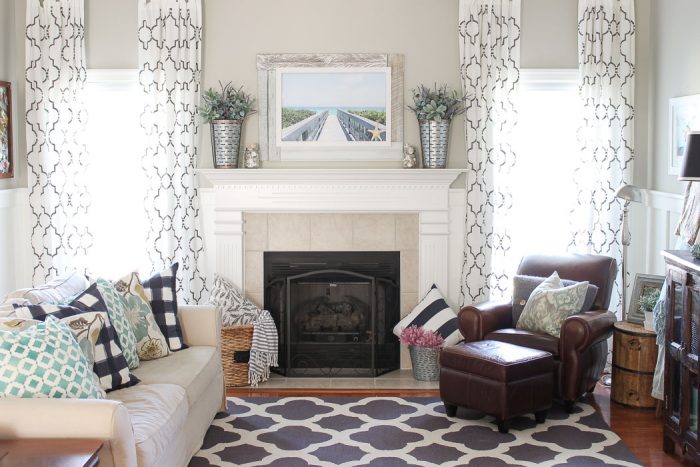 These include:
Build a coffee table
New Sofa. Our current sofa was a wonderful Craiglist find and while I love the look, I haven't honestly loved the comfort factor for a long time. Then one of the boards broke on the back of it this fall and it sags terribly. I could probably fix it, but I really think it just needs to be replaced. LET ME KNOW – do you think we should do a sectional in here or another sofa and a love seat? The love seat would be in the foreground of the above photo.
Build an end table (depending on the new sofa we choose)
New curtains?? This is a maybe. I really still like my curtains and they are an expensive purchase. So we may just keep them for a few more years. They were a DIY project when we first moved into the house.
I'd love to add these chairs to either side of the fireplace, but that probably won't happen this year.
3. The Kitchen. I've had dreams for my kitchen since we set foot in it. I'm going to share my goals from 2016 with you here and you'll see what we've accomplished in 2 years! 😜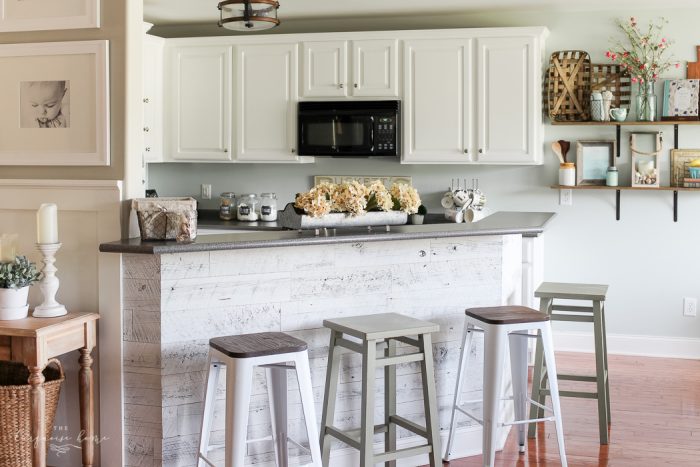 I think we've finished almost everything that we can do ourselves, except for the eat-in kitchen cosmetic stuff and the backsplash. We'll have to save and hire out the rest, which is why it hasn't happened yet.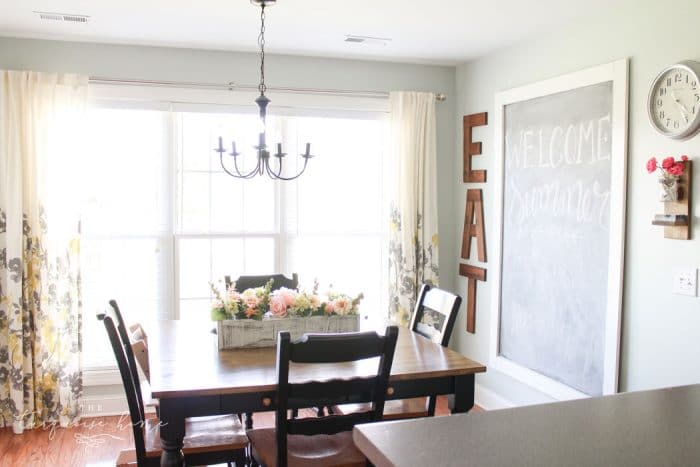 Replace two light fixtures in the kitchen. (Done in 2016.)
Paint the kitchen cabinets white. (Done in November 2015.)
Panel the back of the bar. (Done in July 2016.)
Paint the walls. (I painted them Sea Salt.)
Sand, stain and paint the eat-in-kitchen table. (I sanded and re-stained the table top 2 years ago, but never finished the chairs. And I never painted the table legs, either. I have the paint and everything, I just need to do it!)
Change out blinds for bamboo shades. (I'm embarrassed that this one hasn't been done yet. 🤦🏼‍♀️ THIS is my year! LOL)
Replace the countertops. (I want quartz! Obviously we'll have to hire this one out.)
Replace the kitchen sink. (Hire this out.)
Replace the kitchen faucet.
Add backsplash. (I think I'd like to tackle this one as a DIY project. I've never tiled anything before, but I'm sure I could, do it!)
Add height to the cabinets so that they reach the ceiling and add crown moulding around the whole room. (probably next year)
Replace black appliances with stainless steel. (also probably next year)
4. The Guest Bedroom/Office. I've been working on this room for a few years and I'd love to get it done this year. I worked on the office part of it last year and I love my little office corner, but it's time to make the rest of the room functional for our needs.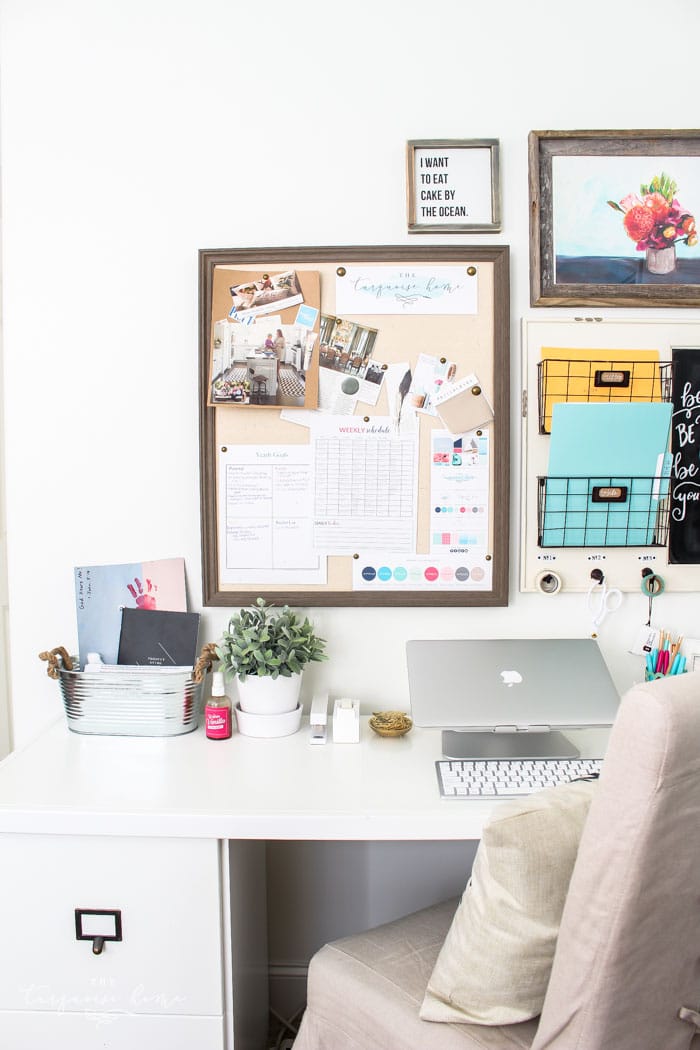 Build or buy a desk with built-in filing cabinet. (Done in late 2016. It's from Ballard Designs Outlet and there's a similar one from Pottery Barn. You can see more of it in this post.)
Add curtains to the office. (done!)
Paint the office walls. (Done! I painted them Simply White by Benjamin Moore.)
Replace the full bed with a day bed and trundle in the office/guest room. (I've had my eye on this day bed and trundle for forever. I just need to sell the current bed and pull the trigger!)
Repaint bedside tables or buy new ones.
Add some bookshelves with cabinets to the room for books and storage.
5. The Master Bedroom. I actually started on this room when we moved in and put my two very first DIY projects in here. I still love them too! But then I stopped. I haven't touched it since about 6 months after we moved in (6years ago!) and its time to make it something that we love.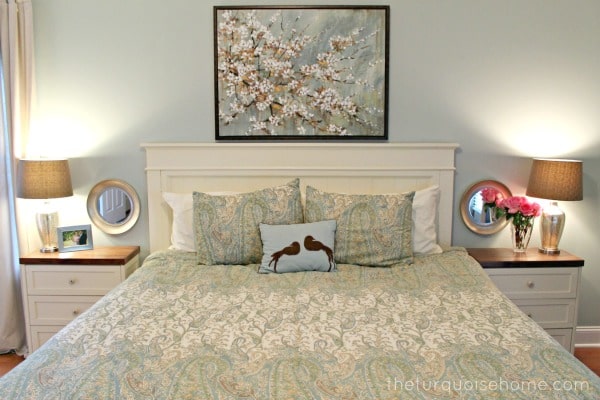 Change out the art above the bed.
Add a footboard to the headboard.
Change out the lamps.
Paint the currently dark wood furniture. (This will probably take some convincing, but we'll see. #wishmeluck)
I still love the night stands, which were my very first DIY and an IKEA Rast Hack. And I really do love the duvet cover. It's an old one from Pottery Barn, but I'm still obsessed after all these years. And it looks great with my favorite sheets in the whole world.
Honorable mentions: I've long-time wanted to paint the front door and shutters. And then I really need to create a big girl room for my older daughter. She's had a room decorated with half of the stuff from her nursery and half new stuff for more than a year. It's time to take it all the way!
We will see what I can get done! I'm printing this list off now, schedule some projects in my calendar and leaving the rest in plain view so that I can remember what to work and save toward!
Heres' to getting a ton done in 2018. Cheers!
What's on your home to-do list this year??

SaveSave
SaveSaveSaveSaveSaveSave
SaveSave
SaveSaveSaveSave
SaveSave
SaveSave
SaveSave
Get Instant Access to my Guide to Customize Your Home on a Budget
Grab your FREE guide for 10 Ways to Customize Your Home on a Budget: simple projects to transform your home from builder beige to a home with character and charm!