As someone who loves a good recommendation from a trusted friend, I thought since we're buddies, I would share some of my faves from this month. You know how when you're trying to figure something out, you text your bestie to see what she uses? That's all we're doing here, sweet friend! Hope it's helpful!
This month has been such a great month for me for getting ready for the rest of the year. I am a huge believer in setting goals and doing the daily work to get there, so I've been working on my personal and business goals most of the month. I love a fresh, clean start, which is what January offers and while I think you can start anything at any time, I do think I'm more motivated to start something new at the beginning of the year.
1. First, I am loving my goal planning system. I shared on Instagram my love for Power Sheets, which is the goal-setting tool that I used in 2018 and am using again this year. I was hesitant to start using them last year, thinking they might be a waste of time and money, but I was so wrong.
I love knowing what direction I'm going and taking a few minutes at the beginning of each month to sit down and map out what steps I'm going to fulfill that month. It's not perfect, but like Lara Casey says, it's progress over perfection we're after.
P.S. If you want to snag one of your own, the full year power sheets are sold out, but they still have the 6-month undated power sheets available here!
Watch my full review from Instagram Stories right here …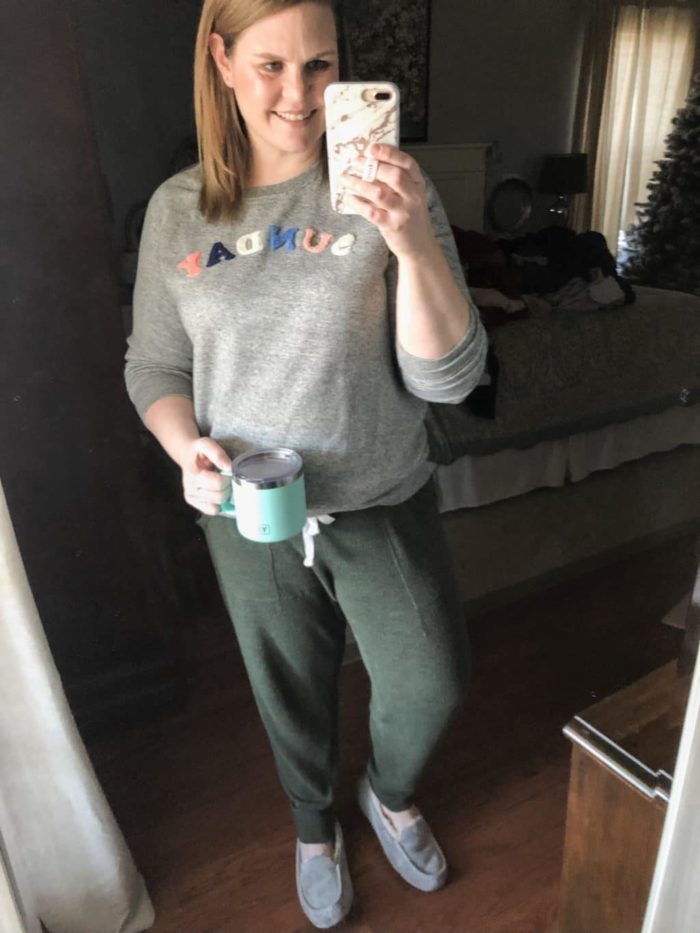 Shop my Favorite Casual Look HERE
2. My new slippers have brought my feet much joy this month as I finally gave in and bought these fabulous Ugg slippers. My old Target slippers, while very budget-friendly, were just not supporting my feet any more. And as a work-at-home mom I live in my slippers 75%+ of the day. So it's worth supporting my feet. I also know you can buy replacement insoles each year and these slippers should last me a decade or more!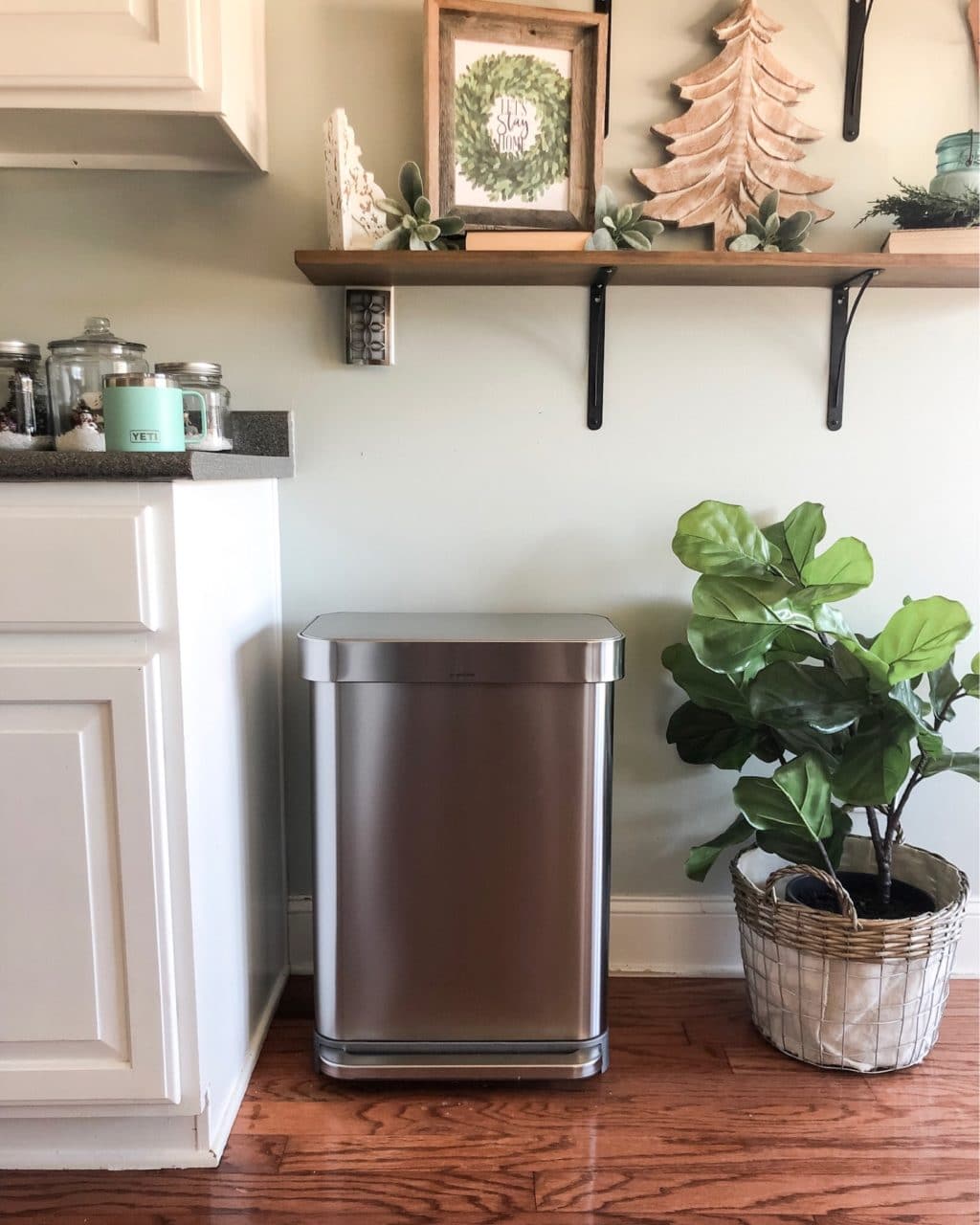 3. Another favorite item this month has been my new and improved trash can! It's a true case of adulting when you're gushing over a trash receptacle. Right? 😂 There's a reason why it's the #1 new released trash can of 2018 on Amazon. lol
We used an old, dinky plastic trash can that hardly held anything for 10 years and it was looooong since time to upgrade. I love the large size, the non-marking exterior (so handprints don't show up) and the top that covers the edge of the trash bag liner, so it looks clean and simple. Who knew you could be so obsessed with a trash can? 🤣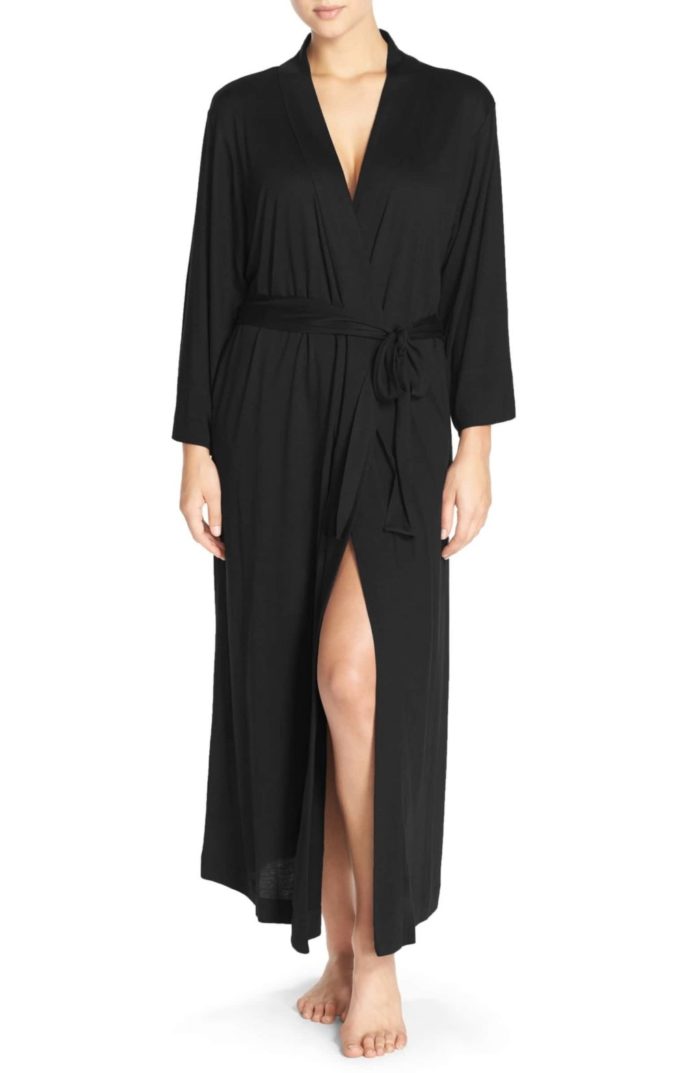 4. Bath Robe. I've been looking for the perfect bath robe for years. Not too thick, not too thin, a good mid-calf length, full coverage and overall cozy & soft. I saw a fellow blogger mention that when she polled her blog readers the overwhelming response was THIS robe. I had to try it, because hey – if I didn't love it, it was free shipping and free returns. But I'm in LOVE! It meets every single one of my criteria and BONUS! It even has pockets!! I love being able to just throw it on when I'm doing my hair and makeup in the morning and anytime I need to be presentable, yet don't want to find the right clothes to wear. 😊
Sorry I don't have a picture of me in my robe 😂, but the website image will give you a good idea of how great it is. Also note that there's an inside tie for the first side of the wrap so that it doesn't risk coming open at an inopportune time. 😉 It's gotcha covered, girl!
5. My Clothes Steamer. This is an older purchase that I just really love! I haven't had to pull out the ironing board since I bought it and while it's small (and budget-friendly), it's super mighty. I especially love that it can unwrinkle all of my girls' ruffles on their clothes, which are so hard to iron! But the steamer takes care of them in a jiffy!
I even travel with this steamer so that I don't have to bother with the hotel iron to get the wrinkles out of any clothes packed in my suitcase. Love it! Super bonus: my husband will even use it, which is special because he's never touched an iron in his life!
Those are the things I'm loving this month, so I hope you find those helpful in case you're looking for any of the solutions i your life, too! I know I get a ton of ideas from my friend's recommendations and I feel like you're my friend, so I wanted to pass these along!
Have a great weekend!
xo, Laura