All of the best podcasts for women who love to live life to the fullest, whether its decorating their homes, building relationships, finding time for self care or running a business. It's all here and these podcasts will keep you refreshing your app for more!
OK, I know you're probably thinking, what does listening to podcasts have to do with decorating and DIY projects and creating a home I love? Well, it does have to do with it and I'll explain if you'll stick with me.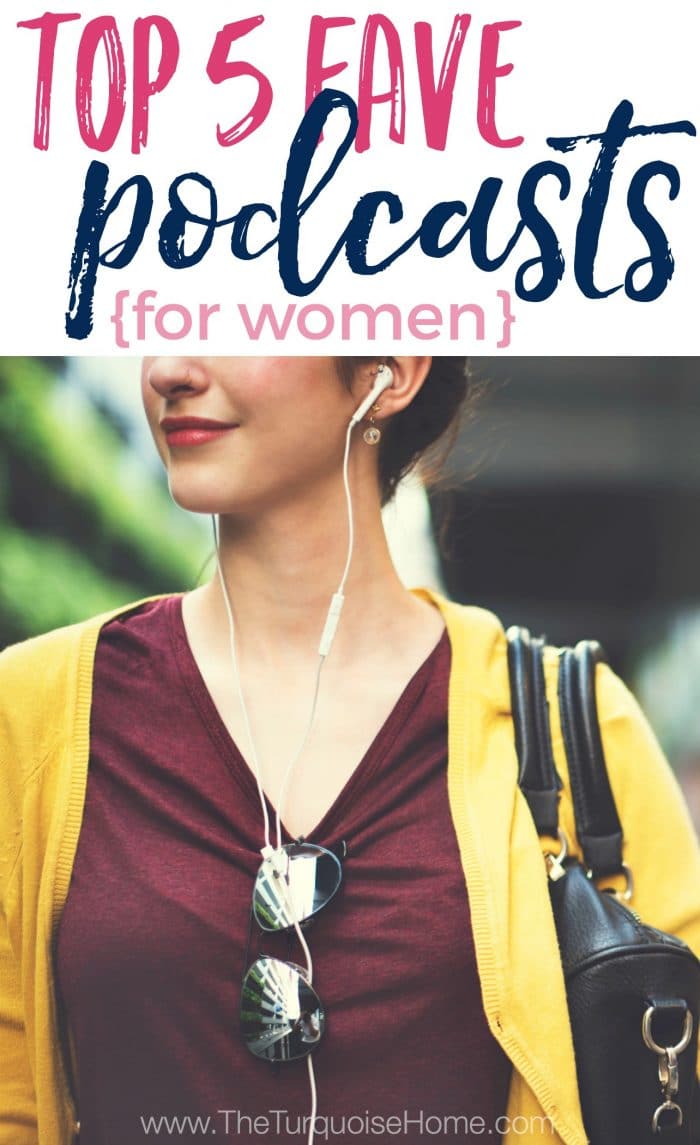 Note: I realize that in the video below I said it doesn't really have anything to do with decorating your home, but I lied. I just hadn't realized the connection, so listen up! 😊
I get this comment a lot in my inbox. It goes something like this, "The biggest challenge for decorating and embracing my home is ME. It's the procrastination and the overwhelm. I can't seem to wrap my head around where to start."
Does this ring true for you?
It has for me many times in my life. And do you know what I've found to be the issue? I wasn't fully functioning in my life. I wasn't participating in self care. I was running on empty, not being active and not eating well. It made me just survive my life. This lead to burnout and overwhelm and brain fog.
But when I'm making better decisions about getting plenty of sleep at night, being active and drinking plenty of water, life just seems less overwhelming. My mindset changes and I can face my to-do list with clarity and focus. I find my creativity again.
But do you know how that mindset changes for me?
By learning from others! By listening to podcast or listening to audio books that inspire me and encourage me to set goals and to be better each and every day.
So, if you're feeling overwhelmed in your life, take a page from my playbook of life and start learning from others. Allow their lessons and their breakthroughs and their ideas to encourage you and inspire you. The best part is? You can listen while you're doing something else like driving or folding the laundry.
Bonus: it makes terribly tedious chores so much more pleasant!
Note about my fave new drink: Bai Bubbles – My fizzy indulgence now that I've given up diet coke (for good)! I loooove the Waikiki Coconut Lime flavor (tastes just like a Dirty Diet Coke) and the Bolivia Black Cherry flavor. And the I realized after the video that they may be called "Bay Bubbles" not "Buy Bubbles" – who knows. Either way, they are yummy!
You're welcome. 😉
My Top 5 Favorite Podcasts
1. Young House Love Has a Podcast. If you love decorating and learning about the behind-the-scenes issues related to decorating and DIY projects, then you will love John and Sherry. You honestly probably already love them, but if you're not listening to their podcast, it's super fun and helpful! Perfect for listening in the car when you can't read!
2. Storybrand with Donald Miller. Don's mission is to help businesses get rid of the noise in their marketing. And this podcast helps with that certainly, but it's also just good general advice for any entrepreneur trying to do their best in business.
3. Big Boo Podcast with Sophie Hudson and Melanie Shankle. If I just want a light listen and nothing too "personal growth"-y, then I listen to Sohpie and Melanie chatting it up about SEC football, face cream and their favorite new movies! Love them!
4. The Next Right Thing with Emily P. Freeman. If you're looking for a short, quick inspiration and encouragement, then this is the podcast for you! Her voice is so soothing and sweet. I don't recommend listening to her if you're tired, because she's soooo soothing and it'll make you fall asleep. LOL But the content is so, so good! Like a breath of fresh air!
5. Dais Podcast with Rachel Hollis. If you are a woman, then you NEED to be following this girl. If you are a woman entrepreneur, especially someone in the blogging, social media, influencer world, then you must listen to her.
And listen up ladies! If you are a WOMAN, which is 97% of the people here, then you must, must, MUST read her book: Girl, Wash Your Face. I listened to it on Audible, but it is the best book I've read in probably 5 years. It's all about the lies us women believe about ourselves and how she overcame them. It literally changed my life and I couldn't recommend it enough!
If you have any ideas or questions you'd like answered in a future Five Friday Faves, then let me know in the comments or shoot me an e-mail at Laura @ TheTurquoiseHome . com! I'd love to share more of what you want to hear!
SaveSaveSaveSave
SaveSave