Last week I was enjoying my first morning alone since my baby was born 14 months ago.
What?!? Yes, a few weeks ago I decided it was time for Baby G to go to preschool one day a week. I need one morning a week that I can go run errands without any "help." 🙂
I actually spent an hour with a couple helping them design their new kitchen. I've never done in-person design consulting before, except for a quick suggestion here are there for friends and family.
Obviously I have a lot of opinions about home design and I spend a lot of time reading and looking at all different kinds of designs online, but I really loved it and could see this as a possible thing to do once the girls are in school full-time. We'll see!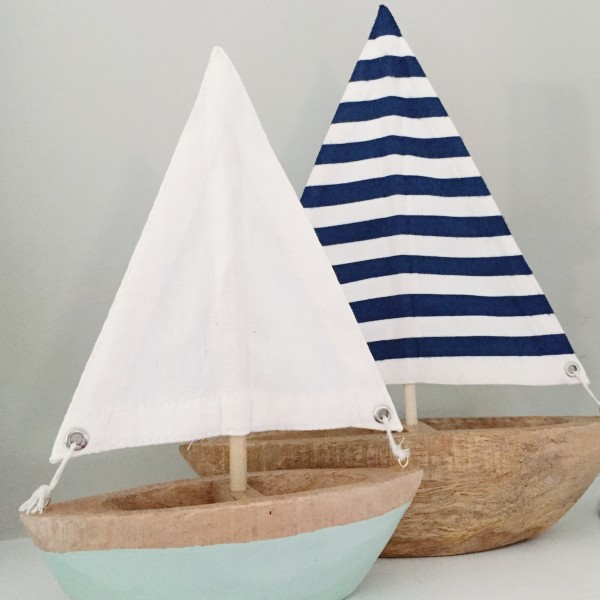 OK, back to the free morning. I decided to treat myself to some coffee and a quick, child-free browse through Target. I picked up a few items I'd been eyeing for my kitchen and office. But then I stopped right in my tracks when I saw these sailboats. So cute!!

I just had to have them for my summer decor. I haven't even decorated for spring yet, so I'm getting ahead of myself, but aren't they just the cutest?!
I also bought a larger boat with yellow on the bottom, like the aqua one. I can't find it online, though, so you'll have to check your stores if you want one too. 🙂
The sailboats sparked a rabbit trail the other day and I was off searching for all kinds of fun, nautical decor. I loved all of these that I found at Target, so I thought I'd share. I've included the affiliate links below for your convenience. See my full disclosure policy here.
My wheels are turning for how I'm going to bring in some nautical fun for summer! (I'm willing the weather to warm up with my summer-time dreaming.)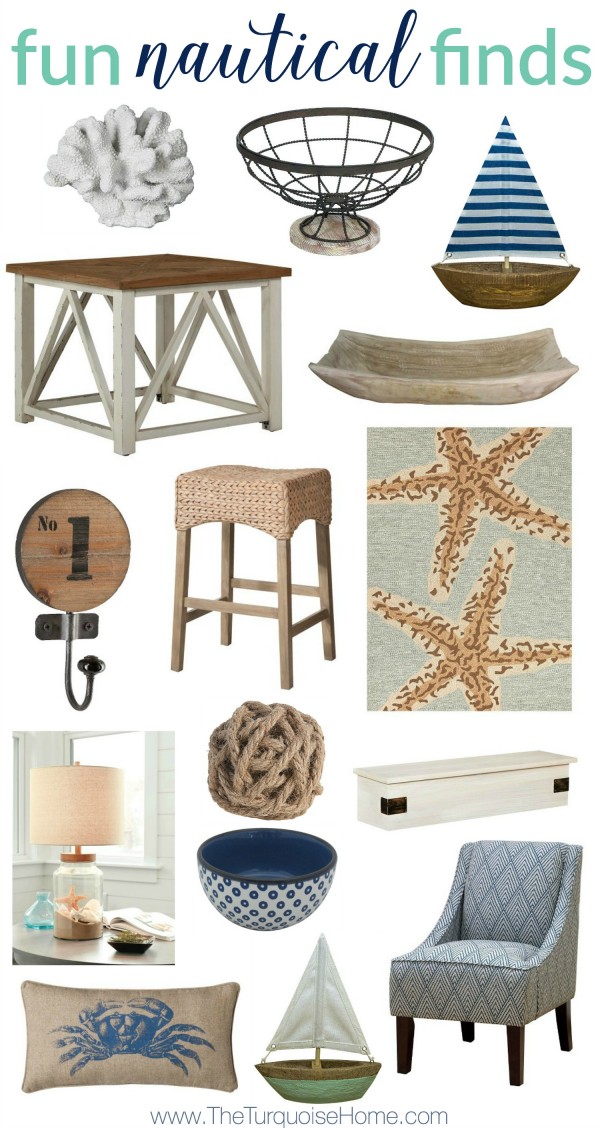 white coral structure – black and wood nautical bowl – navy and white striped wooden sailboat – square end table – outdoor wood tray – numbered wall hooks – seagrass barstool – starfish rug – fillable lamp – twine ball – blue dots dip bowl – weathered wall shelf – crab pillow – aqua wooden sailboat – blue swoop accent chair
Oh, doesn't it all make you long for the pool or the beach? I'm excited that we will be making a trip to the gulf this summer. Can't wait!
Happy shopping!
Disclosure: This post includes affiliate links, which does not mean you pay a penny more when purchasing through my link. It means that in helping you easily find some of my favorite products, I receive a small commission if you purchase. Thank you so much for supporting The Turquoise Home! {P.S. I only share products I truly love!}