With the new year comes a lot of reflection for me about what I'd like to accomplish in our home this coming year. I don't think I made a list of home goals last year. With a brand-new baby, I was just trying to survive and get some sleep.
I didn't take on any major renovation projects until November when I finally painted our kitchen cabinets white. I will share those soon. (Although I am clearly insane for tackling them during the holidays. Somebody should have stopped me!)
But this year I am less sleep-deprived and have more time and mental clarity to make a list again. I can't wait to look back at the end of the year and see how far we've come!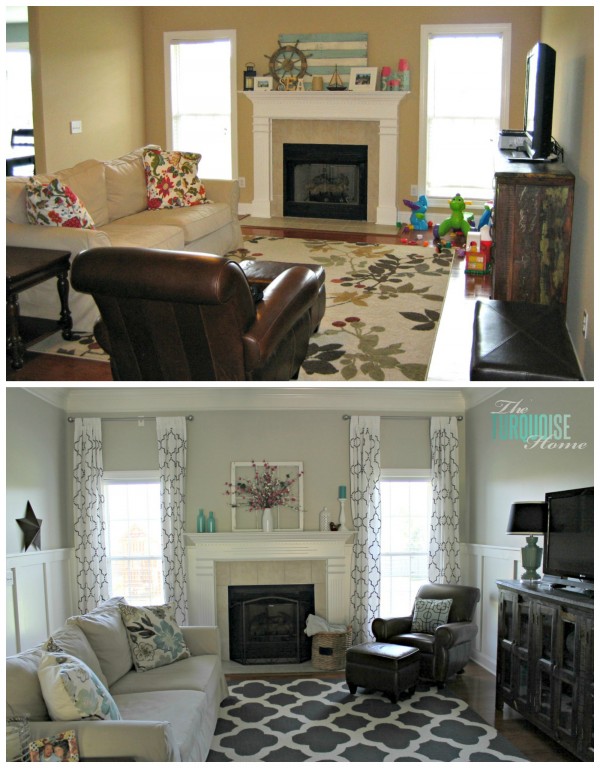 As I reflect on the almost 4 years in our home, I can see that we've come a long way. But at the same time we've moved super slow. But that's OK. Our budget is small when it comes to home renovation and improvements. I mean, we live on a teacher's salary and what I make from blogging. And while it's plenty to live on, there's not a ton of wiggle room for many extras. I mean, my monthly decorating budget – for a home decor/DIY blogger – is maybe $100. So there aren't any huge $1,000 renovation budgets going on over here.

I just pooled all of my Christmas money and bought two light fixtures to go in my kitchen. I have been dreaming of replacing these since we toured the house to consider buying it. But it's taken nearly 4 years for them to make it to the top of the list.
On one hand I LOVE it that our home is evolving over time. (I'm heeding my own advice from this post.) Although I frequently joke that by the time we get it all just the way I want it, it'll be time to move and I'll be super sad. But hopefully that won't be the case.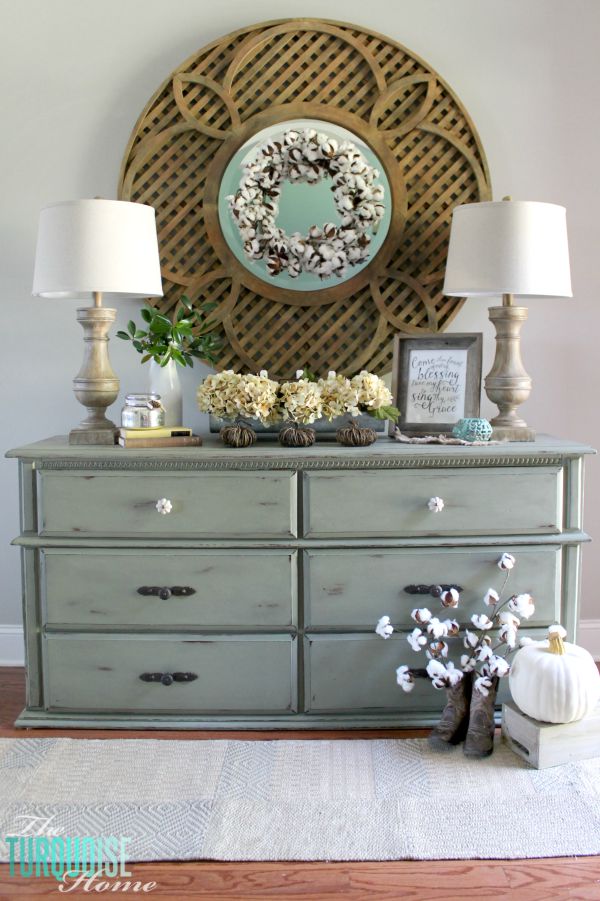 Can I share something with you? Sometimes I get overwhelmed by everything out there in blogland, on Pinterest, on Facebook and Instagram. It all just looks so pretty … and so … instantaneously gorgeous. And sometimes I feel a little twinge of jealousy that I either don't have the budget or don't have all the time in the world to DIY what I want. And then I get overwhelmed about what style I want because there are so many adorable, pretty things out there.
First world problems, I know. But I'm just sharing my heart. Think of it as a yearly confession session. Ha!
So, without further sharing (or venting), I'll give you my 2016 Home Goals. I will also say that getting a vision board in place before starting a room renovation is a good idea. I need to do that for my kitchen ASAP. 🙂
>>>Check out my tips for starting a room makeover.<<<
Home Goals 2016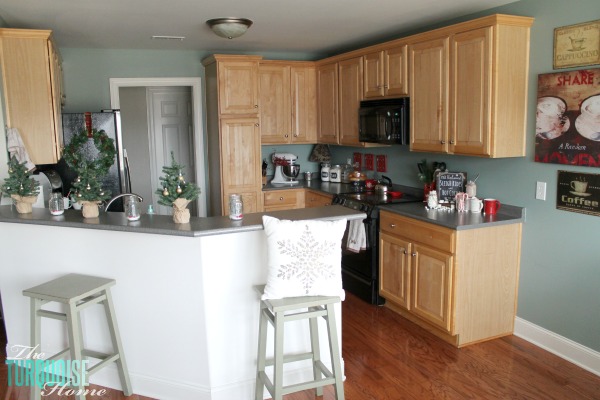 Replace two light fixtures in the kitchen. (Purchased with Christmas $$ and they are on their way. YAY!)
Restore and paint the eat-in-kitchen table. (I just need some warmer weather now that I have the time to work on it.)
Paint the kitchen cabinets white. (Done in November 2015.)
Replace the countertops. (Laminate or granite?? I'm leaning toward laminate.)
Replace the kitchen sink.
Replace the kitchen faucet.
Panel the back of the bar.
Build shelves between cabinets and back door.
Change out blinds for bamboo shades.
Add backsplash.
Paint walls or add shiplap.
Future (probably won't happen this year): add height to the cabinets so that they reach the ceiling and add crown moulding around the whole room.
Future (probably won't happen this year): replace black appliances with stainless steel.
As you can see, that is a lot of work all right there. This is where I'll focus my time this year, or at least focus on this first. If the stars align and I finish the kitchen before the end of the year (fingers crossed!) then I'll move on to these items.
Paint the shutters and front door. I'm leaning toward Anonynous by Sherwin Williams, but I'm open to suggestions. I'll definitely get some samples and try them out.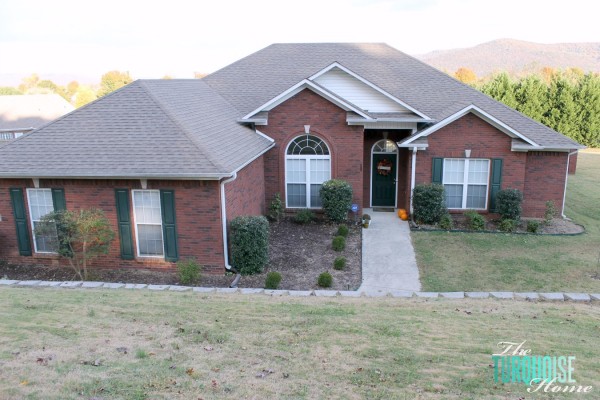 Replace curtain rod in Miss A's room.
Replace curtains in Miss A's room.
Change out picture over Miss A's bed to match her new bedding and other artwork.
Maybe have a big girl room reveal? 🙂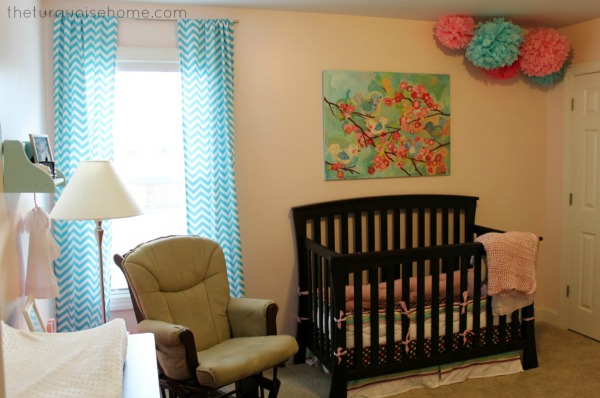 Miss A's nursery after we moved in. It's changed a LOT since then.
Build or buy a desk with built-in filing cabinet.
Add curtains to the office.
Paint the office walls.
Replace the full bed with a day bed and trundle in the office/guest room. (Either build or buy)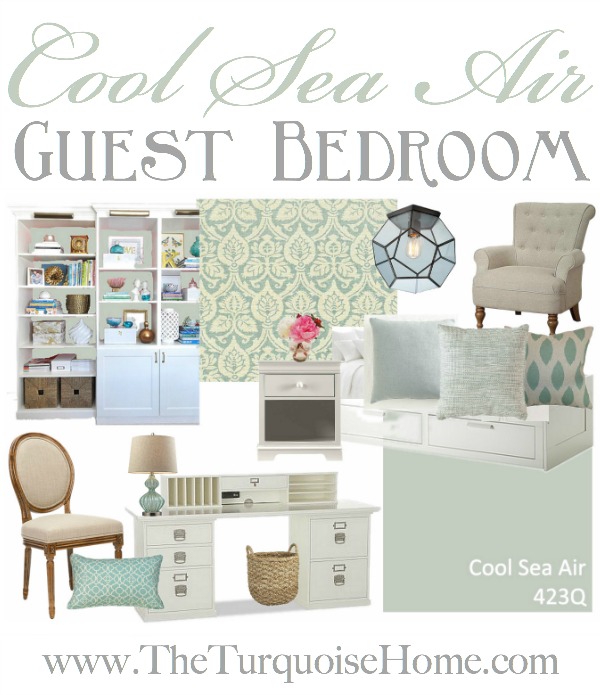 One of my 3 Guest bedroom/office vision boards
I could go on with my list, but I think I'll stop there or else I'll never get finished. And this doesn't include any crafts or home DIY projects that I have in mind, or recipes.
Do you like how I added something to my list that I already accomplished so that I could cross it off? It makes me feel accomplished already!
Do you have any home goals this year? Please share!

Disclosure: This post includes affiliate links, which does not mean you pay a penny more when purchasing through my link. It means that in helping you easily find some of my favorite products, I receive a small commission if you purchase. Thank you so much for supporting The Turquoise Home! {P.S. I only share products I truly love!}