I have preached this message many times before, particularly when it comes to this specific room in our homes: The Dining Room. And what is this message I've preached?
Use your home in the best way that works for you.
It's that simple.
You're the one who lives in your home day in and day out, so make each space be a work horse for your family.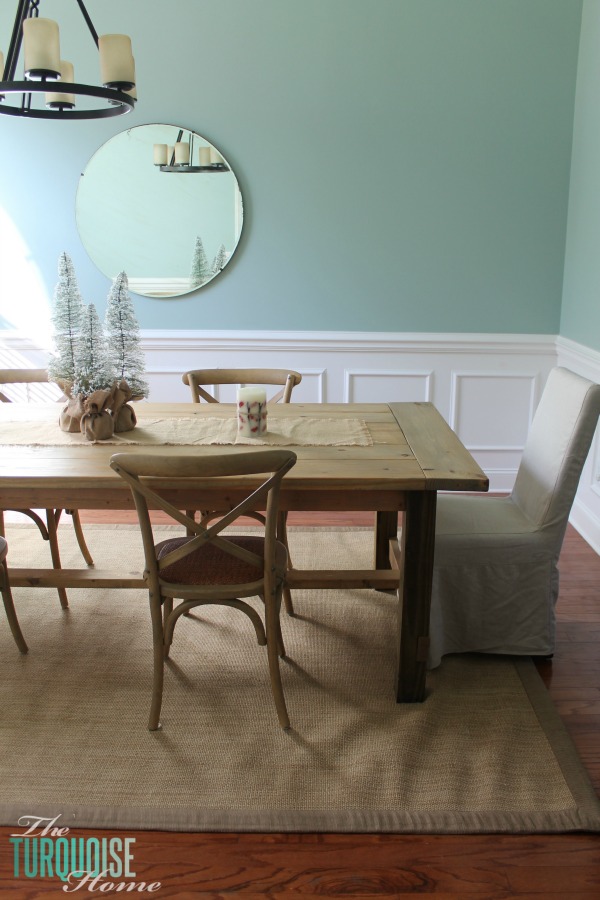 Don't rope off large rooms in your home that you would otherwise use just for the occasional need for entertaining or for guests that come a handful of times per year. Obviously there is a time and place for a large dining room. But if your family is bursting at the seams of your home, then don't make a large room off-limits just for  few occasions a year. You know what I mean?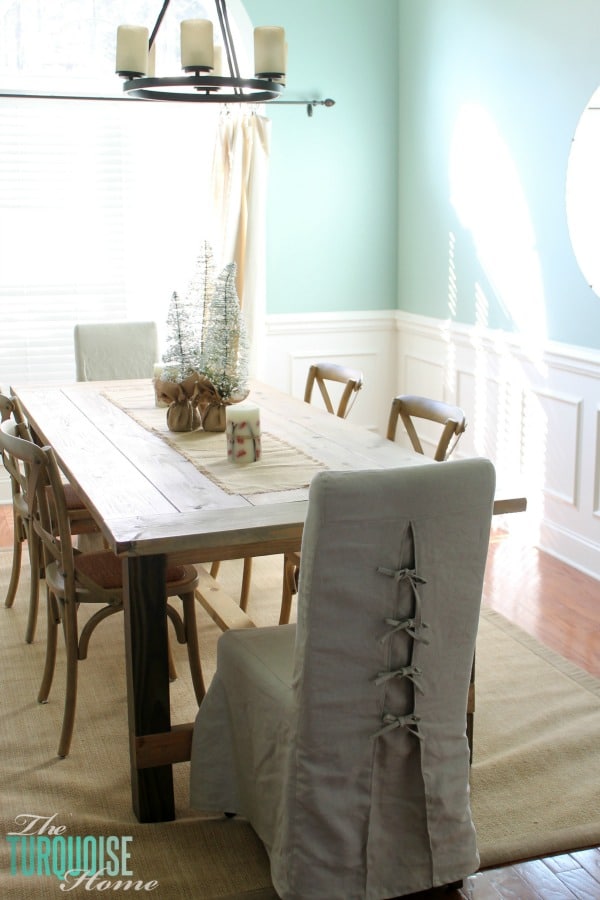 So, I've been a terrible follower of my own rules. This dining room has actually gone through several transitions over the years.

The Just-moved-in Phase: When we first moved into the house three years ago, before I made our dining room table, I put toys in there.
The Office Phase: And then when I made the large table, I tried using it as my office.
But for the majority of the time we've been in our home it has just been a dining room. Now, I use the table frequently for crafts and projects, but I don't store anything in the room other than the dining room table and chairs. All of my craft supplies are in my guest room closet. And I haul them back and forth to the dining room when I need to work on a project. Most of the time my Silhouette machine stays in the table.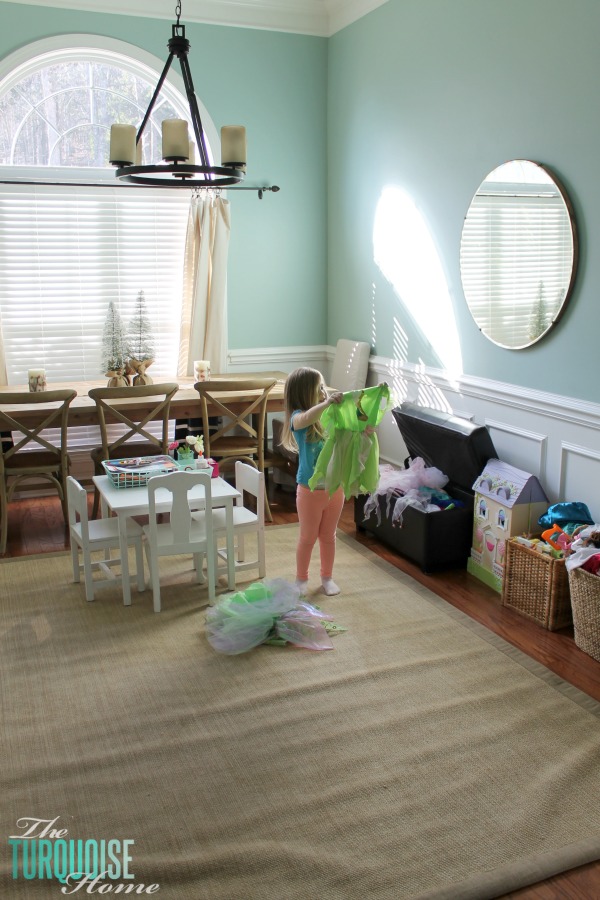 But as Miss A has gotten older, she's started to learn to play independently. But she doesn't love going back to her room to play by herself. She likes to be where we are and that means dragging her toys into the living room. We've done toy baskets and limited what she brings into the living room, but most of the time toys have been all over the place. Most recently we kept her little table in the living room and it was just getting too much for me. With the addition of the baby swing and thinking about bringing out all of those old baby toys, like the exersaucer, I decided it was time to truly make my home work for me.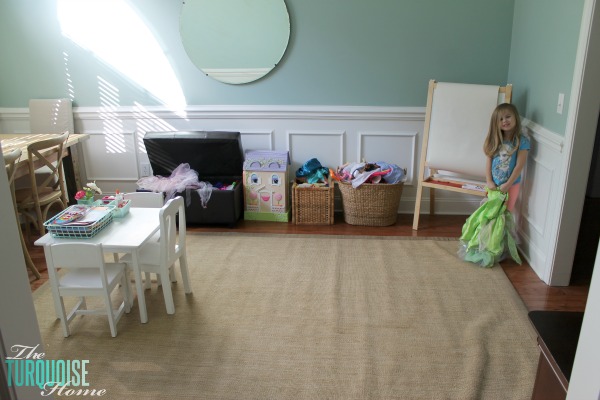 I've been wanting a jute/chenille rug for my dining room table for years. But I never could find the one in the perfect size that was in my price range that I could see and touch before I bought it. Sure, Pottery Barn has one, but it's too pricey for my current budget. And RugsUSA.com has some, but I can't touch them first. I've looked at this Target rug for forever, but the largest size is just a bit too small for my custom table. But it was time to make a decision, so I did.
And which one did I choose? The Threshold chenille jute woven rug from Target in light brown.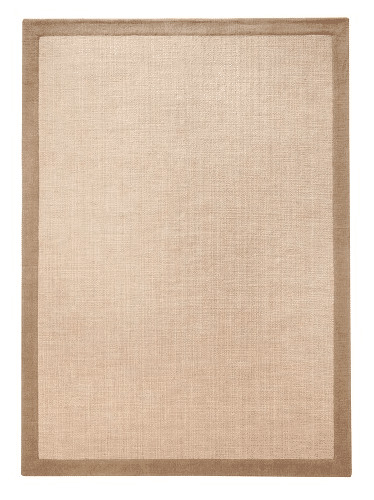 I love it! Yes, it's a little too small for the table, but I don't really care. It's perfect, otherwise. And now we have a room that works for us 360 days out of the year and we can easily convert it back to a dining room the other 5 days of the year when we are hosting large groups. I made the transition from dining room to play room by myself in about 15  minutes.
(You can see the rug isn't laying down perfectly, but I had just unrolled it in these pictures. It continues to flatten as time passes and it gets more use.)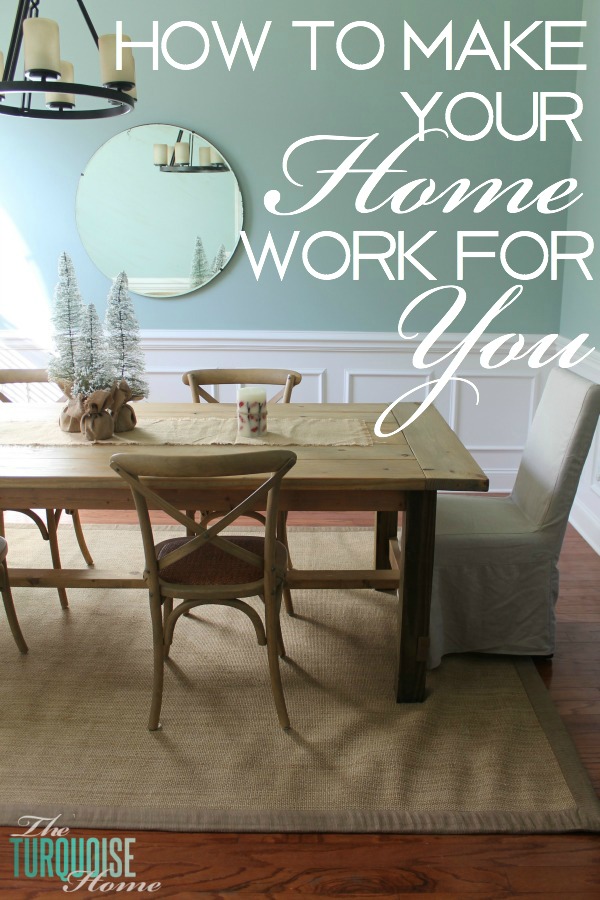 The rug is surprisingly soft and very comfortable to play on it and walk across it. We're enjoying having our living room less cluttered at the end of the day and Miss A is enjoying her own play space. So here's version 4.0 of my this space and my home and hopefully it will work for us for the foreseeable future.
How do you make your home work for you?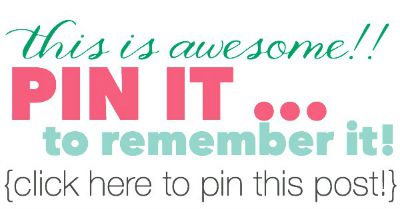 Disclosure: This post includes affiliate links, which does not mean you pay a penny more when purchasing through my link. It means that in helping you easily find some of my favorite products, I receive a small commission if you purchase. Thank you so much for supporting The Turquoise Home! {P.S. I only share products I truly love!}