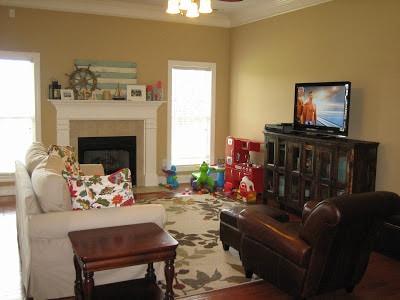 We're tuned in to the Olympics 24-7 right now. I love the Olympics!
You may have figured this out by now, but I work on all rooms at the same time. I'm a firm believer in adding new items to a room only when it's something you love. As opposed to trying to complete a room quickly and just buy something because you need to fill a space. Nope, I go much slower than that. (Which is why it'll be FOREVER before I finish a room, ha!)
One item I knew I wanted to replace was our TV/Media stand in our living room. Our ceilings are tall. So we desperately needed some more height in the room.

This is what we had before – the Avington TV Media Stand from Target in Dark Tobacco (it's now for sale if anyone wants to buy it). So teensy and small in a large room. (Don't get me wrong, we loved it, just too small for the new house.)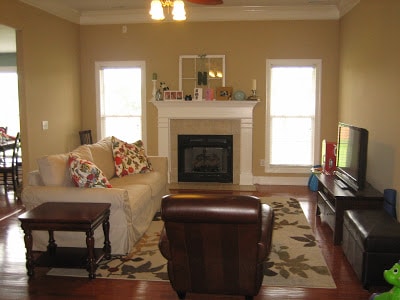 Another problem with this TV stand is that our daughter could just open the drawers and pull out all the movies. She also could reach the DVD player and push all the buttons, which would turn the TV off. We'd be in the middle of a riveting moment of television and she'd walk by and turn it off! I also worried about her being able to reach the TV and knock it off.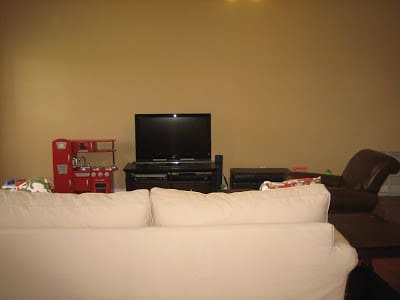 Way too small for this room.
So I went on a hunt for a perfect TV stand. I considered everything from a large media center with bookcases attached to each side. And I thought about making my own. But in the end I fell in love with a store named Nadeau. To say that I love this store would be an understatement. I actually came across them by word-of-mouth. At A's 1-year photography session, the photographer told me about the store. She had a cute little turquoise chair from there and was raving about it. So, I had to check it out.
Nadeau sells one of a kind furniture from India and Indonesia (I lived in Indonesia for two years, so that connected with me right off). It's never mass-produced and it's just so well built and I love it.
We came home with this piece last weekend: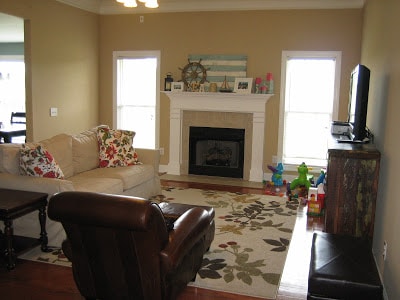 I love that it's tall and less deep than my previous media stand, leaving more open floor space. (I still need to add stuff to the walls … someday!)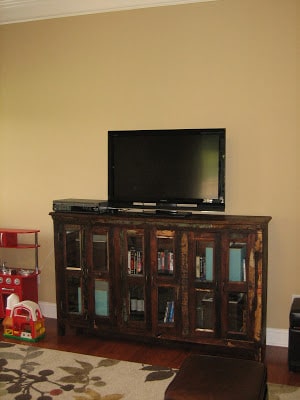 I love the window panes. I have MUCH work to do to organize the inside and make it cute. What's there now is just temporary. I want to buy some baskets to hide all of the DVD's and maybe add some fabric to the inside back of the cabinet to make the baskets not blend in. (The current bins are fabric drawers from the Martha Stewart collection at Home Depot that I just had around the house.)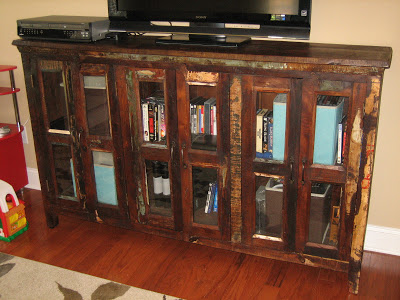 I love that my daughter can't get to the DVD's anymore. She has yet to figure out how to open it. Ha!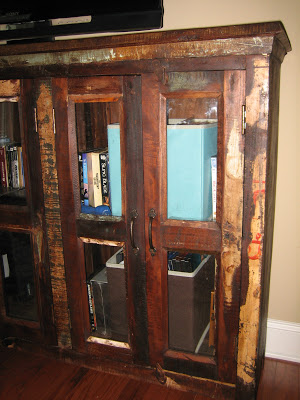 I love the distressed details and the color. It has just a touch of red.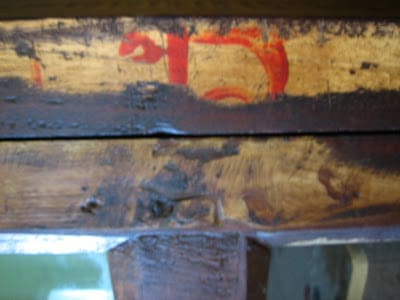 And I love the turquoise distressing. Just the perfect amount!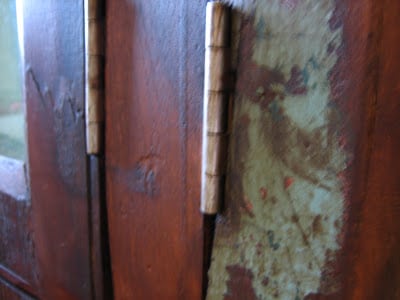 We need to drill a hole in the back a move the DVD player inside the cabinet. I then plan to add some lamps to either side of the TV. Or maybe some vases? Not sure.
I still plan on adding board and batten to the room, but that'll be a big project to tackle later on.
I also want to add bookshelves on each side of the TV stand later on. Maybe something like these?
What do you think? Have you ever shopped at Nadeau?
(For my Nashville friends, there's a Nadeau in Green Hills. And there's one in Huntsville, Atlanta and more! How did I just now find out about this store??)

Get Instant Access to my Guide to Customize Your Home on a Budget
Grab your FREE guide for 10 Ways to Customize Your Home on a Budget: simple projects to transform your home from builder beige to a home with character and charm!