In case you missed these earlier posts:
I'm so happy to say that I finally have pictures of our family and friends on our walls. I believe that our homes should tell our stories. I want my home to be an extension of our personalities and the things we love.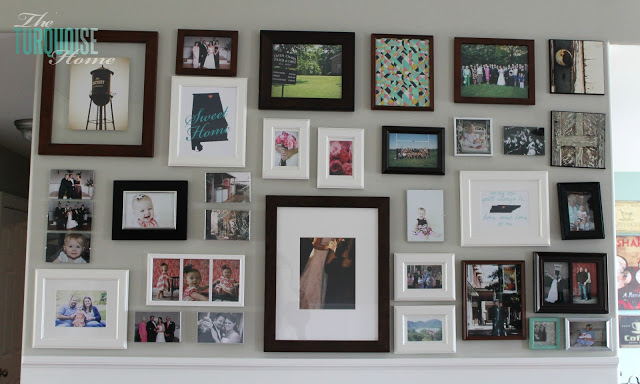 And it's hard to tell the story without any pictures on the walls. Am I right?!?
I picked this one wall that is between my living room and kitchen. I can't put a large piece of furniture on this wall because it's a main traffic-way in the flow of the house. So, I knew I wanted to put a bunch of pictures there some day. I've been playing around with this idea since we moved in. I considered shelves, but in the end I decided a gallery wall would be the best option.
But … big but … I had to wait until we did the board and batten treatment before I could hang the pictures. It only took me a whole year to get that done. Whew, thankfully it's done!!
I had quite a few picture frames I'd gathered over the years. The good news about a gallery wall, or really anything in your home, is that you can create whatever variation that you want to create. Some people have gallery walls with the frames all the same color. Or all of the pictures are black and white or sepia tone.
Mine is much less uniform than any of those, because I used any and all pictures frames I had on hand: black, brown, white, green, you name it.
And I know some people like to incorporate non-photo items in their gallery walls, but I really didn't have anything like that on hand. So, I just used what I had. This project is the best kind: free!
I did create two printables to go on our walls. They represent mine and my husband's home states.
I'm from Tennessee, so I made this to make sure people know my blood runs orange. Go Vols!! 🙂 I'm kinda proud of my heritage. "Rocky Top you'll always be, home sweet home to me."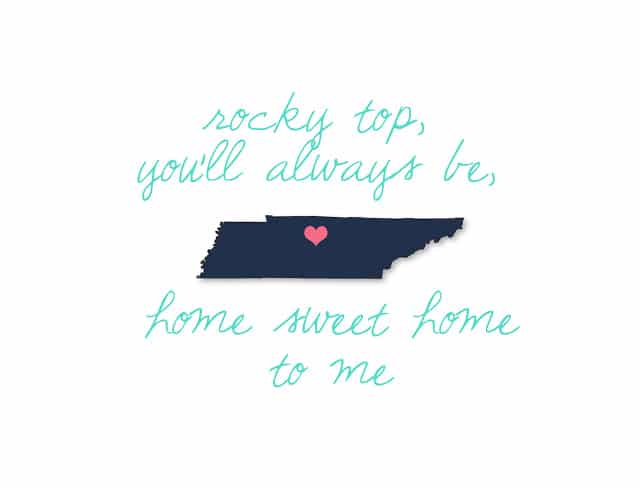 And then I made this one for Alabama, which is where we live and my husband's home state. "Sweet Home Alabama."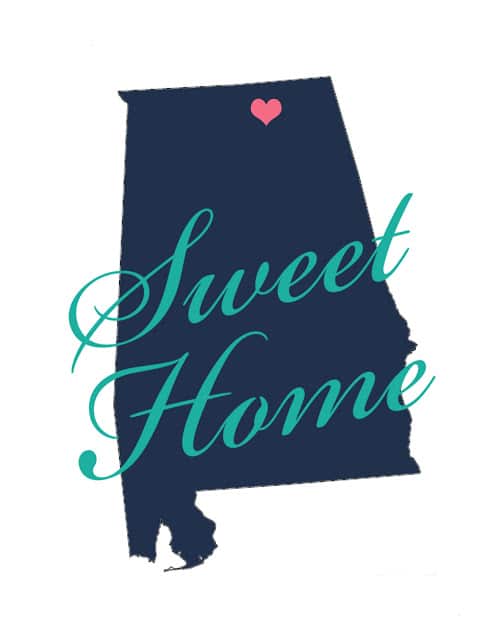 I love them! I like having something up there that's not just a picture.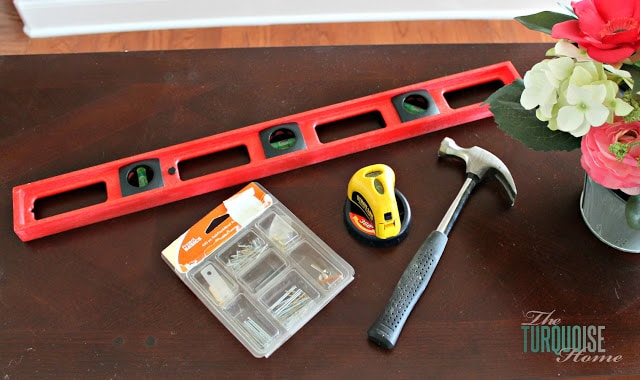 OK, so let's get down to how I put this thing together. There are tons of tutorials out there about how to create a gallery wall, but this is how I made mine.
I first gathered my tools:
1. Level (I also have a laser level in the pic, but I didn't end up using it.)
2. Hammer
3. Nails
4. Pencil (not pictured … I forgot I needed a pencil and you definitely need one of those!)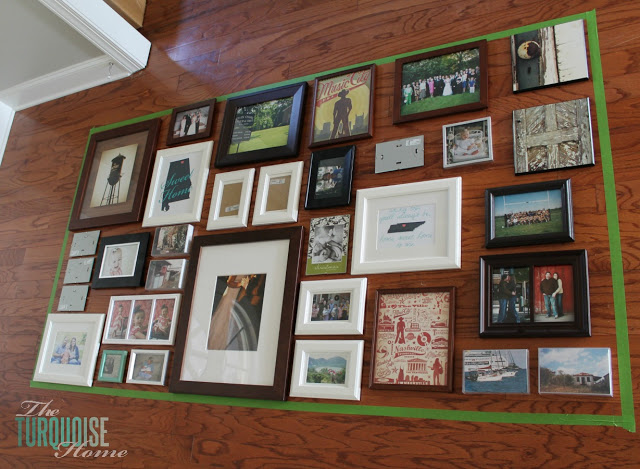 I measured the wall and then placed painter's tape on the floor in the exact dimensions of my wall. That way I could place all of my pictures where I wanted them to go without putting a ton of holes in the wall.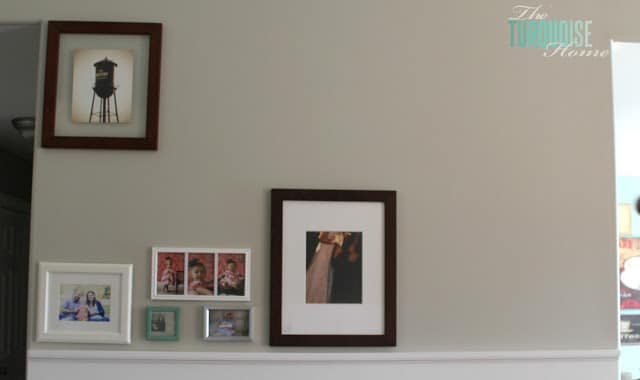 Once I got everything in place, I started hanging them on the wall. I started with the large picture on the middle bottom. And if I had it to do over again I would have made sure it was centered in the space on the floor before I centered it on the wall.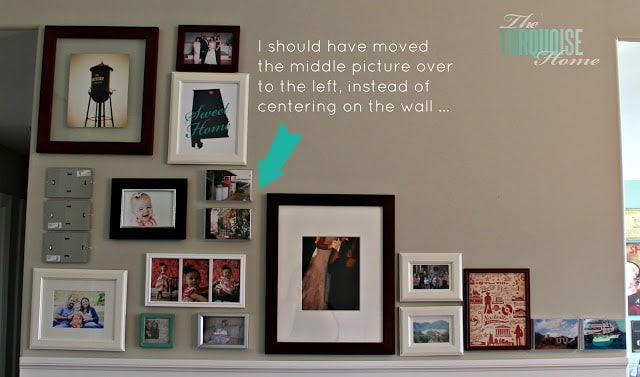 And since I centered it on the wall, I had too much space on the left side, and not so much space on the right side. I have a feeling this wall will evolve over time, so I'm sure I'll fix it at some point. Just not today. 🙂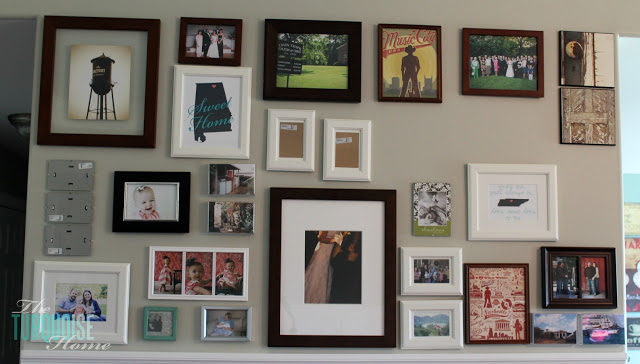 And I just continued to fill the wall in with pictures until everything was in place.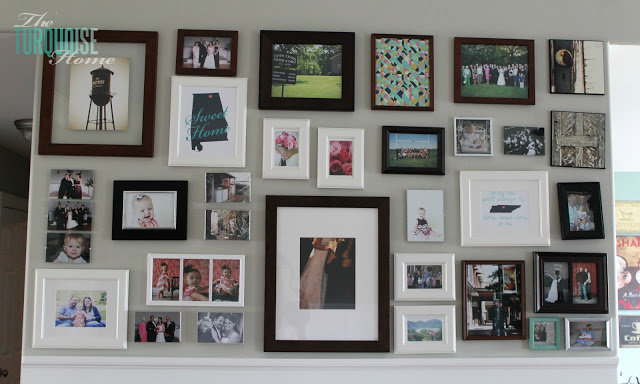 And finally I filled the empty picture frames with some of my favorite pics. I used a new geometric fabric I found online to fill one of my 8×10 frames up at the top. I had all of my favorite colors in it, so I had to buy a yard. Of course! 🙂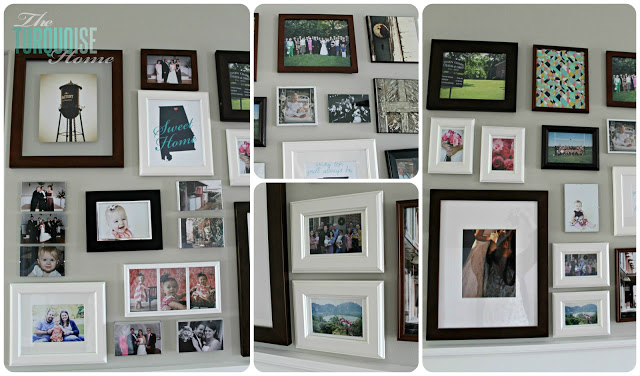 Now I just need to find some more pictures to go on some of the other walls in my living room. They look really bare now next to this wall!
Have you ever done a gallery wall in your home?
I love the personality it brings to my space!
The rest of the Living Room Makeover posts:
Part 6: Super Easy Throw Pillows
Don't miss out on the behind-the-scenes fun!
Click HERE to see where I party every week.
Get Instant Access to my Guide to Customize Your Home on a Budget
Grab your FREE guide for 10 Ways to Customize Your Home on a Budget: simple projects to transform your home from builder beige to a home with character and charm!