Not long ago I went back to visit my hometown. It's a gorgeous place with pretty rolling hills and high end homes. It is near Nashville, so there are a plethora of fun, unique restaurants and exciting places to shop that we don't have in the smaller city that I live in.
After enjoying a lovely weekend with my family, I found myself online house shopping and thinking about moving back home and into a bigger, nicer house with a play room for the kids and an extra spacious office with tons of natural light. A girl can dream, right?
The more I looked and dreamed, the less content I became. I started thinking about how small my house felt and how the kitchen was too little and I needed more counter space and storage. I was feeling depressed about my lack of pantry and my walk-through, hallway laundry room. The fact that I had to share my office space with the guest bedroom was especially depressing.
Side note: Let me be clear that it's perfectly fine to have goals and dreams and to work toward those ends. But at the point they take over your thoughts and make you ungrateful for the life you have now. That's when it's time to have a heart check. OK, carry on. 
If you had been able to hear my thoughts that day I think you might have said something like "would you like some cheese with that whine?" or "would you like for me to call the Wah-mbulance!?" Or some other over-used pity party cliché.
After a day or two of feeling sorry for myself, I realized that my comparison and "dreaming" was creating a sour, ungrateful attitude in me.
I know we've all heard the quote "comparison is the thief of all joy" so much that it probably doesn't even compute anymore. But the reality is, it's so true!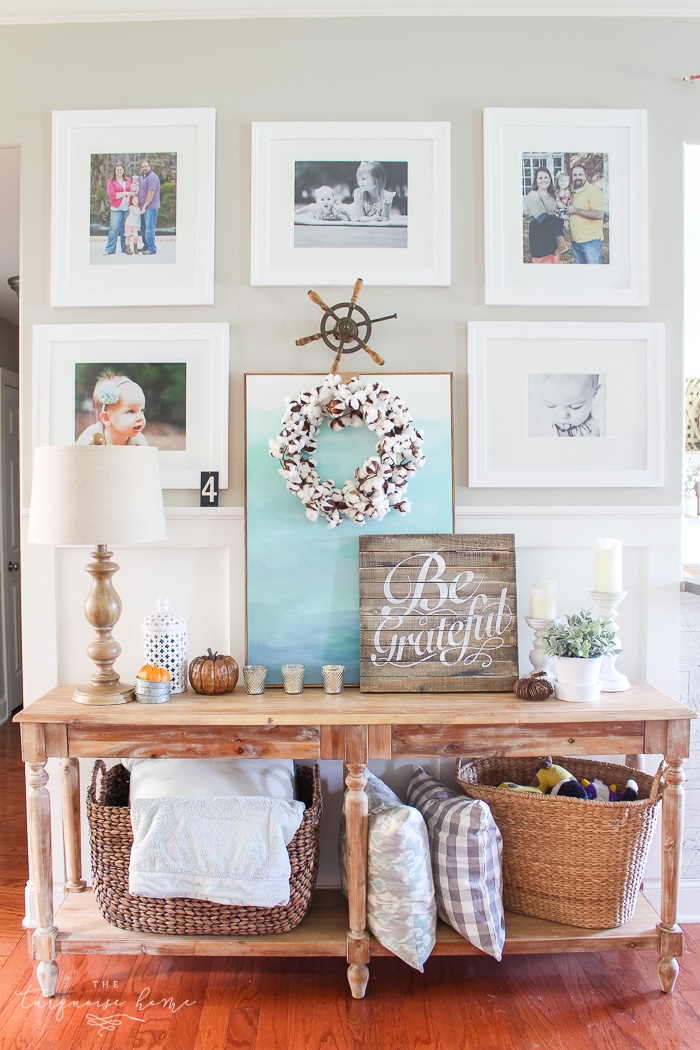 It's hard living in this world of the social media highlight reel. It's full of pretty things and inspiration, which are all fine and good, but if I'm not careful, it can quickly turn in to a million "I wants" and "I deserves" and "Why can't we haves?" I have to check my heart all the time!
Since I am on social media all.the.time as a part of my job, not a day goes by that I don't have to reign in the comparison trap. I'm definitely not perfect, but I've had to exercise the anti-comparison muscle a lot, and I've discovered some self-talking points that help me get back on track.
5 Ways to Love Your Life
1. Just be you. There is only ONE you! And do you know what?? The world needs you! Your take on life, your creativity, your passion and your gift are irreplaceable. Taking a moment to realize this fact, for me, usually stops the comparison game right in its track.
On the flip side, I love to learn and be inspired by others' work and creativity. I want to see what others are doing and then take what I love and make it my own. And that is perfectly OK! Just make sure it doesn't give you comparison paralysis!
The world needs YOU!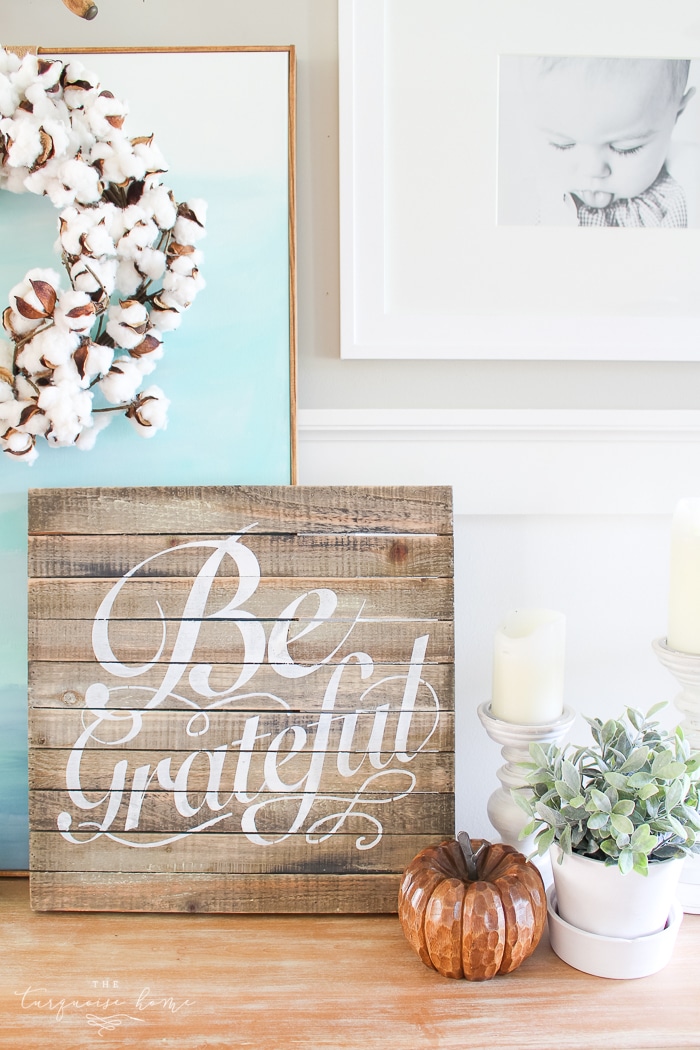 2. Make a Thankful List. When I snapped back to reality after my dreaming about a new house, I realized just how far I'd fallen from living in thankfulness and gratitude. My attitude stunk!
You see, when we moved into our home it felt like a mansion! It's double the size of our old home. I felt like my bathroom was as luxurious as a 5-star hotel bathroom. And we have FOUR bedrooms instead of two. My office in the old house was a corner of our teeny tiny living. So the fact that I now have a space in a bedroom where I can close the door is such a gift!
Once I started to remember all of the blessing we have in this house, I started to remember that it doesn't matter where you live or what size your house is. It matters who you are with and how you love the space that you do have.
Right now, start a thankful list of the 5 top things you're thankful for.
3. Realize that you're viewing the Highlight Reel. Nobody's life is as perfect as they make it seem on social media, y'all! Including mine! As I write this post, my master bathroom desperately needs a deep cleaning. There are toys strewn around the living room (as always) and my counter tops are covered in paper and life clutter.
Am I going to take pictures and share them on Facebook? Ummm, probably not!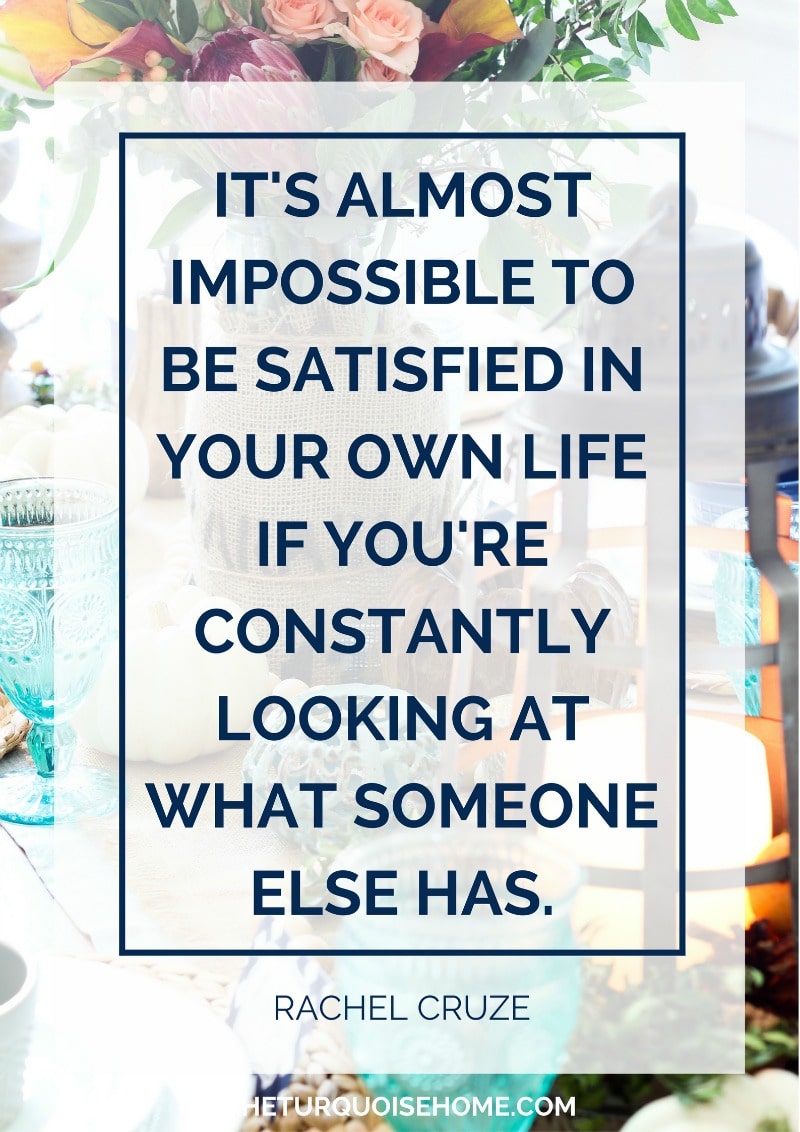 But you can rest assured that my house is only picture perfect when I'm actually taking pictures to share on this blog or on social media. And usually I've just cleared the clutter enough to stay out of the picture frame. 😉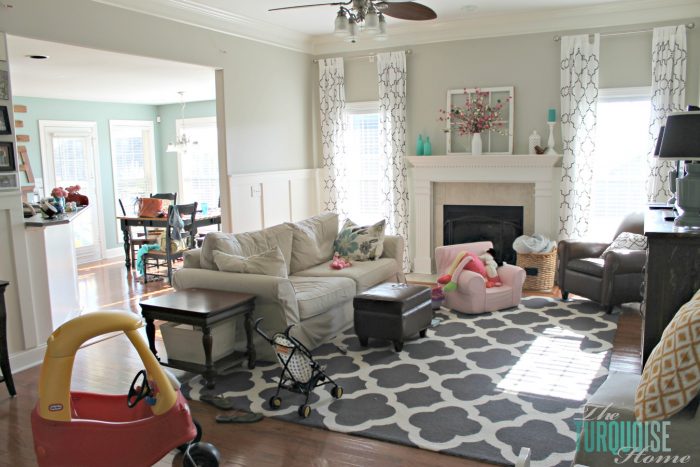 Usually my kiddos' toys or dirty laundry are hanging out just out of sight. And it's the same with your friends and their fancy vacations of fine dining experiences. You're just getting a snapshot of a moment, tweaked with a fancy filter and posted to Instagram. They have the same problems and issues that you do – like having a lived in home. 😉
And I'll be the first to say that I'm grateful for a lived in home. Why? Because that means the people I love are living there!
4. Turn if off! I find that when the static gets too loud, I just need to turn it off and go for a walk. Take the kids to the park or story time at the library or just be in the moment with the people you love.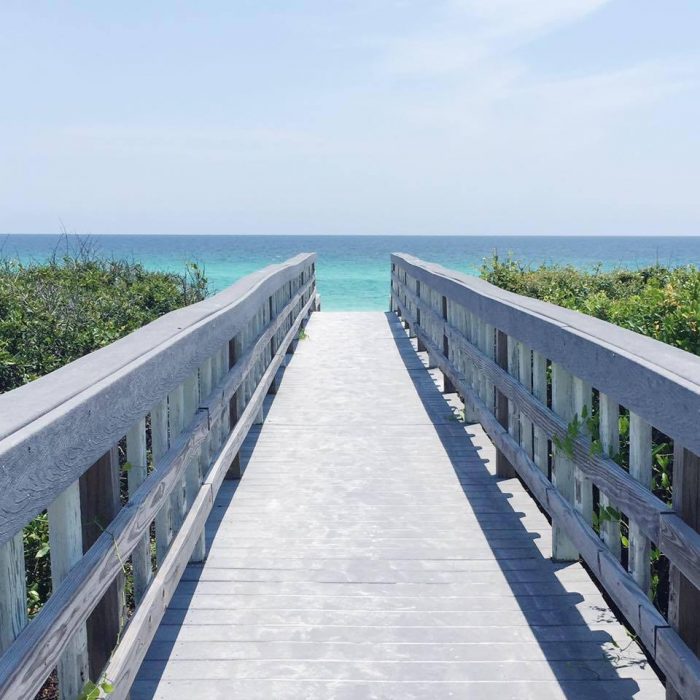 My husband and I have a "no phones" policy after dinner and before the kids go to bed. It seems silly, but it really helps us to stay connected with our family and gives us a much-needed break from the constant rat race of consumerism and comparison.
It's like a breath of fresh air for your heart and soul!
5. Pick up a Book. Reading an actual book is a great way to step away from the constant barrage of "stuff everybody else has," but I have a reading list suggestion for you. 🙂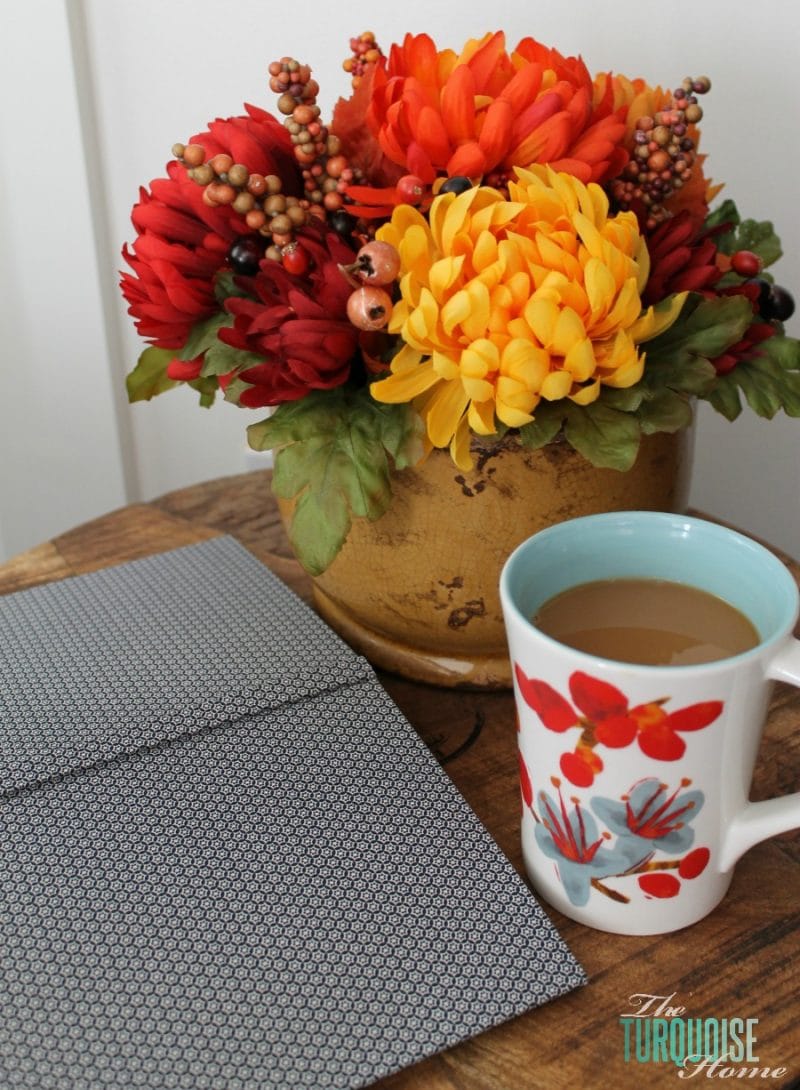 I recently read Love Your Life, Not Theirs by Rachel Cruze and loved it! I thought Rachel's encouragement for fighting the comparison trap with gratitude and humility was spot on.
She also dives into the debt issue and how the comparison game can wreak havoc on your finances.
If you've followed me for a hot minute, then you know that makeovers and decorating take a looooong time at my house. Why? Because my family operates on a budget and without going into debt. Sure, it means that sometimes a tiny little space takes a year to decorate. But you know what? The satisfaction of decorating that space with cash and on a budget gives me so much more fulfillment than any fancy decor item ever could!
If I see something I want, I either add it to my wish list to buy later or figure out a way to DIY it on the cheap! And what if there's something large on our wish list? We just save up and pay cash for it! Rachel shares in her book all about these practical ideas that my husband and I have used for years to stay out of debt and to live the life we love!
Love Your Life, Not Theirs is a fabulous book and I hope you will take the time to read it if you are struggling with money issues. It will change your life if you put the principles into practice, just like it did mine. And if you need more help with daily staying on track with your money, check out my favorite on-the-go budget tool that I shared about in this post!
Do you struggle with this comparison trap?
Are you ready to pull back and really love your own life?
Disclosure: A huge thanks to Ramsey Solutions for providing me with a copy of this amazing book and sponsoring this post. All opinions of how Dave and Rachel's get-out-of-debt plan has impacted our lives for the better are my own. See my full disclosure policies here.