A big part of loving the home you have is making it functional. I learned a long time ago that a functional home is a decluttered home, which means everything has a place and the big kicker – it's easier to put things back than it is to get them out. Yep! This simple tweak when organizing and storing our stuff is the key to having a picked-up home.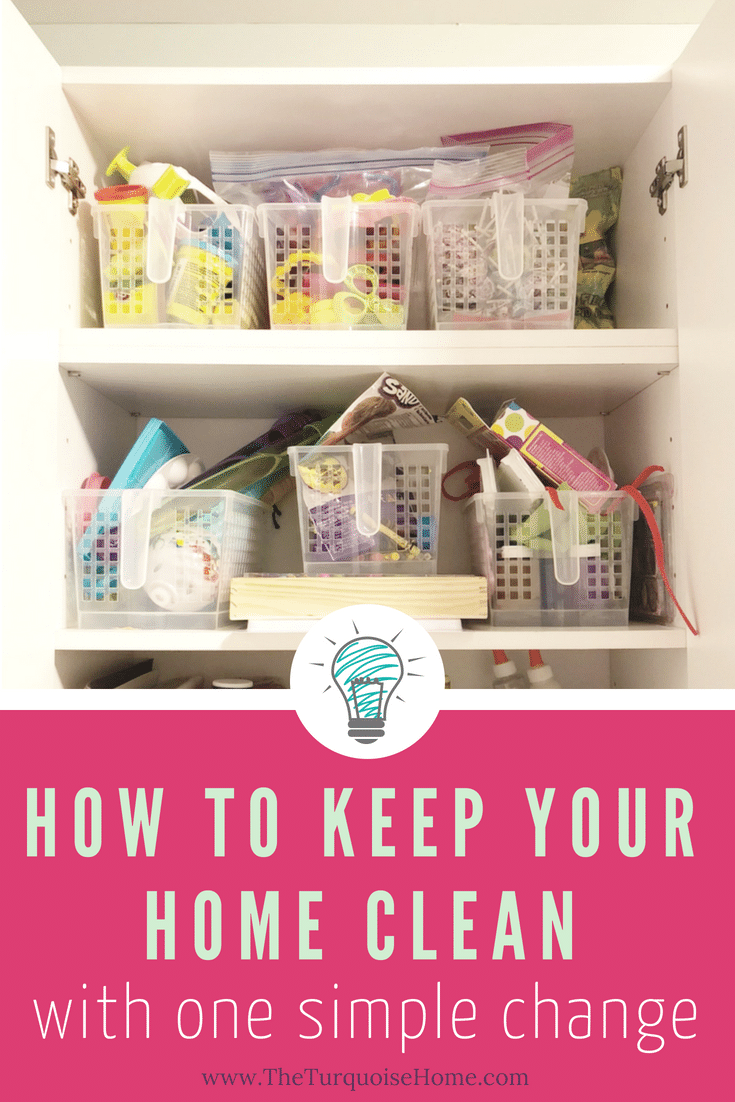 There are times when an idea for a post seems to silly or dumb to capture in a 300+ word document. I tell myself that it's too simple or too boring or that everyone already knows this tip already. But typically these simple-type posts are very well received and I find that short and sweet, tangible ideas are quite popular! I know I love a good, simple takeaway!
So today we're talking about a simple tip that can and will change your life!
Here you go …
It's the simple change to make things easier to put away than they are to get out.
Obviously you will want to start with making one place for everything in your home. That's the first step.
And then the second step is make them easier to put away than to take out. There's a reason why my kids' crayons never made it back into the box. The weakest part of the process is the tidying process. But if you make it nearly effortless, then you're so much more likely to put things back in place!
Watch this video on how I put this principle into practice in my home: (If you can't hear me talking, you'll see a volume control button on the bottom of the video!)
See how much easier and quicker that is? Not only do I find it easier to get the craft supplies out, I find it super easy to put them away. I just drop the thing in the right basket and walk away!
You can find the exact baskets I used in the video here.
(Now, I am missing a key component in my arts & crafts cabinet, which is labels! I still don't own a label maker – although it's high on my wish list, so I need to create some for my baskets. That would take this organizational step to the next level!)
Here are some ideas to help you make it easy to put things away:
One basket for all of the toys so you can quickly pick them up after playtime is done.
Open containers always make it easier to put things away.
A filing system with general folders. I used to have very specific folders for every type of paper we received. Now they are simply labeled Home, School, Taxes, Medical, etc. SO much easier!!
Leave plenty of space in your storage areas or closets. This makes putting things away so much more pleasant. (Learn how to declutter a room in 5 simple steps here.)
Hooks in an entry way to hang up daily bags and jackets.

Now go through your house, figure out where the "pain points" are and make them easier! You've got this!!
Get Instant Access to my Guide to Customize Your Home on a Budget
Grab your FREE guide for 10 Ways to Customize Your Home on a Budget: simple projects to transform your home from builder beige to a home with character and charm!