Matilda Jane Clothing is hands down my favorite boutique clothing line to purchase for my daughters. The quality is superior, the styles are gorgeous and they keep my daughters looking like little girls, which I love! I've also found that Matilda Jane clothes wash well and stains come out very easily!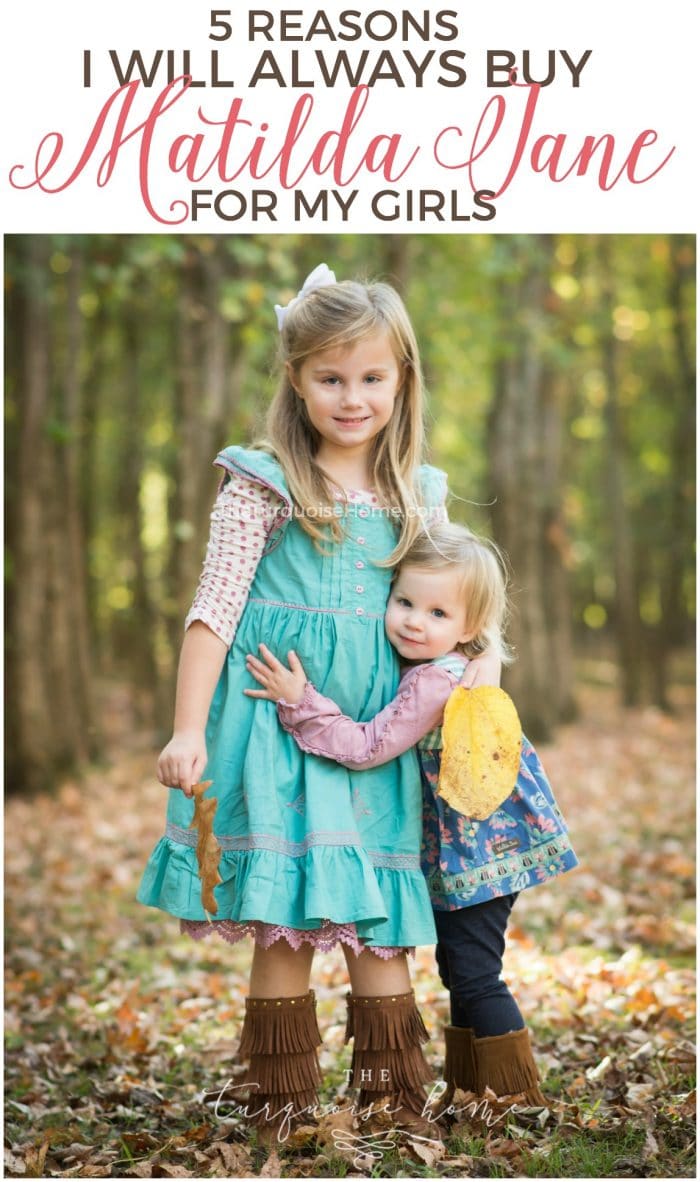 Matilda Jane Clothing came to my rescue a couple of years ago when my then 4-year-old daughter started to phase out of the toddler sections at Target and Old Navy. I was devastated because I loved the cute little girl clothing that was sold there.
When I walked across the aisle at Target to the big girls' section, I just about cried. The clothes were made for teens! It was all neon and just, well … more mature than what my soon-to-be 5-year-old should wear. I started shopping around and found some other boutique lines that carried larger sizes. They were pricy and I felt like the quality was the same (if not less) then something I could snag at Target for $5-$10.
I had bought a couple pieces of Matilda Jane clothing at consignment sales over the years. I thoroughly enjoyed the pieces, but I could never imagine paying retail for this clothing.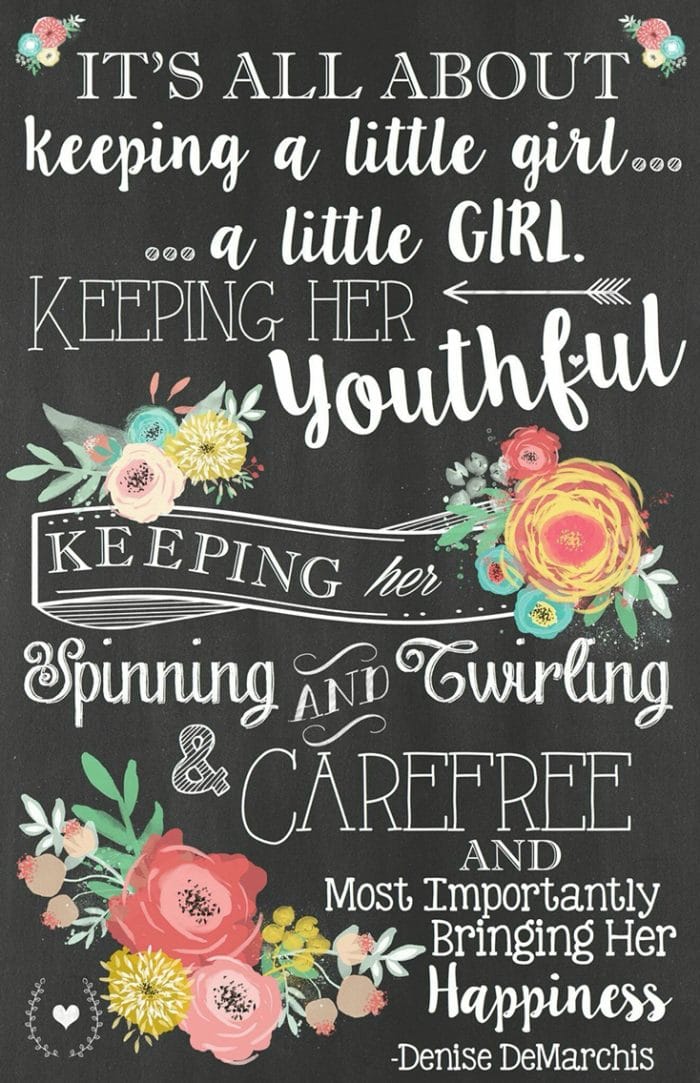 That was until I was desperate to keep my daughter a little girl and dress her in clothes that I thought were beautiful and appropriate for her age.
5 Reasons I LOVE Matilda Jane Clothing for my Daughters
1. The Clothes are Gorgeous. You will not find craftsmanship and attention to detail like this anywhere else. These are not just pieces of clothing, they are works of art. From the buttons to the details of the patterns to the linings on the inside that only you can see, there is careful craftsmanship at work here. I love getting a piece of clothing and being surprised by the details. (Although it's not a surprise anymore; I've come to expect it.)
2. It Coordinates well and not too Matchy Matchy. While I'm certainly able to buy the same outfit in both my daughters' sizes, I don't often do that. Because their clothes coordinate so well in each release and honestly from one release to another, you can get coordinating outfits that look great together, but are not the same.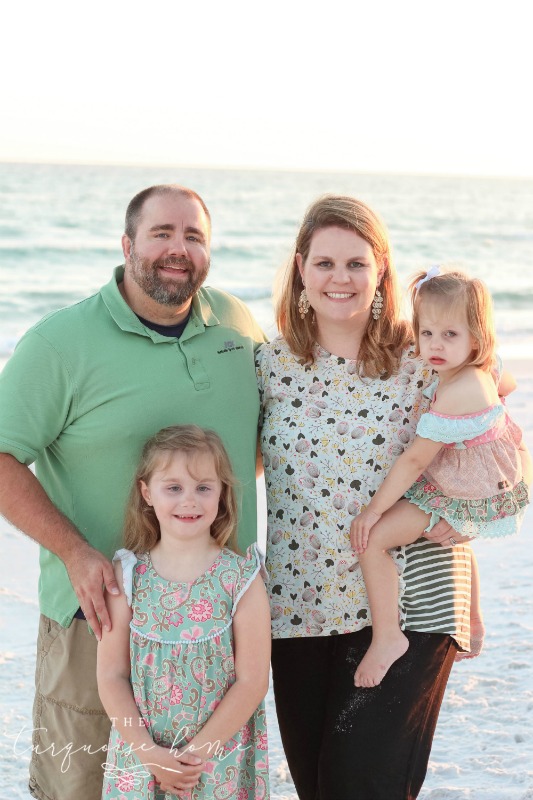 I am wearing Gentle Breeze Top / Big Sis is wearing the Growing Season Pearl / Little Sis is wearing Poolside Shorties and Cooling Off Tunic (all from the winter and spring 2016 releases)
You know how hard it can be to coordinate throw pillows on a couch? Well, that's what it can be like trying to coordinate fabrics for a family photo shoot. And Matilda Jane takes all of the guess work out of it. Makes your job as a mama/photograph designer a whole lot easier! Yay!
3. My girls love it! I regularly lay out several outfit choices for my girls and they pick Matilda Jane every single time. It's comfortable; it wears well and I think they feel good when they wear it. It makes them look and feel like little girls and it's so important to keep them little as long as possible. And if they are happy with their clothes, then so am I. It doesn't hurt that they look so cute, too!
4. It washes well! I hate to get stains on my Matilda Jane clothing, but it happens (because kids) and I've come to find out that it comes out super easily. I do use a OxyClean spray to treat my MJ clothing because I haven't found anything else that works as well. I also don't dry my Matilda Jane Clothing. It stays looking new a lot longer when you don't dry it, and some people are picky about that when they are buying it used. But even still, the clothing doesn't pill or fade with regular wash and wear, which makes it totally worth the price!
5. It holds its resale value. And you can get so much of your money back at a consignment sale! I know other brands of clothing will be sold in used condition for 85% of the original value. But this stuff? It goes for 50% or more of the original value. And some pieces become rare, which means the value increases with age!
Where to Buy Matilda Jane?
Matilda Jane is available online, but they employ "Trunk Keepers" to sell their clothing. A trunk keeper (another mama who loves MJ) will come to your house and set up the clothes from the latest release. And then you invite your friends over to sample all of the goodies! It's always so fun to see the clothes in person, but I've bought many clothes from just seeing them online.
I'm currently hosting a "Trunk Show" online and would love to share my love of Matilda Jane with you!
Here's what you'll do to purchase:
Go to Matilda Jane Clothing (Amy Davis is my trunk keeper and her picture will show up in the top right corner.)
Add your favorite items to your cart.
Put my name (Laura Nickelson) as your "Jane" when you check out
Place your order and wait for your beautiful pieces to arrive! Yay!!
Some of my favorite styles to purchase are the dresses, because they can be worn for years, first as dresses and then as tunics. They have mama clothes, too, which are gorgeous and range in sizes from small to XXL.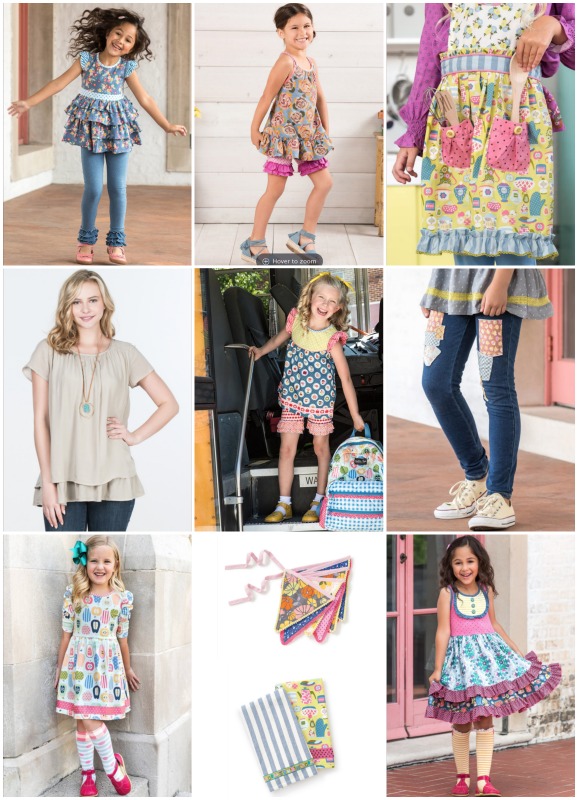 Win THREE half priced items AND a Backpack!!
My Trunk Keeper is offering a sweet giveaway for my readers! For every $50 you spend between today, August 8, 2017 and Friday, August 11, 2017 – you will receive 1 entry in the drawing. One (1) winner will receive half price off of 3 items AND their choice of a backpack!! What?! (See my full disclosure page here.)
About the backpacks: The backpacks (which are awesome) aren't available for individual sale. But you CAN purchase one for $25 when you spend $175. You can also receive one for free when you host a trunk show (with at least $800 customer orders). So, to be able to win one!?!? That's pretty cool!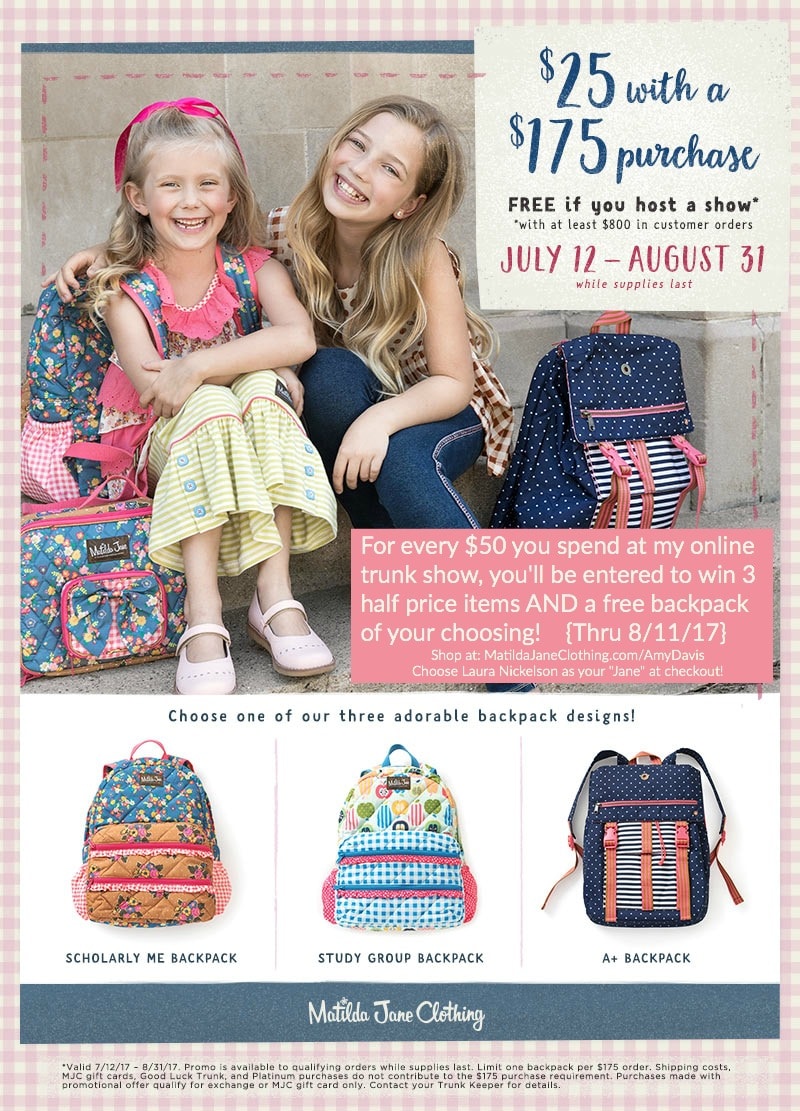 And let me just tell you that these backpacks are fantastic! The material is soft, yet wipeable! We have one from last year (just like the Scholarly Me and Study Group backpacks) and we use it as our diaper bag. My younger daughter took it as her school bag every day last year and it still looks as new today as it did on the first day of school. It's roomy, wipeable and cute! I love it!!
This year I'm getting the Tween backpack for my older daughter. It has a laptop sleeve in it to protect your laptop, so I might just keep it for myself! 😉
Get your goodies and be entered to win! One entry for every $50 you spend!!
Go to Matilda Jane Clothing (Amy Davis is my trunk keeper and her picture will show up in the top right corner.)
Add your favorite items to your cart.
Put my name (Laura Nickelson) as your "Jane" when you check out
Place your order and wait for your beautiful pieces to arrive! Yay!!
Let me know if you have any questions! I know you will LOVE your purchases!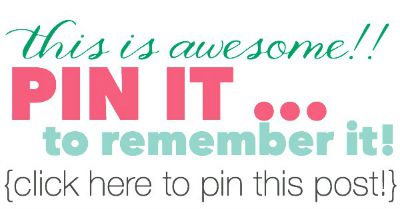 Get Instant Access to my Guide to Customize Your Home on a Budget
Grab your FREE guide for 10 Ways to Customize Your Home on a Budget: simple projects to transform your home from builder beige to a home with character and charm!