I decided that my mantle needed a little something more. My vintage window just wasn't complete, and I wanted to bring a little something in from the outdoors. The moss letter was just what I had in mind.
I've seen these moss letters all over pinterest and in the Pottery Barn magazine. And if you want to spend $80, then you can buy one from Pottery Barn. Very cute, but way out of my price range.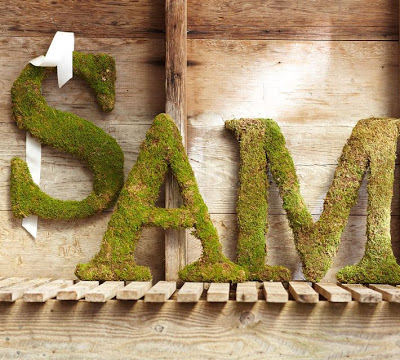 So I decided to make my own. I know there are a bunch of tutorials out there, but I didn't follow any. I just decided to go the craft store and do it my own way. It's really so simple that you don't need a tutorial, but here's how I did it.
I bought a letter from Hobby Lobby. (I'd probably have gone with a bigger letter if I had to do it over again, but this one worked.) I didn't want a foam letter because I didn't really know how the foam would react to hot glue, so I bought a thick paper one (not sure about the official name).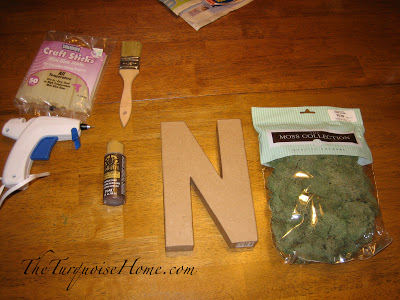 I also bought a bag of moss from the floral department, and used some brown paint I had on hand, my glue gun, and some ribbon I got off of a gift once upon a time.
Instead of $80, this cost me a total of $6, plus some things I had around the house. Much better for my budget. Yeah.
I painted my letter brown so that if there was a space in the moss it wouldn't be so obvious.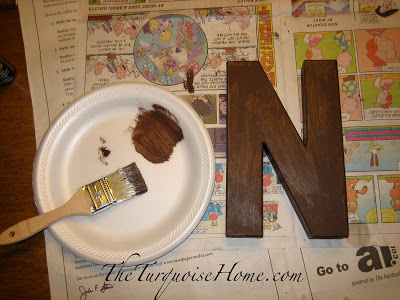 And then I just started putting the moss on the initial, using my hot glue gun. I also utilized a toothpick to push the moss into the hot glue. Burning your finger hurts, let me tell ya!
I didn't get any pictures of the process of gluing the moss on to the letter. It's so basic, just glue and go.
I also glued the ribbon on the back with hot glue. Easy peasy.
This is what my mantle looked like before: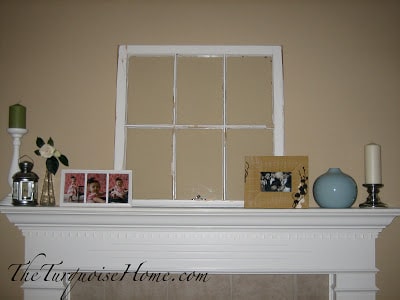 And what it looks like now: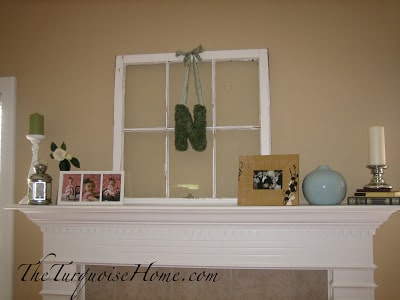 Just added a little extra detail that it needed. I love it!
Oh and notice the books I added under the candle on the right side. It just needed a little more.
Now it's time to decorate for summer, but I may enjoy this spring mantle a little longer. 🙂