I'm a big huge fan of traditions at the holidays. From what we eat on Christmas morning, to how we open presents with my large family – it's all part of the tradition. And one tradition that I refuse to ever give up is the annual Christmas card.
I'm sharing today's post in partnership with Minted.com. I received products in exchange for my real and honest opinion. All thoughts are my own and I love Minted – and have for years!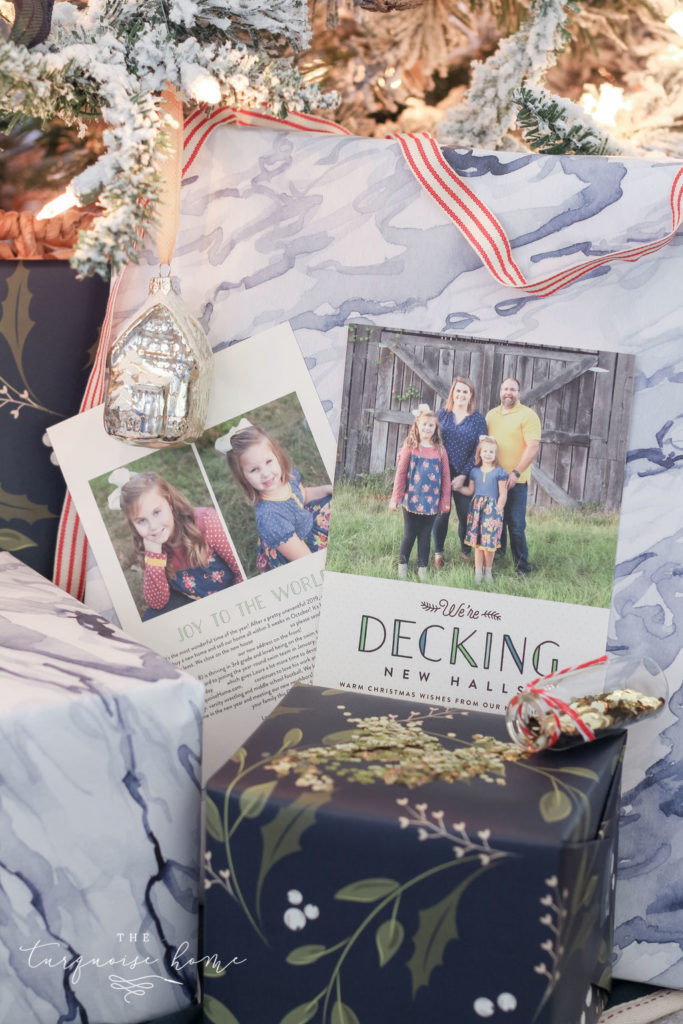 I remember getting them as a child and my mom would tape them to the trim around the doorways of our homes. In a way it was part of the decor and part of the Christmas story that our home shared – of friends and family – loved ones that were the best gift each year.
As I've moved away and started my own traditions, the Christmas card has never left me. As soon as I got married I was thrilled that I'd be able to use our wedding photos to share with the world that we were venturing out into the world as a couple now.
I use it as a reason to get our family's professional photos done every October. I cannot recommend enough getting your photo taken professionally at least once a year. And the Christmas card gives you the perfect excuse to get it done each fall. I cherish our photos and photo cards from each passing year. This post contains affiliate links.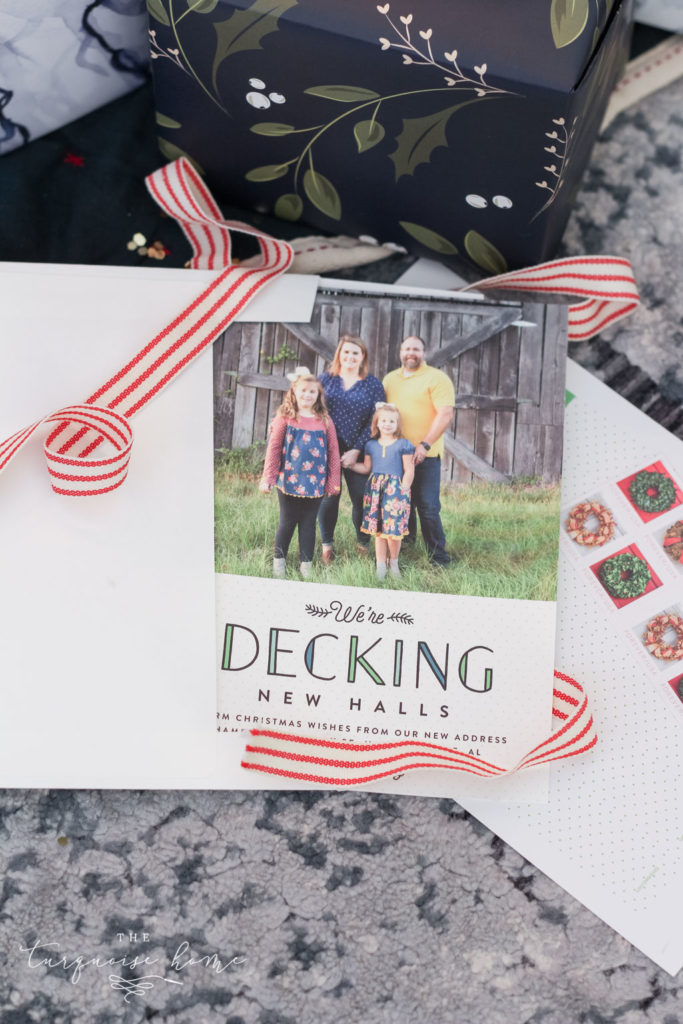 Our photographer this year was Molly at Mo Jones Photography. She is wonderful and a dear friend – and if you're looking for a photographer in Huntsville, Alabama, I highly recommend her.
I love to share family news on the back of our cards and have twice used our holiday cards as birth announcements.
And this year is no different! We're announcing our upcoming move via our Christmas cards. I'm sending them out early in order to let people know to send our cards this year to our new address.
Speaking of the move – I don't have time to address and hand-write our return address on each envelope. Too busy packing! 🤪 So I'm happy to hand that job off to someone else!
Minted makes designing our cards and addressing the envelopes so easy! The offer free enveloping addressing. Not only is it such a time saver, but I'm obsessed with how fancy it makes the cards!
P.S. Those gorgeous wrapping papers are from Minted as well. I always snag a few styles because you cannot beat the quality or the beauty of the designs. Holly & Vines wrapping paper has been a favorite of mine for a few years. And I added the Watercolor Marble wrapping paper to my under-the-tree decor this year!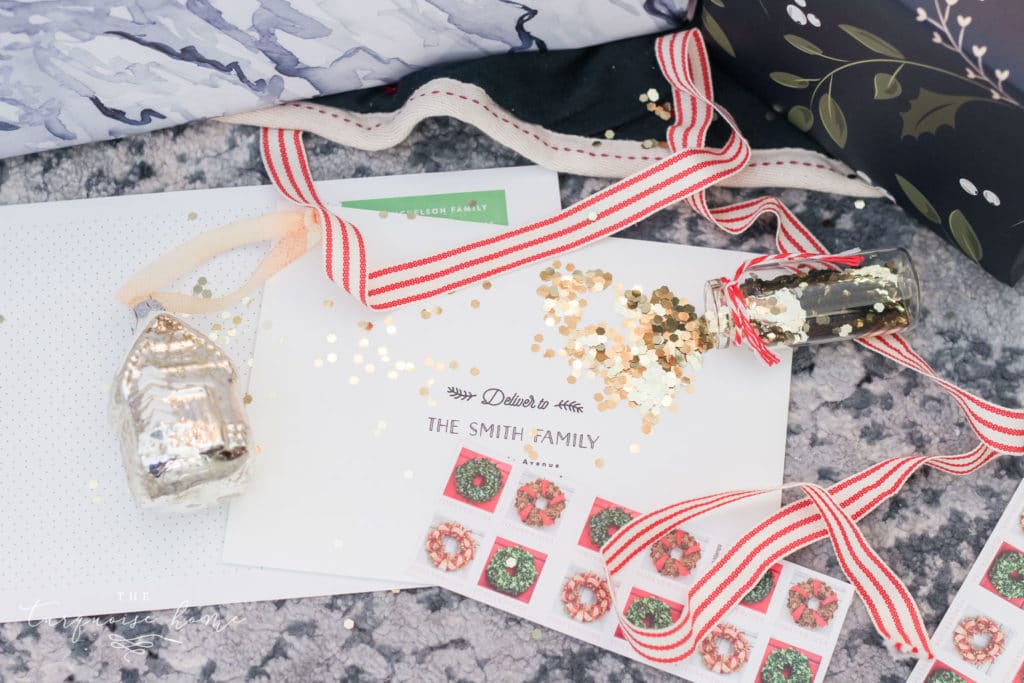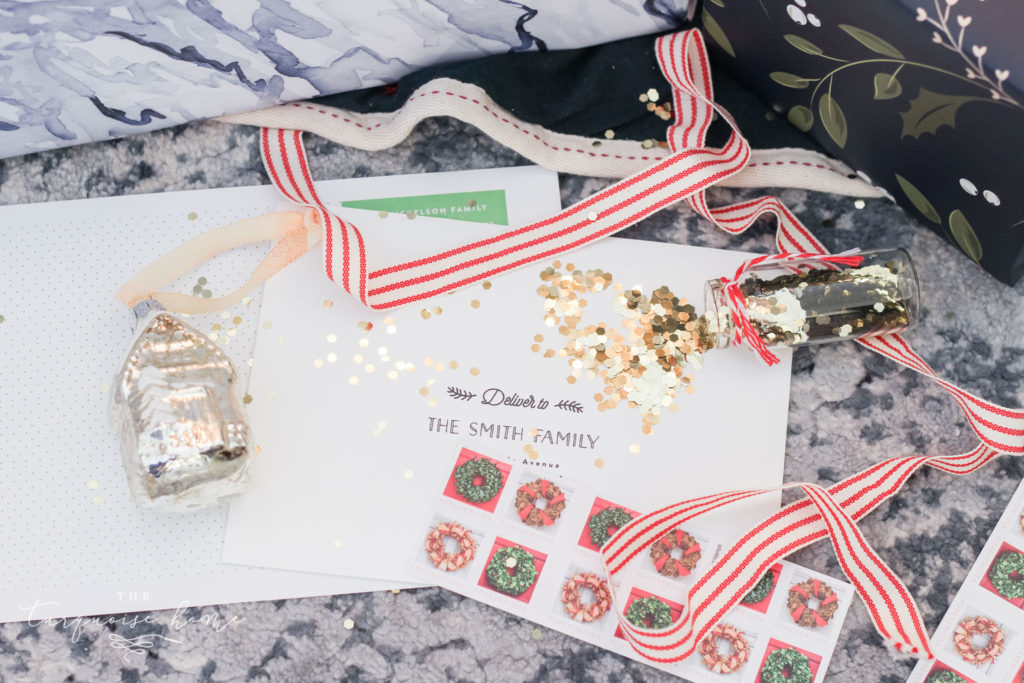 I've used Minted over the years and they have by far the BEST selection of cards, with what seems like endless modifications. So many cards can be changed for religious greetings or holiday greetings or added gold foil or different styled color-ways.
But what I love more than all of the options is the ease with which I can find exactly what I'm looking for! I can upload my photo to see how it looks in each card as I'm browsing. I can select vertical or horizontal orientation and so much more!
This year I searched for "moving announcement" and there were many options to choose from. I went with the "Decking New Halls" card, because it felt on brand with my job and is moving right here at Christmas. 😜
If you haven't already, grab a favorite photo of YOUR family – upload it to Minted and start designing the perfect card for you! Don't forget to upload your contact list for those free addressed envelopes. Whether you are continuing a decades-long tradition or starting a new one of your own, you will love sharing these cards with your loved ones each year!
MORE POSTS YOU WILL LOVE:
Get Instant Access to my Guide to Customize Your Home on a Budget
Grab your FREE guide for 10 Ways to Customize Your Home on a Budget: simple projects to transform your home from builder beige to a home with character and charm!