This post is a little bit of a few different things today: it's a little bit story, a little bit progress and whole BIG ol' thank you! You see, last month was my 5th anniversary of this blog and the 5th anniversary of our moving into our current home. If you told me 5 years ago, that my online journal of our renovations to this home would turn into a full-time business that allowed me to work whenever I wanted to and be at home with my girls, I would have never believed you.
The Story
When I started this blog 5 YEARS ago (it's so crazy to say that) I had already been blogging for several years at another blog because I just love to write. I have always journaled and was a journalism major, so the idea of keeping my thoughts in digital format was just a natural exercise for me. I loved connecting with other bloggers online and still keep up with some of them more than decade later. More on the unexpected blessing of online relationships in a bit.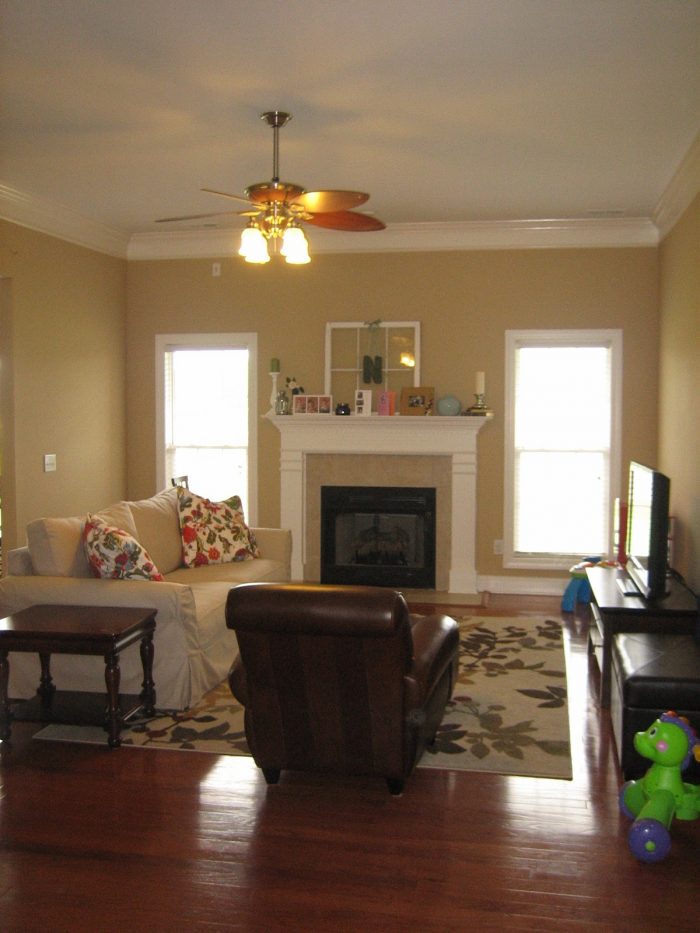 The Living Room when we first moved in!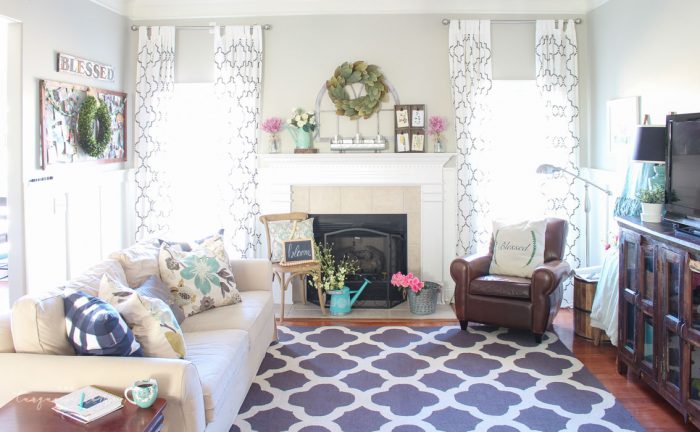 And what the Living Room looks like now! // The 2017 Spring Home Tour
So, when we bought our new home, I wanted a fresh new journal, so to speak, for recording our DIY projects and updates in our home. I had no idea that blogging could actually be a business or a way to make money. It was, and still is, a new professional industry, so the ins and outs of it were very unclear back in 2012. Since then so many people have paved the way and online courses about how to blog are a dime a dozen. (More about How to Start a Blog HERE.)

Little did I know that this online journal about my home would change my life in so many ways.
When I started blogging, my family was in a new season of life. I had recently left my corporate job to stay home with my 1-year-old daughter and we were living on a tight budget. Our new home was nice, but it was very builder basic. I've always loved decorating and creating a beautiful home for my family, and I knew that this would have to be done on a tight budget.
My very first DIY Project: An IKEA Rast Dresser Hack
I didn't have money to buy all new furniture for my house, so I started researching how to build my own. (And scoured Craigslist daily.) This led to my very first DIY project: my bedside tables, which were an IKEA hack. I loved it so much that I then built our headboard and dining room table, too.
Then I started learning how to DIY crafts and home decor projects. I started studying how to make my home our own with pieces we loved. All of this on a super tight budget, mind you, so most of it was made by me or bought for super cheap!
Everyday I'm Hustlin'
Little did I know, because I was CLUELESS with a capital C, that running a blog wasn't just writing and posting. There is so much to the backend of running a start-up business that I just had no idea.
Thankfully I am good at enduring for the long haul, so I learned a little bit every day. And just kept on keeping on! I read other blogs and studied what they did into the wee hours of the mornings. And I've taken more blogging courses than you can shake a stick at.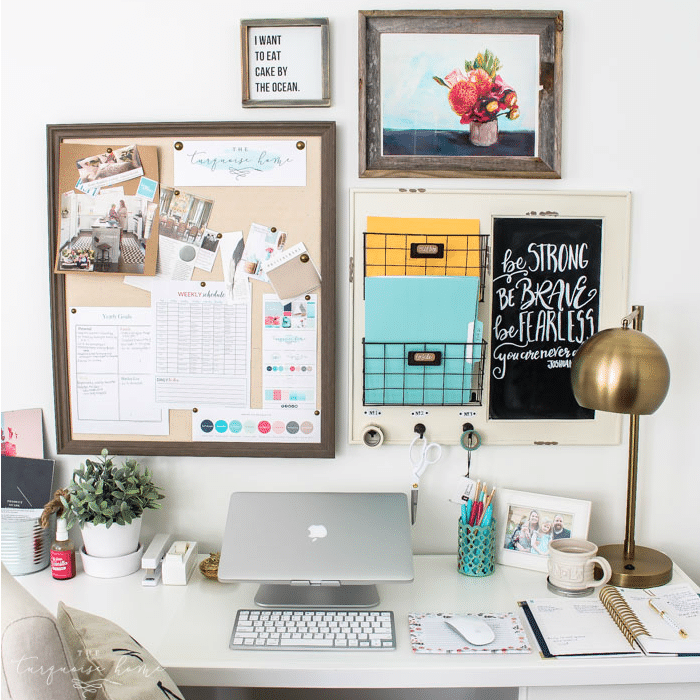 I've learned photography and all about how to use my camera to my best ability. (Tip: always use a tripod.) And I've learned how to do e-mail marketing and how to grow my e-mail list. I still have so much to learn, I'm proud of the "bachelor's degree" I've earned so far from the School of Google. 😉
The one thing I did right from the beginning was commit to being consistent. I didn't know exactly what that would mean, but save for a few weeks a year that I take vacation, I have posted at least once a week for the past 5 years. Consistency is key to maintaining your connection with your audience and keeping the momentum going.
It has meant a lot of late nights and early mornings, working while I was sick or tired or both. (I had the flu when I wrote this post.) But I powered through and my blog has paid me back a thousand times over for my dedication and willingness to work hard even when I wasn't earning anything and I wanted to quit.
Unexpected Freedom & Friends
Today I still work hard, but I can usually take a more balanced working schedule. I'm not trying to get a business off the ground anymore, because it's already built up some momentum.
I'm thrilled with how the business side of my blog has grown. I've made some wonderful partners (like my advertising managers, AdThrive) and the income I make from it has long since surpassed my corporate job. We're not filthy rich by any means, but it's a comfortable income that my husband and daughters so appreciate!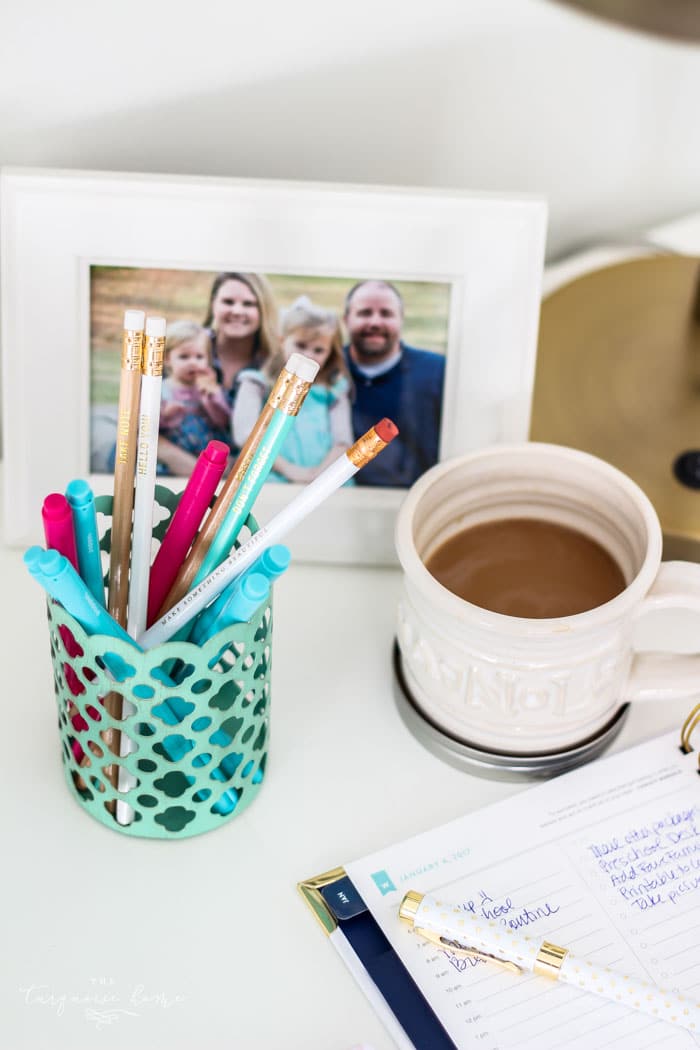 My daughters are now 6 and 2. The oldest is in Kindergarten, so I'm able to get her to and from school, and then my younger daughter is in a mother's day out program 4 days a week. I work while she's at preschool and then in the afternoons while she's taking a nap. And some nights I work after they go to bed as well, but it's a doable pace. I'm starting to take time for myself again, which is another post altogether.
I love that I'm able to be here in the afternoons for my kids. I'm able to make dinner in the evenings and I'm not trying to rush off to an office building every day. (Although an office away from the distractions of home sounds dreamy some days.) I don't have to commute anywhere and if I need to go grocery shopping or run an errand during the day, or meet a friend for lunch, then I can! The freedom of being my own boss is one of the best perks of this job!
And even more than the blessing of freedom has been the blessing of friends! I've made some wonderful relationships that have spanned nearly four years now! I stepped out on a limb back in 2013 and went to my first Haven Conference. Those girls are some of my dearest friends that I talk to on a daily basis. They are some of the only people who truly understand what I do and they are indispensable!
A Big Thank You
Now that I've shared all about the business of blogging and how I got started 5 years ago, I can't forget to mention YOU. My dear reader. If it weren't for you then none of the hard work and late nights would even matter. I would have hung up this gig a looooong time ago.
The encouraging e-mails that I get are a light in a crazy, exhausted day, and sometimes just the push I need to finish the next project or edit another round of photos.
The messages that I get sharing about your life or letting me know how you've conquered your fears and completed a DIY project for the first time are so awesome. Or those that tell me how much a particular post or series has helped you. Those are my mountain highs and a huge motivator to continue pushing through the hard times and the struggles.
So, thank YOU! Seriously, from the bottom of my heart.
The Survey + Giveaway
I am always trying to give you more of what you need and serve you exactly where you are in your journey. I take survey every year so that I can get to know YOU better and how you live your life and how I can tailor my projects and posts to your needs.
I've rounded up some of my favorite things to share with you as a thank you for being my reader and for answering a few questions! Scroll to the end so that you can see how to be entered to win!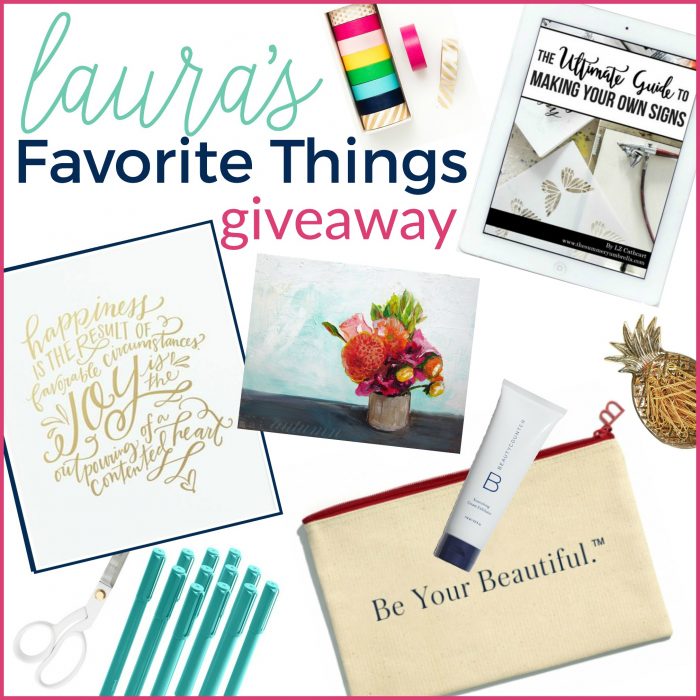 OK, so I was just going to give away a couple of my favorite things, but I started adding things and didn't want to stop. Ha! So, I've broken them down into 4 different giveaways, so there will be FOUR winners!
Do you read that? FOUR WINNERS! You don't want to miss this! 😍
Giveaway Prize Packs:
1. Pretty Signs Ebook: The Ultimate Guide to Making Your Own Signs E-book + Video Tutorials – My friend LZ makes gorgeous signs. You can see one of them in my office picture above. It says "I want to eat cake by the ocean" – so cute, right?! Well, she has an Etsy shop filled with gorgeous signs, of which I am smitten! I love a pretty typographical sign. And now she's taken her expertise and turned it into a beautiful ebook with video tutorials so that you can make your own. You will love this!
2. Pretty Face Gift Set: (1) Nourishing Cream Exfoliator and (1) Be Your Beautiful Pouch – I recently switched all of my makeup over to Beautycounter because it is safer than the department store cosmetics I've been using for years. And then I fell in LOVE with their skincare line. I love the cosmetics, too, but my skin is smoother than ever and feels great! I use the Nourishing Cream Exfoliator every 2-3 days.
3. Pretty Office Supply Set: (1) Sugar Paper LA White/Gold Scissors (super sharp!), Gold Pineapple Trinket Tray and Gold Paperclips, Emily Ley Washi Tape, Aqua set of Poppin Pens (my fave pen ever!!) and an Emily Ley "Joy is the outpouring of a contented heart" print to hang in your office.
4. Pretty Walls Gift: Mai Autumn's Summer Bouquet 11×14 Giclee Print – I've had this hanging in probably every room of my home because I love it to much! It's currently in the living room, but I hang it in my office during the fall and winter months.
How to Win
Here's how you can be entered to win!
1. Take the Survey – CLICK HERE!
2. At the end of the survey you will see a confirmation page. ON THAT PAGE there will be a secret word. Grab it and input it into this giveaway widget.
3. There are a few more ways to gain extra entries after you've taken the survey! 😊
That's all!! Good luck! And thank you for participating!
Giveaway Fine Print: No purchase is necessary in order to win. The odds of winning are based on the number of entries. Giveaway ends March 21, 2017 at 11:59 PM CST. Open to Residents of the US only. Winners will be selected by Random.org and be notified by email. Prizes will be mailed to you so you must respond to e-mail and give a US mailing address. Winners will have 48 hours to respond before a new winner is selected. My opinions are my own and were not influenced by any form of compensation. Pinterest and Instagram are in no way associated with this giveaway. By providing your information in this form, you are providing your information to me and me alone. I do not share or sell information and will use any information only for the purpose of contacting the winner. If you have any additional questions – feel free to send me an email!