One of my very favorite places to decorate in our old house was my living room mantel. It was the first thing you saw when you walked into our home, so I wanted to make a statement there. And because it was directly in the line of sight from the kitchen sink, I wanted that space to make me happy. And I always redecorated it first each season.
So, since we now have a TV above our living room mantel in our new house (which I'm learning how to decorate around), I thought I would take a walk down memory lane and share some of my favorite mantel decor over the years.
First, let's look at one of the first mantels I ever decorated. You can see how much my style changes as the years went on. When I started decorating my mantel, I used a lot of smaller decor items. And as the years progressed, I used large, symmetrical items (and less of them).
This was back when pallets were very on trend and I put together some pallet boards to make that blue and white striped background. It was the beginning of my DIY days! (Oh, and those buoys on the right were made from some fence posts I found on the side of the road.)
In the fall of 2015, I repurposed my striped pallet background for a solid white back drop, painted some pumpkins and added a blanket to my mantel! I was still using a lot of decor up there, but I like how it turned out with things I had on hand.
The summer of 2016 brought about one of my favorite focal pieces I ever made on my mantel: the DIY beachy engineer prints. They were crazy cheap and it was the first time I'd really decorated with an oversized centerpiece and it was my new go-to look. I made the "relax" sign, too. One of my favorite mantels!
The summer of 2017, my summer mantel was all about the simple, larger pieces and symmetry. I was playing with more understated decor and I love how it looked! And that framed beach art canvas was another DIY project I loved!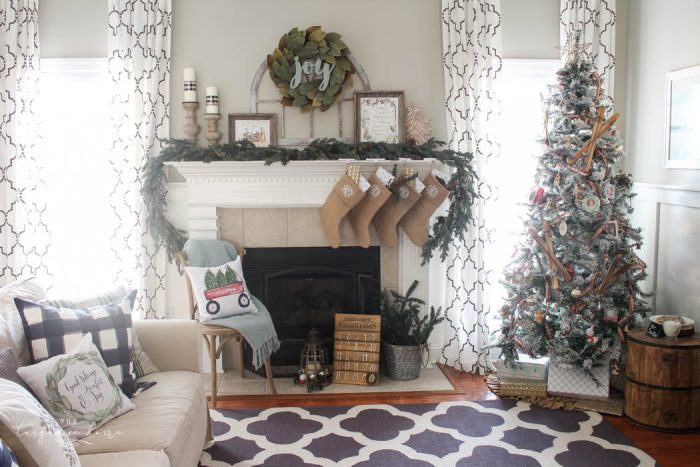 That Christmas I went back to a more full mantel look, but added in one of my favorite elements as a centerpiece: the faux arched window frame.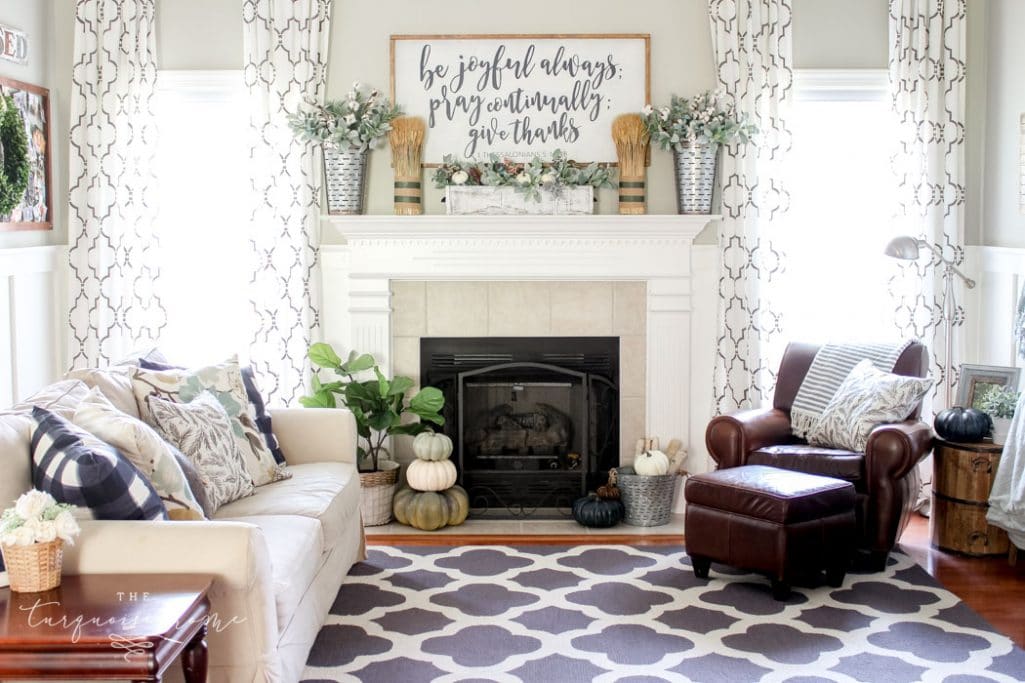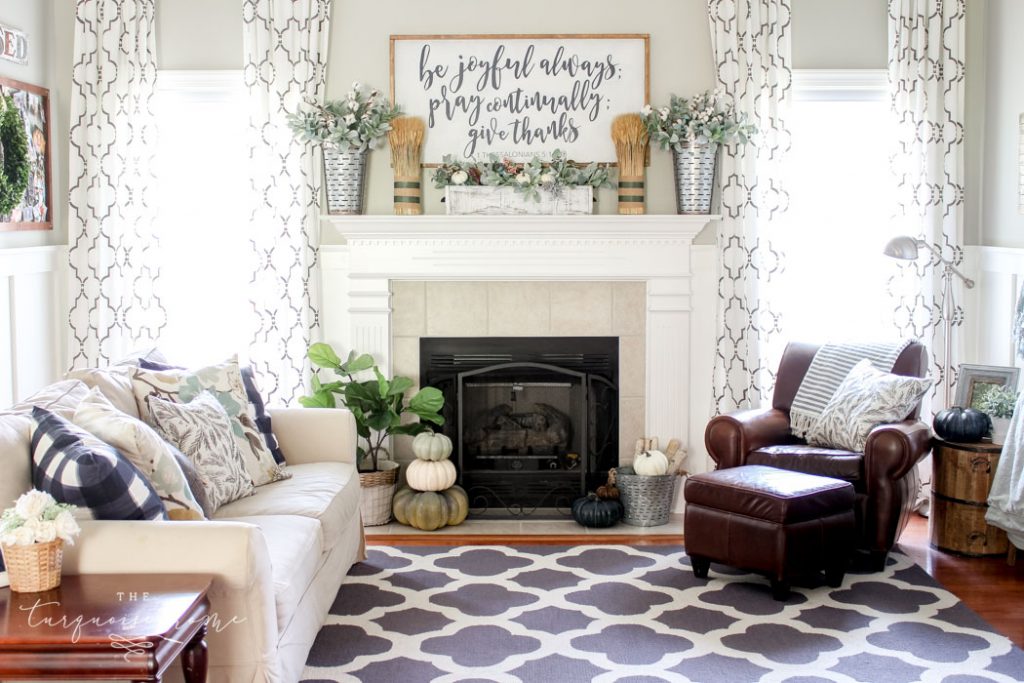 I turned back to the simple decor in the fall of 2017. And that started a season of making a large sign or decor piece to go in the middle of my mantel as the focal point. I made this "Be Joyful Always" DIY large wooden sign and it's still one of the most popular posts on my blog.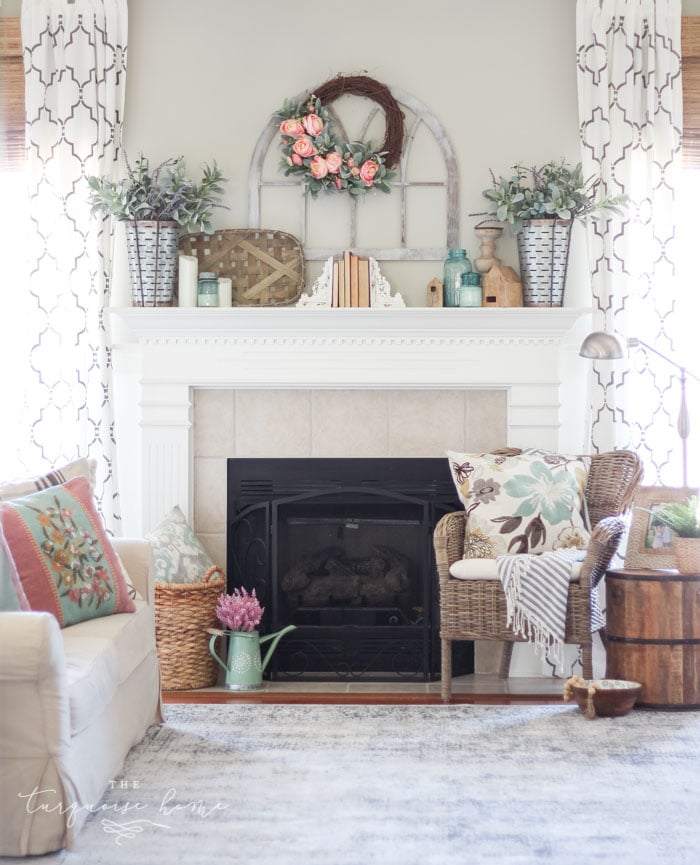 In the spring of 2018, I had brought the faux window arch back out and had added back quite a few decor pieces, but I still had the large olive buckets on each end of the mantel. I really loved that DIY peony wreath, so it's one of my favorite mantels ever with the wood tones, chippy white paint and pink blooms! It's the only spring mantel I included in this round up, so it must be special.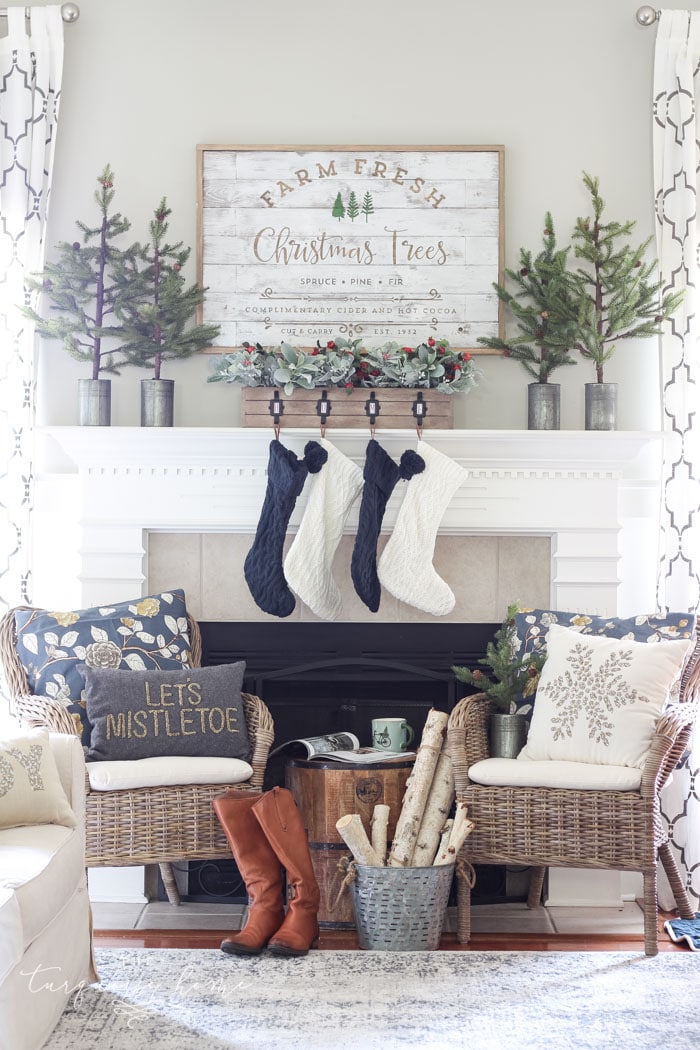 I embraced the simple mantel again with the Christmas mantel of 2018. I even introduced one of my favorite things in this space: my matching wicker chairs! I loved how they grounded the space and practically added more seating to my living room. I used another DIY sign for the focal point and I STILL love that sign today. (I never got around to make a tutorial, but I used these cut files and followed my DIY large wooden sign tutorial.)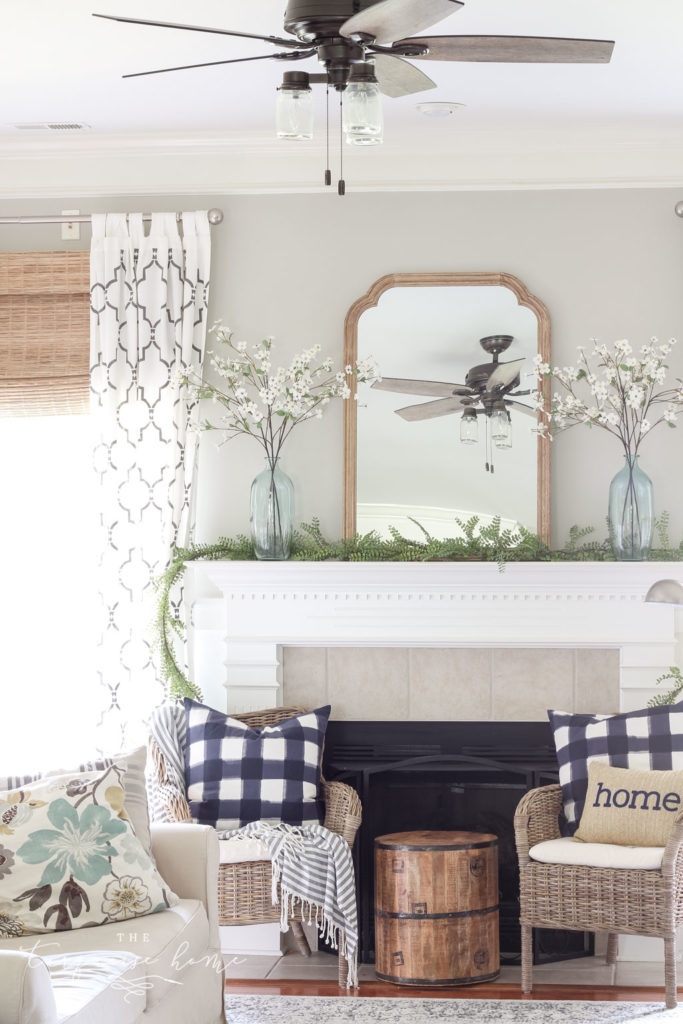 Ahhh! The really simple look came back to stay in the summer of 2019. I loved the mirror I found at Target and you'll see how I keep it on the mantel for each season until we moved.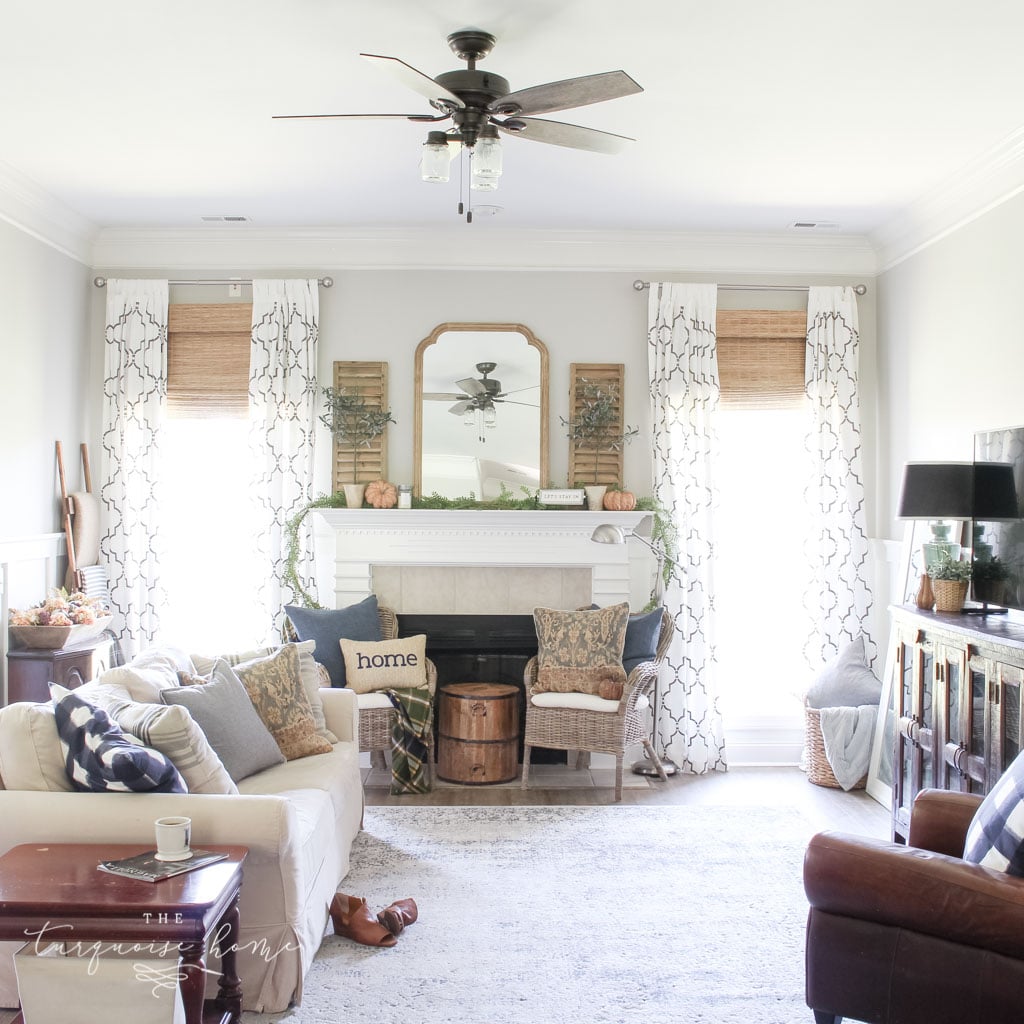 I kept the mirror in through the fall and replaced my large blue vases and flowers with shutters and some mini olive trees and a couple pumpkins. It was my favorite fall mantel ever!
Then in a farewell mantel, I decorated my Christmas mantel with the mirror, and the shutters and changed the olive trees for some wooden stars, mini wreaths and some pretty gold bells. I love, love, loved this mantel!
I hope you've enjoyed my trip down memory lane and hopefully you've been inspired to use some of these decorating ideas on your own mantel!
Happy Decorating!
MORE POSTS YOU WILL LOVE:
Get Instant Access to my Guide to Customize Your Home on a Budget
Grab your FREE guide for 10 Ways to Customize Your Home on a Budget: simple projects to transform your home from builder beige to a home with character and charm!