So, I finally finally "finished" my Rustic Glam Christmas tree. I say "finished" because there are still some things I'd like to add to it, but I'll reveal those next year maybe. 🙂 I've had this tree up and been working on it since early November. I work sloooow, remember?? (It's a 9-foot unlit tree from Hobby Lobby. I like to string my own lights, so that when one set burns out I don't spend hours cutting lights off the tree.)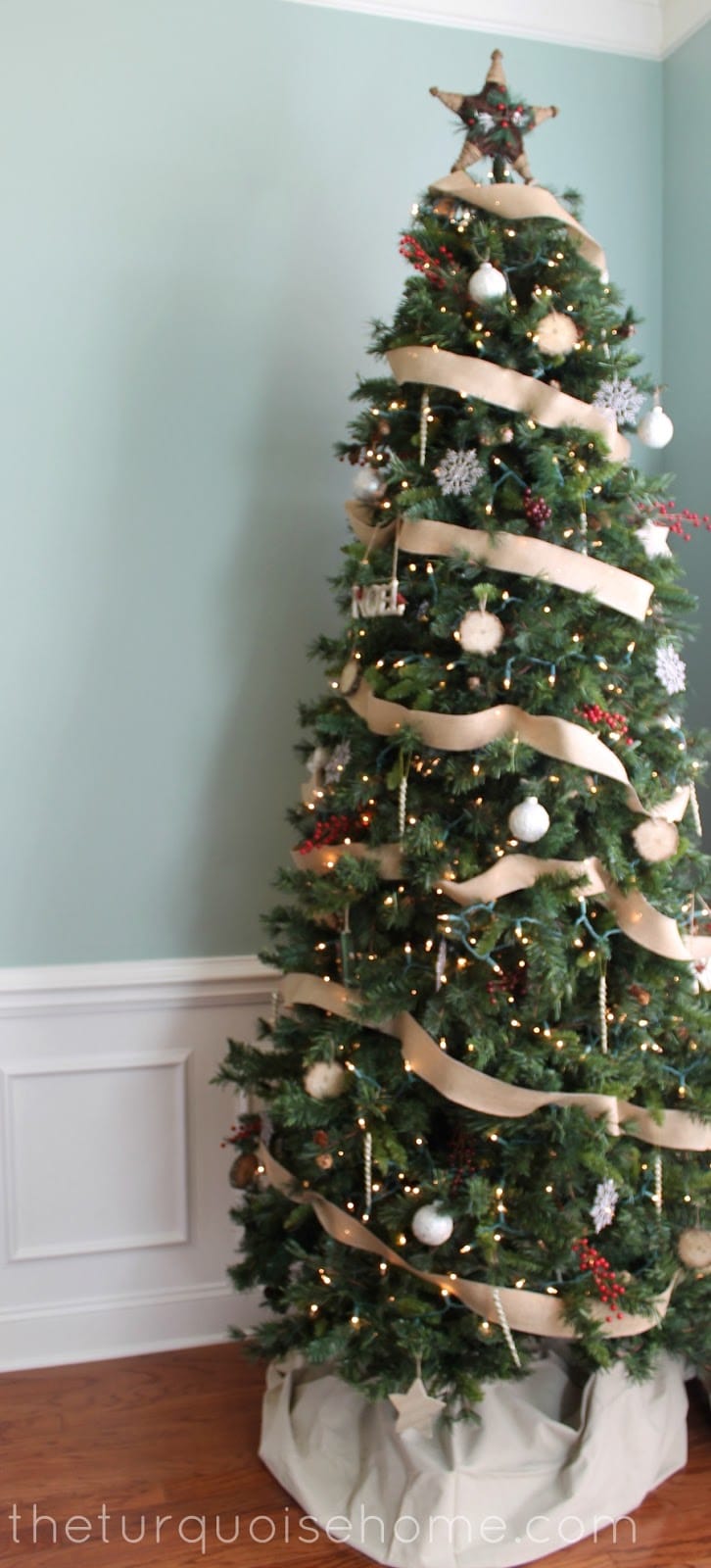 My theme from the beginning was rustic glam. I wanted equal parts glitter and glam and woodsy. And I wanted to make or find cheap decorations as much as possible. I think I will buy some more ornaments after Christmas when everything is 75%-90% off. But until then, I present to you … my 2012 tree!

These sliced up logs are probably my favorite ornament. Why? Because they were free! I grabbed a wooden log from my parents' house back at Thanksgiving and just sliced them up into 1-inch thick pieces with my miter saw. And then I drilled a hole in them and strung them up with some jute. Easy peasy and so rustic!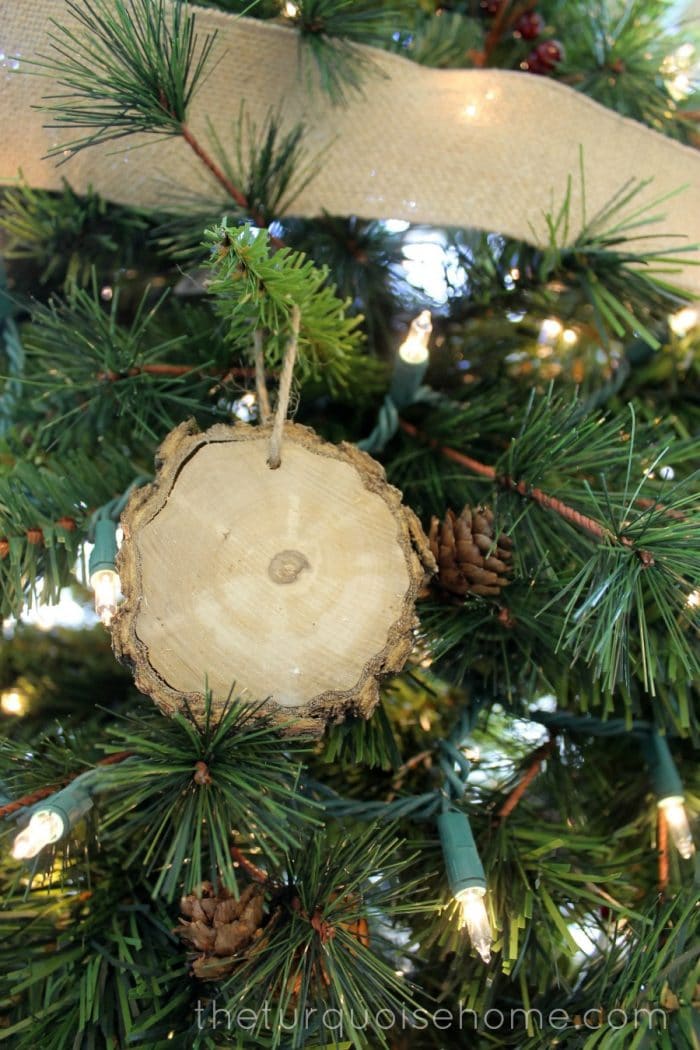 I grabbed a box of glittery snowflakes from Walmart the other night. Just $3 for 20 ornaments. I love me some cheap glitter snowflakes!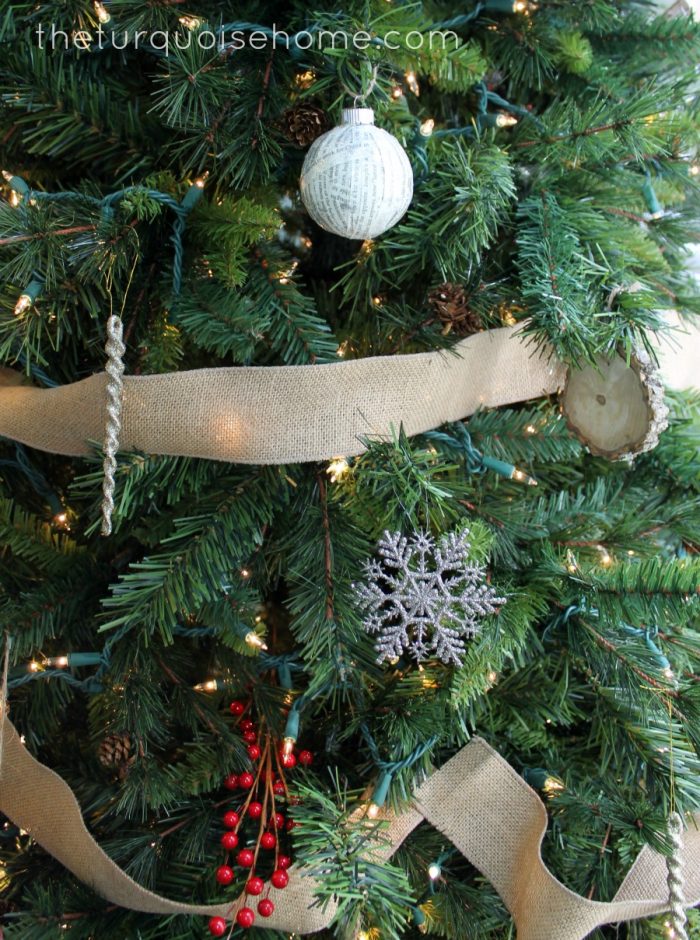 I bought a couple of these Noel ornaments at Hobby Lobby. They seemed to fit with my tree theme. I grabbed the red berries from Hobby Lobby and love the pop of color. And I wrapped burlap ribbon around the tree (50% off at Hobby Lobby … woohoo!).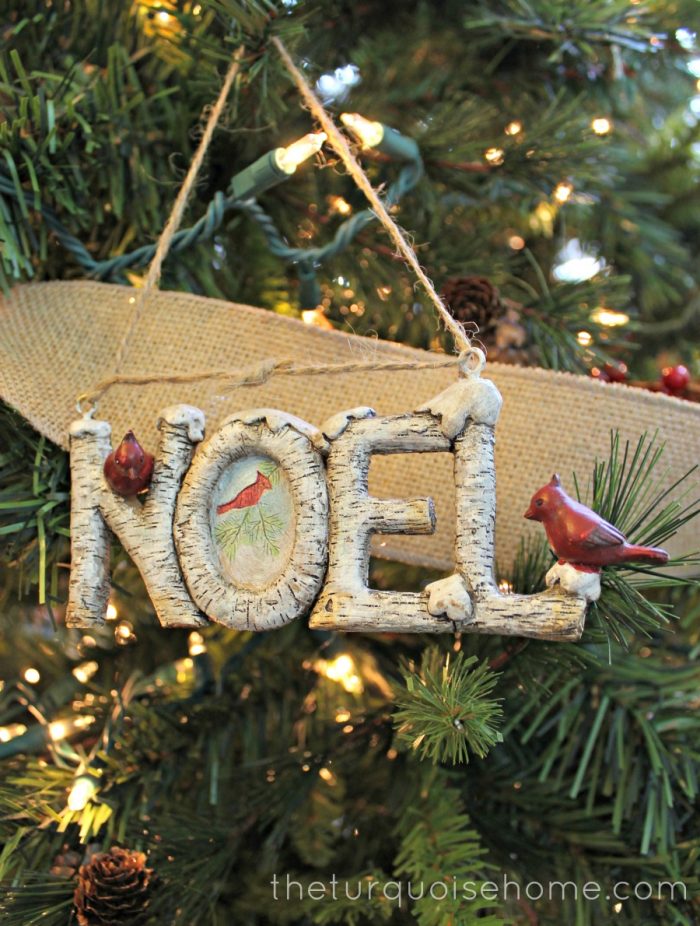 I already shared about my book paper-covered ornaments HERE. And then I added some glittery icicles and I had this old rustic skiing ornament on my other tree forever. It seemed right at home on my new tree.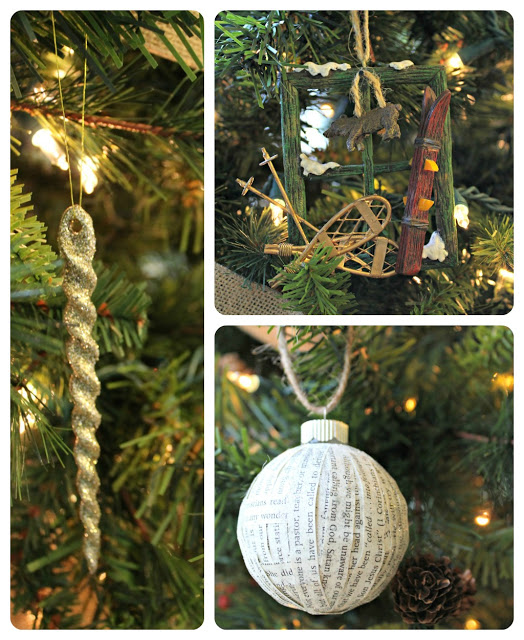 My tree is typically in front of the dining room window in the front of my house. I love that the 9-foot tree fits perfectly in the window. And at night I leave the blinds open so that it can be seen from the street. I have always wanted a Christmas tree in the front window! (I moved it into the corner to get a better picture.)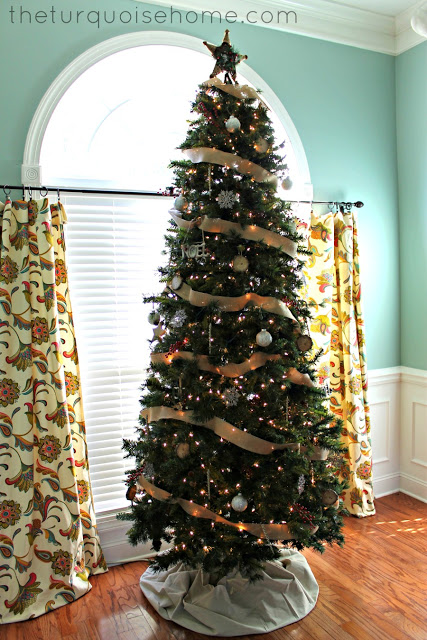 And one last look … Miss A was helping me decorate by placing her baby doll in the tree. Love her!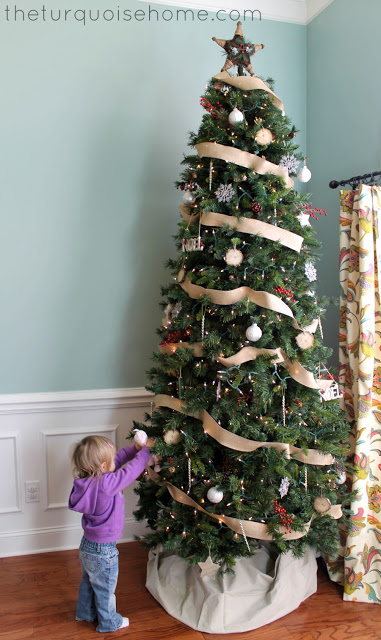 Oh, and the tree skirt! I almost forgot. I looked and looked for a rustic tree skirt. But I could never find exactly what I had pictured in my mind. I have seen oodles of DIY rustic tree skirts on Pinterest, but I just didn't feel like taking on another project. (I still don't have all of my curtains stenciled, which has to happen this weekend because I'm hosting a party next Tuesday. AGH!) And I thought about buying a bunch of fabric and wrapping it around the bottom. But my craft stores are sold out of all the cheap canvas and burlap. Something about Christmas bringing out the craftiness in everyone. 🙂 So, you want to know what I did? I went and bought a $10 canvas drop cloth from the home improvement store and wrapped it around the bottom of the tree. I love it! It's perfect for this year and maybe I'll get crafty next year. Or not. 🙂
Merry Christmas!