Now that it's August (what??!) I remembered that I never shared my June favorites – so I might as well combine June and July in a summer must-haves post!
I always find it helpful when my friends share their favorite new finds, so I thought it would be helpful for me to share mine here. Shopping online is mostly how I shop these days and I'm 1000% more likely to feel confident in my purchase if my friend has already bought it and loved it. So, from friend to friend – here are my summer faves.
And I know this is an eclectic mix of products, but I just think back over the last few months and remember the things that have made my life easier or prettier or just more fun! So, I hope you enjoy these 10 favorite finds this summer!
This post contains affiliate links for your convenience. See my full disclosure policy here.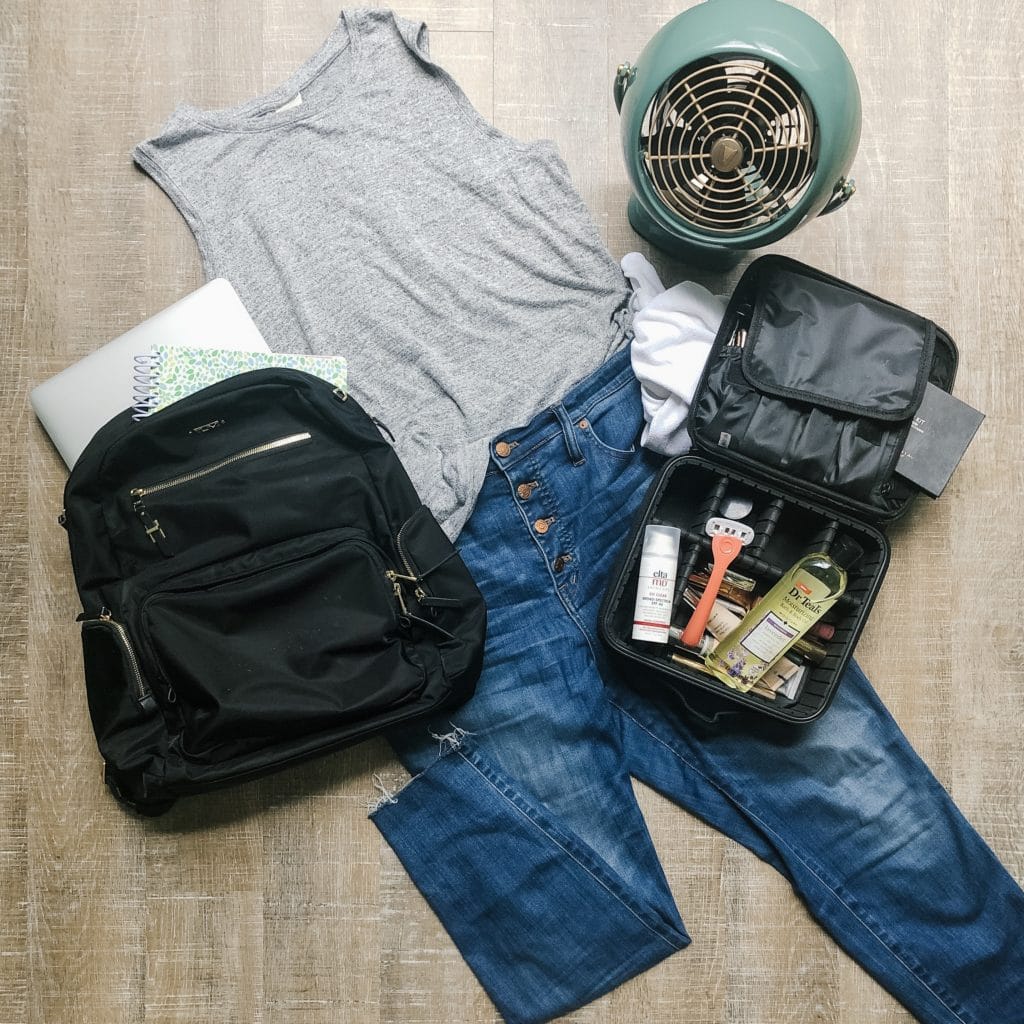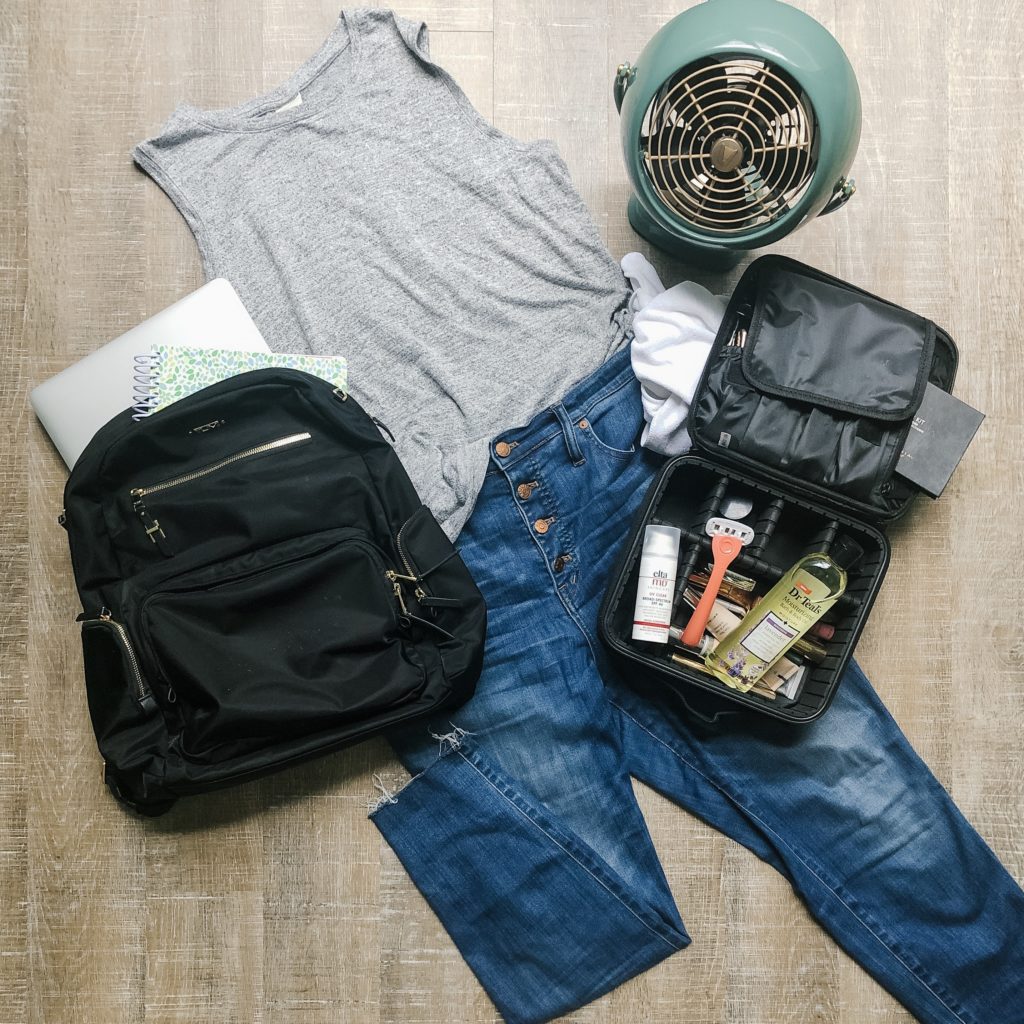 Elta MD Facial Sunscreen – I hate putting regular sunscreen on my face. It tends to break it out and leave it greasy. But I've been using this facial sunscreen all summer long and have loved it! It's a moisturizer, primer & sunscreen in one – feels great and is specially formulated for acne prone skin, so it won't break you out! I have been in the sun a TON this summer and haven't gotten any burns on my face. I wear this every single day as my moisturizer.
Madewell Cropped Jeans (similar) – I bought these cropped jeans at the beginning of the summer and I am so happy I made that purchase. They are an investment piece, but I have worn them almost every day! Right now they are on sale for 33% off – a great time to purchase to wear the rest of this season and save for next summer! They feel amazingly soft, yet hold their shape and the high rise waist holds the mommy tummy in!
Crew Neck Tank Top (similar) – It's not easy to find a tank top that doesn't seem cheap. This tank is the perfect weight (not too thin or think), and has a nice amount of swing so it doesn't cling to your body – PLUS a scoop hem that looks polished untucked or feel free to tuck it in!
Travel Makeup Case – I bought this on Amazon Prime Day because my makeup travel system was messy and downright horrendous. I've used it 3 times now to travel and LOVE that it makes putting on my makeup easier while traveling. It also protects my makeup from being tossed around in my suitcase. I love that the inside segments are adjustable, too.
Billie Razor – I have used the same razors for years, but have never been good about replacing the blades in a timely manner. This meant I was shaving with a dull razor most of the time. Enter the Billie razor! It's the new razor on the block and color me impressed. From the sleek design to the close, comfy shave – it's my new fave! I love the simplistic magnetic holder in the shower that looks cute and does the job. The shave is the best I've ever had and BONUS: they send you a new razor on a schedule YOU choose, so you'll never have to put "new razors" on your shopping list again!
Travel Laptop Backpack – I don't know what I'd do without this bag. I have worked alllll over town this summer while the kids were in camps. And we've traveled a ton. So, my investment in my laptop backpack was the right choice. I love this thing and shared everything I LOVE about it in my Instagram stories (here), so check those out! (I know it's an investment piece, but it'll last a lifetime and the older I get the more I choose quality over quantity.) Also, the ultramarine and sunset colors are on sale as of this post writing!
Farmhouse-Style Ceiling Fan – If you're in a southern state, then you know how essential the ceiling fan is in the summer. I know it can be hard to find a pretty fan, but I'm loving our ceiling fan in our living room and I think it's pretty cute. It's been permanently on this summer and soooo helpful for keeping us cool! I'm eyeing this one for our master bedroom!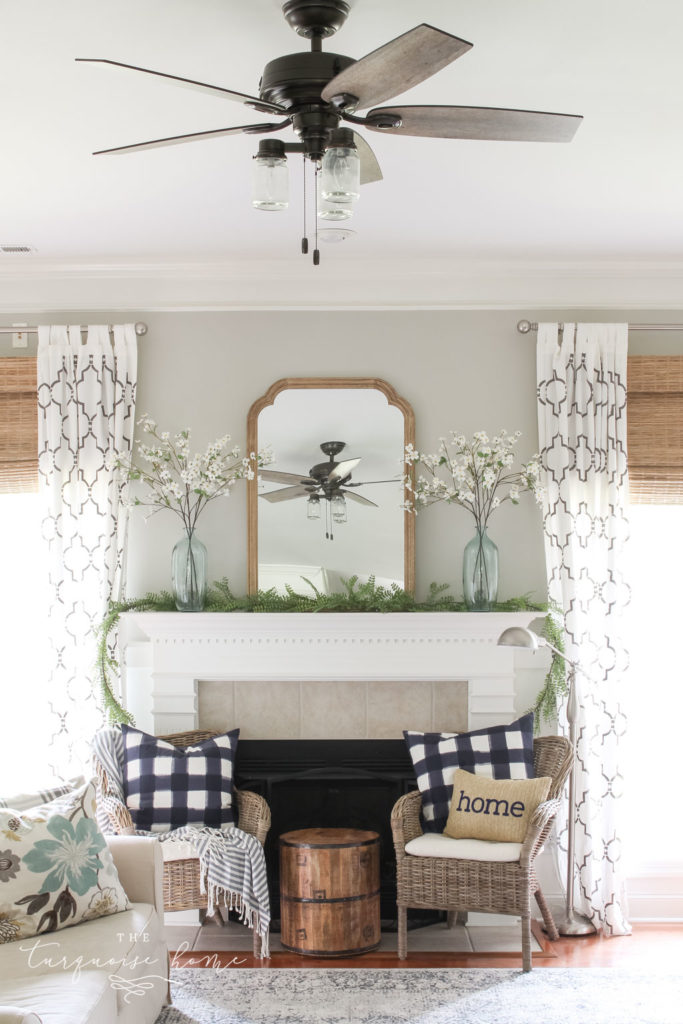 Microfiber Hair Towel – I have always put my hair up in a towel after I shower and leave it up for a while. A bath towel gets heavy after a while. So, I recently purchased this microfiber hair towel and love how light it is, especially in the summer, and it helps my hair dry quickly while it's up! This means less heat damage to my hair when I blow dry it.
Lavender Bath and Body Oil – My youngest daughter always gets super dry skin in the summer due to going to the pool every day and lots of baths. It was so hard to keep up with applying lotion on her every day. (She's kinda wild and doesn't like to stay still. 😂) But I discovered this bath oil this year and it's worked wonders. I just add a squirt to her bath every other day and it leaves her skin soft and smooth. And if it's a bedtime bath, the lavender helps to calm her down and help her sleep. Love!
Vintage-Style Desk Fan – I've eyed this desk fan forever for it's adorable design. And this summer it's been so hot in my office that when I saw it was 25% off, I snagged it!! I don't regret it one bit because how cute is she?!?!
That's it for the summer. I'll be sure to be back at the end of August with more favorites from this month!
MORE FAVORITES YOU WILL LOVE: