Yay!! It's HERE! The most amazing clothes and beauty sale of the year is live! It's finally time to preview the Nordstrom Anniversary Sale Early Access 2020 for and I'm so excited! The access is super staggered this year due to sanitization efforts, so the start times are all spread out. I'll be able to shop on August 10, as an "Influencer" card holder. And the public access for non-Nordstrom card holders is August 19.
If you're not a card holder, you can get one here (all new card holders will get a bonus $60 Nordstrom Note to spend at the sale).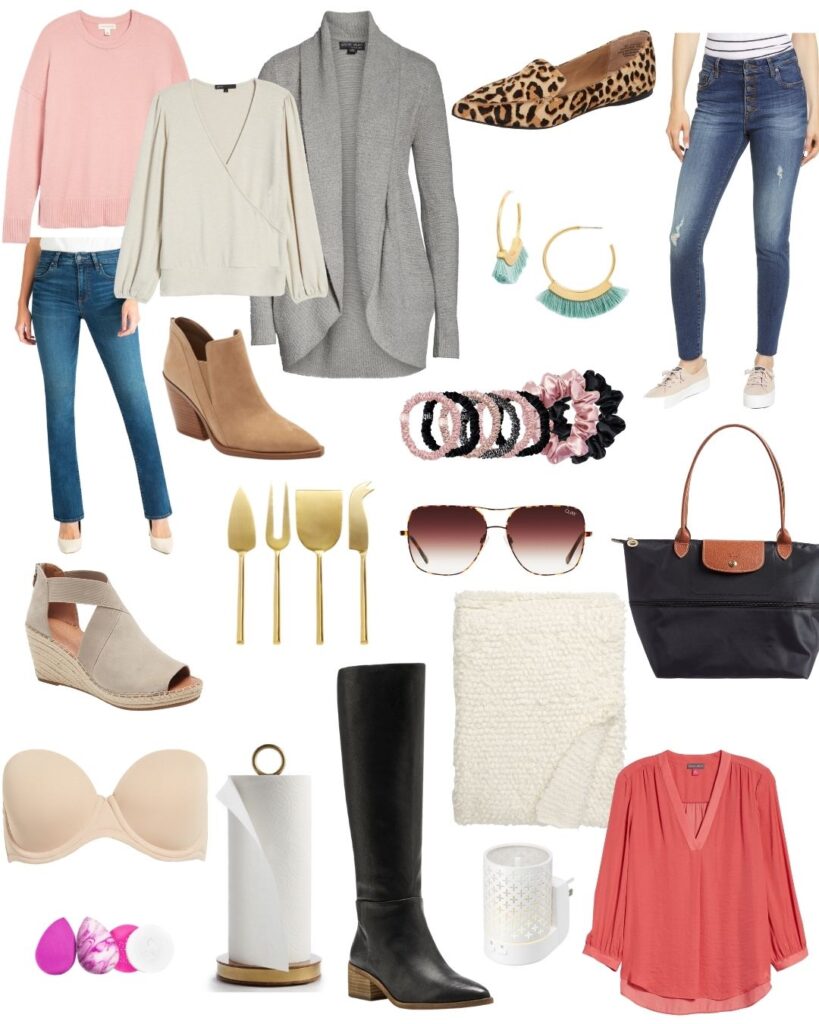 Pink Sweater | Boot Cut Jeans | Wrap Top | Genuine Calf Hair Loafers | Fringe Earrings |Pointed Toe Booties | Silk Hair Scrunchies | Gold Cheese Knives | Sunglasses | Expandable Bag | Wedge Sandals | Cozy Loop Blanket | Strapless Bra | Beauty Blender | Paper Towel Holder | Knee High Boots | Wall Diffuser | Blouse
I've come to love this sale because I've gotten some fabulous deals, which have been the best staples in my closet. So, I really think it's a great sale to shop! See how I shopped the sale in 2019 and 2018 and then my top things I bought and loved last year.
There's a lot of stuff to share, so here's what we'll cover:
– Tips for Shopping the Sale
– My Top Picks of the Sale – absolute favorites, no fluff, just the best deals
– EVERYTHING I LOVE by Category – alllll the deals that caught my eye!
– Why I LOVE shopping the Nordstrom Anniversary Sale (#NSale)
– What is the Nordstrom Anniversary Sale & What does it mean to be a Cardholder?
– #NSale Sale Dates

Tips for Shopping the Nordstrom Anniversary Sale
Have a Budget. It'd be so easy to get caught up in the drama of it all and just splurge on all the things. Set a limit and stick to it.
Pull out your fall and winter wardrobe and find the holes you need to fill? Do you need a new pair of jeans or booties or a sweater? Did you forget you already have 5 cardigans? It's helpful to take a look at it all first so you don't overspend.
Shop early the first day of the sale and place your order online. If you're not sure about sizing, order two and send back the one that doesn't work. They have the BEST return policy out there. It's free and easy!
If you are using the Nordstrom card, make sure to select for it to be your double points day so you early 2x the points on your purchases.
Shop the most coveted brands first to stave off sell-out-itis. 😂 These are: Adidas | Anastasia Beverly Hills | Barefoot Dreams |Charlotte Tilbury | Hunter Boots | Madewell | Nike | The North Face | Patagonia | Steve Madden | UGG | Vince Camuto | Zella
Then shop the most coveted sections of the sale: Women's Jeans / Women's Shoes and Booties / Beauty. This is why I've listed these first in the section below.
My Top Picks from the Nordstrom Sale
I'm just a regular mom who decided a couple of years ago that I was going to start loving my body and dressing it in nice, cute clothes. Read more of that journey here. So this isn't a fashionista's picks, but a mom who wants to look comfy, but cute when picking up the kids from school and a little dressed up on date nights.
I get a little bit of an extra early access this year because I've spent so much in the past (lol), but I don't even live near a Nordstrom. I order everything online and ship it back if I don't want it.
Below are the things that caught my eye, that are good quality staples for your closet and will help you look and feel your best, too! Best thing is, Nordstrom has a free shipping/free returns policy, so it's no problem to grab something and try it on at home! Happy Shopping!
Clothing Faves // Things I Own, Bought & Wishlist
I've tried to narrow it down to my top thing in each clothing category. Scroll down to the "Everything I Love by Category" section to see more of each!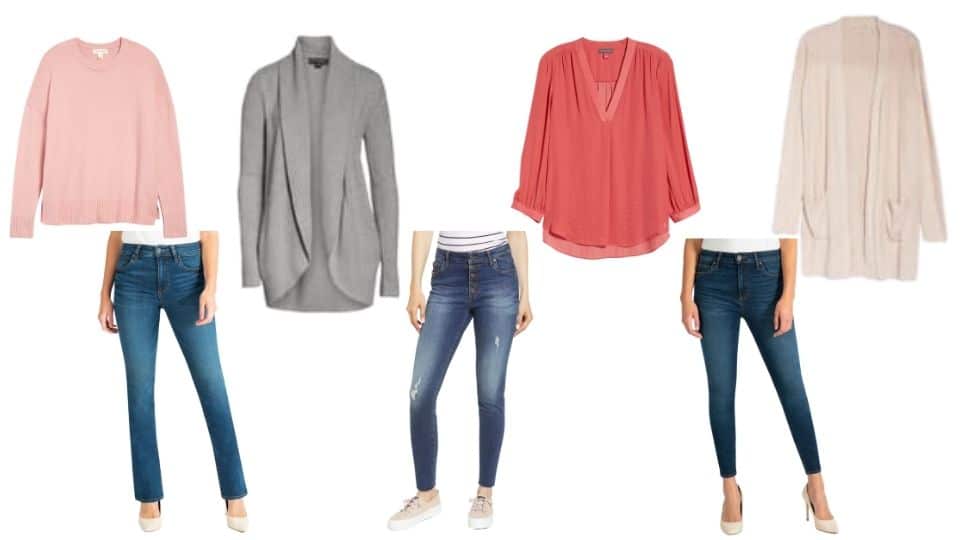 Boots & Shoes Faves // Things I Own, Bought & Wishlist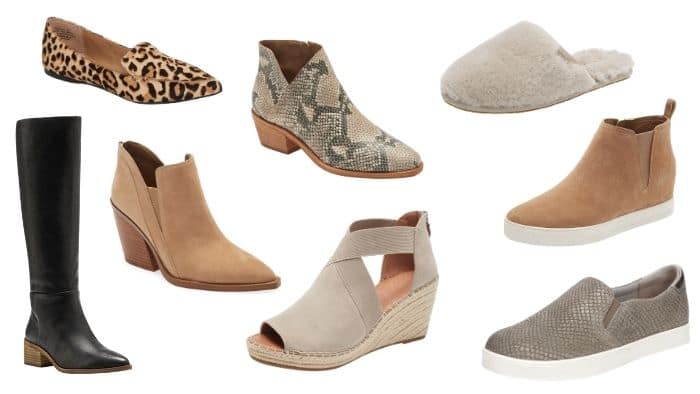 Slip-On Sneakers – I have these shoes and they are SO comfy! They are so cute and easy to pair with skinny jeans and top for the fall through spring seasons! Throw them on and go. I am getting the gray snake version this year!
UGG Slippers – I LOVE my UGG slippers and you cannot go wrong with this brand for keeping your tootsies toasty in the winter.
Wedge Sneaker – I love a wedge bootie so much! I bought these wedge sneakers last year and they are back in the sale again this year! A fun way to still be casual, yet trendy. I'd often wear them on a date night for a dressed up/casual look.
Block Heel Bootie – I've bought a super cute wedge bootie the past two years and LOVE them, but this year's block-heel bootie is equally cute and stylish! I love the pointed toe for elongating the leg. I think they'll look great with those boot cut jeans!
Low Heel Bootie – I love this classic bootie in black, taupe and snake print!
Hunter Rain Boots – So many options for this classic rain boot are in the sale this year! Yay! I bought the short boots last year and I wore them all the time for school drop off! Click each one to shop that style: Short Glossy Quilted Boots (so adorable!), Short Matte Boots, Matte Tall Boots.
Genuine Calf Hair Loafer – A great way to add a pop of comfy trendiness to your outfit! These are on my short-list this year!
Wedge Sandal – I am buying these sandals for transitioning from summer to fall. How cute!
Classic Knee High Boot – This is a classic, investment piece for all fall and winter long!
Adidas Swift Run Sneaker – These tennis shoes are hot!
Accessories & Beauty Faves // Tried & True and Want to Try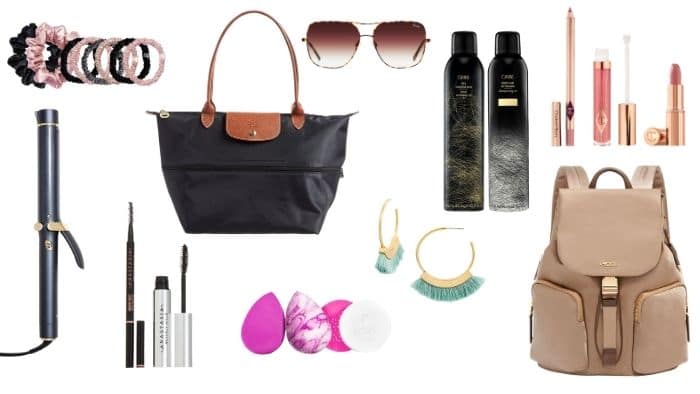 Silk Scrunchie Set – I sleep with my hair pulled up in one of these scrunchies every night! It helps save my hair from getting hot and frizzy at night and helps me keep it nice longer! Less washes = happy hair!
Fringe Earrings – I love a cute statement earring and this color combo is so pretty!
Anastasia Brow Duo – I shared the Brow Wiz in my May 2019 Favorites and the brow gel will keep it all in place! The Taupe color is my fave.
Charlotte Tilbury Pillow Talk Lip Kit – I have the lip liner and it's the perfect nude-pink shade!
Oribe Texture Spray and Dry Shampoo – I've wanted to try a texture spray for a while now, and have heard huge praise for this one. Why not try the dry shampoo while I'm at it?
Makeup Sponge Set with Cleanser – I bought these last year and that are great for getting that flawless foundation!
Sunglasses – I have three pairs of this brand of sunglasses and will be buying this adorable pair! I LOVE them!
Tumi Backpack – I have a Tumi computer back that has my heart (totally worth the investment)!! It's so durable and has the BEST pockets. This one is gorgeous!
Curling Iron – I have the straightener from this brand and it's hands down the best straightener I've ever owned. (And I've owned a lot of them!) So, I can imagine this is the best curling iron out there.
Expandable Tote – I usually don't buy many bags, but I follow a few people who bought this tote last year and every time I see it, I wish I'd snagged it. Thinking about it this year!
Home Decor Faves // My Top Wishlist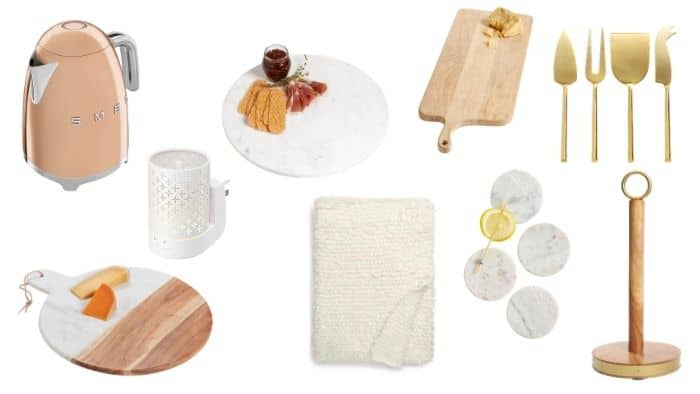 Everything I Love By Category
Shoes, Boots & Booties


Jeans & Pants

Tops & Sweaters


Home Decor

Accessories

Beauty & Body Care

Why I Love Shopping the #NSale
I only started shopping at Nordstrom (during the Anniversary Sale) in 2017 when I heard about it from every blogger/Instagrammer ever. What was all this fuss about? I bought a couple things (like my favorite winter cardigan) and was intrigued by the deep discounts for newly released clothes.
Since I do 95% of my shopping online, I LOVE their free shipping/free returns policy. It's so easy to try on clothes and send them back if they don't work out. Tip: I often order 2 sizes and send back the one that doesn't work. So, I love shopping Nordstrom. (The closest store is 2 hours from me, so I'm limited to online shopping unless I'm in Nashville or Atlanta.)
Then in 2018, I went all in. I got the credit card in order to shop the early access sale. I bought my first pair of Madewell jeans 2 years ago. And have since bought 4 more pairs – yes, they are THAT good.
What is the Nordstrom Anniversary Sale?
In short, it's THE sale event of the year for clothing and beauty favorites. It's Nordstrom's biggest sale of the year featuring new fall clothing styles, accessories and shoes plus some beauty and home deals. These must-have fall and winter staples will be at their lowest prices of the year, so it's a great time to buy ahead of the season.
Once the sale is over, most everything goes back up to full price.
The Sale always opens first to card holders before Public Access opens. In the past, many of the hottest items have sold out in the first day of the cardholder's sale. If you've been eyeing a hot item for a while and want to make sure you grab it, it might be worth it to get a Nordstrom Card as the hottest items can sell out before Public Access starts on August 19th.
Note: I don't necessarily recommend the credit card if you're going to buy things you wouldn't normally buy or that you can't pay off immediately. Know yourself and don't go into debt for some jeans. But if you're able to show some self control and not overspend, then it's a great way to get some good deals before they sell out.
When is the Nordstrom Anniversary Sale?
August 4th – 18th – Nordstrom Anniversary Sale Early Access (cardholders only)
August 19th – Nordstrom Anniversary Sale opens to the Public
August 30th – Last Day of the 2020 Anniversary Sale
Happy Shopping!
xo, Laura
SaveSave
SaveSave
SaveSave
SaveSave
SaveSave
Get Instant Access to my Guide to Customize Your Home on a Budget
Grab your FREE guide for 10 Ways to Customize Your Home on a Budget: simple projects to transform your home from builder beige to a home with character and charm!