So, there's this tiny little sale going on right now over at Nordstrom. Well, you may of heard of it before, but seeing as I'm always late to the party, it's not surprising that I was oblivious until just last year. Every year Nordstrom throws a big ol' sale for their anniversary.
I'm usually not one to jump on band wagons. I like to take my time and see if something is a good deal or just a bunch of hubbub. After shopping online at Nordstrom for the past year as I've started to dress my body for how it is and not how I want it to be – and I've come to love the store! They sell a ton of high end, quality brands and they always offer free shipping and free returns. I do 95% of my clothes shopping online, so that is a huge plus in my book.
So this year I've been eyeing some of the sale posts going around and picked out my favorites! I even signed up for their Nordstrom Card in order to have access to the pre-sale for card members only. (Going on until July 19th and then it opens up to the public on July 20th.)
But here's a little tip! Once you get into the sale with your Nordstrom card, you can then switch the payment to a different card so you don't have to use credit if you don't want to.
The benefit for getting into the sale early is that obviously some items will sell out quickly. I wanted a pair of jeans and had them in my cart the first morning of the sale. But I didn't get around to ordering them until that evening and they were sold out already. Womp. Womp.
So, if you see something you want, jump on it! You can always return it.
I hope that some of the sold out items will come back in stock before the end of the sale, but I'm not sure. The best place to follow me for up-to-the-minute stock updates are on Instagram Stories @turquoisehome (the highlighted circle around my picture on my profile or in the circles/bubbles at the top of my profile).
I picked out some of my favorite fall staples! If I could load up my cart with anything I wanted, this would be it! (P.S. The majority of this stuff is on its way to my house. 😜)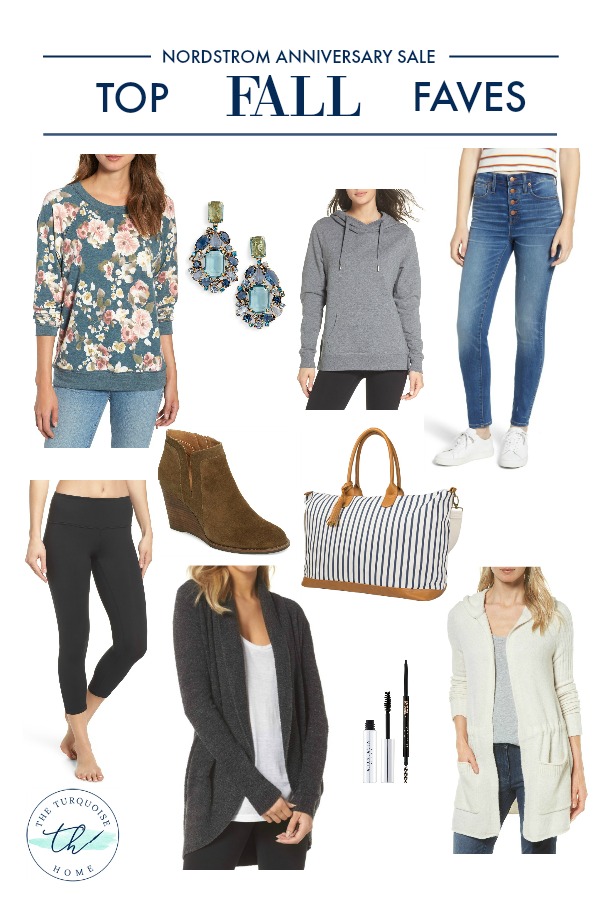 Floral Sweatshirt // Earrings // Gray Hoodie // Jeans // Wedge Booties // Overnight Bag // Cropped Leggings // Gray Cardigan // Brow Pencil & Mascara // Cream Cardigan
Floral Sweatshirt – This is my favorite item in the whole sale and I can't wait to wear it this fall! It's super thin, almost like t-shirt material, but really soft. So, it's perfect for a transitional piece in the fall. Here in the south it doesn't get too cold, so I will be wearing this all winter long, too. I love a sweatshirt that looks nice, so you feel like you're wearing PJ's, but look put together. 😉
Earrings – I couldn't pass these up for dressing up a plain shirt and jeans! I bought the blue/turquoise color (of course) and they come in 2 more colors!
Gray Hoodie – This athlesiure wear is so comfy and soft. I'm normally an XL, but they only had an XXL in stock. I think it fit me pretty well, so maybe size up 1 if you don't want it to be too tight.
Jeans – I've wanted to try these Madewell jeans on for forever and finally tried them on in the store. I like them and they fit true to size, but I'm not sure if I would keep them since I don't really need a new pair of jeans. But if you're looking for a good quality skinny jean, these are great!
(As I write this they are sold out online, but keep checking back as I know they try to restock items during the sale. Follow me on Instagram Stories to get notified when they come back in stock!)
Wedge Booties – These looked too cute to pass up as a fall staple. I've got some booties, but not a wedge, so I'm excited for them to arrive! I'll come and update this once I've tried them on!
Overnight Bag – Love the blue stripes, of course!
Cropped Leggings – I've heard RAVE reviews about these leggings for years, but never wanted to pay full price. I ordered them in the regular length and went 1 size up (XXL) and really liked them when I tried them on in the store. (The cropped leggings were just a bit snug on my larger calves, but if you have regular sized calves, they would be fine!)
Gray Cardigan – I bought a Barefoot Dreams cardigan last fall (also gray) and I lived in it! Seriously, just pair it with some leggings and a tunic and it feels like you're wearing pajamas and a blanket. I bought this one in cream!
Brow Pencil and Mascara – The whole brow craze is a little much for me, but sometimes I like to fill in my brows a little bit. This pencil is the best one I've tried for adding depth, but not overdoing it, and also doesn't damage the brows I do have! This set us a tiny bit more expensive than the pencil is regular price, so consider it a bonus mascara for the price of the pencil.
Cream Cardigan – Just being honest, when I heard that this item tends to sell out quickly I kind of wondered why. It didn't look all that great online. But then I tried it on in the store and I immediately knew why! It's super comfortable and fits great. I think it looks great on as well. I tried the XL and it was plenty roomy. I would get the XL, but maybe size down if you're in between sizes.
Simply click & scroll the images below to shop!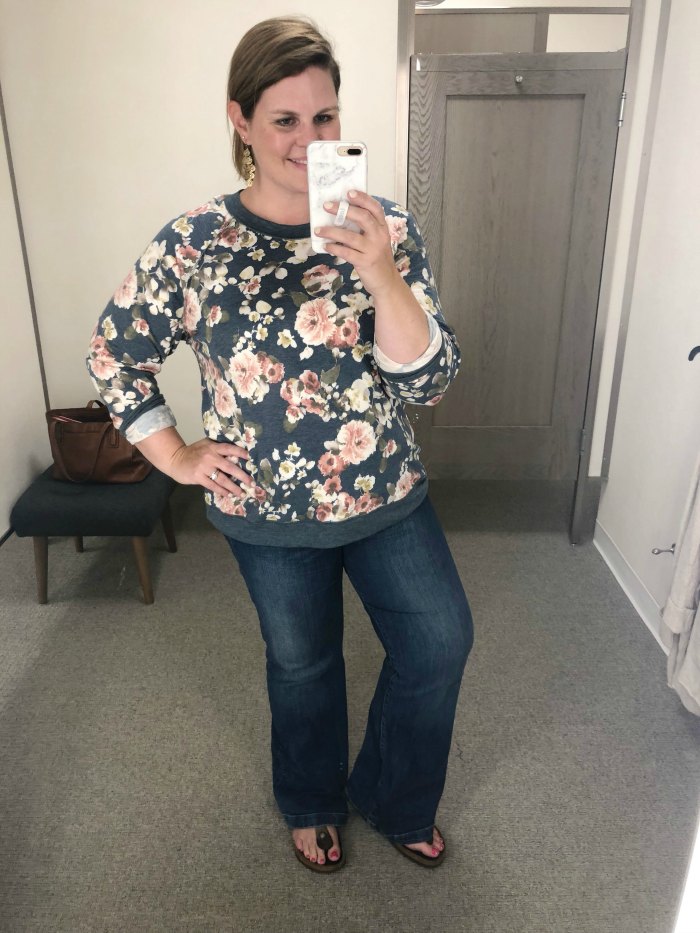 Green Floral Sweatshirt (this is an XXL, but I also ordered a 1X Plus to try) // Birkenstocks (not on sale, but a staple in my closet)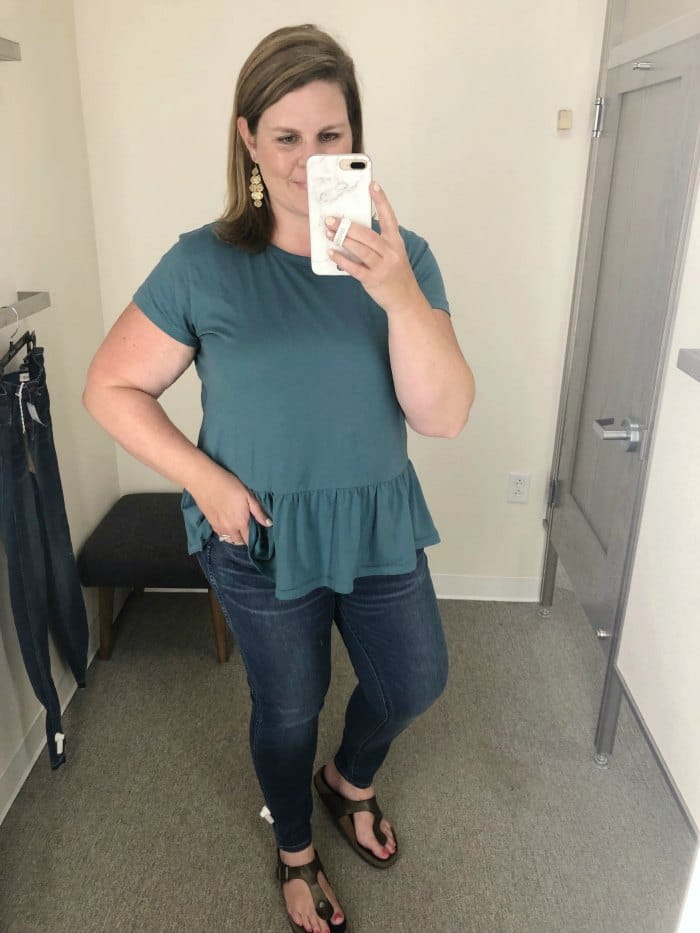 Puplum Tee (XL) // Jeans (TTS – Size 33) // Birkenstocks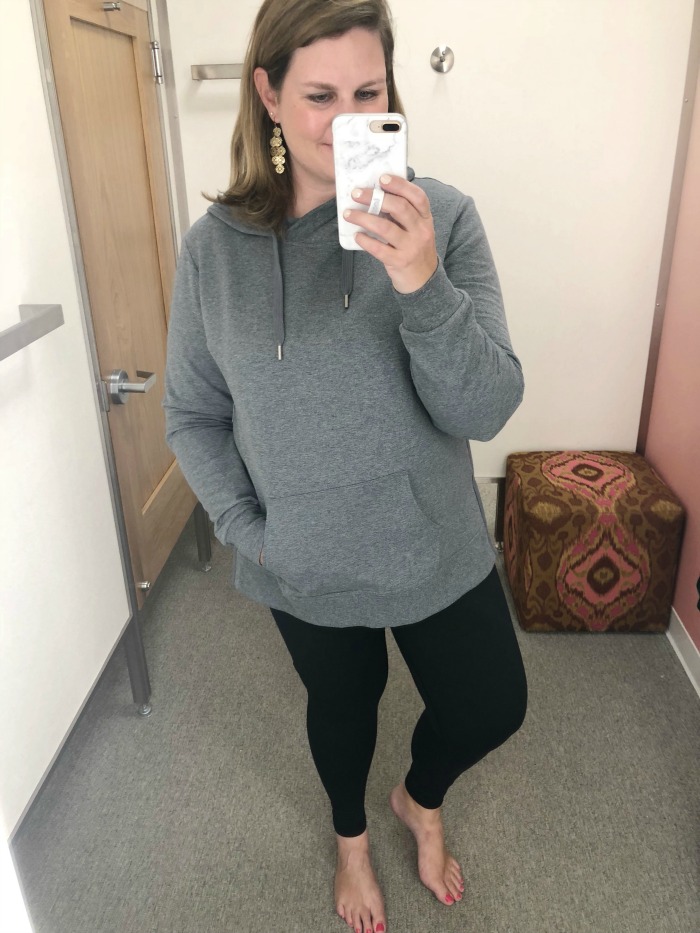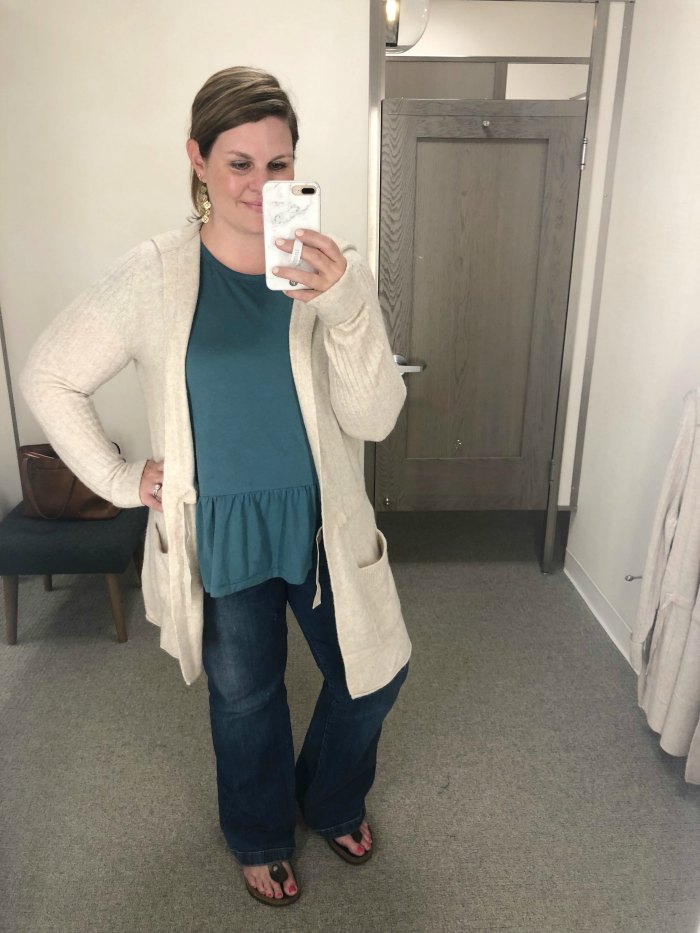 Hooded Cardigan // Peplum Tee // Birkenstocks
Shop the Nordstrom Sale Home Department
I also combed through the home department and found my favorites! I love the Barefoot Dreams throw blanket. The sweaters feel amazing, so I'd love to wrap up in one on the couch.

Let me know if you have any questions! And happy shopping!
xo, Laura
SaveSave
SaveSave
SaveSave
SaveSave
SaveSave
Get Instant Access to my Guide to Customize Your Home on a Budget
Grab your FREE guide for 10 Ways to Customize Your Home on a Budget: simple projects to transform your home from builder beige to a home with character and charm!