I'm in full-out cleaning and de-junking mode these days. I've deep cleaned the fridge, cleaned out the pantry, the linen closet and spice cabinet and I've got my eye on the rest of the cabinets and drawers in the house. Nothing is off limits and I'm throwing tons of stuff away! I guess our impending arrival is getting me in gear to organize the whole house, which is a good thing.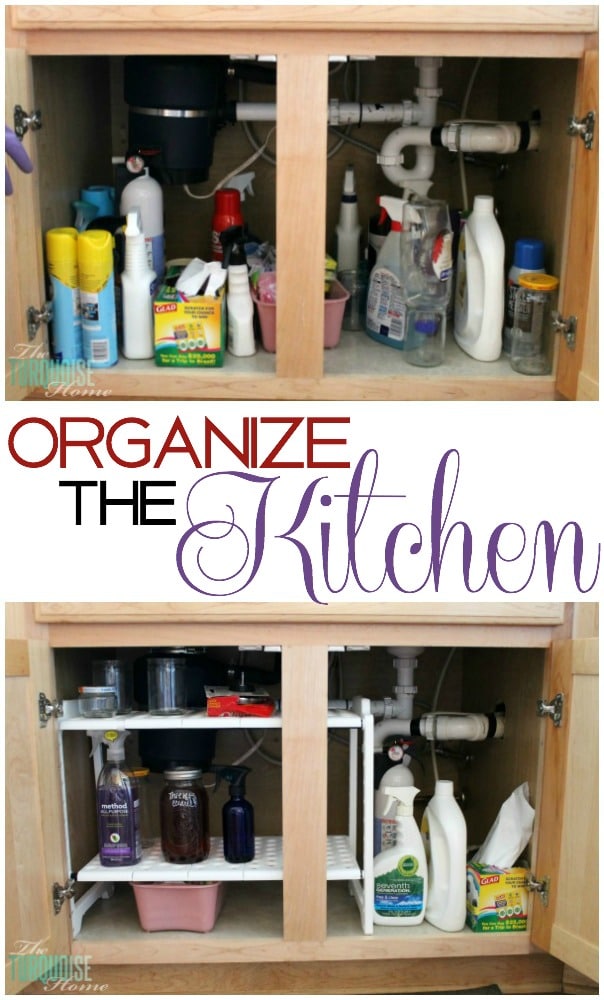 As a part of my kitchen organization, I got some of these cabinet door and under cabinet organizers.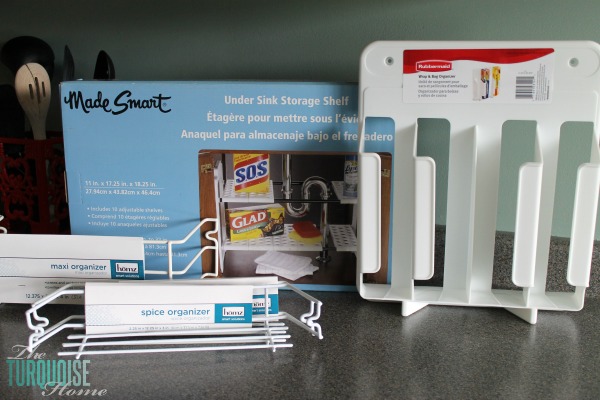 I tackled the under the sink cabinet first. It's been a long time since I purged this cabinet, probably since we moved in a year and a half ago!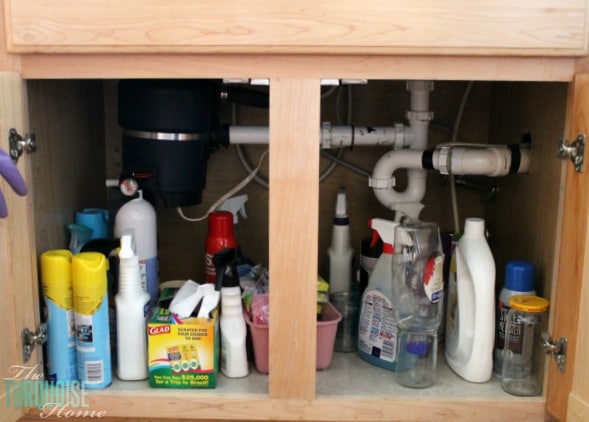 I started by taking everything out of the cabinet and throwing away most of the chemical-filled supplies. Now that I'm using my Thieves cleaner almost exclusively for cleaning purposes, I don't need all of the other stuff. I just threw it in the trash. And good riddance!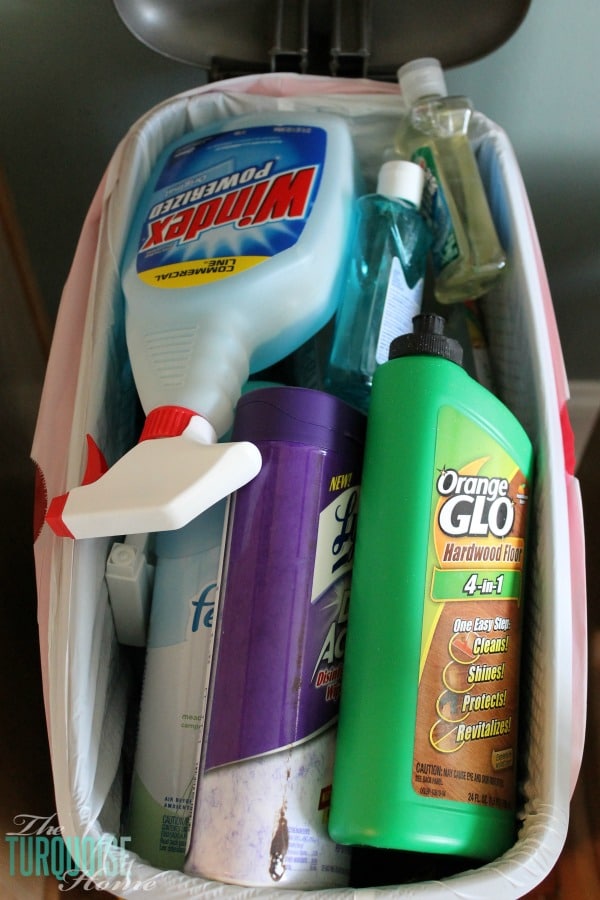 I wiped the cabinet down, assembled the extendable under-sink storage shelf and replaced my much-fewer cleaning supplies. I also keep things handy there like trash bags, sponges, fire extinguisher (very important!), empty glass jars (for storing and throwing away grease) and a few others items.
Now they are all organized and within easy reach. No more forgetting what's in the back of my cabinets!
Then I organized some of my most-used spices in my spice cabinet with the spice organizer. I had already cleaned it out, but it's still not organized very well.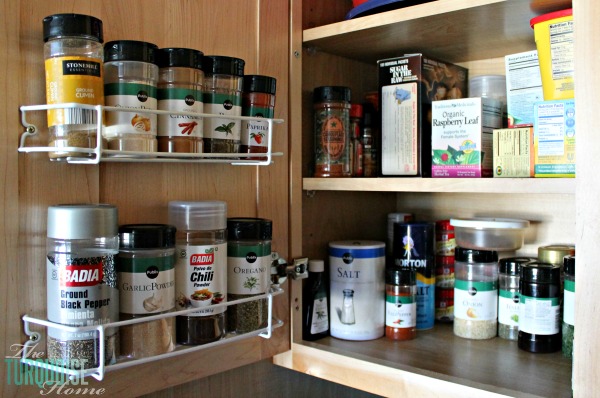 Adding my most used spices to the cabinet door keeps me from wasting time by digging around among all of the other spices to find what I'm looking for.
**Note of caution when screw in anything to your cabinets, make sure that the screws you're using aren't so long that they will break through to the other side. The screws that came with the spice racks would have been too long for using on my cabinets, so I grabbed some smaller screws from my stash.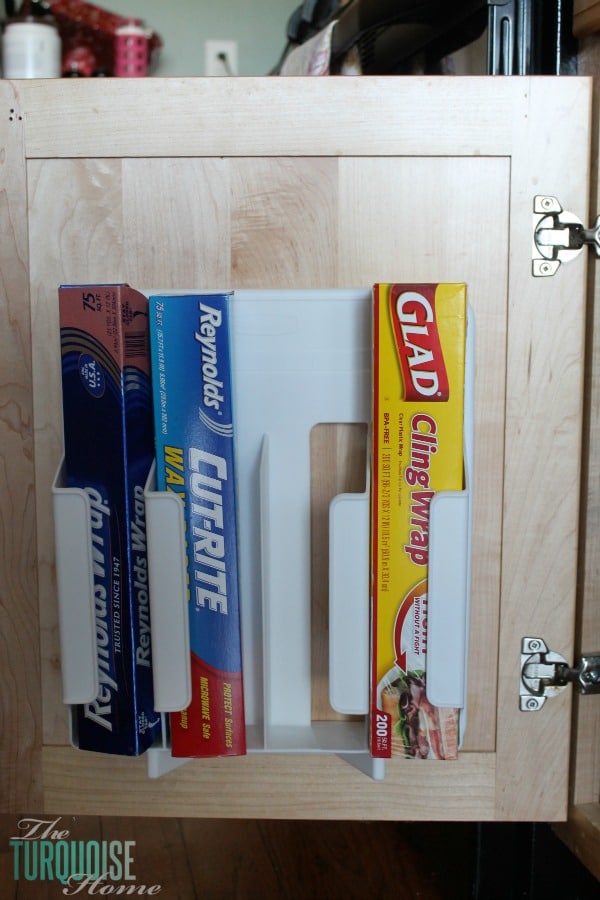 By adding my wraps and foils to the inside of this cabinet with the bag & kitchen wrap organizer, I am able to free up another drawer in the kitchen. Awesome!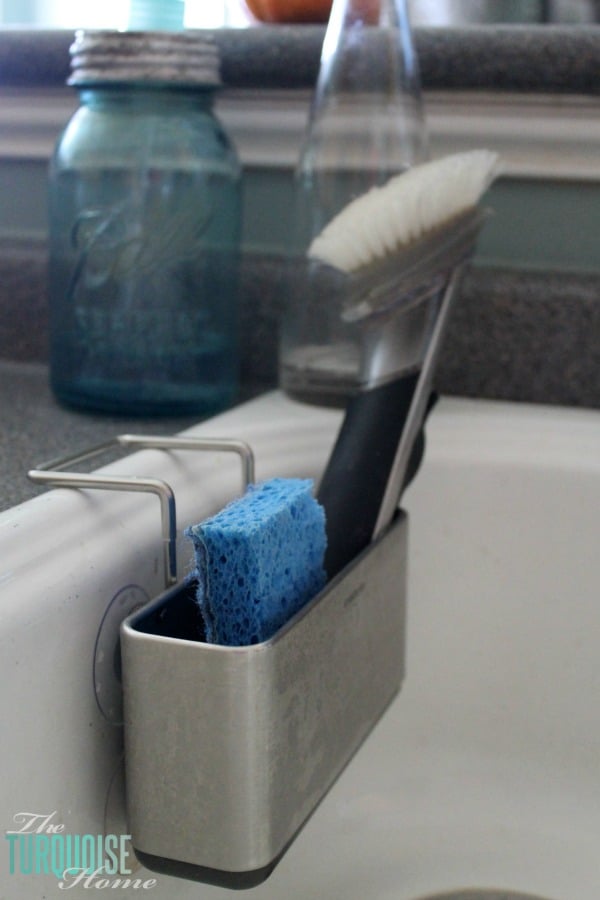 And this addition might just be my favorite. It wasn't pictured in the supply picture above, but that's because I ripped it out as soon as the box arrived from Ace. I had an old caddy that we got when we married 5.5 years ago. It did its job for a few years, but eventually fell apart and I threw it away. I've been on the hunt for a replacement to hold our dish sponges, brushes and scrapers ever since, but couldn't find anything I liked. But I LOVE Simple Human products and when I saw this, I knew it was going to be great. Seriously, am I gushing about a dish sponge caddy? Why yes, yes I am. It's so awesome that my husband noticed it immediately and thanked me for getting it. Ha! Anyway, it just keeps the sink area so much tidier.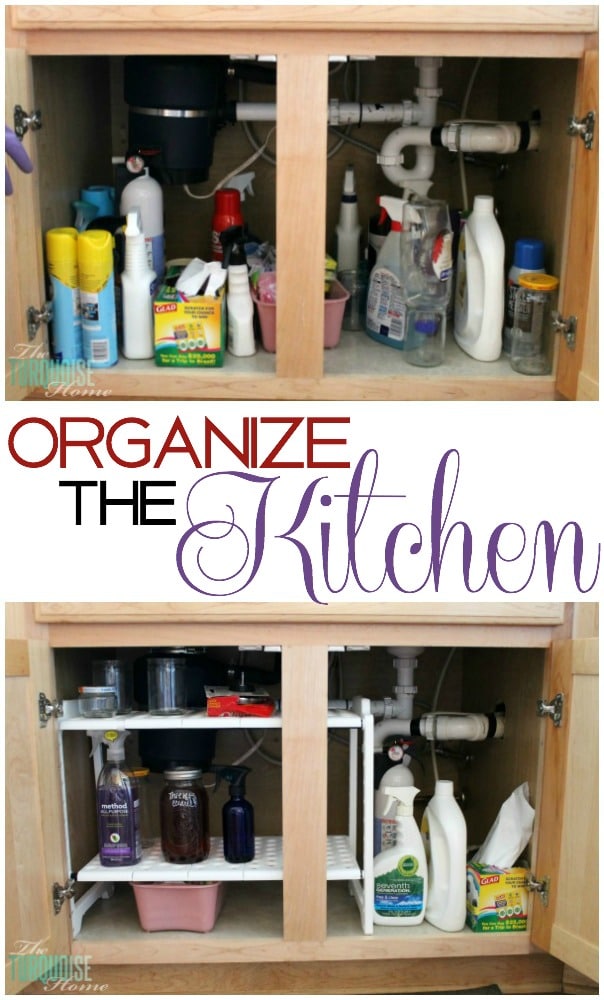 Don't miss out on the behind-the-scenes fun!
Disclosure: I am a member of the Ace Bloggers Panel and Ace Hardware has provided me with the organizing supplies. They also compensated me for my time and this blog post. All opinions and positions expressed here are my own and do not necessarily reflect those of Ace Hardware.