Have I told you lately that you are awesome!?
Seriously, THANK YOU from the bottom of my heart for taking my reader's survey last week. (If you didn't get in on the fun, then I'd love to get your opinions here!)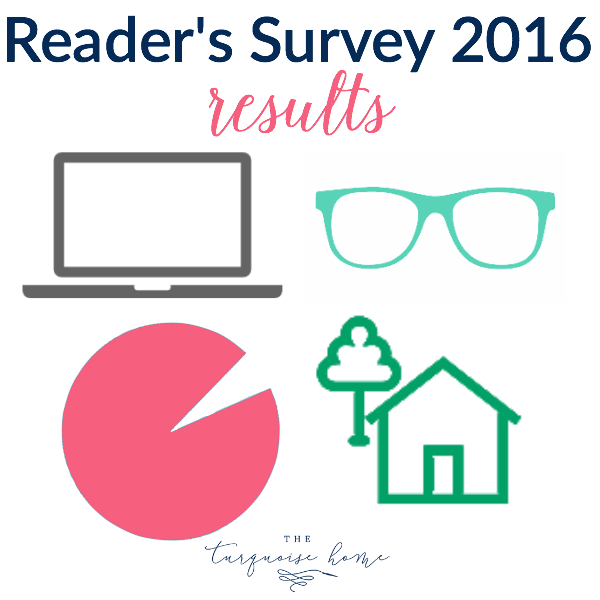 I have only conducted one other reader survey since I started the blog, but both times I've been floored by how genuinely nice and sweet you ladies are. And I can say ladies, because every single person who took the survey was a lady. I figured as much, but you never know! There my be some men lurking around The Turquoise Home – and if you are, then you're welcome here, too!

I want to share about your responses and some changes that are coming here at The Turquoise Home very soon, but first – the winner of the $50 Target gift card!!
And without further ado … the winner IS ….
Jenna H. – YAY!!!
Jenna, I've sent you an e-mail, so please respond within the next 24 hours. 🙂
OK, now on to the fun results and to share some of your sweet comments and questions. I loved, loved, loved, hearing from y'all.
2016 Reader's Survey Results | Nerd Alert
Male or Female? – All the ladies. Throw your hands up!
How old are y'all? – This one surprised me the most! I don't know if it's because this age group may have more free time, so they have more time to take my survey, but here's the breakdown of ages: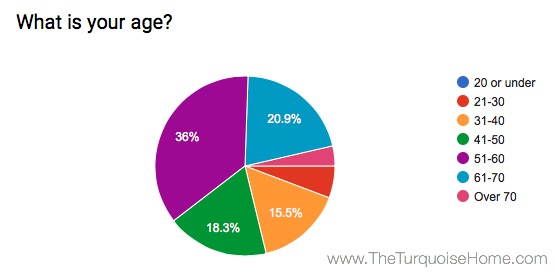 According to my Google Analytics, most of my readers fall into the 25-44 age range, but the survey was much different. No matter, really. I'm just glad you're here and want to be my friend! 🙂
Education? No surprises here. My stats have always said that I have a well-educated audience. I mean, of course, right? Y'all are smart ladies! *wink*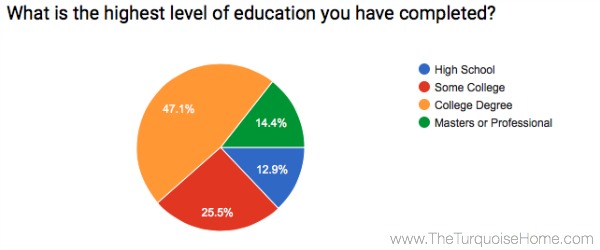 Marital Status/Home Status/Decor Budget? The majority of you are married (79%) homeowners (90%) and 78% of you having less than $300 to spend on home decor every 3 months. Sounds about like me! I bet that's why we're such good friends.
Kids and Work? Of those of you who took the survey, many of you have grown kids and work outside of the home.
How'd you find me? 46% of you found me through Pinterest and 34% of you found me through someone else's blog. I'm so glad you found this little corner of the blogosphere.
How do you want to communicate with me? It's no surprise that my e-mail VIP friends filled out the survey, so the majority of you like to communicate through e-mail. I like it that way too. And always feel free to just hit reply and ask me or tell me anything. I love that! (If you're not a VIP, then sign up here!)
What type of posts do you love?
DIY Projects (yay, me too!!)
Home Decor (and this one's my other fave!)
Crafts (I like to do a few crafts here and there.)
Recipes (I love sharing my favorite, simple ways to feed my family.)
Family/Life (with a little bit of life sprinkled in…)
What do you want to see more of?
Home Decor
DIY Projects
Crafts
Recipes
Giveaways (noted 🙂 )
Sweet Reader Responses
And now for your super sweet responses. I LOVED reading them all. I'm always afraid I'll get a bunch of complaints, but you were so nice! Who doesn't want to read nice things about herself?
What Do You Like About My Blog?
These were some common themes you mentioned about The Turquoise Home. It's a little awkward to talk about what you like about me, but I'm grateful for your kindness!:

How Can I Make My Blog Better?
So many of you said that everything is great, which was so sweet. And some people elaborated a little more about what they'd like to see different. I'm writing this for you, after all, so I love to hear your honest thoughts!
Favorite Blogs to Read (other than mine, of course!)
I thought this would be fun, just to see what other blogs you're reading. Some of them you mentioned are my very favorites and I'm honored to be mentioned in the same company as these wonderful ladies. So, if you are looking for some new blogs to enjoy, your peers recommend:
That should keep you reading for a while. 🙂 Speaking of reading, this is getting really long. We're almost done!
What is One Area of Your Life That Has the Greatest Need Right Now?
---
More to Come …
Who is still with me?!? I mean, girl! That was a lot of stuff. If you waded through all of that, then thank you! It may be interesting to some (nerdy people like me) and others might have just skipped down to this part.
Since this was soooo long and I feel like we need to take a break until later, I'll be back with some exciting news about the future of The Turquoise Home at the end of this week. Don't worry, I'm not going anywhere. It's just going to get better! (NOTE: there's a clue in this post somewhere. Does anybody have any guesses?! Hit reply and tell me!)
I mean this from the absolute bottom of my heart – I am so grateful for you ladies who tune in to read every week. I'm ever thankful for your loyalty and kindness to me as your Internet friend. It's truly a joy to share my heart and my home with you all!
xo,
Get Instant Access to my Guide to Customize Your Home on a Budget
Grab your FREE guide for 10 Ways to Customize Your Home on a Budget: simple projects to transform your home from builder beige to a home with character and charm!