Hey friends! Today is a fun day! At least I think it's fun… haha! I recently took a "real-life home tour" on Instagram stories and shared it all there. But since I know not everyone follows me there (but you should! 😉), I thought I would make it into a video and share it here as well!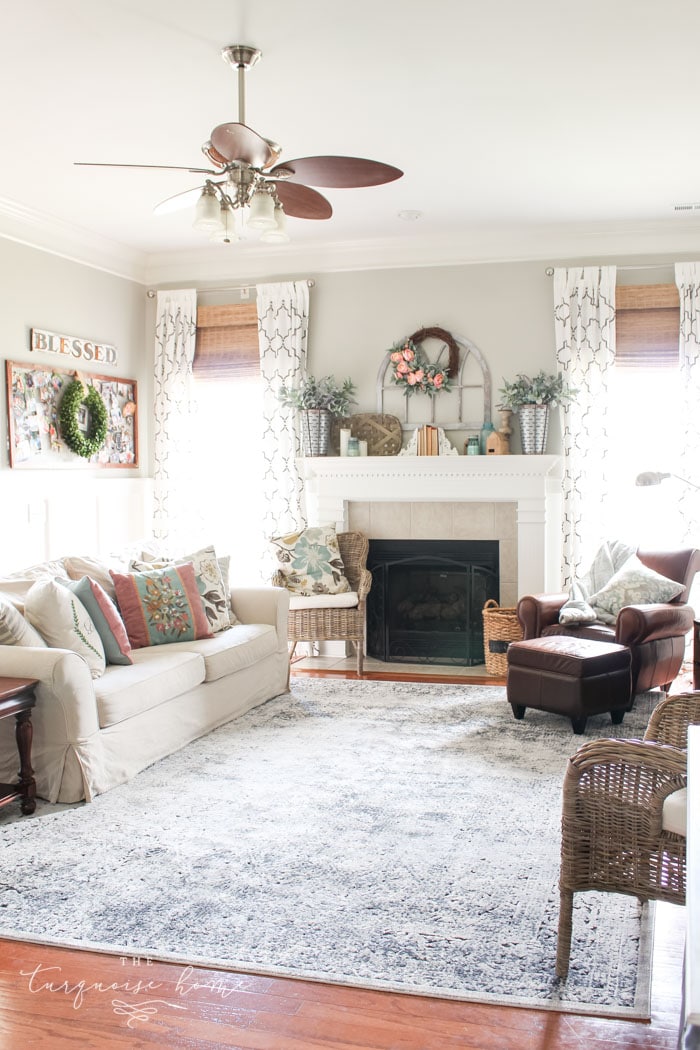 It's a long one, but it's full of allllll the behind-the-scenes footage of my home. I tried to go through and note the video time when I share each room below. And I make some notes as well because there are things that I talk about that have already changed in the last month.
Also, if you see something that you want to know where it's from, you can either search it in the search bar at the top of the page, or you can go to my "Shop My Home" page (here) and it should all be linked there. You can always leave a comment below and I'll try to answer them as well.
In my Real Life Home Tour you will see …
How my dining room looks on a regular day.
What my daughter does to my chalkboard when I step out of the room to use the restroom.
An up-close look at my new living room rug!
And the never-before-seen Laundry Room!
Plus much, much more!!
2:00 – Front Porch & Foyer
3:35 – Living Room with a good look at the new rug! I also mentioned the broken couch and how we wanted to replace it. But my frugal side wanted to see if I could fix it, and I did! I used my ever-amazing Kreg Jig tool to create a brace for the broken board on every side of it. And so far it seems to be holding up really well! I just wanted to get as much use out of it as possible. 😜
6:26 – The Gallery Wall in my Living Room – The awesome console table can be found right here!
7:00 – The Dining Room in all its messy glory! Here's a more recent, prettier view of the dining room.
9:48 – The Eat-in Kitchen. I mentioned that I hadn't shared about my new bamboo blinds, but I have since I filmed the video! You can check out Everything You Need to Know to Choose the Best Bamboo Shades right here!
11:19 – The Kitchen. If you're interested in the reclaimed wood treatment on the bar wall, check that out here! And if you'd like to see my open kitchen shelves all decked out for spring, they are right here!
Some sources:
16:10 – The Never-Before-Seen Laundry Room! Click here to see the ironing board hanger tutorial!
20:00 – The Command Center in the hallway
20:50 – The Master Bedroom
23:45 – The Master Bathroom
25:55 – My Older Daughter's Room
27:05 – Our Girls' & Guest Bathroom
28:15 – My Office & Guest Bedroom
29:25 – My Younger Daughter's Room
I hope you enjoyed the tour! Again, if you need to know about any sources, then click on my Shop My Home page. And if you want to know about a tutorial, please use the search bar at the top right of the page. Or feel free to ask me questions in the comments below!
Have a blessed day!
Get Instant Access to my Guide to Customize Your Home on a Budget
Grab your FREE guide for 10 Ways to Customize Your Home on a Budget: simple projects to transform your home from builder beige to a home with character and charm!