A Coastal Summer Living Room & Kitchen
It's time for my annual summer home tour! And by "summer home" I just mean my normal home with a little bit of a summery, coastal vibe, not a home we visit only in the summers. We're not that fancy. 😜 At least not yet. 😉
I was very close to just leaving everything the same as I had decorated for spring because 1) I really loved my spring decor and 2) I am always looking for ways to make my life easier. There's no need to create more work when what you have is perfectly fine.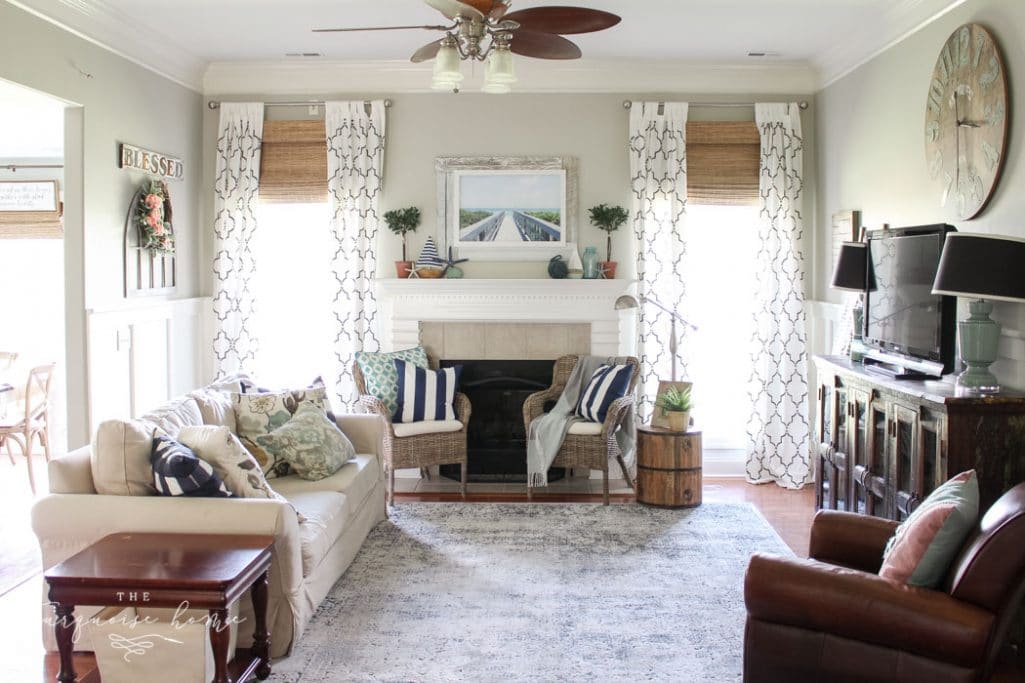 But in the end, my love for all things coastal won out and I switched out a few things. Nothing crazy, just added a few starfish, my old sailboat and some new bay leaf topiaries that I love. I put back up my framed canvas beach art on my mantel that I made last year as well. It's my favorite place to vacation: Highway 30A.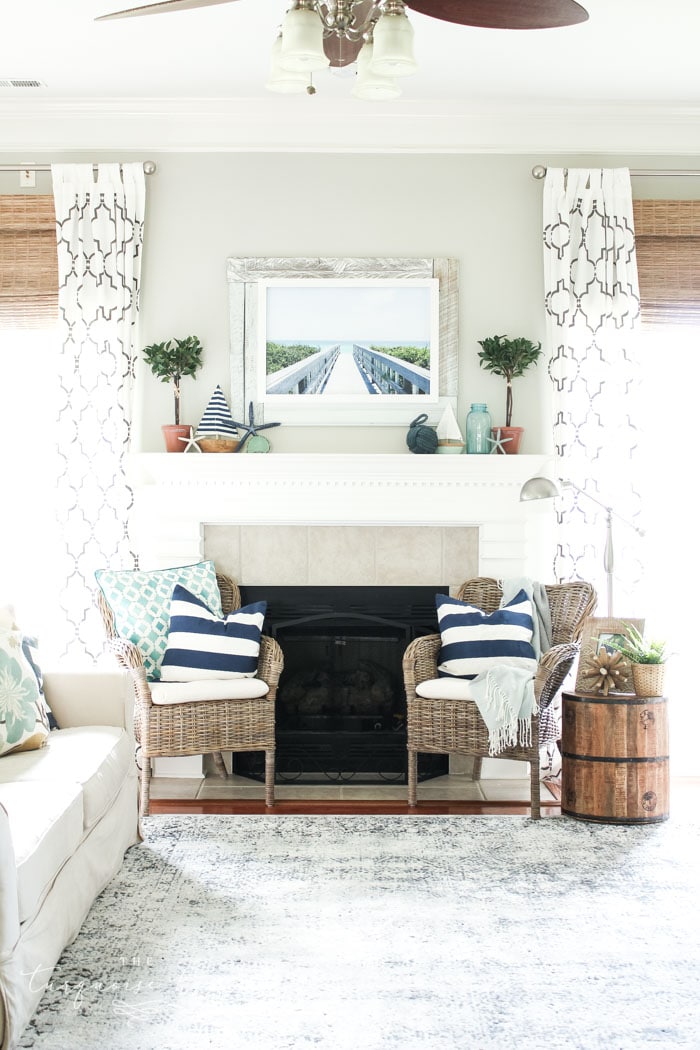 Click here to see all of the details of my summer mantel!
I've decided to mainly share my living room and kitchen as a part of my tour today as they are by far the most used rooms in our home and the rooms I always spend the most time decorating. The fireplace and mantel are the first things you see when you walk in the front door, so I want to make sure they are always looking fresh and fun!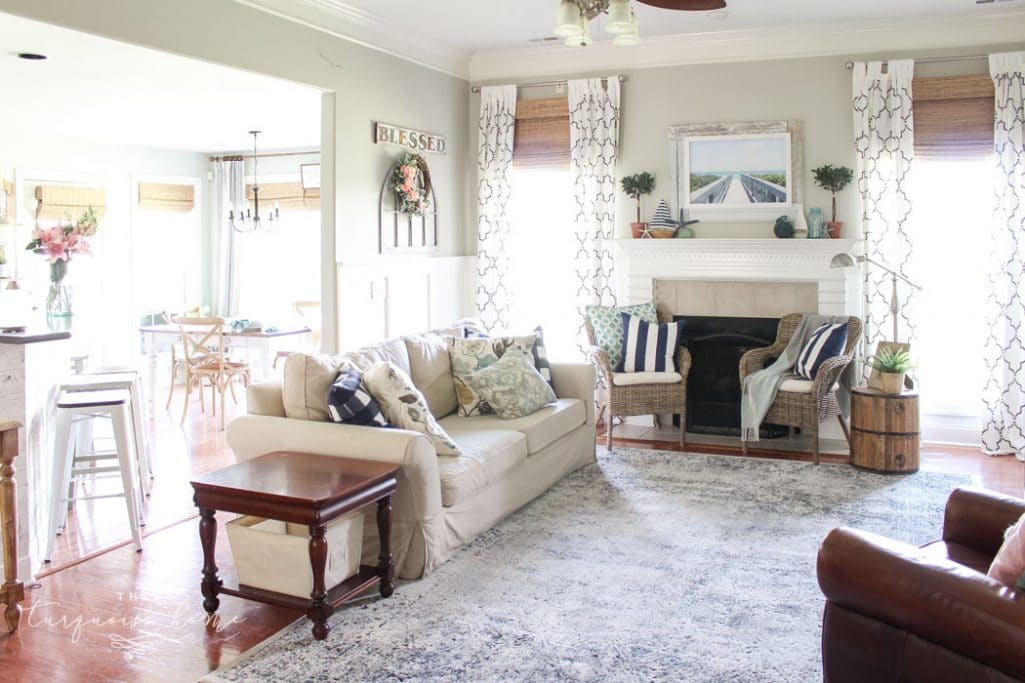 The area rug is new and I love it because it hides dirt and crumbs from the kids so well. It's the Abbeville Eclectic Dark Gray/Navy Rug in the 9 x 12 size. I just noticed it's back in stock from being out of stock for a while, so grab it if you've been eyeing it. It's SUCH a great price for such a large rug! It was a really fun change from our old rug, which you can read all about in this post.
The bamboo shades in my living room and kitchen are new additions as well. I wrote a long, thorough post about everything you need to know before ordering bamboo shades.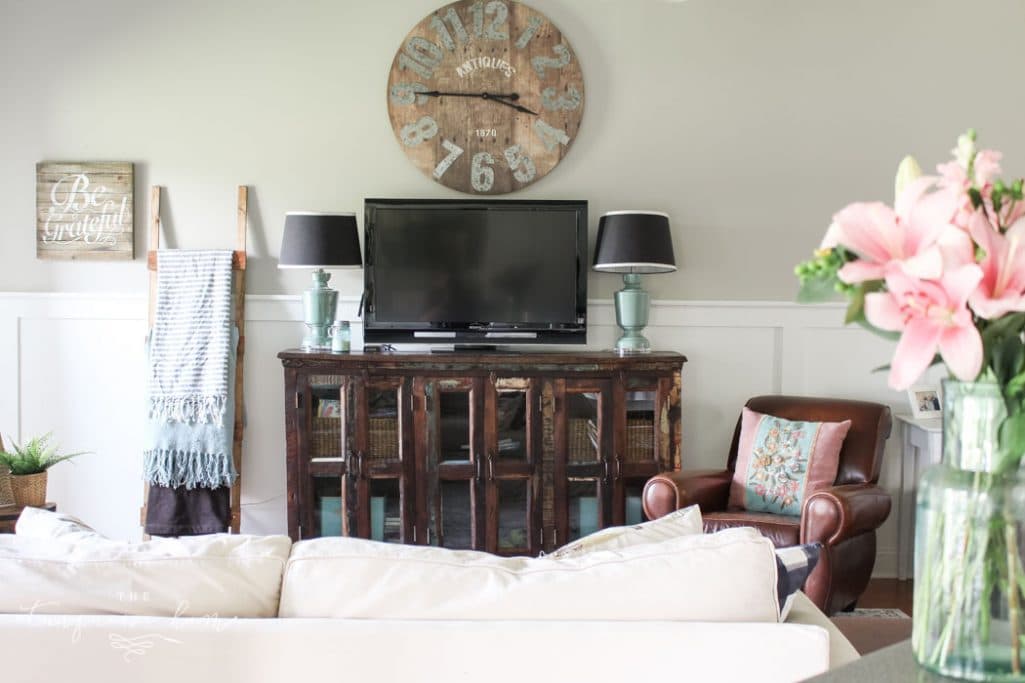 Our sofa is about 6 years old from Pottery Barn and we love it! It's slip covered, so if the kids (or adults) spill something on it, I just remove the slip covers and they wash right up! It's the Comfort Grand Sofa, which used to be sold at the regular Pottery Barn store, but it's now sold in 3 colors at Pottery Barn Kids. (Looks like the gray color is on sale right now!) I guess they figured out what we figured out long ago, that this couch is perfect for kids and snuggling for the whole family. ☺
Our media stand is one of our favorite pieces of furniture and we get asked about it all the time! It's from Nadeau and they have such affordable pieces! I made the blanket ladder on the left side of the media cabinet, which is a fun way to store blankets year-round!
SHOP MY LIVING ROOM – scroll & tap the images below to shop each item

Just past the living room, to the left you'll find our kitchen and eat-in dining area.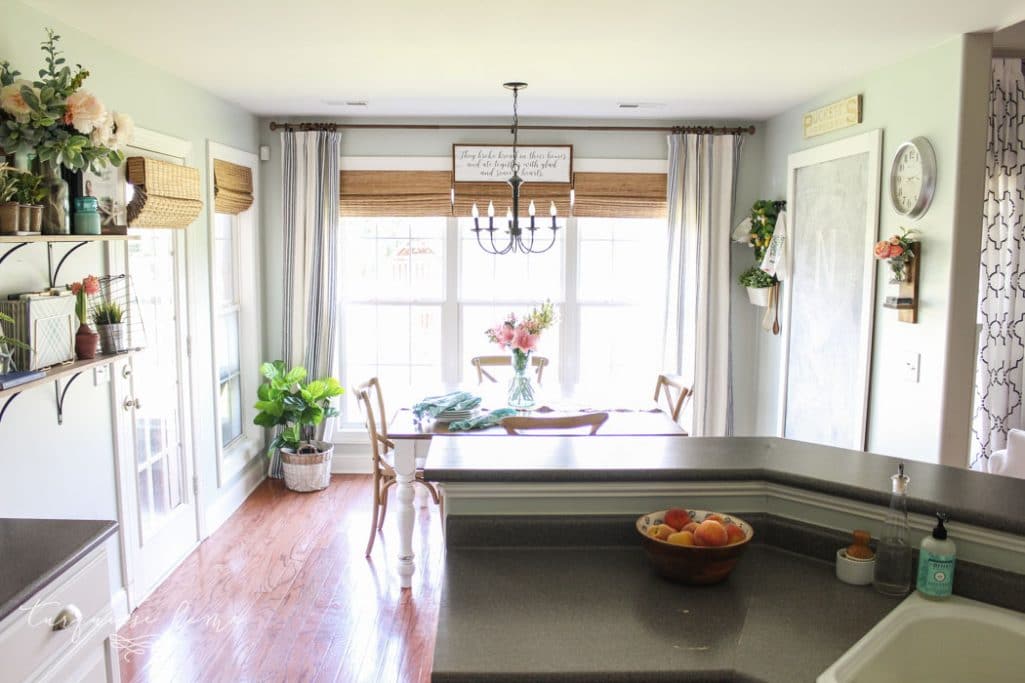 Just this spring I finished making over our little eat-in kitchen area. It wasn't particularly bad before (you can see all of the before pics in this post), but it just wasn't my style anymore and needed a little refresh. I love how it turned out!
I added some fresh flowers in the center of the table for summer (in my favorite blue glass vase) and added my last year's lemon wreath to the IKEA fintorp system I hung on the wall in the right corner.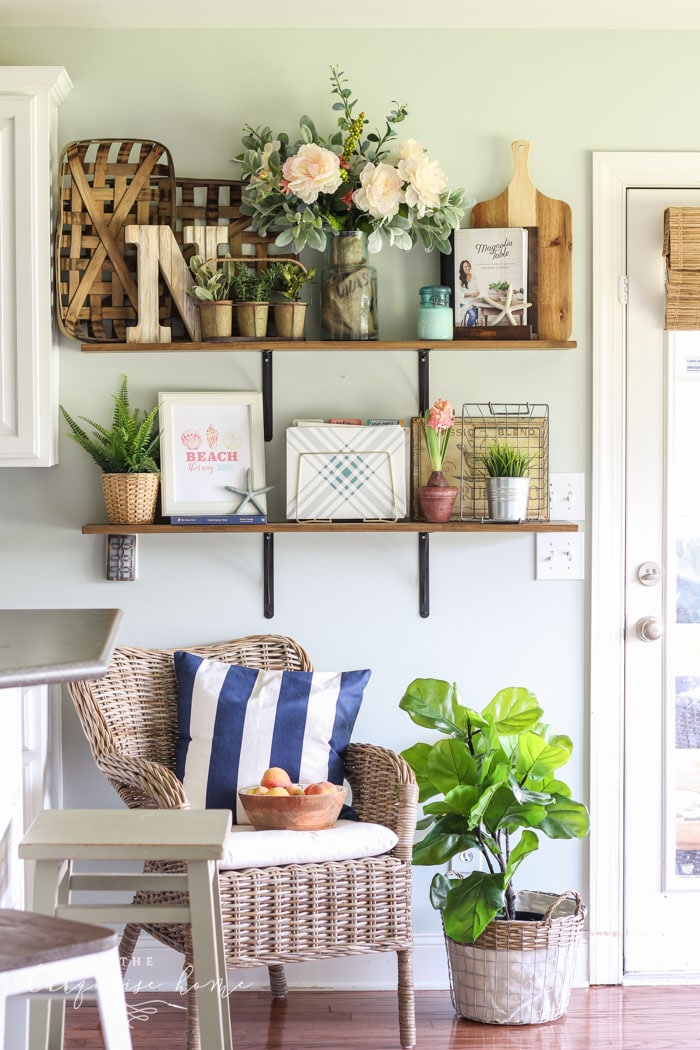 The open shelves in the kitchen are another DIY project that I made – and all for less than $40! Whoop whoop! I love updating them for each season and changing them out with new fun printable art! I created some cute summer free printables for my house and I shared them over on this post. Go grab some for your house, too!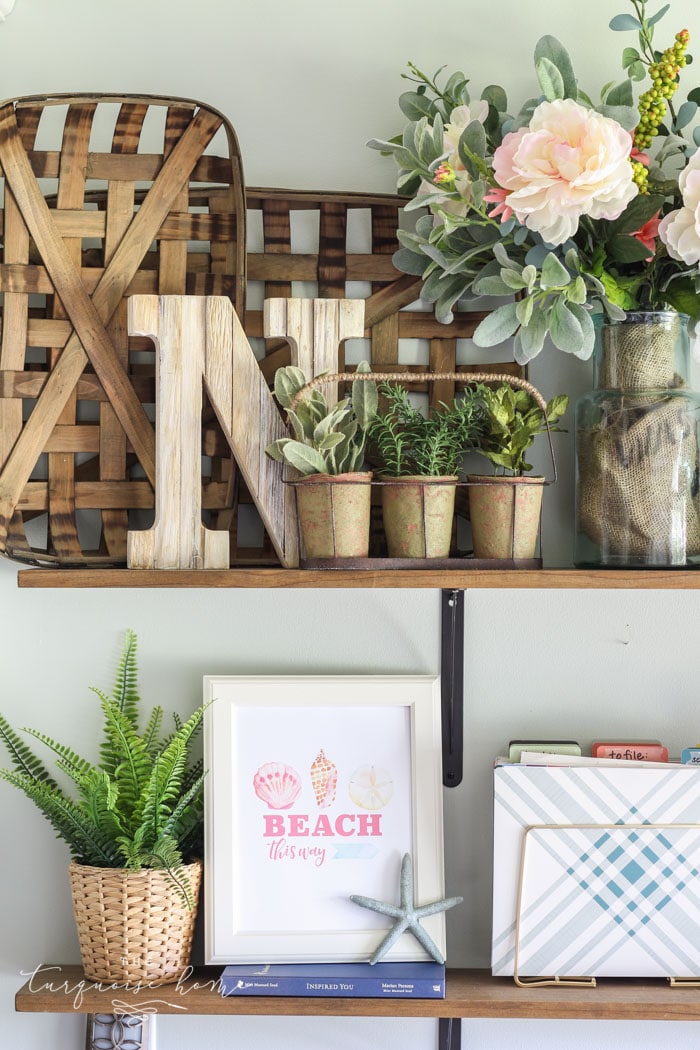 The new filing system is one way I've been trying to keep myself organized with the hundreds of papers that seem to make their way across my counters every week. It definitely helps!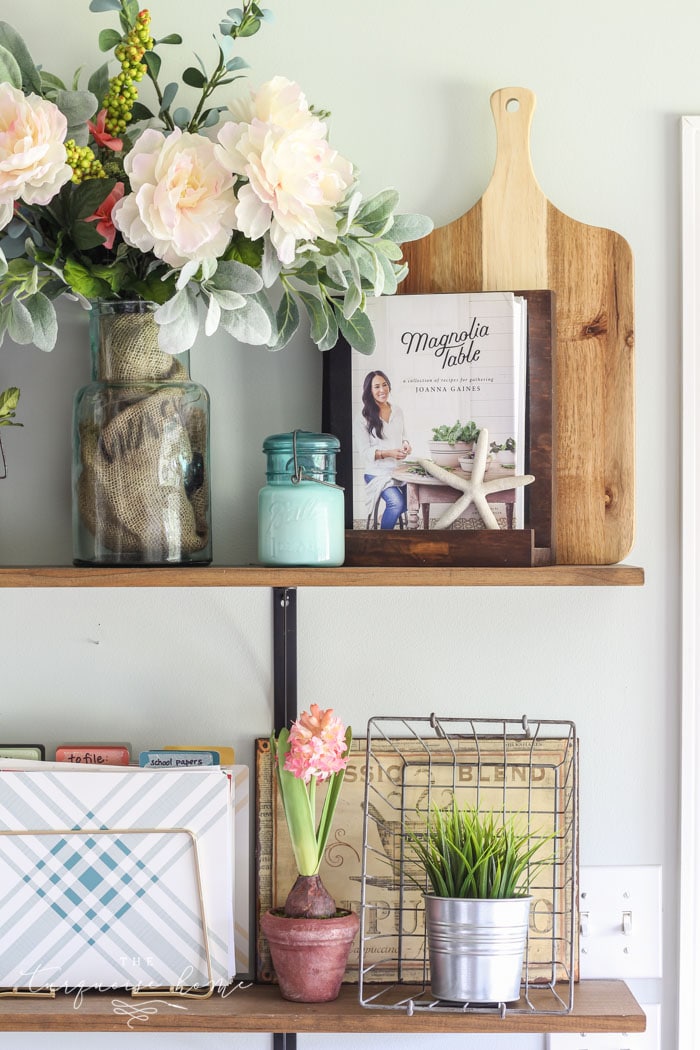 SHOP MY SHELVES & EAT-IN KITCHEN – scroll & tap the images below to shop each item

Also the fresh fruit is so yum in the summer! I bought a bunch of strawberries the other day and had to make a strawberry pie just because they looked so delicious! (It WAS delicious and you can make your very own strawberry pie with my mom's recipe here.)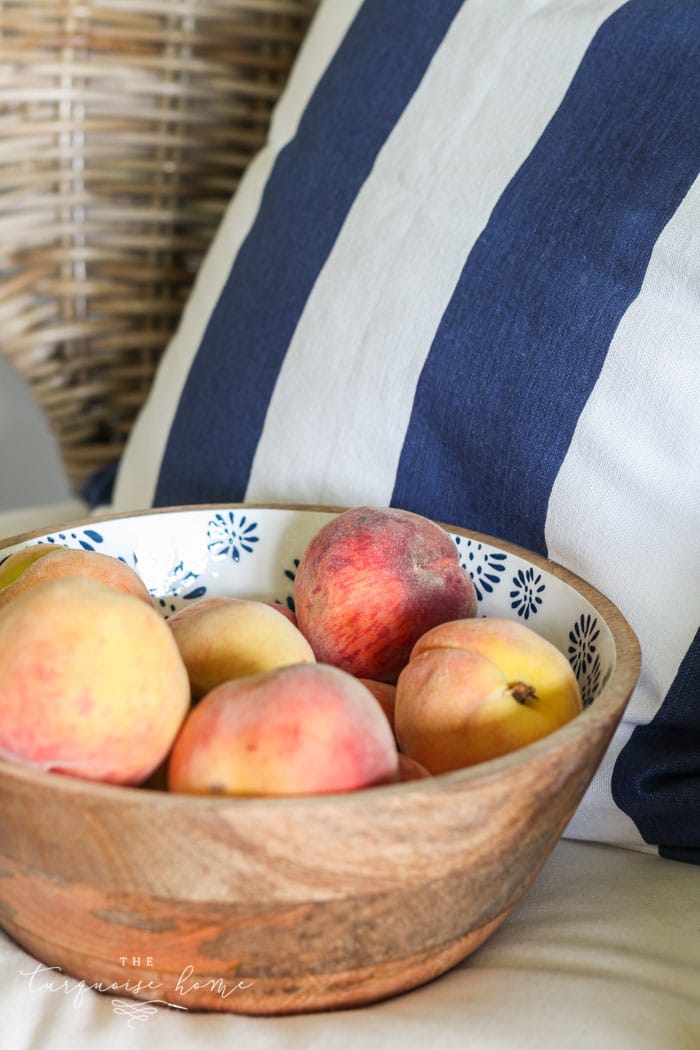 My husband picked up these fresh peaches at a roadside stand yesterday and they taste and smell heavenly. Every time I walk by I get a huge whiff of peach and I just smile. Smells like summer to me!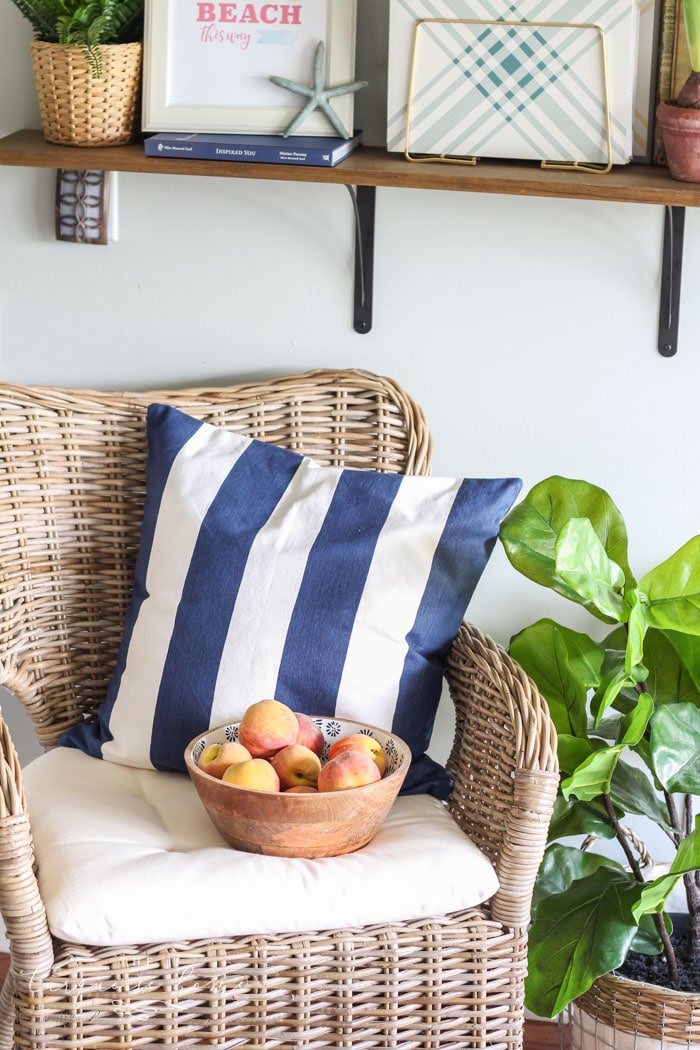 I just grabbed this new rug for in front of my kitchen sink and I just love it! I bought two rugs and tried them both out in the space and did a poll in my Instgram stories (which I saved so you can go back and watch it) to see which one everyone liked better.
I knew I was going to keep this one, because it will hide dirt the best, but the other rug won in a landslide. LOL!! I do agree that the other rug looked cute in the space, but it had some white in it and I knew it would get dirty the first day we used it.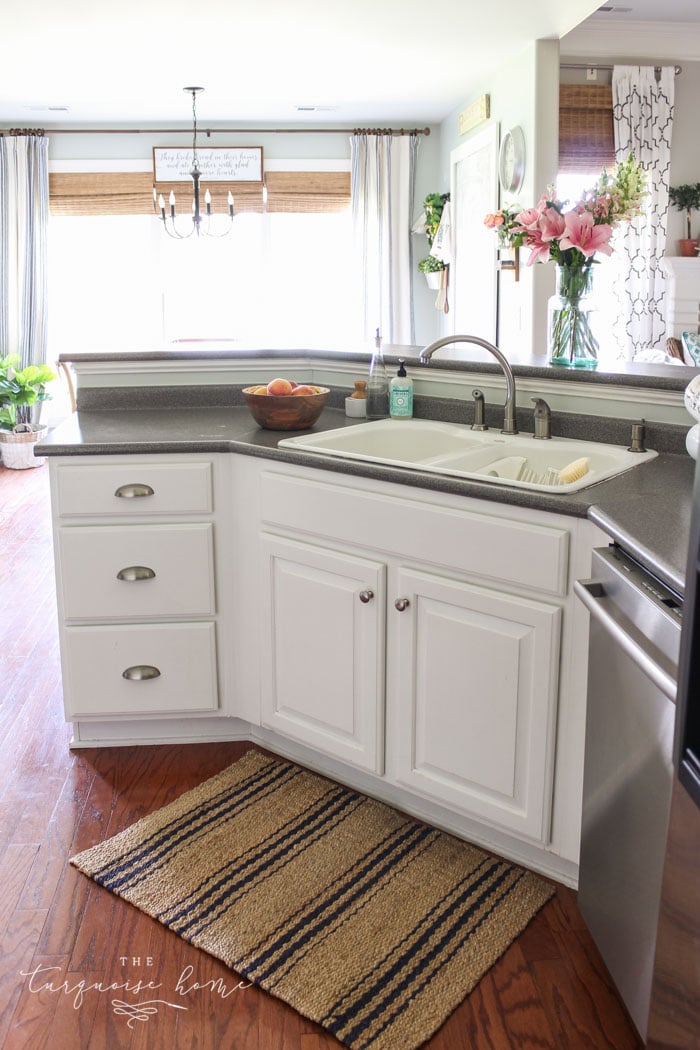 Whatcha think? I'm pretty much obsessed with all things navy stripe, so I love it!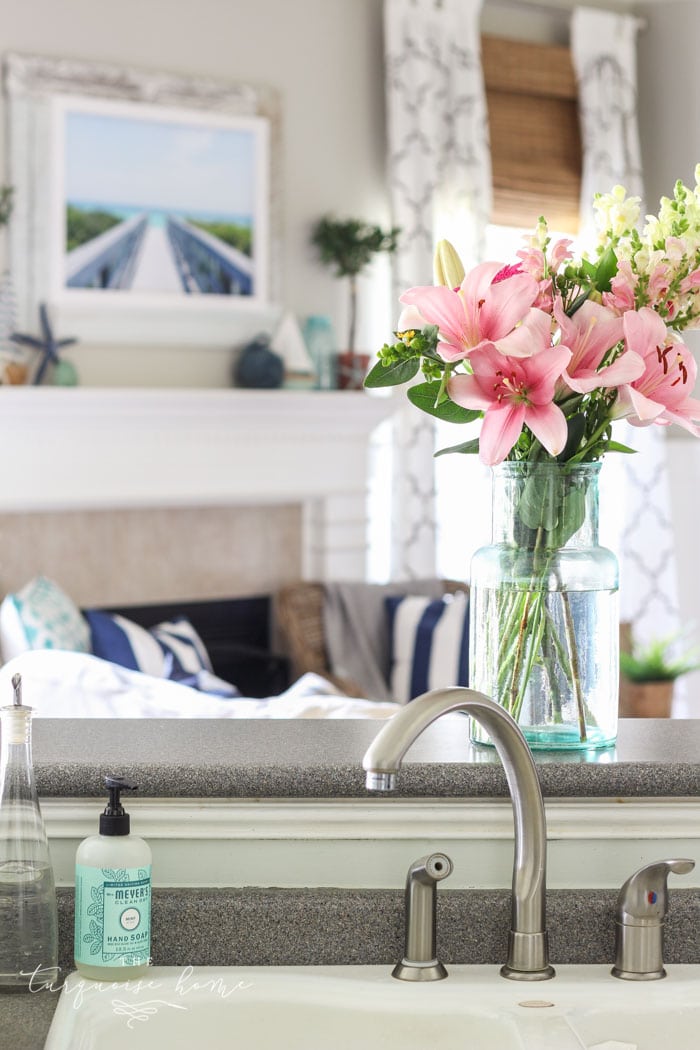 This little coffee corner isn't much to write home about, but it is my first stop every morning because my hubby always has hot coffee waiting for me! Love him!
I added another one of my summer printables to this space to change it out for the season.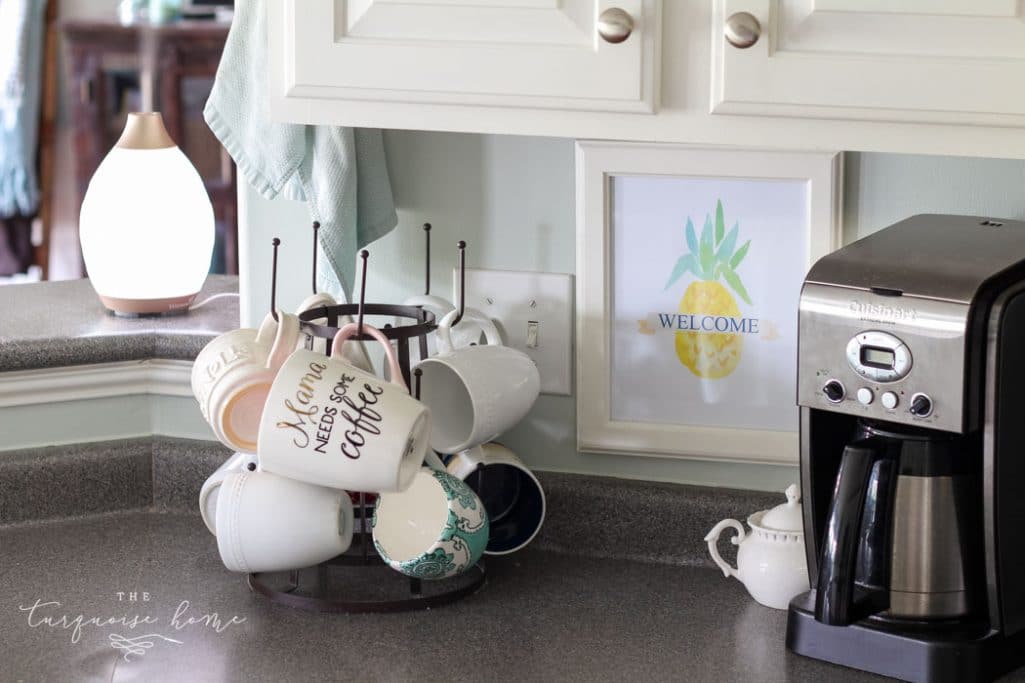 Mama Needs Some Coffee Mug – absolutely!! 😉
One more spot that I love to decorate is my little gallery wall and console table in the living room. I like changing out the little decor items on my tiered tray.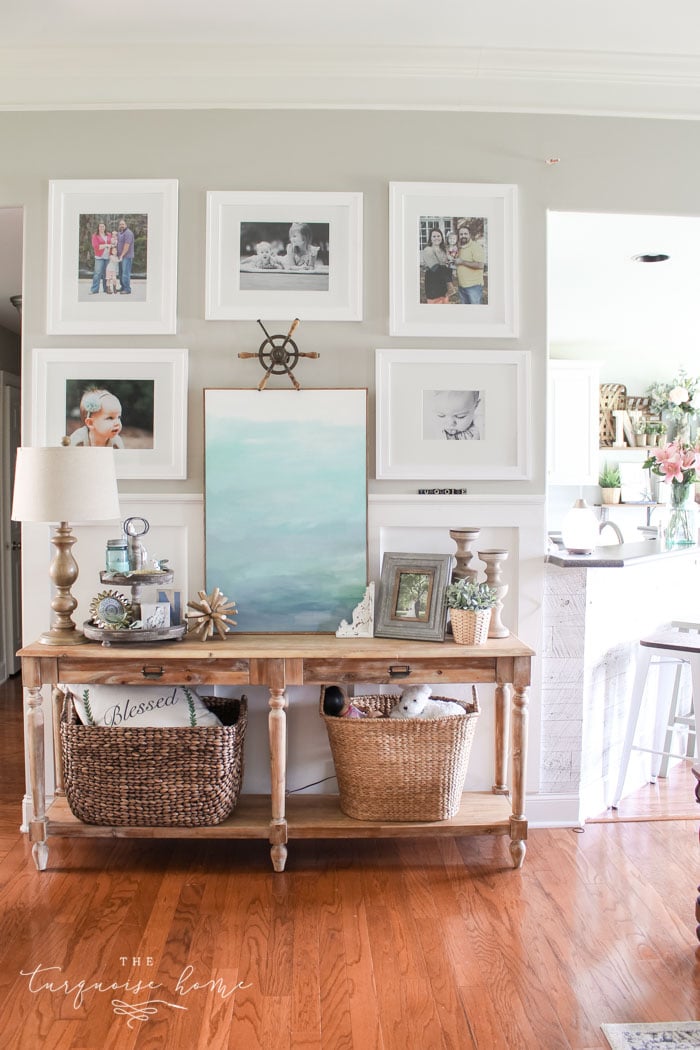 I still love the turquoise abstract art I made a few years ago and framed with the easiest DIY framing job ever!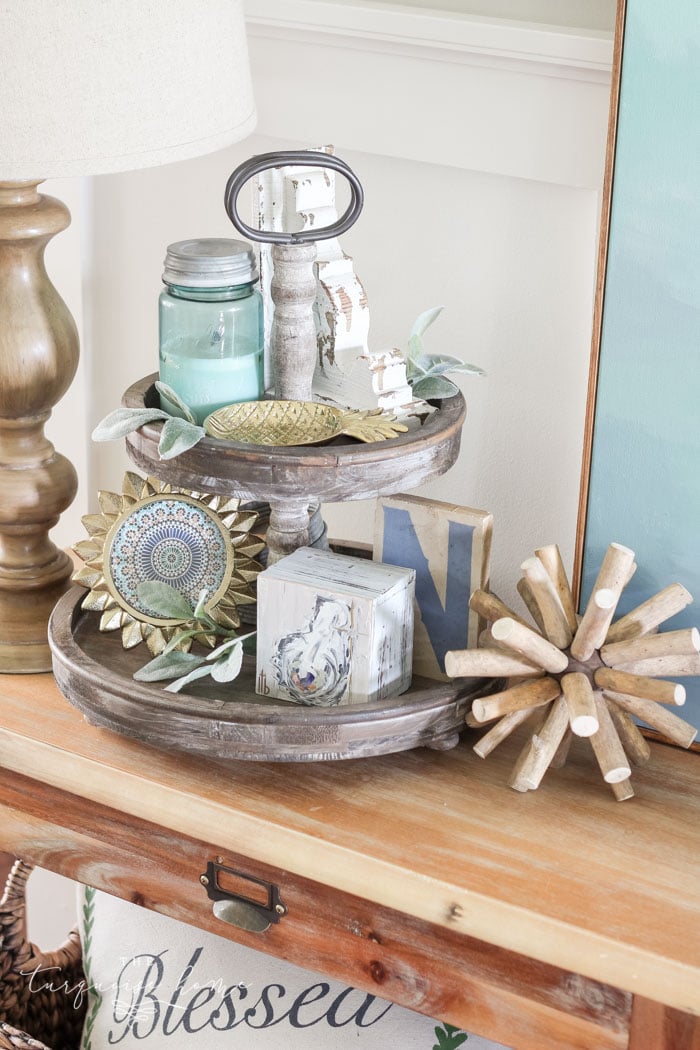 SHOP THIS SPACE – scroll & click the images below to shop each item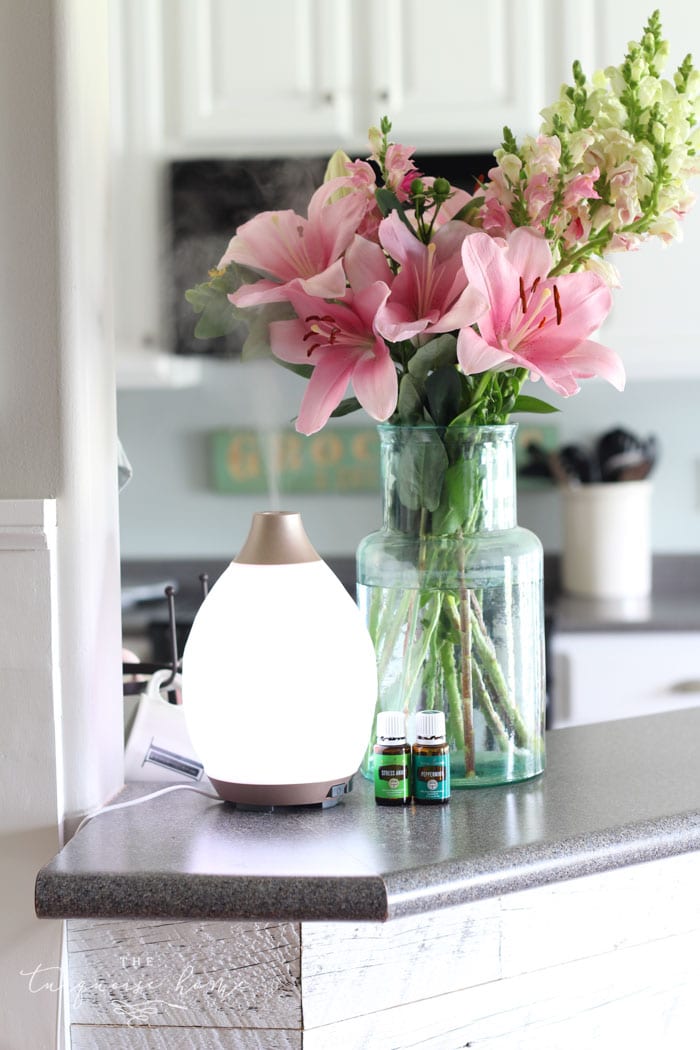 My favorite way to purify the air and make my home smell amazing is with my essential oils. My favorite afternoon diffuser blends are peppermint and Stress Away. Find out how I love to use my essential oils here.
Well, folks, that's all I've got for my summer home tour. I hope you enjoyed it!
More Posts You Will Love:
SaveSaveSaveSaveSaveSaveSaveSaveSaveSaveSaveSaveSaveSaveSaveSaveSaveSaveSaveSaveSaveSaveSaveSaveSaveSaveSaveSaveSaveSaveSaveSaveSaveSaveSaveSaveSaveSave