Hi friend! I hope you're doing well! I looked around the other day and realized I had a few fun, new home items that were making my life a little easier. So, I thought I'd share them here!
Don't you love it when you find a way to alleviate a pain point in your home? I'm talking about spaces that get messy easily, or something is "too hard" so you don't do what you need to do. Do you know what I'm talking about? If not, you'll see what I mean by the end of this post!
I realized that all of the items I wanted to share today alleviated a pain point in my life or home, so … yay!!
This post contains affiliate links for your convenience. See my full disclosure policy.
My Favorite Items Lately
Do what?! It wasn't until last week that I had even heard of such a thing. 😂
I happened to be watching Chris Loves Julia's stories on Instagram and Julia shared a comment from a follower asking her if she had a skincare fridge in her bathroom. Excuse me?!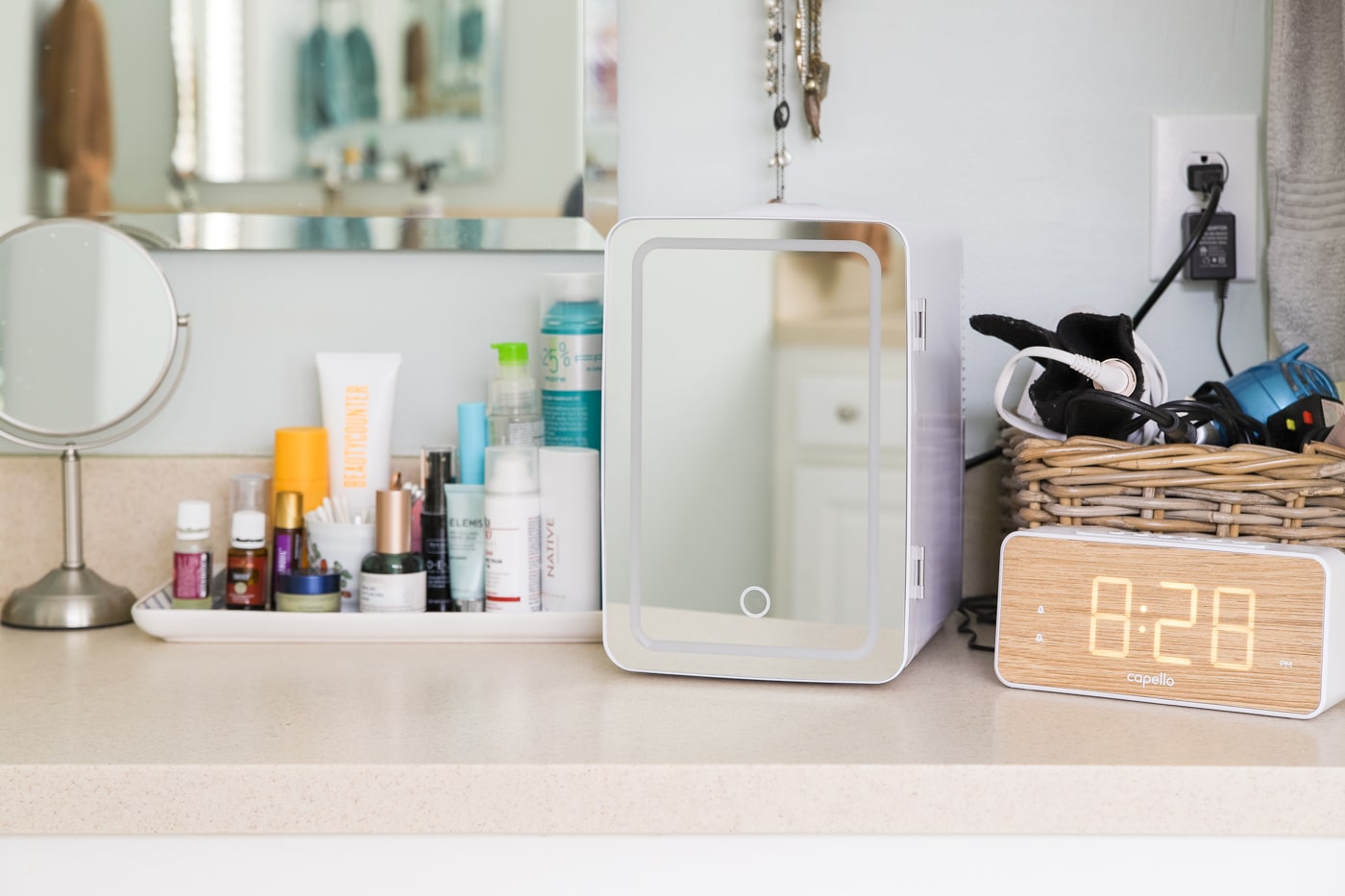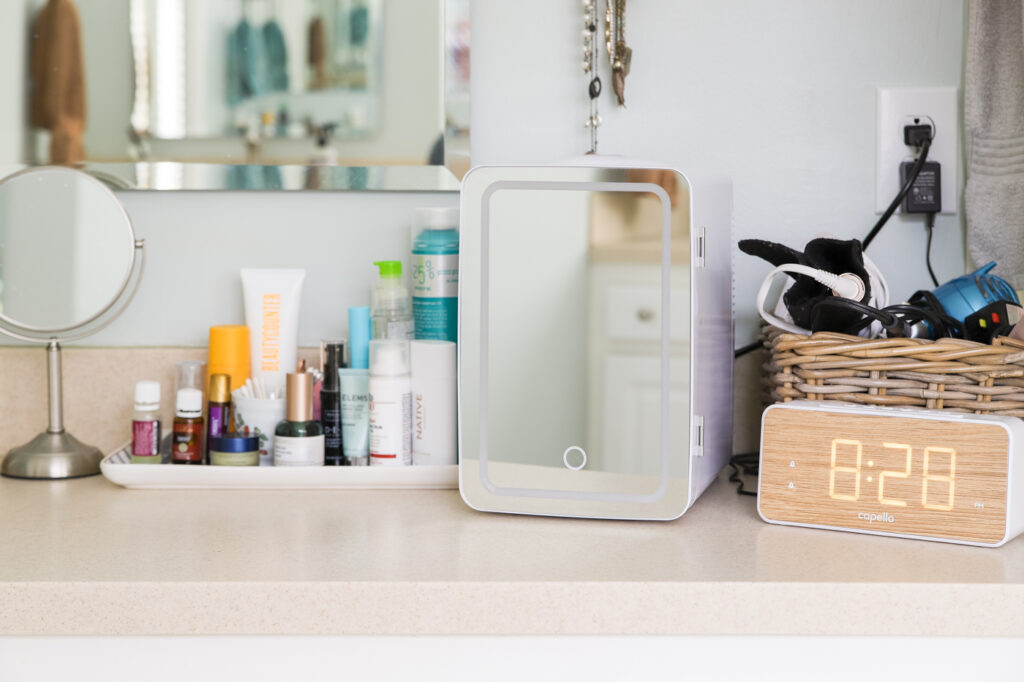 I quickly googled this idea and found that, in fact, there IS such a thing made just for your bathroom. A mini fridge for your bathroom to house all of your skincare. What a novel idea!
Currently, I have some topical face medication that I have to keep chilled in the fridge. And I use it maybe twice a month, when I SHOULD be using it nightly. But I hate to stop my skincare routine each night to walk across the house to the kitchen in order to apply my medicine. First world problems, I know … but still!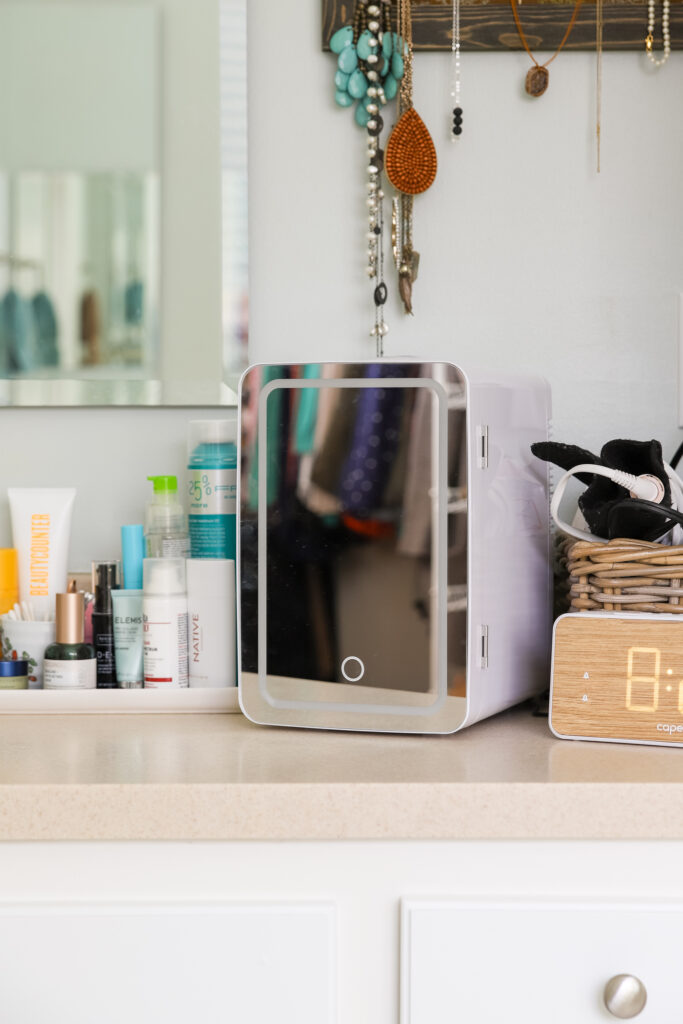 Enter the tiny mini fridge for your bathroom! I can now keep my medicine, eye masks and any other skincare products of tools I want cold in the bathroom! It is wild to me that such a product exists, but thankful to whomever decided it was a needed product.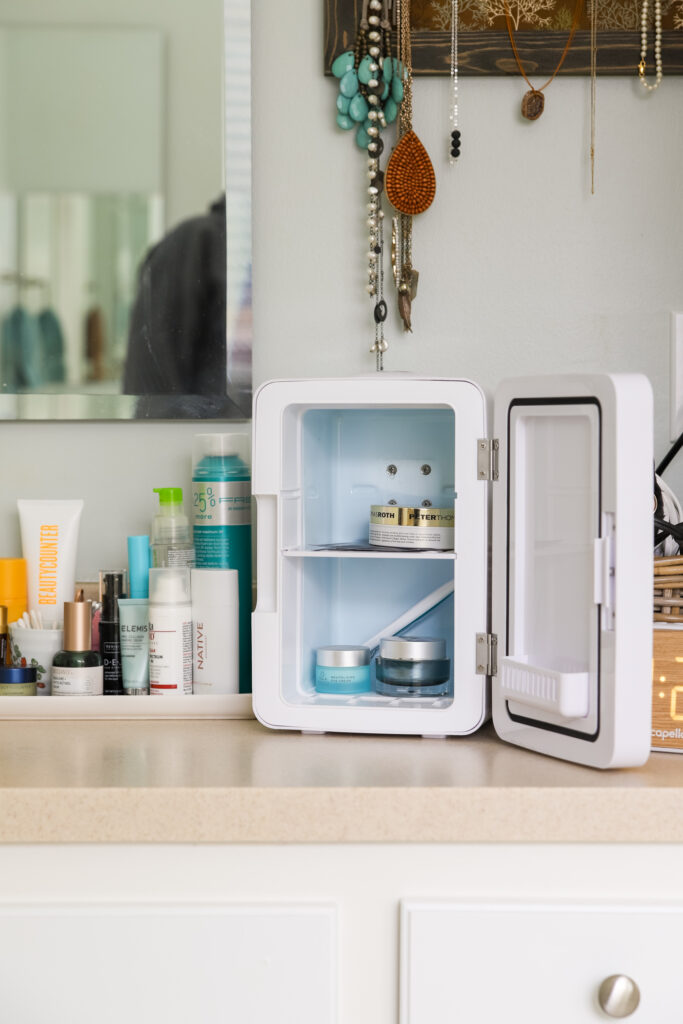 My fridge is on the cheaper side. You can definitely get a nicer one than mine. But I wanted to try it out before I spent the big bucks. (Currently the best price is at Walmart, but I don't know how long that will last. I've also seen it at Amazon.)
Mine even came with an adapter so that you could use it in the car. I can think of a few times this would have come in handy when I was nursing my kids and needed to pump and keep my milk cold.
Our front coat closet had become a disaster thanks to my system of keeping "extra" shoes on the floor. Well, I tried to keep an organizer on the floor, but no one ever used it. It was a mess! Nobody could find the right shoes and there was dust and dirt all over the bottom of the closet. Just gross!
So, I ordered this over-the-door shoe rack when I kept hearing about it from Tasha at Kaleidoscope Living. She uses it in her entryway coat closet too.
One thing I've learned over the years is that when it comes to organization, to keep as much of it off the floors as possible. If you can keep the floors clear, you can keep it clean, in my experience.
It's very good quality and has kept our shoes organized for over a month now! AND Bonus: it's so much easier to see what shoes are in there and keep the matches together. Plus, the floor stays clean! I'm loving it.
I got an Apple watch 6 for Christmas this past year. I hadn't really felt like I needed one, but now that I have one, it's very handy for keeping up with my messages and notifications without having to keep my phone on me all day long.
But one thing that's bothered me since my husband got his Apple Watch a few years ago, is the charging cord situation. Why is it SOOO short?!? 🤪 The watch charging cord is so short and it makes his night stand look messy. And every time we close the blinds or curtains behind his night stand, the cords fall back behind and he has to dig them out every night.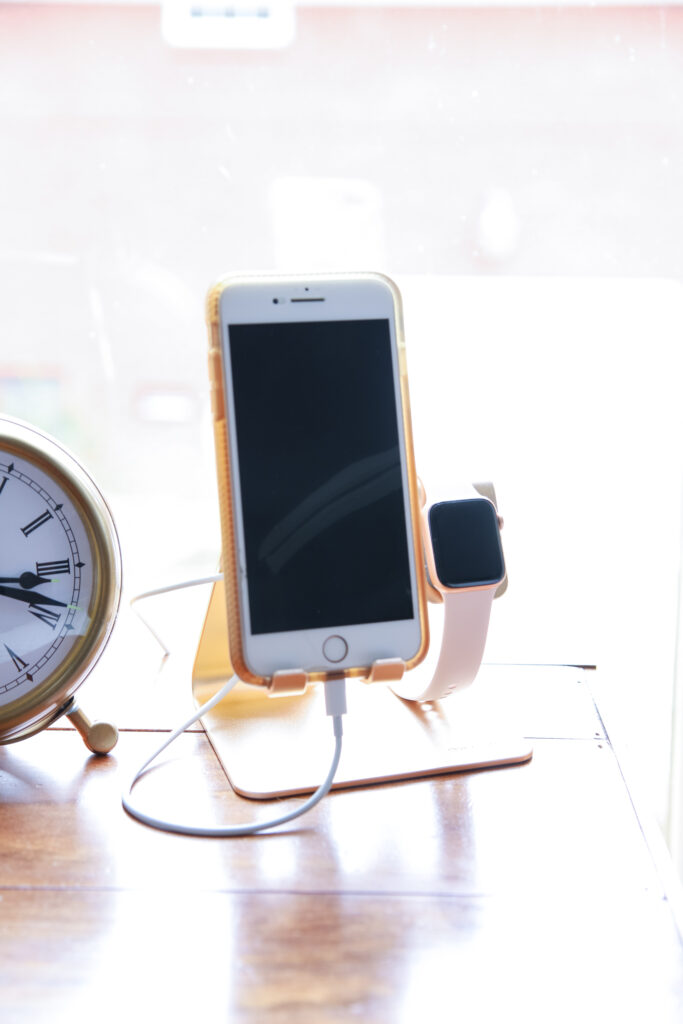 He's never cared about doing this, but I've watched him do it for so long that I was determined NOT to follow in his footsteps when I got my watch. So, I ordered a little phone/watch organizer to keep on our night stands.
Wow! Such a world of difference! The phone chargers are always in the right place. The weight of the stand keeps them from falling behind the table and it makes it look nice and neat!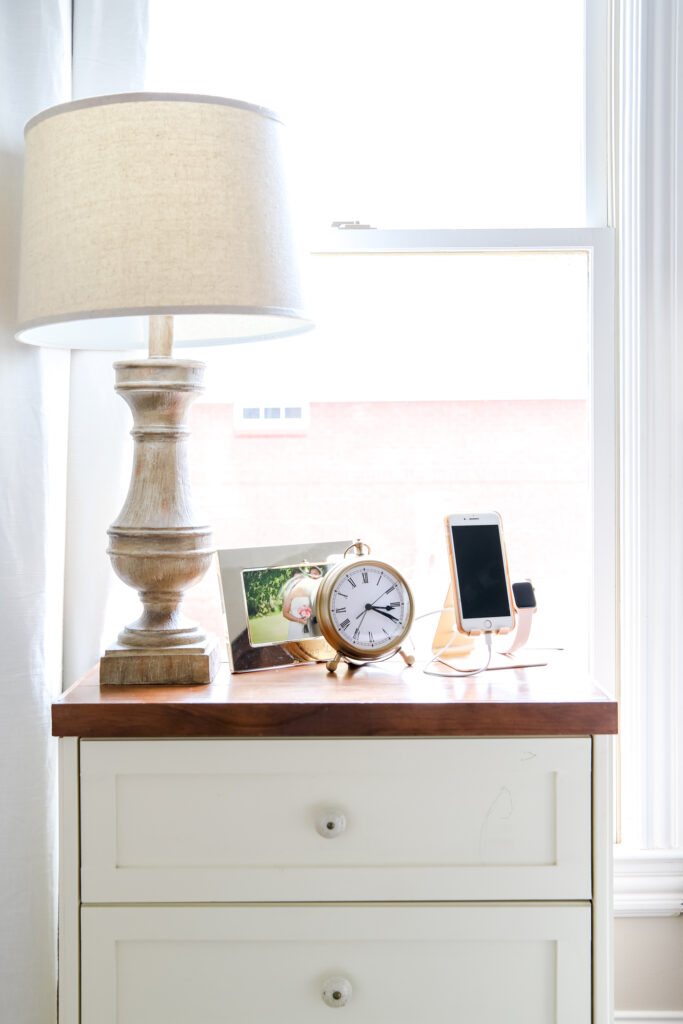 I know many people cut a hole in the back of their night stand drawers and run their cords through there, but we like our phones and watches on the table, so this is what works best for us!
If you live in a home larger than 1,800 square feet, you may notice that your regular wifi router doesn't extend to all corners of your home. We've always had issues with wifi reaching the parts of our home furthest from the router.
I have bought several plug-in extenders over the years and none of them worked very well. Womp. Womp.
When we moved into an even larger home in 2019, we really had an issue. And when all of your TV's are streaming devices that only work when they are connected to wifi, it can really be annoying when they drop wifi all of the time.
So, one day I was reading our neighborhood forum and read a thread where people were complaining about dropped wifi. And several people mentioned this eero Mesh Wifi System and how it carries wifi to every part of a larger home.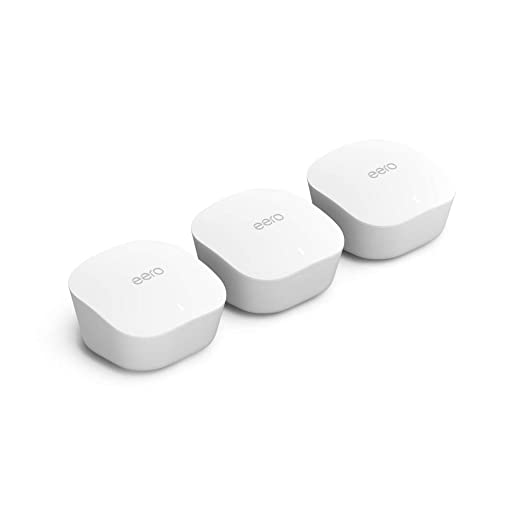 From what I understand, you have the main router, and then two or more other routers that will connect to the main router and extend the wifi signal to the rest of the home. (I put it together. It was so easy, but I still might not understand fully how it works. LOL)
Our main wifi router is in our kitchen, so our bedroom and guest bedroom were both in the no-wifi zone most of the time.
Since we've set up the mesh wifi system and added the extenders upstairs and in my office, we've not dropped wifi once. It's amazing!
With working from home, kids doing school at home and TVs streaming on wifi, it's been awesome to always have available wifi in all corners of the house. 🙌🏻
---
Anyway, I know that's a random list of gadgets, but I really do appreciate how each thing eliminates a problem (as first world problems go) and help me be more efficient and more organized! I hope they will help you too if you have a similar pain point in your home! ☺️
MORE POSTS YOU WILL LOVE: