Spicy White Pimento Cheese
As long as I can remember I have turned my nose up at pimento cheese.
Blech, double blech.
You see, the only memories I have of ever eating it are at my grandmother's house when I was a little girl. She had some store-bought pimento cheese and I thought it tasted terrible, so I haven't touched it since.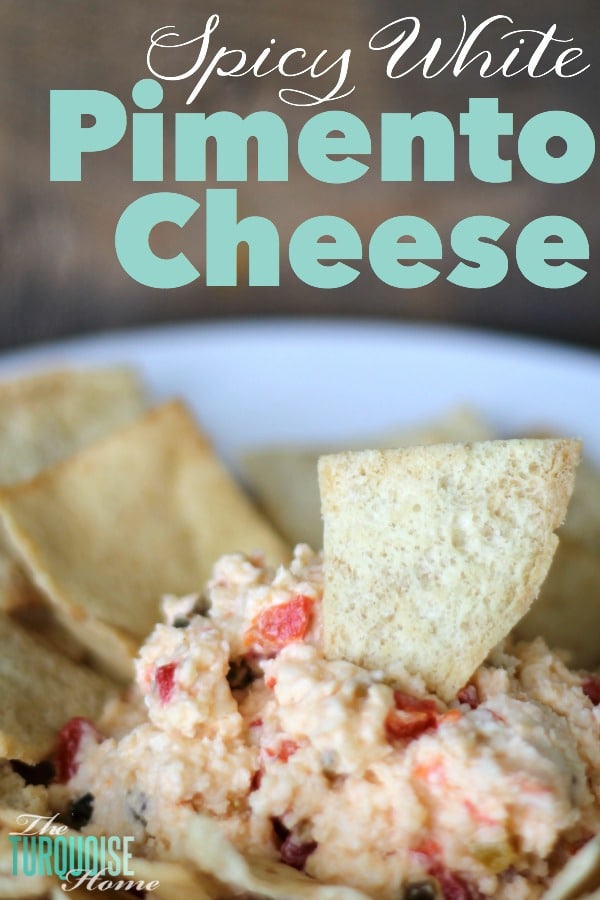 And I'm a huge texture person, so the texture of it just made it worse. Plus, I'm not a fan of mayonnaise, so double yuck.

Fast forward 30 (ish) years and I was recently attending a workshop and there were snacks. (I heart snacks!) I had a list of what those snacks would be, but when I went through the line, the food wasn't labeled. So, while I knew there was (yucky) pimento cheese on the menu, I mistook it for some yummy-looking cheese dip.
Let me just tell you, my world was turned upside down that day. I fell head over heels in love with *gasp* pimento cheese.
Thankfully it's served at a cafe near my home, so I can run by and eat it whenever I want.
Which is never, because when you have a 4.5 year old and a six month old, the chances of nap times and feeding times aligning so that you can swing by a cafe for lunch are slim to none. Therefore the need to recreate this scrumptious delicacy at home was born.
And then I remembered a pimento cheese recipe I'd screen shot from one of my favorite authors on Facebook. Last August, the hilarious Jen Hatmaker posted her recipe for pimento cheese and it sounded skeptically delicious. So, I took a screen shot in hopes that someday I'd remember and try to make it.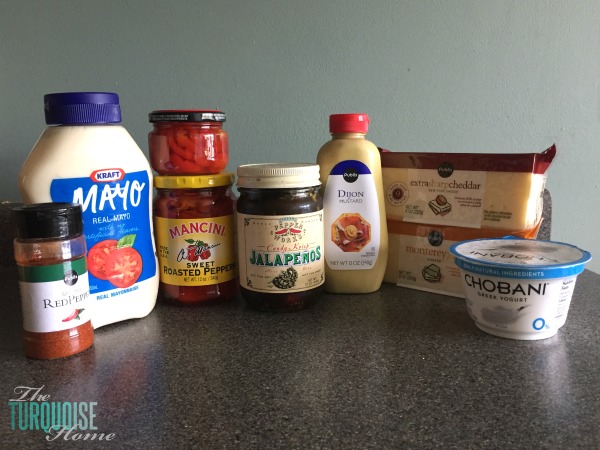 Well, that day came last week and let me just tell you that this recipe is magic. Sweet angel singing magic. I took Jen's recipe and tweaked it just a tad and am sharing it here with you so that you don't have to live another day without this incredible treat!
Spicy White Pimento Cheese
This delicious variation of pimento cheese will give a sharp twang and a spicy punch to your tastebuds. It'll keep you coming back for more and more of its cheesy, creamy, booty-kickin' goodness!
Author:
The Turquoise Home
Recipe type:
Appetiser or Entree
Ingredients
8 oz. extra sharp white cheddar Cheese (block)
8 oz. monterey jack cheese (block)
¼ c. of real mayonnaise (Since I don't love mayo, I use a scant ¼ a cup, but it's a little crumbly the next day, so maybe use more if you want it to stick together after day 1.)
¼ c. plain Greek yogurt
1 T. dijon mustard
¼ c. chopped pimentos
¼ c. roasted red peppers
¼ c. candied jalapeños
2-3 dashes of cayenne pepper
salt and pepper to taste
Instructions
Shred the cheese in a food processor or use a hand shredder.
Combine all ingredients.
Enjoy with pita chips!
I think you will LOVE the candied jalapeños and the kick that it gives. Plus the twang of the extra sharp cheddar cheese is pretty much to die for.
Do you even like pimento cheese?
What is YOUR favorite way to make it?!?
MORE POSTS YOU WILL LOVE: