A few weeks ago I realized that my spring and summer shoes were quite worn-out and I needed to find some replacements.
I started with some basics in my closet: some slip on sneakers, wedges, every-day sandals (flip flops) and flats. I've had these shoes more than two years at least and some have major signs of wear and tear.
So, I started shopping. I have to tell you that my feet are a size 11, so I'm a little bit more limited in my selections than most people. I found some fun options along the way, but they weren't available in my size. So, if you are also blessed with large feet, then maybe these will be good options for you too. But really they are good for any shoe size!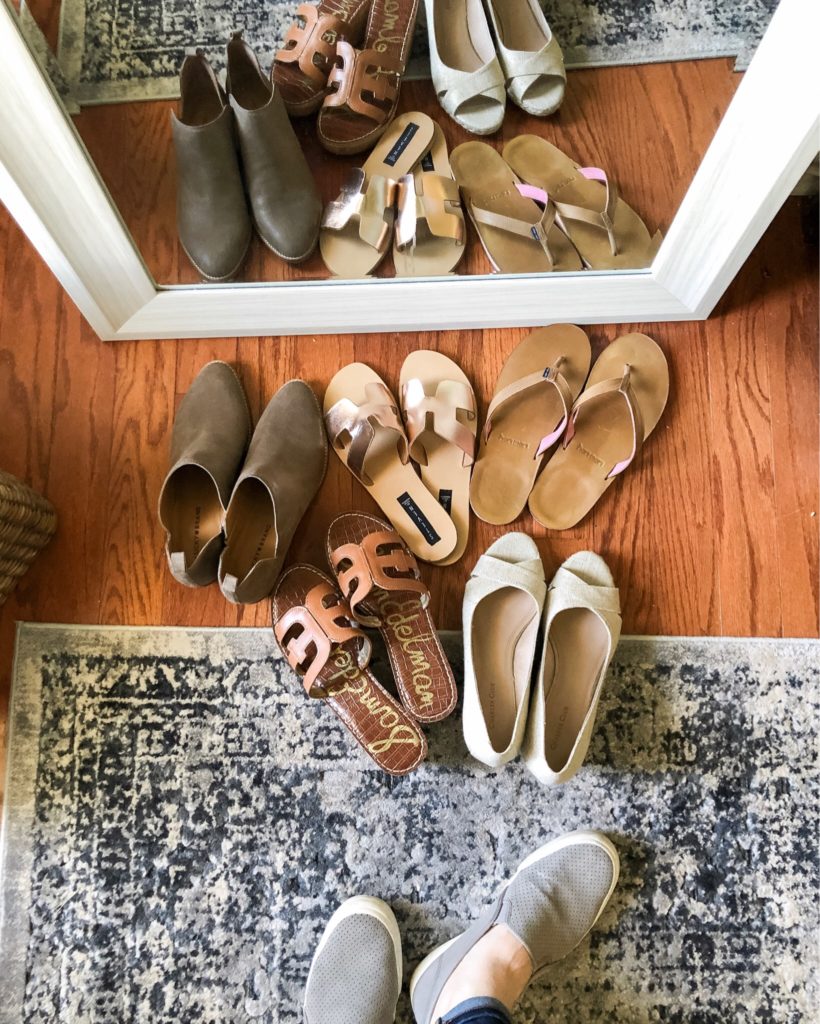 I did a full try on of all these shoes in my Instagram stories, so click here to see that.
The Wedge
I found three options to replace my old wedges. I was looking for an espadrille slip-on wedge, as an ankle strap tends to add more bulk to my already bulky feet. But I found 2 espadrille options and 1 cork option.

The Cariama Espadrille Wedge – I love how comfortable this wedge is. I love the espadrille detailing on the sole and I love the color. I'm not sure that I love the bow fabric on top, but after asking everyone's opinion on Instagram stories, the overwhelming consensus is that they're cute. What do you think? They are so comfortable. Let me know in the comments if I should keep them!
The Strappy Leather & Cork Wedge – I love the look of these wedges, but they aren't as comfortable as the first pair I tried on. I'm thinking I'll keep these because I do really like how they look and they are comfortable enough!
The Toniie Wedge Slip On Sandal – I love, love, love the look of these shoes and they are SUPER comfortable! I think they run a tad large, because I ordered my normal size 11 and they slip off my heels some. I was going to exchange them for a 10, but I don't think those will fit either, so I'm going to keep them and see if they do OK when I wear them. I may just put something sticky in the inside of the heel to keep my heels in place. I really love them!
The Flat
I have a deep love for my Birkenstock sandals that I've worn for the past couple years. But truth be told, they are getting worn out and I need to replace them. I found a causal replacement and a fancy one. And to be honest I need arch support in my flats, which is why I love my Birks. But I kinda wanted a new look, so I tried these:

Leather Flip Flops – I love the look of these cute slip flips, that have some arch support and are made out of memory foam. My only complaint is that they run a hair too small, so size up if you're between sizes!
Fancy Greek Key Slides – I saw these all over the place last year and Target even knocked them off they were so popular. The only problem was that my size (11) was sold out everywhere. Thankfully I found the early this season and I got them in my size! There's no arch support, but I don't plan on wearing these all day, just for special occasions. I think they are cute and pretty comfy for non-arch supporting shoes.
The Bootie
I don't already have a good spring/fall transitional bootie, so I snagged this pair when I saw them on a fashion blogger. I have these wedge booties from the same brand and they are super comfortable, so I had high hopes for these. Perfect for those transitional months when the weather's not too cold or too hot, but you want to keep your toes covered.

Ankle Booties – These booties are so comfortable, fit true to size and I love the "brindle" color. Such a great color for spring and fall! I know I'll be wearing these out with my skinny jeans all year long. I love the heel height and the side notches too. There's nothing not to love! (I got the most response from these in my Instagram stories try-on and everyone seemed to just love how these looked, so definitely worth a try!)
Those are all of the new shoes I tried on and I think I'm keeping them all after all! HA! I really was planning to try some on and send them back, but I'm not sure which ones I would part with.
I hope this different kind of post was helpful. I love it when other bloggers review stuff they've tried even if it's not in their main niche. So, let me know in the comments if this kind of stuff is helpful or not! ☺️ (Promise you won't hurt my feelings. 😉)
MORE POSTS YOU WILL LOVE:
Get Instant Access to my Guide to Customize Your Home on a Budget
Grab your FREE guide for 10 Ways to Customize Your Home on a Budget: simple projects to transform your home from builder beige to a home with character and charm!