Sprucing up the Back Porch
Is it odd to be posting about sprucing up my back porch when it's almost winter outside? Probably so, but here in the South we can use our back porches almost year round, depending on the day of the week. Just this past weekend, Coach and I were sitting outside as Miss A played on her swing set in the back yard. I mean, sure, we had our jackets on, but it was a sunny 60 degree day and it was so nice!
We love this space out here and it's slowly, but surely coming together to be a welcoming space when we have people over.
Here's what it looked like for a couple of years after we moved in …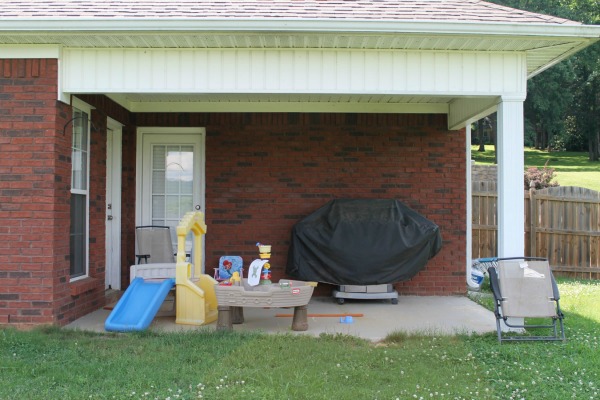 Our grill, some kid's toys and lawn chairs were not very nice or welcoming. And then this is the progress we made two summers ago …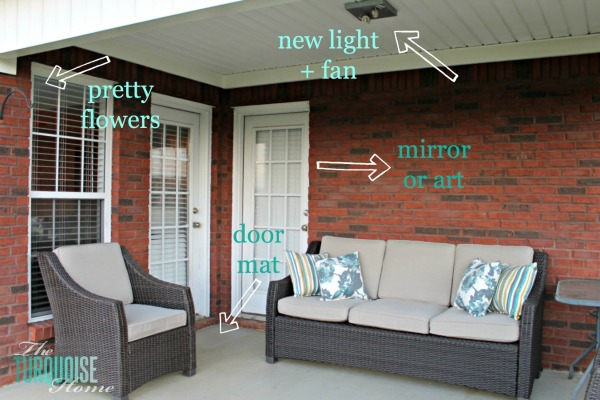 Ahh! Finally a nice place to sit. And I shared some of my wish list items 🙂 …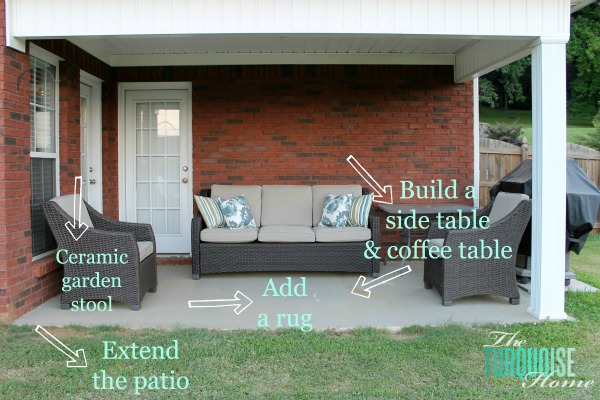 Recently I headed to my local Ace Hardware and picked up some new items on my wish list.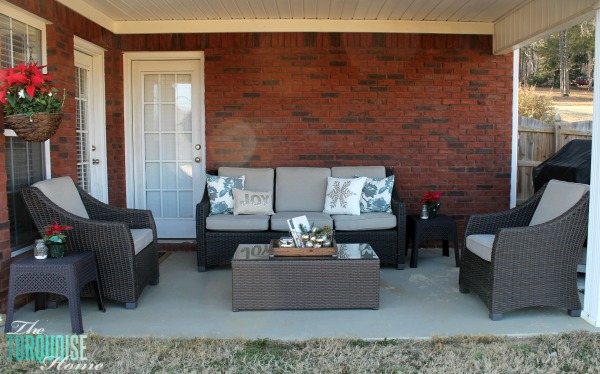 I loved the sturdy resin weave Hampton coffee table that looks great with my existing furniture. I love this type of furniture for the outdoors because it's rust-resistant and so easy to clean. The glass top is a nice touch too. I was a little worried about having a glass top with a preschooler, but she doesn't mess with it and I like the flat surface for decorating and sitting our drinks or other things on it.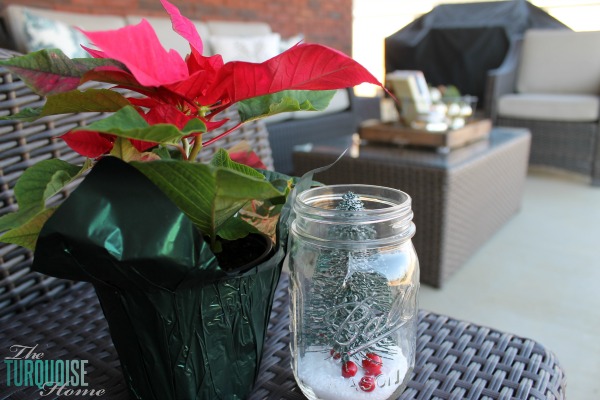 I was soooo excited to get rid of the patio table we were using as a side table over there on the right side. (You can see it in one of the progress pictures above.) My intention was to build a side table and a coffee table, but I don't know how long wood furniture would last out here. Probably a while since it's a covered patio, but I didn't want to deal with mold and mildew on the wood.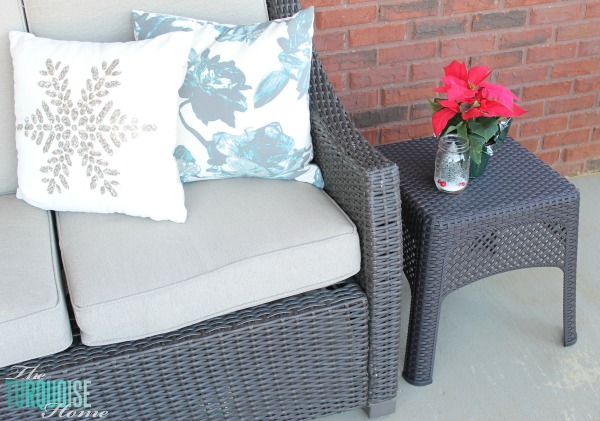 So, I loved the durable, yet light weight resin wicker side tables that are easy to move around where needed and the perfect size for our porch.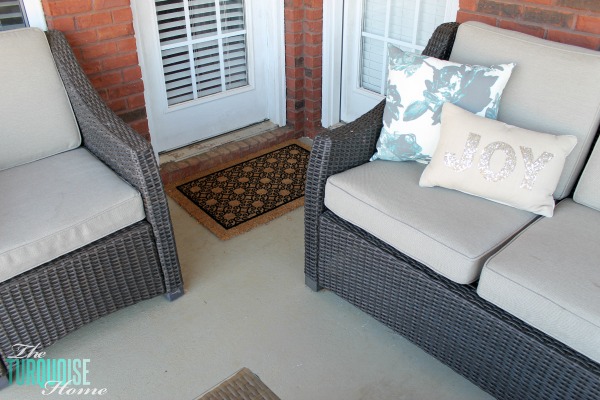 I also picked up this pretty entrance mat that not only makes this space look nicer, but keeps the dirt and leaves out of my kitchen! I love how big it is.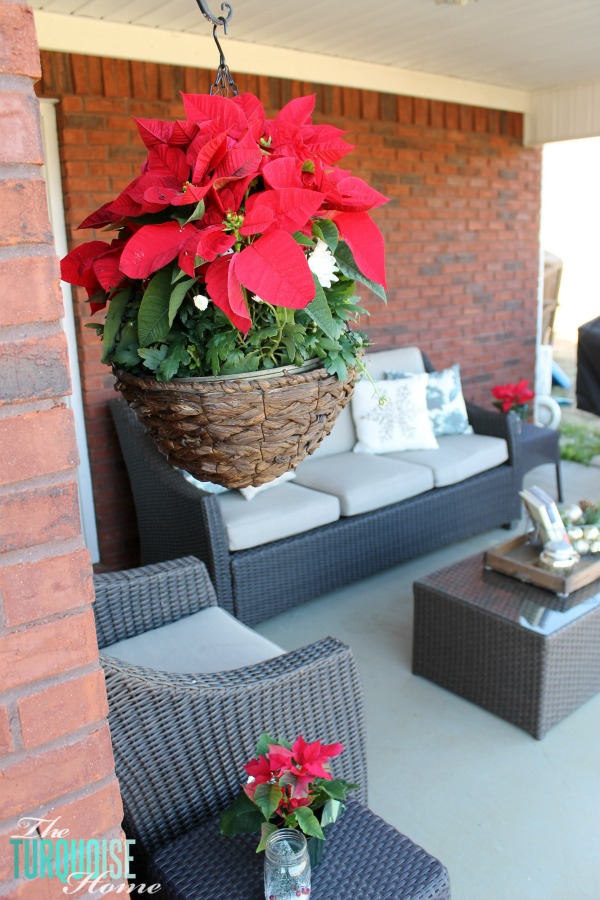 And I added a pop of color with some poinsettias, which I promptly brought inside after my photo shoot. I'll fill this pretty hanging basket with some fun colorful flowers in the spring.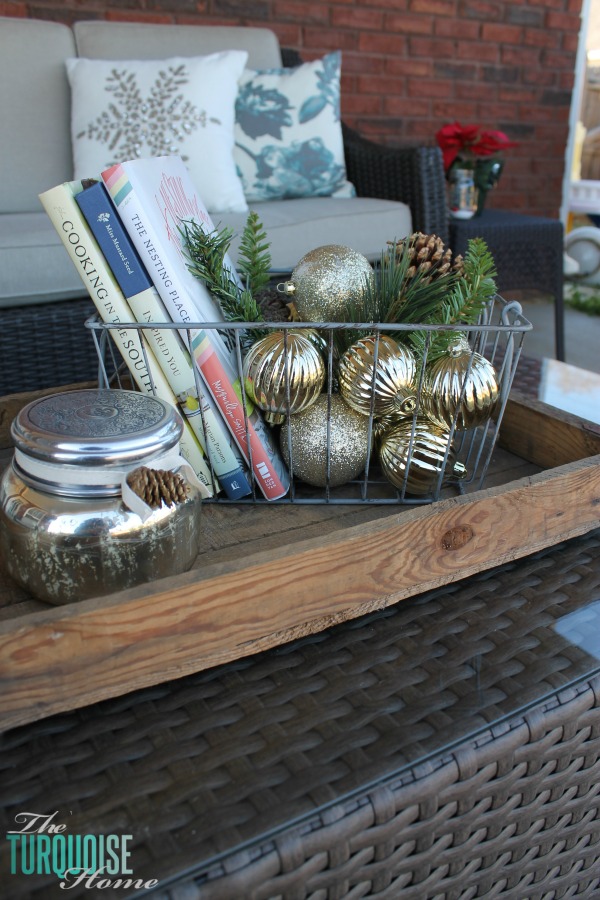 Over time I'll add more to this space, but I think it's turned out pretty well and ready to entertain some neighbors and friends whenever the time is right. I'm thinking bonfires with roasted marshmallows this winter. What do you think??
Do you use your outdoor space year round, or do you have to pack it all up for the winter?
Ace Hardware Gift Card Giveaway
Ace is offering a $100 gift card to one of my wonderful reader, so you can spruce up an entryway of your own! Or use it however you'd like. 🙂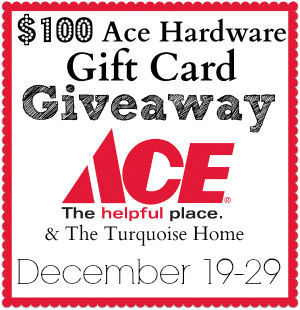 Just follow the instructions on the Rafflecopter widget below. Good luck!
Want to see more Ace Hardware Blogger Projects? Head over to their Pinterest board and check them out!

Don't miss out on the behind-the-scenes fun!
Disclosure: I am a member of the Ace Bloggers Panel and Ace Hardware has provided me with the new back porch furniture and accessories supplies. They also compensated me for my time and this blog post. All opinions and positions expressed here are my own and do not necessarily reflect those of Ace Hardware.