This may be old news to everyone else, but when I discovered it a few weeks ago it changed my life!
I have pretty wavy hair. It's not really curly, but definitely not straight. And all growing up I had no idea how to style my hair. I usually dried it with a blow dryer and it ended up a frizzy messy.
Fast forward to grown up years, and manufacturers finally started making good hair straighteners. So, for most of my adult life, I've spent 30 minutes every morning straightening my hair. Not so fun when you have a kid and could spend that valuable time doing something else!
As an adult, I also discovered hair products that enhance my curly/wavy tresses. I have used these mostly in the summertime when the natural humidity of the South helps to keep my hair properly curled. But now, I can have curly hair in the winter as well. Read on …
One dilemma, though, with letting my hair dry naturally is that I need to shower several hours before I have to be somewhere in order for it to dry completely. Who wants to walk around looking like a wet dog? Not me!

And again, this may be old news to some people, but it was a light bulb moment for me. I was reading this post about getting naturally curly hair and read about using an old t-shirt to scrunch your curls!!!
I've always scrunched my curls with my hand, and never thought to use an old t-shirt. (And if your house is anything like my house, you have a LOT of old t-shirts. At least your husband does because he's not willing to get rid of his rugby t-shirt from 1995!!)

Changed my life. No longer do I spend every morning in front of my mirror drying and straightening my hair! I just put some mousse in my t-shirt and scrunch it into my hair. (This would work with any other styling product as well, in case you prefer gel over mousse.) I've found that this leaves my air soft, dries it quickly without pulling it down, and I'm ready to go in minutes instead of hours.
This is revolutionary!! So, for all of you curly girls out there who already know this trick, just skip on by and don't call me an idiot. But for those other girls who struggle with getting your curly hair soft and dry in only a matter of minutes … you're welcome!
Happy Friday, y'all!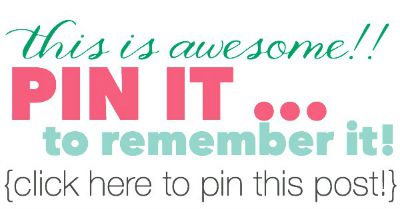 [
Get Instant Access to my Guide to Customize Your Home on a Budget
Grab your FREE guide for 10 Ways to Customize Your Home on a Budget: simple projects to transform your home from builder beige to a home with character and charm!