Other than peace on earth and for my family to be healthy … of course. I don't know what it is about me and vacuums, but it might be because I'm a mom of littles who likes it to appear like we have a clean home. LOL
This post contains affiliate links for your convenience. See my full disclosure policy here.
On the top of my personal Christmas wishlist this year was a Dyson cordless stick vacuum. As I watched the Black Friday week deals roll in I knew that would be the gift that would make my Christmas. I read reviews of life-changing vacuuming and how you can use it for every kind of kid mess possible. Well, almost any kid mess. 😂 No bathroom messes, please … yikes!
But if my kids are like your kids, there's always a mess somewhere and I don't always feel like dragging out the big vacuum with the cord and plugging, lugging, re-plugging, etc. I've found that for me to be able to use something on a regular basis, it needs to be easily accessible, efficient and simple.
I grabbed the Dyson V10 Absolute Cord Free Vacuum on Cyber Monday and have been so happy with my purchase!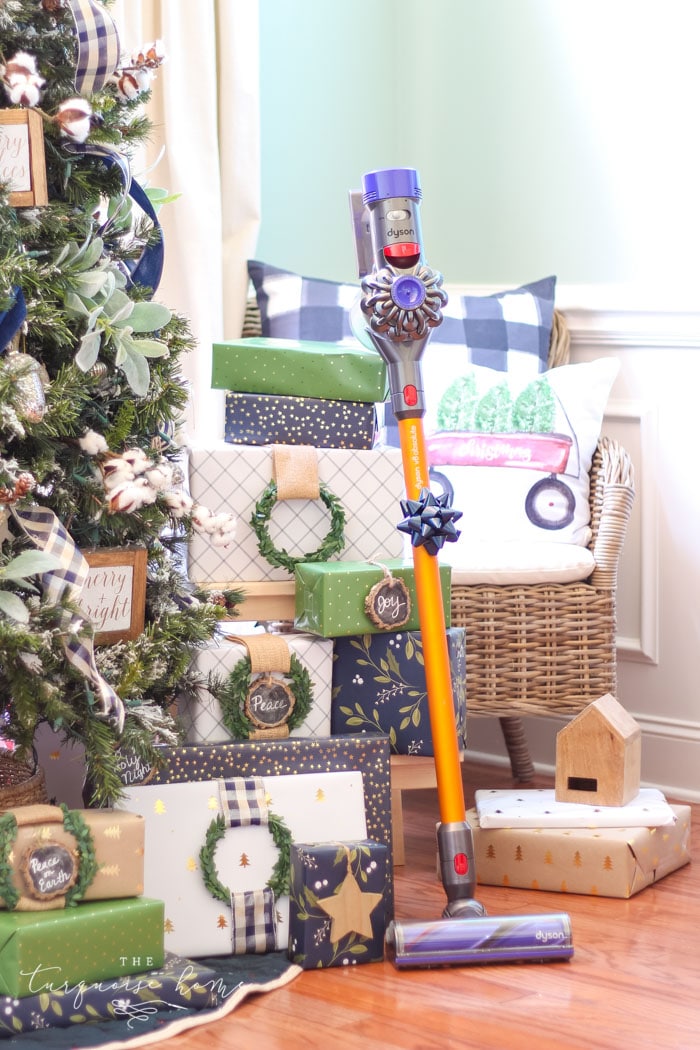 We've had an upright Dyson vacuum since we moved into our house almost 7 years ago and it works as great today as it did the day we bought it. I love it and wouldn't trade it for anything, so I knew I'd love this one too. I just needed something for those quick daily (hourly 😂) clean-ups.
I told Coach that I needed to go ahead and use it during Christmas prep in order to be able to survive the holidays with some sanity intact, so I have been using it for a few weeks now and LOVE it! It is everything I dreamed of and as easy to use as I anticipated.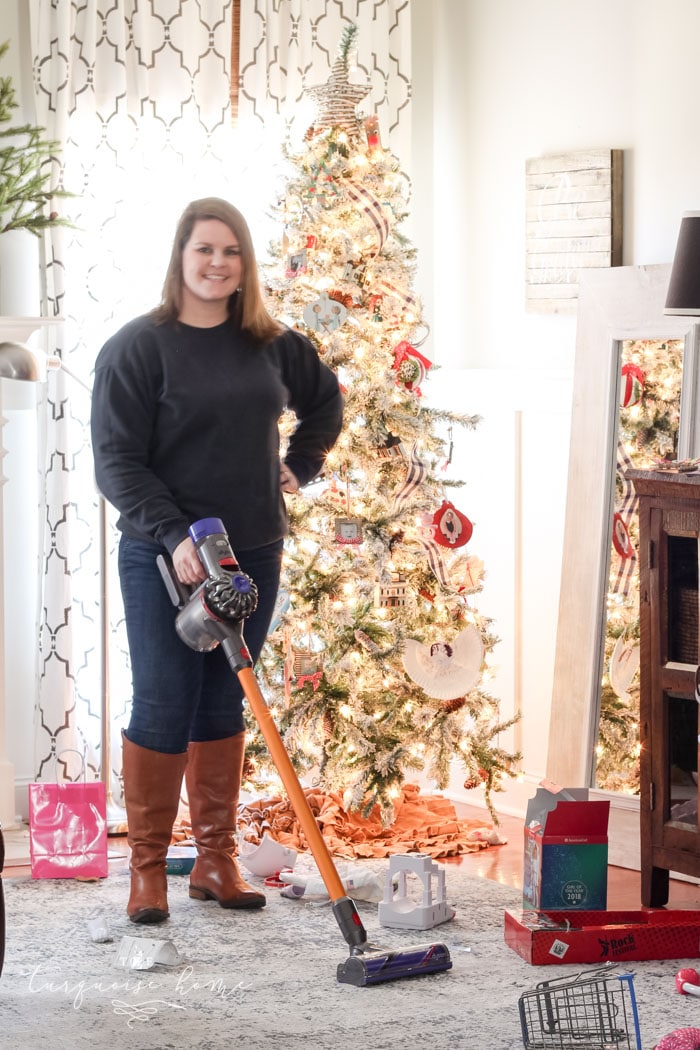 I love that it cleans up the crumbs that seem to multiply all over the kitchen on an hourly basis. It's also great for my 8-year-old to use when I need help with the cleaning. She's able to grab it and clean up something super quick.
I love all of the attachments, too!
In order to clean out my car, I was going to the car wash every few weeks and vacuuming out my car with their free vacuums. 😊 But they don't have any different attachments and I needed a long, skinny crevice attachment to get in some spots in my car. It comes included with the V10 Absolute and probably other models as well.
The Dyson Absolute V10 comes with a handheld attachment that is great for cleaning your cars or tabletops. LOL I use mine to clean out the crevices in my big farmhouse table after we use glitter or other small items.
So far the best deal I've seen all season have been at Target. As of this writing, they are holding steady at 34% off, which brings the total to $329.99. And if you order TODAY you'll get it by Christmas Eve! You can also order for store pick up if your local store still has it in stock.
If you have any inkling that you'd want this vacuum, trust me … you will love it!
So far, my floors have been cleaner that they've ever been! And I truly think a clean floor is the key to making your home look clean on the fly! 😜
Happy Christmas, sweet friend! May you get what's on your wish list, too! 😊