I am passionate about two things: the fall season and essential oils. So, when they collide, I am one happy girl!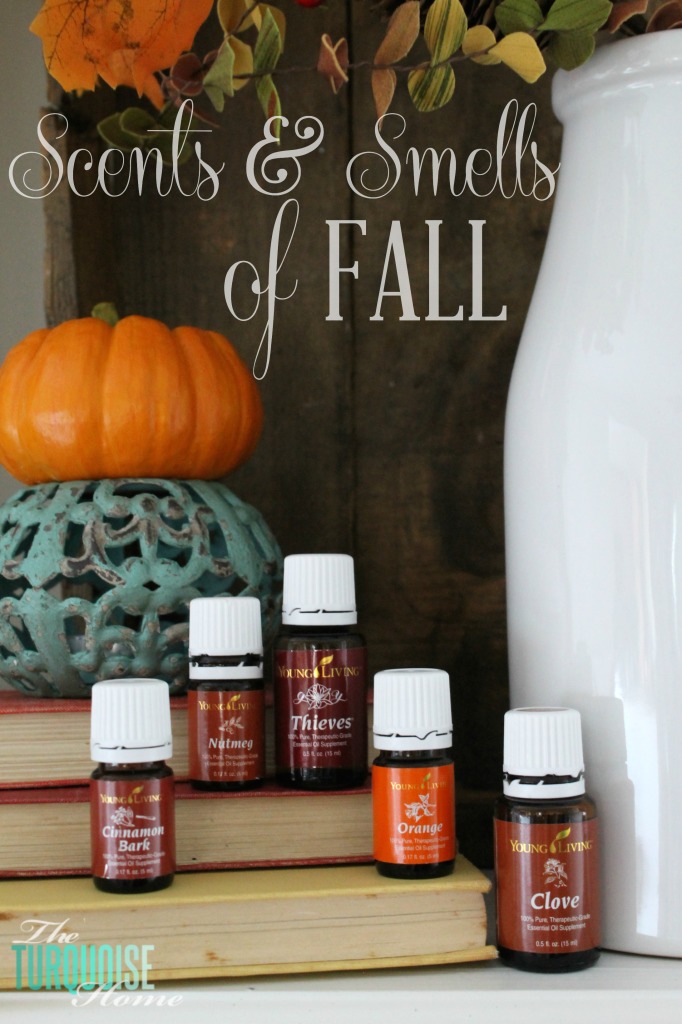 For those of you have been around a while, you've heard me talk about the natural wellness benefits of Young Living essential oils. They have literally changed my family's lives. Not only do we find wellness benefits, I also love the smells! The wonderful thing about essential oils is the the fantastic smells are also beneficial to our well-being. LOVE that!
My favorite combinations in the diffuser are: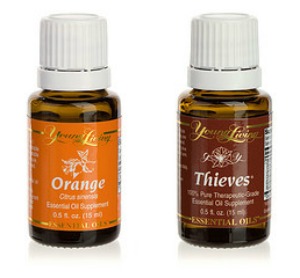 Orange & Thieves
Clove & Orange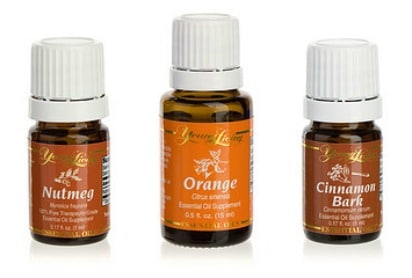 Cinnamon Bark, Nutmeg & Orange
You can see that I really like orange in just about any combination. 🙂 It just smells so yummy! I even love to put a drop in my water and drink it through the day. (Although you always want to use a GLASS cup when adding oils to your water.) Really, though, there is no bad combination of these oils. Just play around and find which ones you love!
Some of the wellness benefits provided by just diffusing these oils are:
Clove – promotes a healthy immune response, and may support overall wellness.* Clove has been used traditionally as a spice for thousands of years, and provides a rich and spicy addition to your favorite recipes. This oil includes the naturally occurring constituent eugenol.
Thieves – supports healthy immune function, and it includes Eucalyptus radiata essential oil, which may help maintain a healthy respiratory system. When taken as a dietary supplement, Thieves is an ideal complement to a daily wellness regimen.*
Orange – lifts the spirit and brings a calming influence on the body; includes the naturally occurring constituent limonene (Google it!)
Cinnamon Bark – promotes a healthy immune response, and helps maintain a healthy lifestyle regimen*; includes the naturally occurring constituent cinnamaldehyde.
Nutmeg – comforting and soothing, nutmeg helps boost energy. It also supports nervous and endocrine systems and prostaglandin balance.*
Amazing!!! I love these benefits!
I usually add 3-5 drops of each oil in the diffuser, but you can adjust the number of drops to suit your personal scent preference. 
Cinnamon and Vanilla Sugar Scrub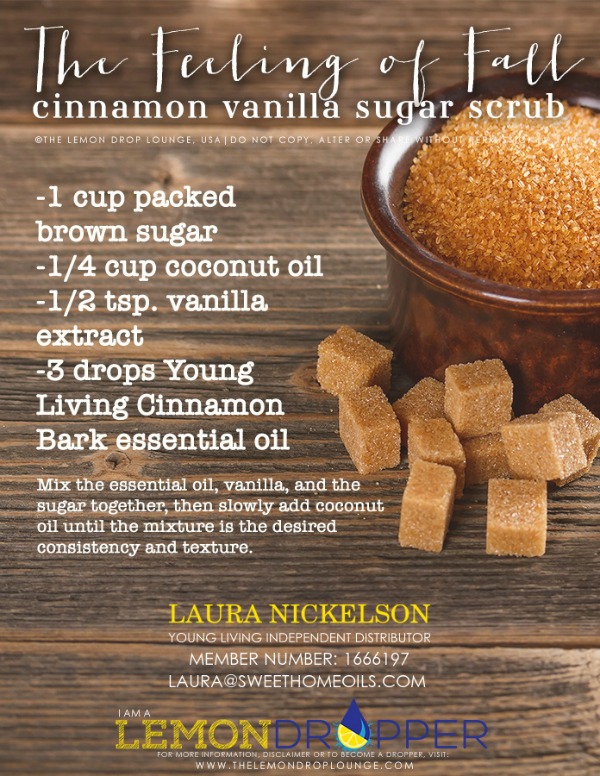 I LOVE making sugar scrubs with my essential oils and this cinnamon and vanilla combination would be perfect to keep in the shower for an overall scrumptious, invigorating scrub or giving away as gifts to friends or your kids' teachers.
Amazing Fall Special Offer
As you can see, these oils are wonderful and I use them in all kinds of ways. The oils I've featured here just touch the tip of the iceberg of how they are used in my home.
So, because I can't keep this goodness to myself, I'm sharing an awesome free welcome kit with the purchase of a Premium Starter Kit. This kit comes with 11 of the most-loved essential oils, a diffuser and great introductory info on how to use them. (Note, this starter kit now includes the Dew Drop diffuser, instead of the Home Diffuser. I LOVE the Dew Drop.)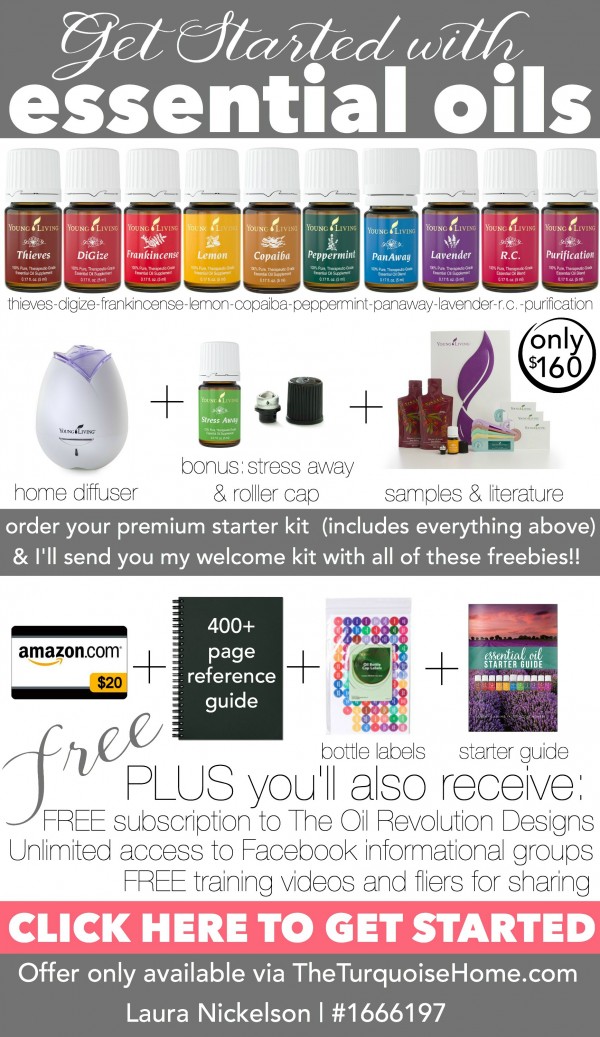 Yes, you saw that right! Anyone who orders a Premium Starter Kit through me (#1666197) will receive an essential oils reference guide, pretty bottle labels to keep your new obsession organized and color-coded, a $20 Amazon gift card, AND an essential oil starter guide.
Young Living now offers six premium starter kits. My favorite is the premium starter kit that come with the everyday essential oils and with the home or dew drop diffuser, but if you're interested in another diffuser, the Thieves cleaning products or Ningxia Red products, you can choose one of those starter kits as well!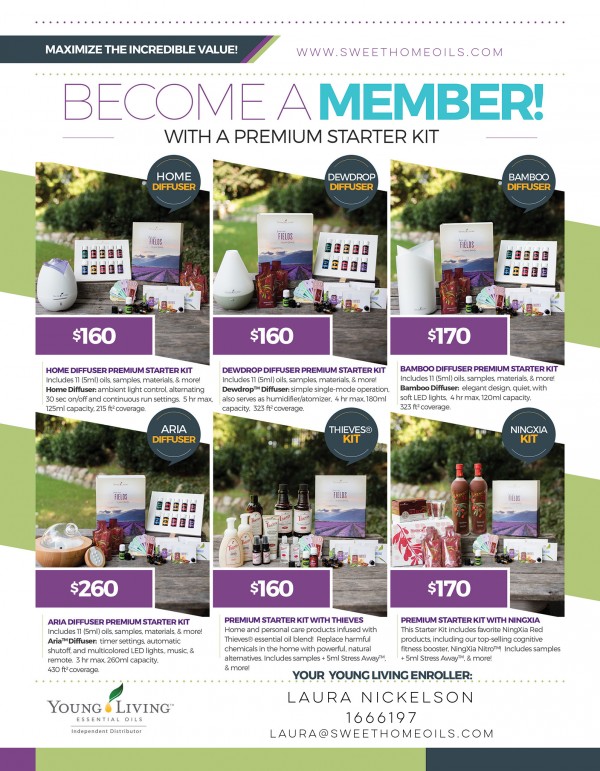 Click here for more information on Young Living and how to sign up.
Yay!!! I'm so excited for those of you who sign up. You're about to embark on an incredible journey. When you sign up under me, I will also get you plugged in to our private Facebook group where you will be connected to our amazing support system. You will not be left in the dark!
Note: The premium starter kits are only available to wholesale members/distributors. But there is NO obligation to sell these oils – ever. You can just buy them for your own personal use forever. 🙂 If you sign up as a retail customer, you will not be able to purchase a premium starter kit and won't be eligible for the free gifts.
I am just an e-mail away if you have ANY questions or concerns. Please don't hesitate to reach out to me: [email protected]
Don't miss out on the behind-the-scenes fun!
Disclaimer: These statements and any information contained on this website have not been evaluated by the Food and Drug Administration. This information is intended for educational purposes only and is not meant to substitute for medical care or to prescribe treatment for any specific health condition. These products are not intended to diagnose, treat, cure or prevent any disease. Our content is not purposed to replace professional medical diagnosis, treatment or advice. Information obtained from a Young Living member should never cause disregard or delay seeking advice or treatment from a medical or healthcare provider. Use of any information from the content of this site solely at your own risk. Consult individual products labels for safety information.